Netflix dystopian film The Platform, which arrived on Netflix on March 20, is being dubbed as the Spanish Parasite. 
Here's the sitch: In a vertical "prison" with hundreds of floors, a platform filled with food descends from the top level every day. In the film, there's more than enough food to feed everyone, if all the inmates only eat what they need. The problem is, those at the top consume more than their fair share, which means that those at the bottom go hungry. What happens when Goreng (Iván Massagué) tries to make a difference?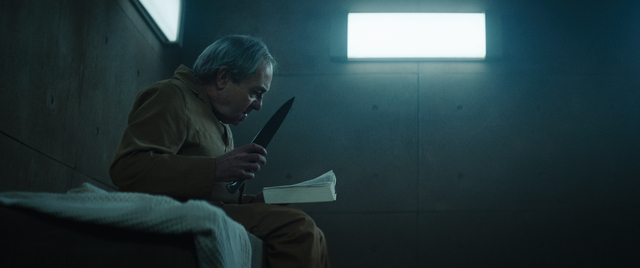 The film is disturbing, ~gory~, and, more importantly, relevant. Here are some quotes that will make you want to watch—and rewatch—The Platform:   
"Hunger unleashes that madman in us. It's better to eat than be eaten."—Trimagasi
"Change never happens spontaneously."—Goreng 
"This isn't a great place for someone who likes books. I've worked for them for 25 years. For eight years, I've sent people to this hell. I didn't know what I was doing, because I didn't know. I swear I didn't know."—Imoguiri
"It's not a great idea to bring a sausage dog in here. In here, he's more sausage than dog."—Goreng 
"There are three types of people: Those at the top, those at the bottom, and those who fall."—Trimagasi 
"If everyone ate only what they needed, the food would reach the lowest levels."—Imoguiri
"Don't speak to the people below...because they're down below. The people above won't answer you...because they're above, obviously."—Trimagasi 
"A day without food? F*ck that."—One of the "inmates"  
"The Administration has no conscience. However, there is a slim chance that people on Level 0 do. That's where you must send your message. And how do we do that? With a symbol."—Sr. Brambang
"The panna cotta is the message. The panna cotta is the message. The panna cotta is the message."—Baharat 
"I'm on Level Seven, and I'm entitled to stuff my face. I nearly died last month on Level 114. Where were you then, you bastards?"—Baharat's friend  
"Friends, I ask you not to approach the platform. We want you to join a peaceful protest movement that will inexorably change the course of events and set an important precedent."—Baharat 
"We prefer to call it the Vertical Self-Management Center."—Imoguiri
"We don't know where we'll be tomorrow."—Goreng 
"Please follow my instructions, because there are people dying beneath your feet. Do you understand me? People are dying!"—Imoguiri
Continue reading below ↓
Recommended Videos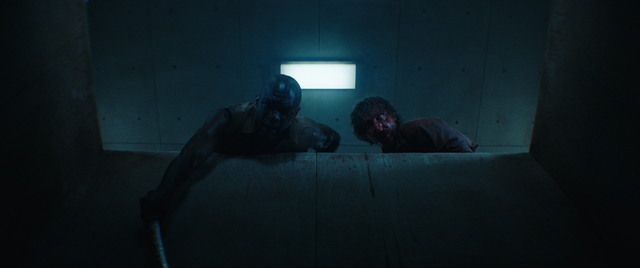 The director, Galder Gaztelu-Urrutia, explained in an interview with NME that the film is a criticism of many ideologies, not just capitalism. Watch the trailer for The Platform here: 
***
We are officially on Viber! Be part of the Cosmo Viber Community by clicking here! You can also visit the Sticker Market and download the "Cosmo Girl Sticker Set" here to be automatically part of the group. The stickers will only be available until April 27, so don't miss out on the fun!
Follow Lily on Instagram.