As far as I'm concerned, there's only one type of film worth watching, and that's the kind where two identical strangers meet in unlikely circumstances and decide to trade lives.
Lucky for me, a new one just got released on Netflix! Trust me—there's only so many times you can actually watch either version of The Parent Trap.
The Princess Switch stars Vanessa Hudgens, who plays both the hugely privileged and well-spoken Lady Margaret and girl-next-door baker Stacy De Novo. The pair meet when Stacy takes part in the Royal Baking Contest in Belgravia.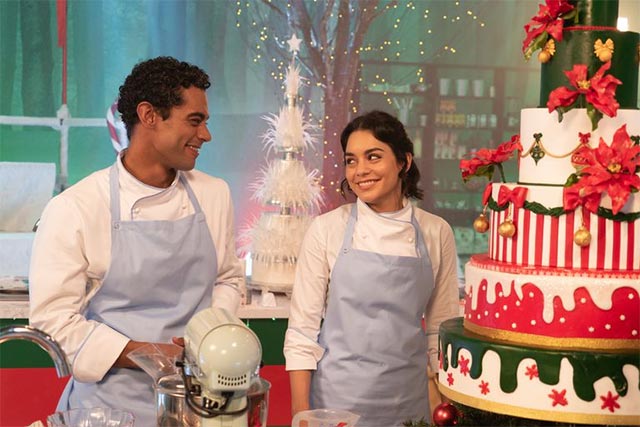 The film is a raging success as far as mildly cheesy Christmas movies go (I'm even tempted to say it's better than A Christmas Prince). Only slight problem is that Vanessa's characters have to be in a lot of scenes together, which means there's a body double standing in; just waiting for the High School Musical star's face to be plastered on top of hers post-production. Except, as spotted by someone on Twitter, sometimes that simply does not happen.
Continue reading below ↓
Recommended Videos
In the scene where (SPOILER ALERT) Stacy is marrying the man of her dreams, Edward, Lady Margaret/Vanessa's stand-in can be seen in the crowd loving every minute. But wait a second…someone forgot to edit her face on to the stand-in's body. Whoops!
But that's not the only mistake to be found in the Netflix movie. Another eagle-eyed viewer spotted that both Lady Margaret and Stacy have the same tattoo on their finger. What are the chances?!
Well the chances are quite high, considering they're played by the same actress.
***
This article originally appeared on Cosmopolitan.com/uk. Minor edits have been made by the Cosmo.ph editors.