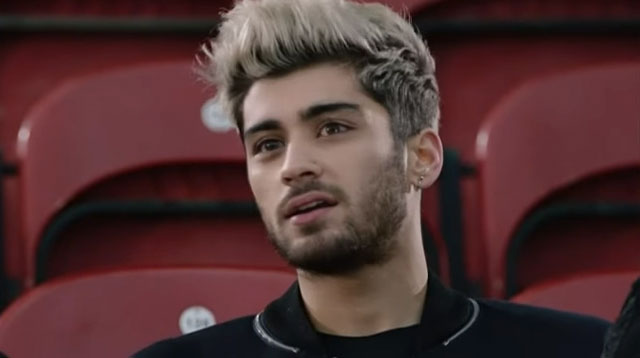 YouTube/Associated Press
OH NO HE DID NOT.
Former One Direction star Zayn Malik revealed he "never really wanted to be in the band" after they were formed into a group on U.K. TV talent show The X Factor.
Zayn, along with his former bandmates Harry Styles, Niall Horan, Liam Payne, and Louis Tomlinson, all auditioned as aspiring solo artists on the hit reality TV show in 2010, but after failing individually, judge and music mogul Simon Cowell brought them together to compete as a group.
And nearly a year after his exit from One Direction last March, Zayn tells Beats 1 Radio DJ Zane Lowe he didn't have much of a desire to be part of a boy band in the first place.
"I think I always kind of wanted to go, from the first year, really," Zayn admits. "I never really wanted to be there in the band, I just gave it a go because it was there at the time, and when I realized the direction we were going in—mind the pun—with the music, I instantly realized it wasn't for me, because I realized I couldn't put any input in."
The 23 year old went on to reveal how he felt creatively stifled in the band, saying, "I couldn't give my opinion on this or that because it didn't fit the grain of what we were as a band or what we represented. So that's when it became straight for me, that's when I had to be like I've got to start thinking about myself. So I was always just writing anyway, even when I was in the band. It wasn't something that I had to think about and process information. I just always knew."
Continue reading below ↓
Recommended Videos
When Lowe asked if the singer thought the other guys had an inkling he was becoming unhappy in One Direction, Zayn says, "I think the boys kind of knew—in terms of the music—that wasn't my cup of tea... I think they always knew that. It wasn't something they had to figure out."
He adds, "They obviously didn't want me to leave, but they couldn't talk me out of it at that point. I'd already made my mind up."
Zayn is now gearing up to release new single "Pillowtalk"—his first track as a solo artist, which reaches listeners on Friday, January 29. He was scheduled to have his first TV interview since the split from One Direction on Thursday with U.K. presenter Graham Norton, but the star scrapped his chat to continue work on his album, which is due for release in the spring.
Watch Zayn's interview below: