The multinational fast food chain Jollibee is at it again with a heartwarming and tear-jerking commercial that deserves a loud, "Amen!" Really, how many of you were avidly nodding in agreement?
The new commercial, titled "Status," which was released on February 2, 2018, begins with a shot of a girl smiling at her phone. "Matagal ko ring hinanap 'to," she says. She then posts, "I found true love" as a status message on her social media account. She continues, "And I've spent so much time looking for love."
The scene is followed by a montage of a series of failed relationships that ended with cliche breakup lines ("Puwedeng hindi muna tayo serious?" "This isn't really working out," and "I think we should see other people."). We see the protaganist fall in love, be filled with hope, and get her heart broken over and over again. But during these painful times, there were people who never left her side: her family.
ADVERTISMENT - CONTINUE READING BELOW ↓
"I finally found true love," she realizes in the end. "Sa pamilya ko. Sa sarili ko. So when the right one does come along, I now know the kind of love I truly deserve."
The commercial closes with these words on the screen, "Kahit walang love life, may love ka sa life. Family love is true love. Believe in the power of love."
As of press time, the video has gained 1.7 million views, 58,000 shares, and more than 14,000 comments. 
A lof of the netizens who commented agreed with the message: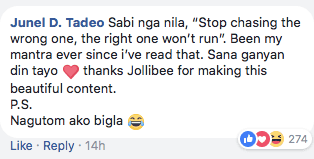 ADVERTISMENT - CONTINUE READING BELOW ↓
Recommended Videos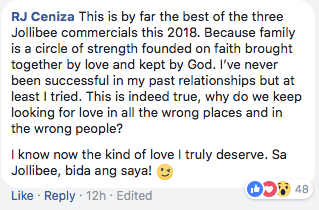 ADVERTISMENT - CONTINUE READING BELOW ↓
Other netizens revealed their friend's similar situation by tagging her: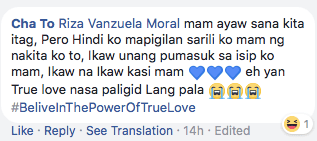 ADVERTISMENT - CONTINUE READING BELOW ↓
Some found a different message: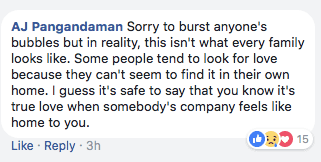 How about you, CGs, what's your take on this viral video? Sound off!
EXPLORE COSMO