The Long Plot, Sans Spoilers
Taika Waititi returns to steer the space viking love boat that is the Thor movie franchise, backed by a hardcore metal soundtrack. And along for the wild ride is Natalie Portman who reprises her role as Jane Foster, now possessing the power of Mighty Thor. (More on that later!)
Love and Thunder takes place sometime after the events of Avengers: Endgame. The last time we saw Thor (Chris Hemsworth), he was going through a funk and struggling with the loss of his loved ones, his OG hammer, and his homeworld. By the end of the last film, he blasts off with Korg (Taika Waititi) and the Guardians of the Galaxy (Chris Pratt, Dave Bautista, Karen Gillan, Pom Klementieff, Vin Diesel, and Bradley Cooper) to infinity and beyond (oops, wrong franchise *winks*).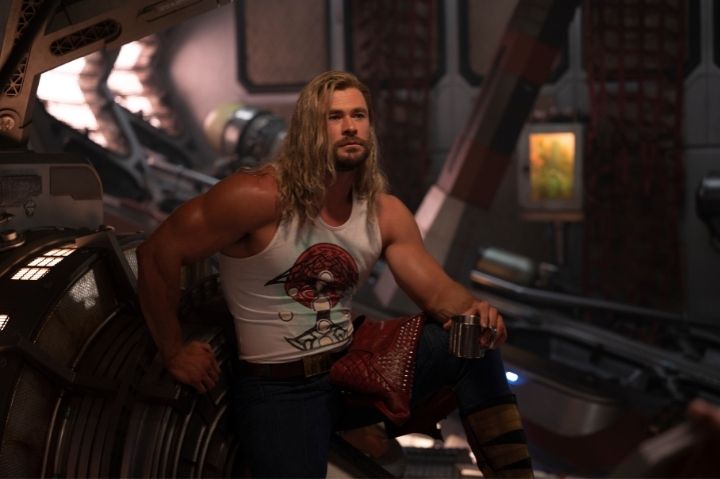 ADVERTISMENT - CONTINUE READING BELOW ↓
We then see a quick montage of the god of thunder training, fighting, rebounding, and meditating as he navigates his existential crisis while exploring the vastness of space.
But when Gorr the God Butcher (Christian Bale) starts causing problems across the universe (the multiverse?), Star-Lord has a chat—that could definitely be mistaken for the dreaded breakup talk—with Thor about going their separate ways to cover more ground. 
When Thor returns to New Asgard to catch up with King Valkyrie (Tessa Thompson), he suddenly runs into his ex, Dr. Jane Foster, in the middle of battle. Awkward.
The astrophysicist has now acquired a PHD in asskicking as she delivers the pain to her enemies. She also had a full makeover, now sporting blonde hair and wearing full step-on-me gear while wielding Mjölnir.
With the looming threat of Gorr on the horizon though, Thor must set aside bittersweet memories of his former flame and recruit Jane to help him out. Will lingering feelings get in the way of their mission? Will they rekindle their past relationship and pick up where they left off? Are we still talking about a superhero film?
ADVERTISMENT - CONTINUE READING BELOW ↓
Recommended Videos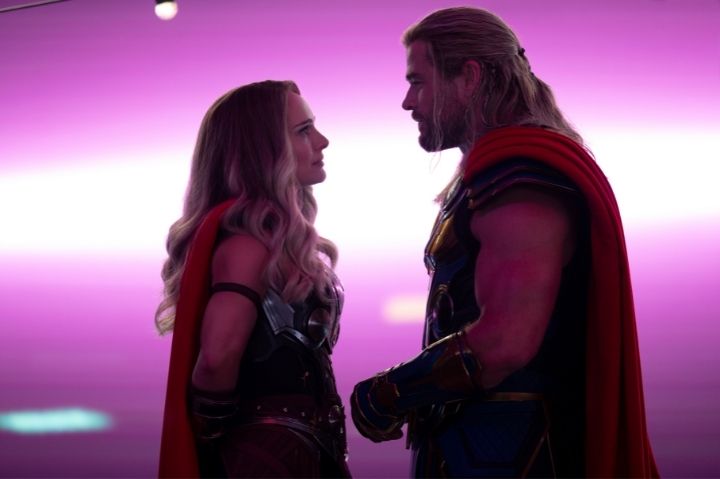 The Short, Honest Plot
A full-on Space Viking romcom bursting with chaotic queer energy that is rudely interrupted by the usual world-ending threat.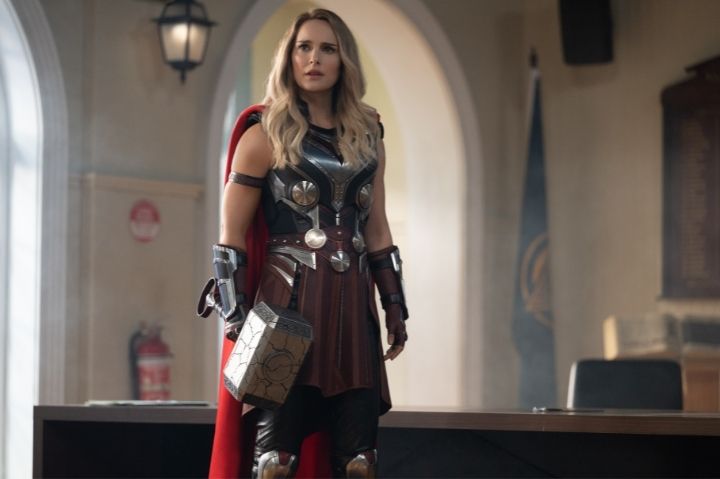 ADVERTISMENT - CONTINUE READING BELOW ↓
The Actors And Where You Last Saw Them
Chris Hemsworth as Thor
This Aussie daddy was previously in the films Ghostbusters, Extraction, and Spiderhead.
ADVERTISMENT - CONTINUE READING BELOW ↓
Natalie Portman as Jane Foster/The Mighty Thor
The Academy Award-winning actress appeared in other intergalactic fare such as Annihilation, Lucy in the Sky, and is also famously known for being Padme Amidala in the Star Wars prequel trilogy.
ADVERTISMENT - CONTINUE READING BELOW ↓
Tessa Thompson as Valkyrie/King of New Asgard
She plays the mysterious executive, Charlotte Hale, in Westworld, and has also teamed up with Chris Hemsworth in Men in Black: International.
ADVERTISMENT - CONTINUE READING BELOW ↓
Christian Bale as Gorr the God Butcher
Before becoming an MCU villain, he was the gosh darn Batman from The Dark Knight trilogy. Welcome to the Marvel family!
ADVERTISMENT - CONTINUE READING BELOW ↓
Russel Crowe as Zeus
The Academy Award-winning actor is best known for his starring role in Gladiator, and also played Superman's dad, Jor-El, in Man of Steel. Yet another DC-to-Marvel crossover!
ADVERTISMENT - CONTINUE READING BELOW ↓
Taika Waititi as Korg
The Academy Award-winning filmmaker has worked on Jojo Rabbit, What We Do in the Shadows, and loads of other projects. He recently became thirst trap material for his portrayal of the goth pirate Blackbeard in Our Flag Means Death.
ADVERTISMENT - CONTINUE READING BELOW ↓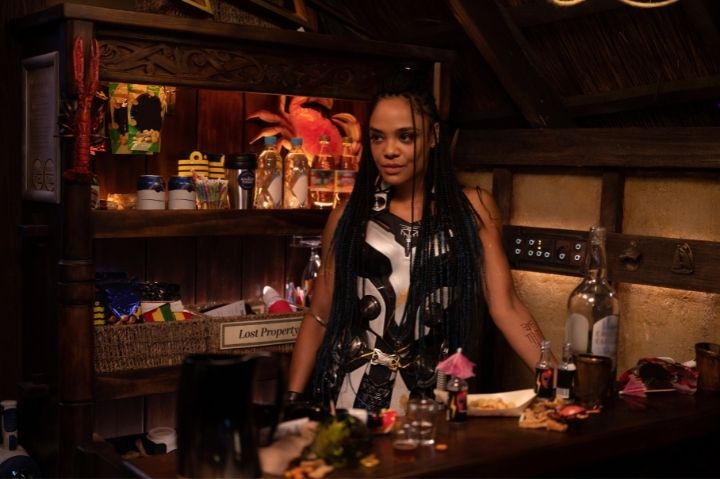 Did You Know?
ADVERTISMENT - CONTINUE READING BELOW ↓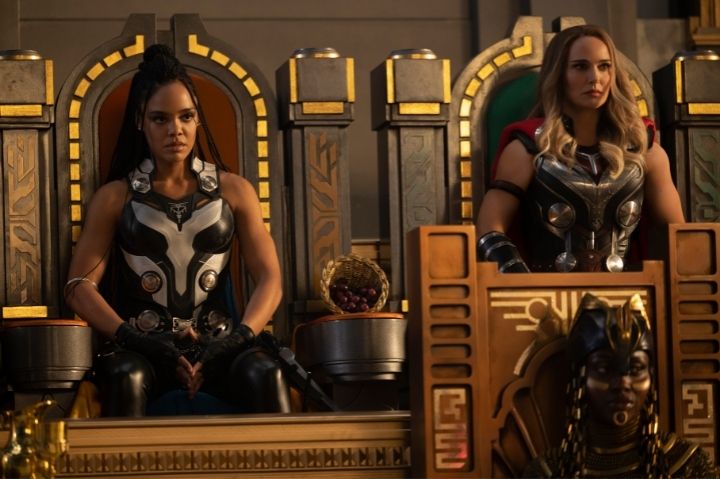 ADVERTISMENT - CONTINUE READING BELOW ↓
What My Friend Thinks:
"Thor: Love and Thunder exceeded my expectations. I came in knowing that I was going to be laughing a lot but wasn't expecting to cry every few minutes. Aside from being another fun and comedic chapter in Thor's journey, it's also a beautiful story about love (parental, romantic, and platonic) and the things we sacrifice for that love. Special shout out to Taika for making a couple of hammers so hilarious on the screen and for giving a fun unexpected twist to a couple of magical goats." - Ica Cheng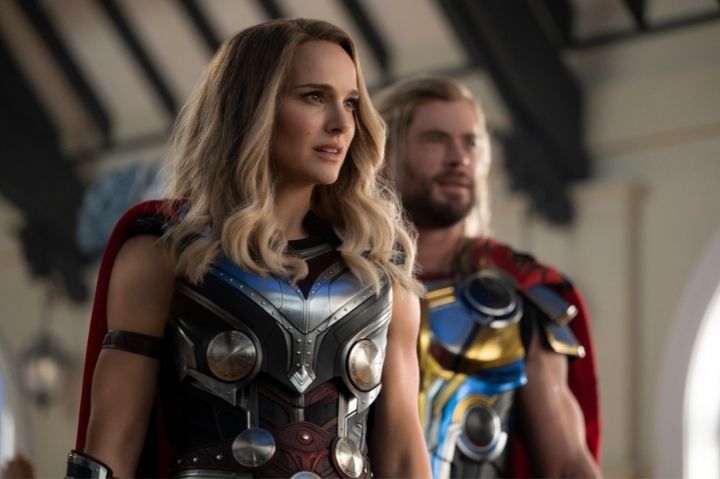 ADVERTISMENT - CONTINUE READING BELOW ↓
What I Think:
Thor: Love and Thunder really said gay rights and belated Happy Pride Month with a neon vibrancy that is wonderfully chaotic, making this the queerest entry in the MCU so far. Considering the fact that our main protagonist is a perceived (as far as we know) straight dude, that's no small feat. But then again, hello, rainbow bridge!
Although the LGBTQIA+ representation could be more overt in future entries, I'm glad that previously hinted subtext among certain characters such as Valkyrie has been figuratively flashed on the screen in big bold letters. She is not alone in repping the rainbow though, but to say more would get into spoiler territory. Let's just say that production really made sure to provide visual cues to establish that what you are seeing in front you is a same-sex couple, make no mistake!
With our main power trio being an attractive bunch, it is truly a blessing to find many scenes where I can stare RESPECTFULLY at all of them through the filter of the female and queer gaze. Even supporting characters present equal opportunities such as Zeus' (Russel Crowe) personal harem consisting of gorgeous men and women. If you are into well-defined arms then, my goodness, get ready for the gun show! (Thank you for satisfying this thirsty fandom, Taika!)
ADVERTISMENT - CONTINUE READING BELOW ↓
This film really made me go #WOMEN because we finally have options in the MCU. We started with our lone female Avenger Black Widow (Scarlett Johansson) before expanding to more female-led fare so let's keep that going. I wouldn't mind a spin-off with Jane (serving SNL Natalie Rap energy) and Valkyrie running the show.
Writer/director Taika Waititi certainly brought his brand of crazy awesome once again to the MCU, amplified further by fellow writer Jennifer Kaytin Robinson's (director of Someone Great) creative input.
From "Infinity Conez" and "Come to daddy," to jealous hammers and even cringey rom-com tropes, they really went hard on the meta comedy. Even the bleating goats (more like, G.O.A.T. right?) Toothgrinder and Toothgnasher are worthy of Internet virality.
The soundtrack is absolute fire with bands like Guns N' Roses and Dio, plus Michael Giacchino at the helm. And even though we have already spammed "Sweet Child o' Mine," you'll have a better appreciation of the track after watching the film. I was particularly stoked to hear Swedish legend ABBA as part of the musical lineup and expect a certain track to be played on repeat soon.
ADVERTISMENT - CONTINUE READING BELOW ↓
Waititi and Robinson's joint effort reminded me not to take superhero movies too seriously because at the end of the day, we're watching a bunch of peeps running around in costumes going zap-zap and pew-pew so why not crank it up to 11 and just have fun with it?
All the craziness aside, get ready to ask yourself, "Why am I crying in the club right now?" because there's a reason love is part of the title. The flashy aesthetic and lighter moments make it easier to explore the many facets of loving others—including confronting negative emotions, dealing with loss, and embracing the hurt. There's also self-love (wait, not that kind!) and the endless pursuit of meaning and purpose. Yep, all that and more with a bunch of noisy goats thrown in. Thor: Love and Thunder deserves thunderous applause! (Get it? Hihi!)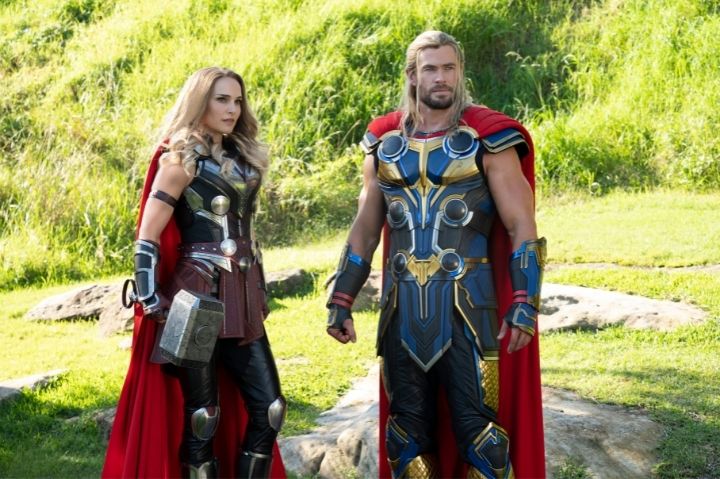 ADVERTISMENT - CONTINUE READING BELOW ↓
I'd Recommend It To…
Gals, pals, and non-binary pals who will enjoy the chaotic queer energy of this film and its attractive adult cast. (Who's your crush? YES.)
Online peeps who keep scrolling the feminist side of TikTok because Valkyrie and Jane will make you go #WOMEN.
People who watch superhero movies for the fun of it and not just because it's ~dark and edgy~.
Marvel fans suffering from formula fatigue who are looking for a fresh and funny take on the genre.
Marvel newbies who are intimidated by the sheer enormity of the franchise and are looking for more self-contained stories.
Gen X and Millennial titos and titas who can finally recognize the soundtrack playing in the background. (#SelfBurn)
Thirsty viewers who would like to respectfully view a certain scene without the obstructive pixels.
Thor x Jane Foster solid shippers (Possibly Thor x Loki shippers)
Taika stans who need to distract themselves from the gut punch that was the Our Flag Means Death season finale.
Super cool parents and guardians who are raising the next generation of geeks.
Those who are emotionally invested in magical sidekicks such as Doctor Strange's The Cloak of Levitation.
Anyone going through their regularly scheduled existential crisis.
Anyone trying to get over their heartbreak. The operative word is "trying." (You'll get there eventually!)
Geek women who are sick of having to settle for token female characters and need more options in cosplay and in life.
ADVERTISMENT - CONTINUE READING BELOW ↓
And we're sure you know the drill for Marvel movies by now. but for the benefit of the uninitiated: Don't forget to stay for two plot-relevant post-credits scenes that you will obsess, overthink, and analyze until the next installment comes along.
P.S. If you're bringing kids along, be prepared to explain what a certain spicy adult word means. Good luck!
READ MORE ABOUT THE MARVEL CINEMATIC UNIVERSE HERE:
Park Seo Joon Says He Couldn't Believe It When Marvel Wanted To Speak To Him
So...Who Exactly Is Harry Styles Playing In 'Eternals'?
Here's How Marvel's *Very First* Sex Scene In 'Eternals' Happened
EXPLORE COSMO