The royal family might seem prim and proper 24/7, but the HRH squad isn't afraid to break a few rules—and sometimes, that means flouting centuries-old royal protocol. From newbie Meghan Markle to iconic bad girl Princess Margaret, here are 25 times the royals gave the middle finger to their own rules and regulations.
When Prince Charles shoved a bunch of oysters in his mouth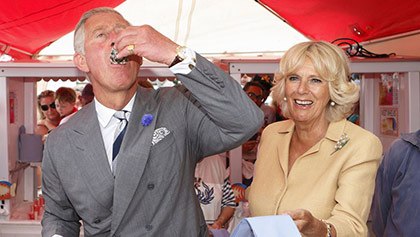 One of the more bizarre and outdated rules the royal family lives by means they must avoid shellfish. Why? Because apparently everyone's extremely concerned about food poisoning, that's why! Plenty of royals ignore this rule (like our oyster-bingeing buddy Charles, pictured here), but The Queen sticks to it so don't you DARE buy her sushi next time you hang.
When Meghan Markle celebrated Christmas at Sandringham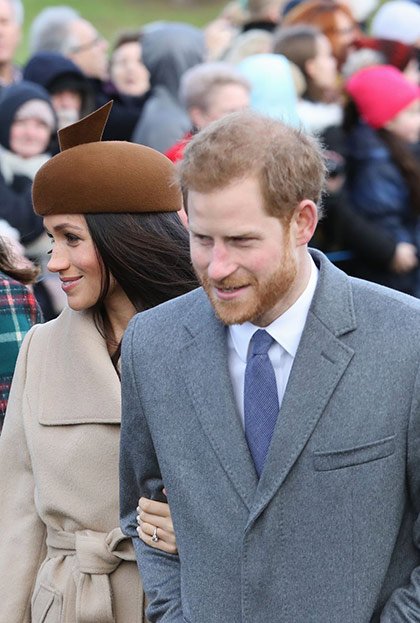 Look, not just anyone celebrates Christmas with The Queen. The event is so lit that only husbands and wives score invites—and even poor Kate Middleton didn't make the cut when she was engaged to Prince William. But Queen Elizabeth decided to switch up the royal rules for Meghan Markle, who attended the family-only holiday in 2017—well before she was an official Duchess.
Every single time Prince William and Prince George fly on a plane together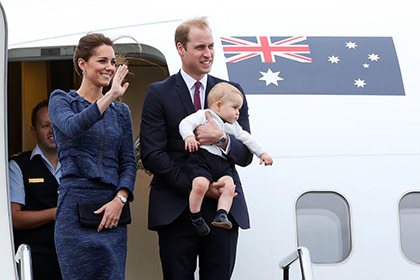 This isn't technically a written rule, but generally, the Crown doesn't love it when heirs to the throne travel together, just in case, you know, something bad were to happen. Every time William and George get on a plane together, they're technically breaking this rule, which they do all the time! Rebels.

When The Queen told Philip she'd obey him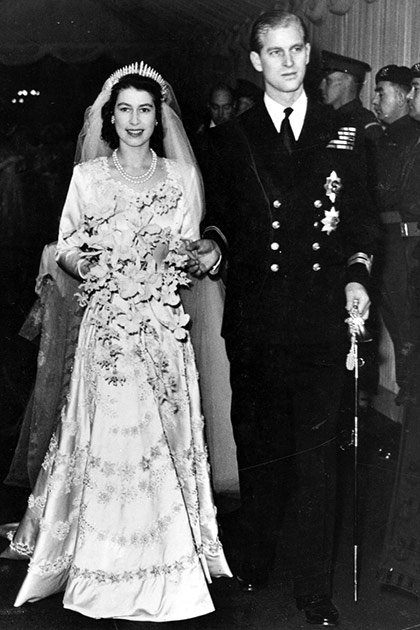 While Meghan Markle made headlines for *not* including the word "obey" in her marriage vows (as had Princess Diana and KMid before her), Queen Elizabeth did include the phrase when she married Prince Philip.
Per TIME, "The future Queen caused a touch of controversy by including the promise 'to obey' Philip, as many thought the future monarch should not be obliged to anybody, even her husband."
When Prince Charles walked Meghan Markle down the aisle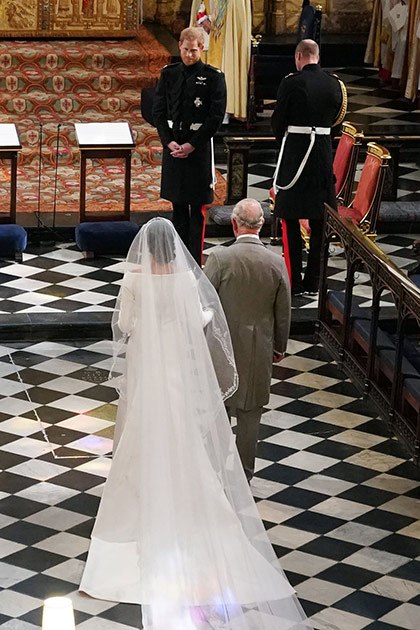 You better believe it was a breach of royal protocol when Meghan Markle's dad collaborated with the paparazzi and canceled his plans to walk her down the aisle. (Really though, most of the Markle family broke the rules in the run-up to Meghan and Prince Harry's wedding, womp womp.)
And it was an even bigger breach of royal tradition for her father-in-law Prince Charles to step in and get the job done. What a time to be alive, TBH!
And when Meghan gave a toast at her own wedding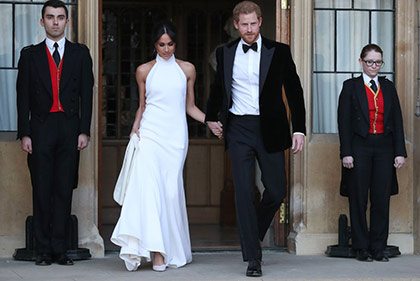 Most royal brides do not speak at their wedding receptions, but Meghan obviously had ~thoughts~ she wanted to express on the most important day of her life, so she gave a toast.
Traditionally, the bride's father gives a toast, but Meghan is her own woman who plays by her own rules (plus, her dad dipped out of the wedding).
When Diana bought a catalog ring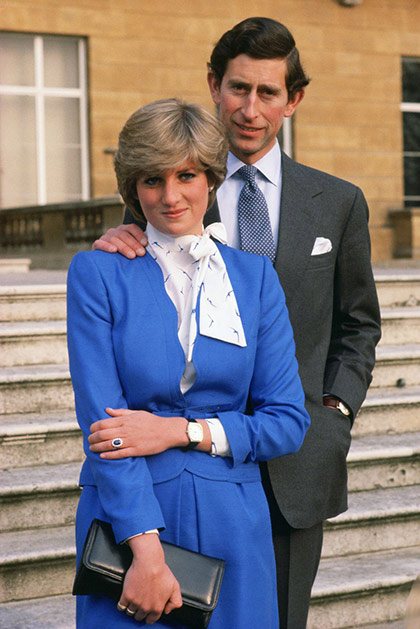 You'd think Diana might've taken advantage of the whole "I'm a literal princess now!" thing by having Charles design her a custom engagement ring from the royal family's jewels—which is far more typical. But nah. She reportedly picked a pre-designed piece from British jeweler House of Garrard's catalog.
When The Queen let Philip in the room for Edward's birth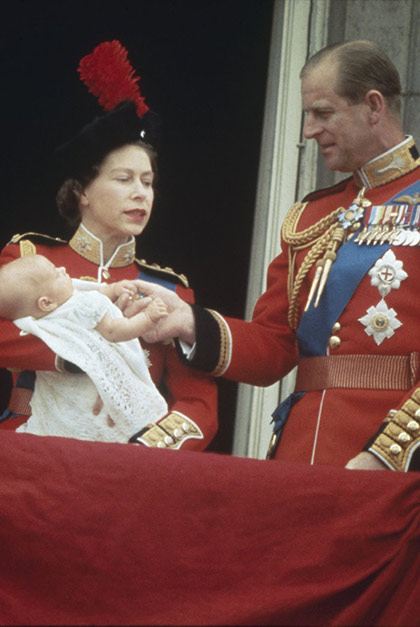 Before Elizabeth, royal women didn't allow their husbands into the room to watch babies emerge from their lady parts. They'd only make bad jokes about "crowning," after all. But Elizabeth broke with tradition for her son Edward's birth, allowing Philip to be present for the occasion. So modern!
When Meghan got all vocal about #MeToo and Time's Up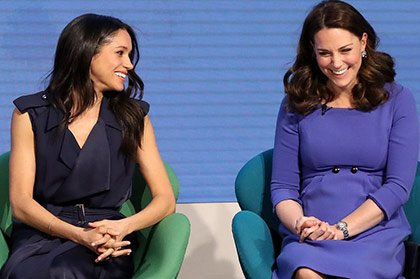 Royals aren't allowed to run for office or vote, because they're supposed to be apolitical. Meghan pretty much broke that rule while speaking on a panel with Prince Harry, talking openly of her support for #MeToo and Time's Up.
"We're seeing so many campaigns—#MeToo, and Time's Up. There is no better time than to really continue to shine a light on women feeling empowered and people really helping to support them," she said.
When Princess Eugenie wore all black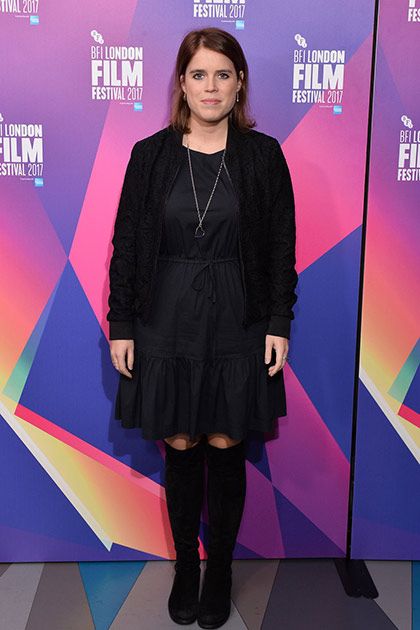 The royals wear all black when a family member dies. Annnnnd that's about it. So, wearing such a somber outfit during a non-mourning event—like Eugenie did in 2017? NOT exactly a royal etiquette win. (Though we can all agree she looks great.)
When Prince George wore pants to the royal wedding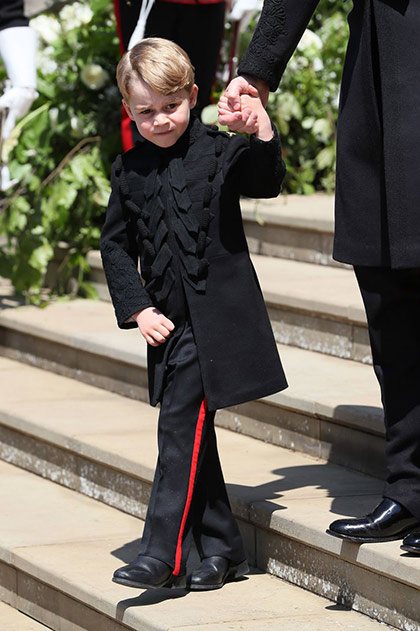 It's traditional for royal boys (and upper class British boys in general!) under the age of eight to wear shorts all year round which, considering British weather, what kind of fresh hell is that?! But George broke this rule during Prince Harry and Meghan Markle's royal wedding, wearing custom Dege & Skinner pants to match his dad and uncle. Enjoy it while it lasts, George.
When Prince Harry took a selfie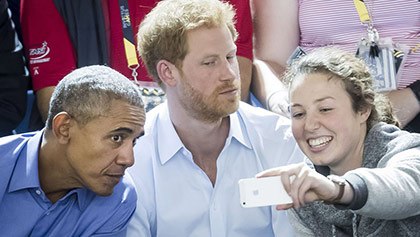 Although they occasionally pop up in the background of regular folks' photos, royals aren't really supposed to take—or feature in—selfies themselves. But Prince Harry doesn't seem to give AF. He's been seen taking numerous selfies with his adoring peeps, including with his number one fan Barack Obama.
When Meghan and Harry held hands in public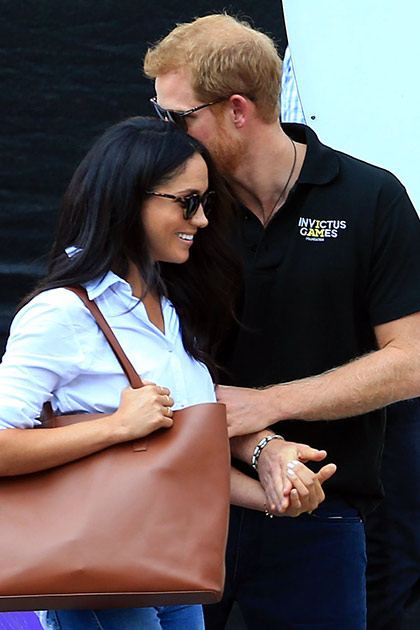 It's not that abnormal for people to hold hands in public. But um, haven't you heard? Meghan and Harry aren't people? THEY'RE ROYALS. And members of the British Royal family are not allowed to show PDA during public events, because, per royal etiquette Myka Meier, they are "working representatives of British Monarchy."
FYI, this rule-breaking moment came during the couple's first official joint appearance at the 2017 Invictus Games.
When Prince William hugged someone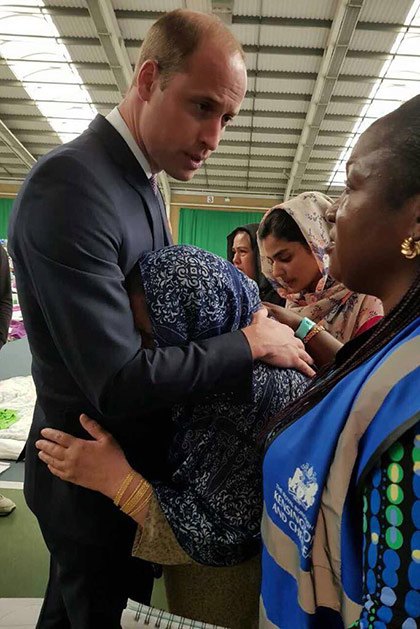 Royals aren't supposed to hug people either! Or rather, people aren't supposed to hug royals—and they certainly don't encourage physical contact (a bow or curtsy will do!). But Prince William made an exception to this "rule" when a distraught woman buried her head in his chest and he reciprocated the embrace.
This touching moment happened in June 2017, when William was visiting survivors of the Grenfell Tower fire in London. The woman in question had been unable to find her husband, and per The Daily Mail she "sobbed into the concerned Prince's chest as he put his arms around her and told her he would do everything he could to help find her loved one."
When Prince Charles hugged a little boy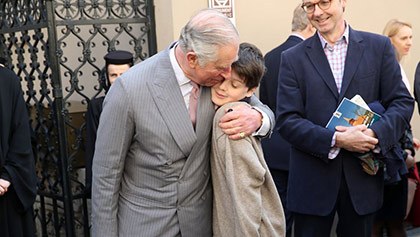 Much like William, Prince Charles broke royal protocol while visiting Romania. Though it wasn't really his fault—he didn't initiate the hug either! The Daily Mail reported that a cute 11-year-old boy named Valentine Blacker was "clearly unfamiliar with royal protocol," and "[threw] his arms around the prince." Guess Charles was into it because he hugged Valentine right back.
When The Queen put her arm around Michelle Obama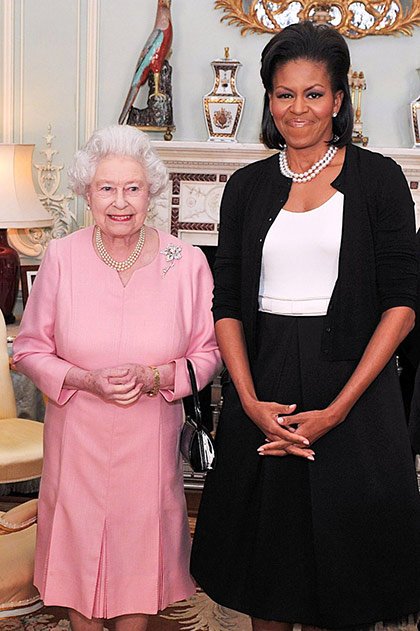 You can watch a video of Queen Elizabeth's rule-breaking moment at Buckingham Palace's 2009 G20 Summit right this way, but TBH this was *not* Michelle's fault. Elizabeth straight up put her arm around the former First Lady for something resembling a half-hug, which is something Her Majesty literally never does. Though, honestly, who could resist hugging Michelle Obama? No one, that's who!
When Meghan Markle wore a messy bun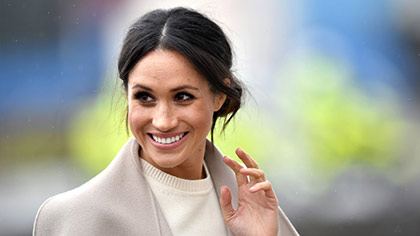 Have you ever looked really closely at Kate Middleton's hair? Then you've probably noticed that she often wears a hairnet when sporting an up-do, presumably due to the royals having to look "picture perfect" at all times. Meanwhile, the Duchess of Sussex loves herself a messy bun.
When Meghan wore a cross-body bag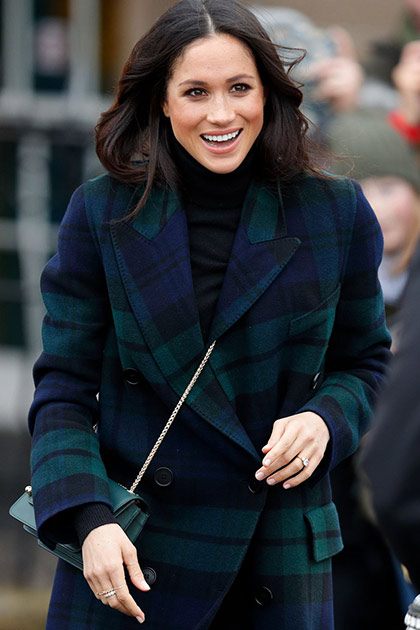 Meghan, Meghan, Meghan, don't you know royals don't wear cross-body bags? No, of course, you don't, because the rule makes no sense whatsoever! But in case you're wondering, the reason royals wear clutches is so that they have something to hold and therefore have a better excuse not to shake hands with randoms (um, so rude).
Guess Meghan was willing to sacrifice protocol for style during her February trip to Edinburgh!
And when Meghan ~bared her shoulders~ during the Queen's birthday celebration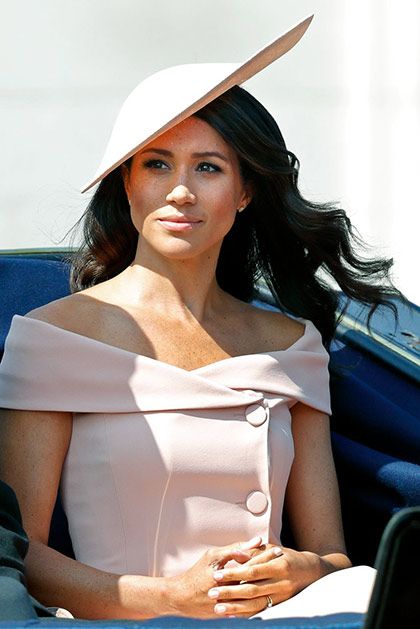 For the past seven years, Kate Middleton has worn sleeves to the Queen's birthday celebration, a.k.a. Trooping the Color. Meghan, for her first appearance at the big royal party, decided to get scandalous with this custom Carolina Herrera dress that exposed her shoulders (like her wedding dress). Damn girl! Those clavicles!
When Meghan Markle signed an autograph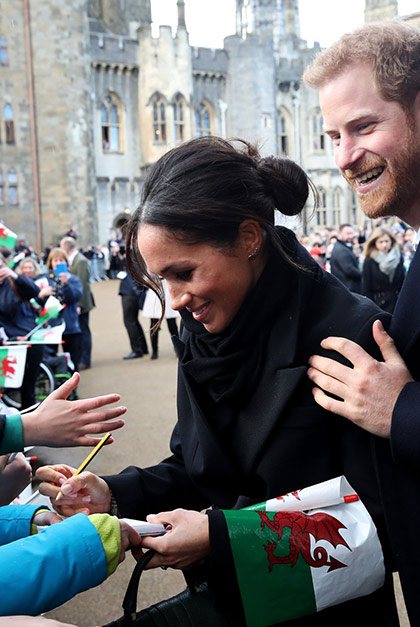 ROOKIE MOVE, Meghan! It's a well-established fact that the royal family does *not* sign autographs for those adoring fans who shove scraps of paper at them. The reason? The risk of a forged signature is just way too high. Although really, can you imagine trying to cash a check signed "Queen Elizabeth," come on now?!
To be fair, Meghan simply wrote"Hi Kaitlin" (along with a heart and smiley face) to a fan during her visit to Wales in January—but what if someone wants to forge her heart? WHAT! IF!
And when The Queen signed HER autograph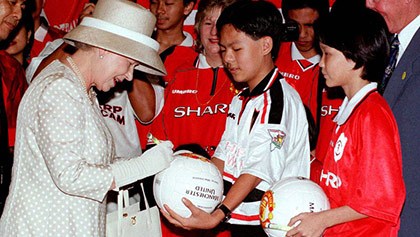 The Queen most *definitely* isn't someone who gives out her autograph to fans often, if ever, but the one time even SHE made an exception? When she happily signed her name on a soccer ball while in Malaysia for a 1998 visit. Guess even Her Majesty gets sick of following rules all day.
When Diana sent her kids to school with normals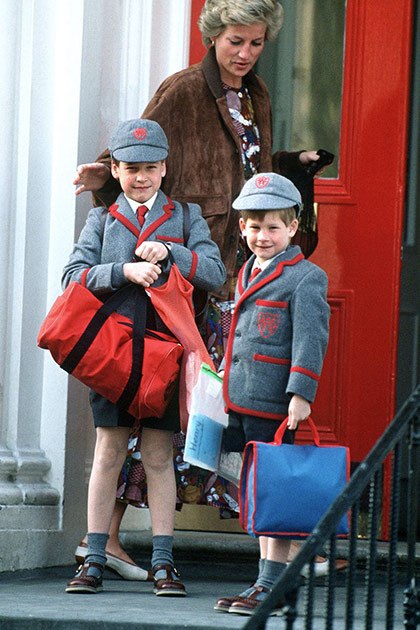 Again, royals are kinda weird about the whole ~school~ thing. Historically, they've relied on fancy tutors to educate their gene pool—but not Diana. She and Prince Charles decided to send Prince William (and later Prince Harry) to Mrs. Jane Mynor's nursery school in London—making him the first heir to the modern British throne not to begin his education at home.
When Kate and William accidentally arrived after the Queen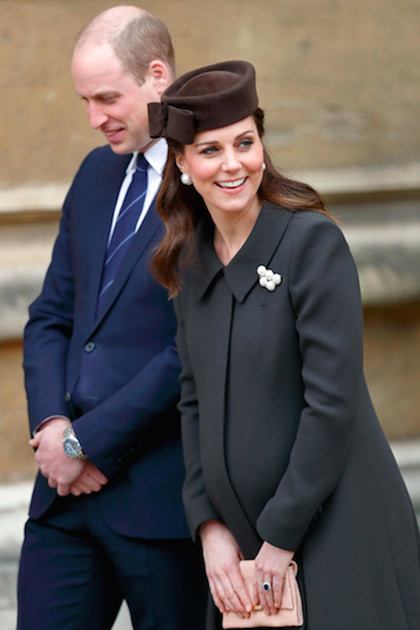 The royal family have protocols in place for their order of arrival at any given event—and The Queen *always* shows up last. (One notable exception: during the funeral for British Prime Minister Winston Churchill, when the Queen allowed his family to arrive after her.)
But that doesn't mean mistakes don't get made. Like when William and Kate unintentionally showed up to a 2018 Easter service after William's granny and looked guilty AF about it. To be fair, they were stuck in traffic!
When Edward chose love > the Royal family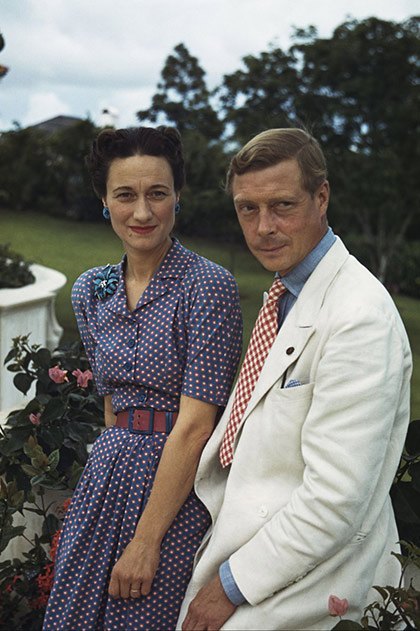 Anyone who's watched The Crown knows that King Edward VIII basically LIVED for the drama. By which I mean he fell for divorced socialite Wallis Simpson, stubbornly refused to break up with her when the royal family was like "My dude, you cannot" and then went ahead and abdicated the throne. Truly, is there any bigger breach of royal protocol than refusing to show up for the job?
Oh, and when King Henry VIII casually started his own church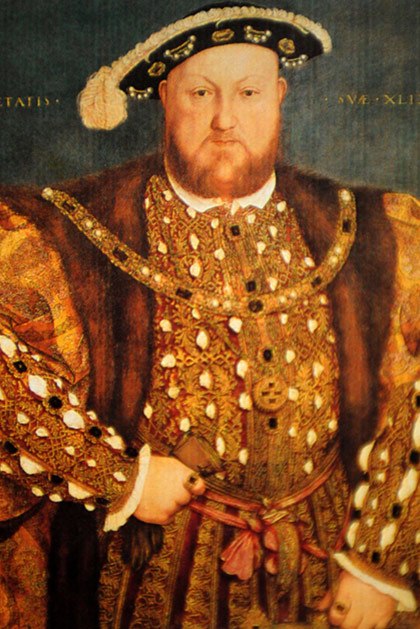 Hahaha, remember when Henry VIII wanted to leave his wife and marry Anne Boleyn but the Pope wasn't having it? So Henry was just like "Eff this, eff that, eff everything, I'm starting my own church!"
I don't remember either due to not being alive, but word on the street (by which I mean the history books) is it was a MASSIVE breach of royal protocol.
***
This article originally appeared on Cosmopolitan.com. Minor edits have been made by the Cosmo.ph editors.
Recommended Videos