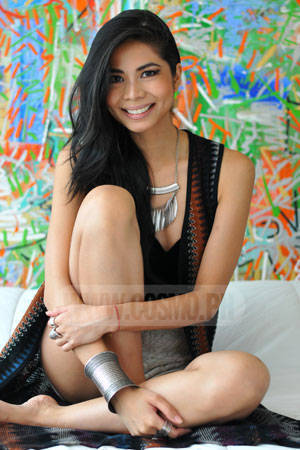 Raya Mananquil is the prime example of a fearless jetsetter. Having been a model since her high school days, the columnist and occasional events host has been lucky enough to travel to many exciting places for both work and downtime.
When we featured her bedroom in the "At Your Place" section of the April issue, we grabbed the chance to ask her all about the fabulous locales she has set foot in.

Raya welcomed us into her artsy condo, which she shares with her brother Robby Mananquil, and graciously answered all our questions about her favorite destinations, beauty must-haves she never flies without, fashion essentials for both summer and cold weather trips, and lots more! Read our Q&A with Raya below for a peek into the lifestyle of a frequent-flying fashionista.

Name three travel destinations that you will always go back to.

Definitely Australia. They have the highest percentage of vegetarians in the world, so I love eating there because it's so vegan-friendly. I also really love the art and culture. Number two would be Barcelona. I just love the vibe there--youthful and vibrant and alive. Seeing the Gaudi architecture around the city is just absolutely spectacular. And the third would have to be L.A. because it's become almost a second home. My boyfriend was born and raised in L.A. [and] he really knows the city inside out. A lot of my family and cousins live there, as well.

Continue reading below ↓
Recommended Videos
Where do you usually like to go with your boyfriend?

Since we're in a long distance relationship, we take turns visiting each other. The last time he was here, we went to Beijing, and the time before that I took him to El Nido, Palawan, and Boracay. When I was there, we went to New York...and he's going to take me to Florida. I'm really excited because I'm such a huge Harry Potter fan and I want to go to Orlando [to visit The Wizarding World of Harry Potter]!

How about locally? What are some places you like to visit in the Philippines?

I don't get to travel as much locally. I think the first time I went to Boracay was in 2004, and that was pretty late. Next on my agenda is to take the trip up north and see the terraces and make my way to Sagada. That's one of my resolutions: to see more of my own country.

What's your most memorable work-related travel experience?

When I was much younger, one of my first modeling gigs--even [Cosmo editorial director Myrza Sison] was on that trip--was modeling for Stafanel in Italy. I think I was maybe 14 years old. Also I've been blessed to have done shows in Paris and Japan, as well. I can't really pick out one particular memory because they've all been so amazing.

What songs do you listen to when you travel?

When I was at St. Jerome's Laneway Festival [in Singapore], I was listening to M83, Toro Y Moi, The Drums, Twin Shadow, Cults... Those were on my playlist because I was getting myself really pumped up for the festival. But on a normal basis, I listen to really old, classic rock music--especially from the '60s. I listen to a lot of Beatles, Bob Dylan, and The Velvet Underground. And if I'm not listening to really old classics, I suppose I listen to newer artists. Whatever I find on the Internet.

What beauty must-haves do you pack when you travel?

Sunblock and lip balm are things that I use everyday. But as for travel essentials, I bring a really good moisturizer 'cause I have extremely dry skin. I always bring my hair curler and a curl-enhancing spray because I like the messy, wavy look. I recently purchased some vegan travel brushes from Sigma. In terms of actual makeup, I always have black eyeliner. And I have horrible eye bags, so I have about three or four types of concealers.

What are your travel fashion essentials?

I wear hats regardless of the season. It serves the purpose of protecting me from the sun, and when it's colder it keeps my head warm. I always wear boots, except when I'm at the beach, of course, then I'll wear my flip-flops. And I bring one really nice dress in cotton or jersey. I'm huge on comfort--I don't really like stuff that's uber structured.

What do you like to collect when you travel?

I get magnets, postcards, coasters...just stuff that catch my eye. If you look at our fridge, [that's where] we post a bunch of stuff.

How do you keep fit when you're on-the-go or touring another country?

Commute--don't take a cab. As much as possible, I walk because I don't have time to go to a gym. I also try to squeeze in a few sit-ups or crunches in bed.

Where's the best place for single girls to travel to?

Definitely go to New York. I think it was in the first Sex & The City movie where Jennifer Hudson was like, "I came to New York to find love!" (Laughs.)


Launch the gallery to see behind-the-scenes photos from our shoot at Raya's home!

Grab a copy of the April 2012 issue of Cosmopolitan Philippines with Marian Rivera on the cover, and flip to p.172 to see Raya's bedroom feature "Artsy Rocks."
1930