Now that teleseryes are being streamed and replayed on the internet, eagle-eyed netizens are having a field day spotting continuity lapses and bloopers that escaped the notice of television viewers.
Here's are 12 teleserye bloopers that wildly trended online: 
1. Make It With You's miscall
On February 25, 2020, former Pinoy Big Brother housemate Paco Evangelista posted on Twitter a blooper from a scene in the ABS-CBN teleserye Make It With You.
The 32-second scene showed the characters of Liza Soberano and Katya Santos talking over the phone. 
So there was Katya talking to Liza via the screen of her phone, but Liza had her phone to her ear.
Paco wrote in his post: "That moment in Philippine TV history where Katya Santos is video calling Liza Soberano's ear."
Netizens in the know clarified Make It With You was not able to correct the continuity of the scene because the episode was "for airing."
"For airing" is the TV production term for a scene that is taped on the very same day it needs to be aired.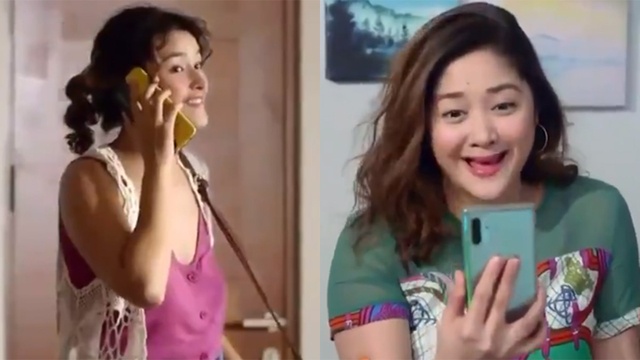 2. Magkaagaw's muddled mud scene 
On February 19, 2020, netizen Jores Sotto Icot caught the continuity blooper in GMA-7's afternoon series Magkaagaw.
The scene showed the character of Sheryl Cruz wearing a white blouse and white jeans.
Continue reading below ↓
Recommended Videos
In the scene, Sheryl was hiding behind her car when she suddenly tripped and fell on a puddle of mud.
Her all-white outfit was covered with dirt, making her character Veron go ballistic.
The screenshots of the scene, which were posted on the netizen's Facebook post, showed the lapse in the scene's continuity.
In the first frame, there was mud all over her pants as she tried to get up from the puddle.
In the next frame, when she was limping towards her car, her pants only showed traces of mud.
The netizen drew red circles around the two scenes to highlight the blooper.
The caption was, "Gulat ka no," referring to the tagline of a detergent brand.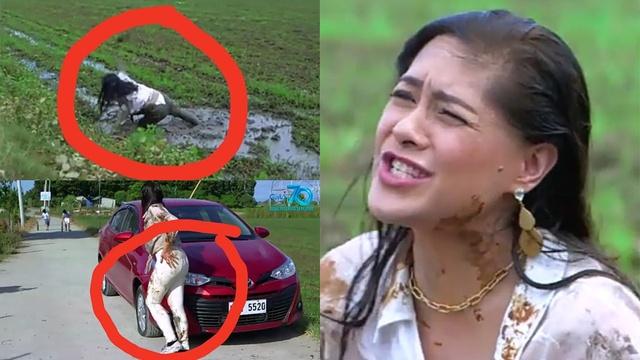 3. The Better Woman's couture mishap
Facebook account Sanfernando Pampanga uploaded an eight-second clip from a scene in The Better Woman that aired on September 12, 2019.
The clip showed Juliet, the character of Andrea Torres, talking to her twin sister, Jasmine (also played by Andrea), who was handcuffed and gagged with a hanky.
Juliet took the gag off so Jasmine could answer.
The Facebook user noticed that Juliet was wearing a brown camisole while talking to Jasmine.
In the succeeding shot where she removed the hanky, Juliet wore a floral white top.
After removing the hanky, the next shot showed Juliet once again wearing the brown camisole!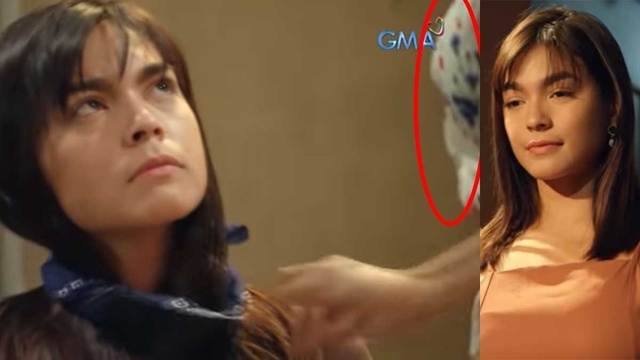 4. FPJ's Ang Probinsyano's bloodless gunshot wounds
Netizens spotted the blooper during Judy Ann Santos' final scene in the ABS-CBN series FPJ's Ang Probinsyano.
The episode that aired on August 19, 2019, showed Judy Ann's character getting shot at the back multiple times by policemen.
On August 20, Facebook page PGAG uploaded a screenshot of her character, apparently dead, but who remained dry after the gruesome, blood-letting scene.
The page meme read, "SHOT FOUR TIMES AT THE BACK. NO GUNSHOT WOUNDS. BUT DIES."
In the caption, PGAG wrote, "Mahirap kasi alisin yung mantsa sa T-shirt. Kidding aside, galing ng acting ni Mumshie Juday."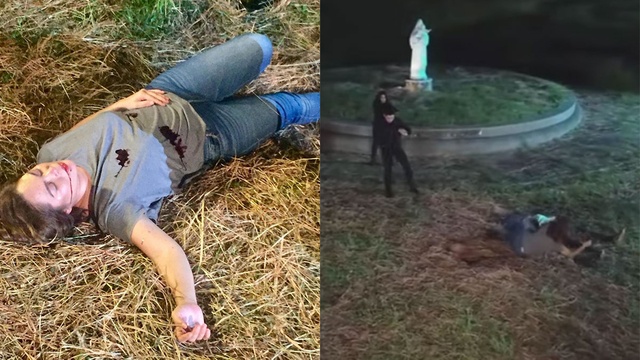 5. Asawa Ko, Karibal Ko's medical fiasco
A Twitter user noticed a mistake in one of the hospital scenes of the GMA-7 afternoon series Asawa Ko, Karibal Ko on January 22, 2019.
The scene, which aired on January 14, 2019, involved the characters of Thea Tolentino and Matthias Rhoads.
In the episode, Daniel (Matthias) was confined to a hospital bed when Venus (Thea) tried to suffocate him with a pillow.
However, Gavin (Rayver Cruz) arrived just in time, even before she could execute her plan.
Netizen @Simply_Clinton tweeted that Daniel could not possibly die from pillow suffocation as the tube in his throat attached to a mechanical ventilator allowed him to breathe.
Along with a screenshot of the scene, he wrote (published as is), "Sino na naman ang researcher nito? Sorry ha pero saksakan ng shunga. Kahit pa ilang oras mo idagan yang unan, makakahinga pa rin siya kasi nga secured ang airways niya niyang intubation na nakakabit sa mech vent. Bwahahahaha si bitter na naman ba ang writer nito?"
Apparently, he had a certain Kapuso writer in mind whom he described as "bitter."
It was GMA writer Suzette Doctolero who responded to the netizen's comment.
She wrote in her tweet, "Writer ba ang nag-direk niyan o nag-execute? Kita mo nga, nag-point out ka ng mali pero mali din sinisisi mo. Hehehe."
@Simply_Clinton did not respond to Suzette's tweet.
However, a netizen told him off, "Subukan mong ganyan pag pinush yung unan siyempre mas malakas ang force noon matatanggal yang tube sa pagkakadikit, SHUNGA ka din."
@Simply_Clinton, who claimed he is actually a doctor, explained: "May cuff yang endotracheal tube na ini-inflate para ma-secure sa loob ng trachea. 'Di yan basta mahuhugot kahit hilain unless sinira yung vocal chords ng tao. Makatawag ka ng tanga. Doctor ako, mga intensive care na pasyente ang hawak ko FYI kaya sanay ako sa ganitong eksena."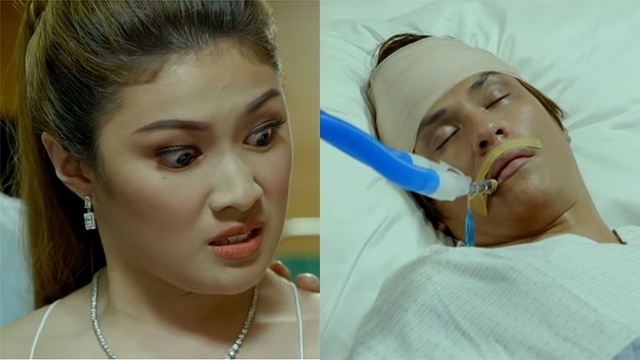 6. Inday Will Always Love You's smashing car crash
Days before airing its final episode, the prime-time series Inday Will Always Love You starring Barbie Forteza became viral on social media because of its car crash scene.
Aired on October 1, 2018, it was a prelude to the show's finale on October 5.
The three characters—Happylou (Barbie), Erika (Kim Rodriguez), and Patrick (Derrick Monasterio)—were inside a car when Erika strangled Happylou using the strap of her bag.
Patrick, who was driving, tried to stop Erika. In the process, he crashed the car, which fell into a river.
Netizens cited inconsistencies in the scene, such as the model of the car.
Before the fall, the car Patrick was driving was a new sedan. But during the crash, the car suddenly became outdated and old.
Aside from that, the car dropped into the water upside down, but inside the car, the characters were trying not to drown in upright sitting positions.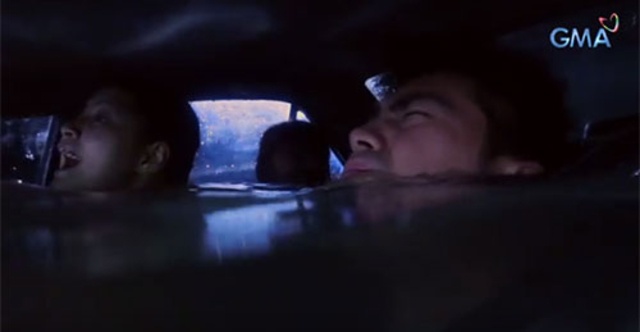 7. The Blood Sisters' editing slip
Erich Gonzales' The Blood Sisters, where she portrayed the triplets Erika, Carrie, and Agatha, flubbed the editing of an episode that aired on March 1, 2018.
Facebook user Keith Lim posted on March 2 a clip showing the episode's glitch, which immediately went viral.

The clip showed Carrie moving towards Erika who was entering the scene.
But as she got closer to Erika, Carrie's right arm suddenly faded.
Keith wrote in his post, "Dili perfect pagka-edit. Ayuha pod ninyo Dreamscape oi! Naputol ang arm ni Carrie pag sud ni Erika..."
The caption, in Tagalog, reads: "Hindi perfect ang pagka-edit. Ayusin niyo naman Dreamscape! Naputol ang braso ni Carrie noong pumasok na si Erika."
Dreamscape Entertainment was the drama unit that helmed The Blood Sisters.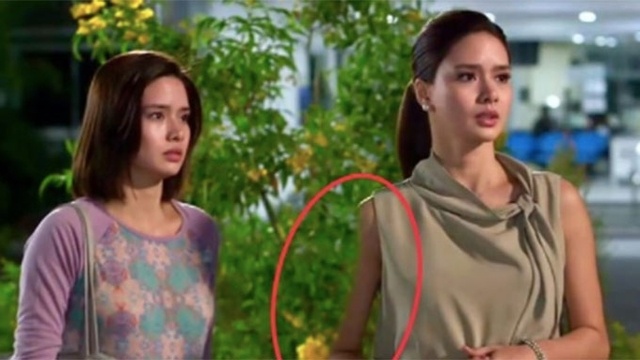 8. Mulawin Vs. Ravena's smartphone PEEKABOO
In a recap of the pilot episode of Mulawin vs. Ravena that aired on May 23, 2017, netizens were surprised to see an iPhone peeking out of Heart Evangelista's Alwina costume.
The recap was the "Ang Nakaraan" part of the show's succeeding episodes, and the screenshot below was a scene from the recap of its pilot episode.
A video of that particular scene where a smartphone made its cameo appearance was posted by a netizen.
The source of the video was apparently a website that regularly uploads full episodes of teleseryes being aired on TV.
PEP.ph (Philippine Entertainment Portal) checked out GMA Network's website to watch the episode, but the smartphone was no longer seen in the "Ang Nakaraan" scene.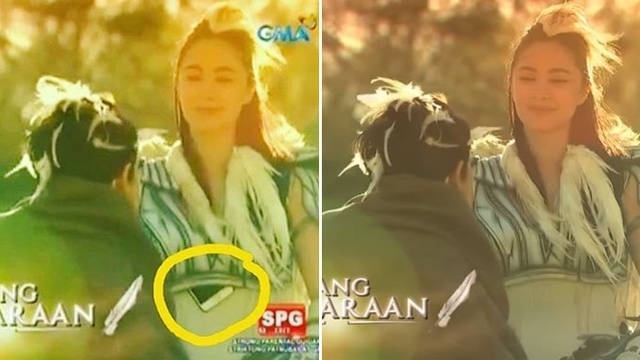 9. Encantadia's futuristic monobloc chair
In March 2017, a photo still of an Encantadia scene showing a monobloc chair caught the attention of netizens.
The scene involved Sang'gres Lira (Mikee Quintos) and Mira (Kate Valdez).
Netizens wondered, were there monobloc chairs in the kingdom of Encantadia?
A Facebook page called Meanwhile in the Philippines was quick to make a meme out of it, saying: "Napaka-modern ng Encantadia! Kitang-kita ang monobloc!"
Encantadia fans, collectively called Encantadiks, were quick to defend the Kapuso show, reasoning it was just an outtake; no monobloc chair was seen in the episode that aired that night.
Encantadia head writer Suzette Doctolero also left a comment on the Facebook post to defend her show.
She wrote, "Di yan ipinalabas. Check mo sa eps at wala yan. Ewan sinong ungas naglabas ng outtakes."
The administrator of Encantadia's official Facebook page also commented on the Facebook post.
The comment read: "Avisala! :) Hindi mukhang rush ang judgment n'yo...Char!!! Wala pong umere na ganyan sa TV. Try checking the actual episodes on Iflix, etc."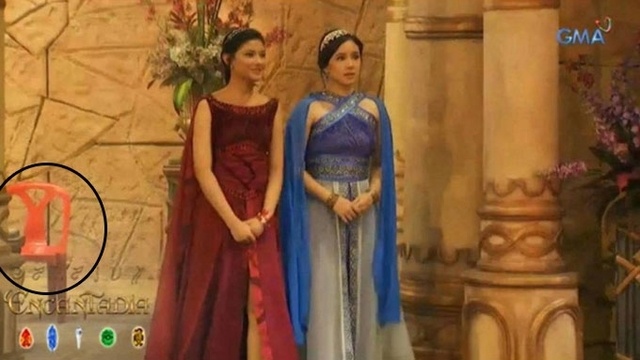 10. Bagani's branded slipper blooper
In an episode of ABS-CBN's fantasy series Bagani that aired in August 2018, one of the extras was spotted wearing Nike slippers in a sequence with Ana Abad Santos.
Ana's character Lila was seen walking in a forest with several men behind her.
And in the fictional ancient world of Sansinukob, a pair of Nike slippers worn by one of the men was a fantastic find for a netizen using the Twitter handle @chrisandreaa. She uploaded the screenshot with the slippers encircled and wrote in the caption: "ANUNA BAGANI??? Nike pa more."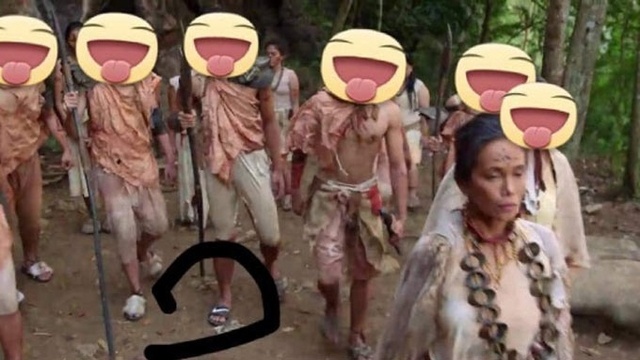 11. Wildflower's viral tsinelas wedding photo 
Maja Salvador's "Wildest Wedding" scene in Wildflower trended when it aired on August 10, 2017.
The scene continued to trend when a photo showing Maja wearing slippers underneath her black wedding gown came out on social media.
Maja was quick to explain that the photo—which came out on ABS-CBN's website—was taken during the rehearsal.
She said in an interview with Boy Abunda, "Ang nangyayari po kasi tuwing rehearsals naman, naka-tsinelas kami kasi kung hindi, mapapagod po talaga kami. Pero 'pag take na, kailangan talaga nakasapatos so hindi po siya lumabas talaga noong inere."
Maja also uploaded the photo on her Instagram stories where she first explained what happened in the photo.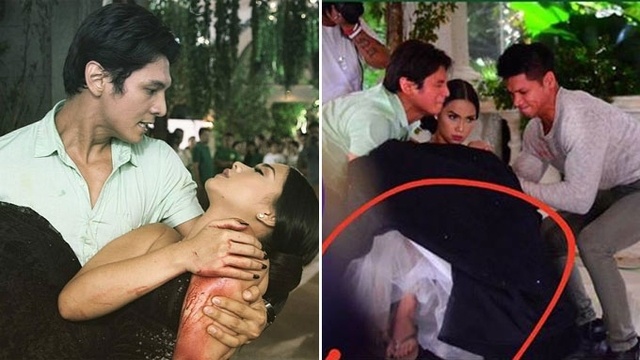 12. Kambal, Karibal's "washing machine" tube
The final episode of Kambal, Karibal on August 3, 2020, showed Kyline Alcantara's character hooked up to a mechanical ventilator.
A netizen posted a screenshot of the scene and asked: "Bakit siya nakakabit sa washing machine?"
The netizen was referring to the plastic tubing that looked similar to the tubes used in washing machines.
Another Twitter user tagged Kambal, Karibal creative consultant Suzette Doctolero and asked for clarification about the use of tubes in the scene.
She replied, "Yes. Confirmed na legit yan. At tama. Ganyan talaga itsura noong ginagamit na tubing sa ospital. So wrong ang mga mema diyan sa tweet na yan. Sama sama sila, wala man lang unalaska sa totoo except sa isa."
But another netizen wrote that the scene showed the wrong placement of the endotracheal tube on a person, claiming, "Sorry pero mali po yan. Hindi po pinapasok ang buong endotracheal tube. May certain level po depending on the size. Dito po kasi pasok lahat, pati ang connector. You could have asked the assistance of a nurse/doctor."
Suzette countered: "May nag-assist na nurse sa production. Totoong nurse. 'Di peke. :)"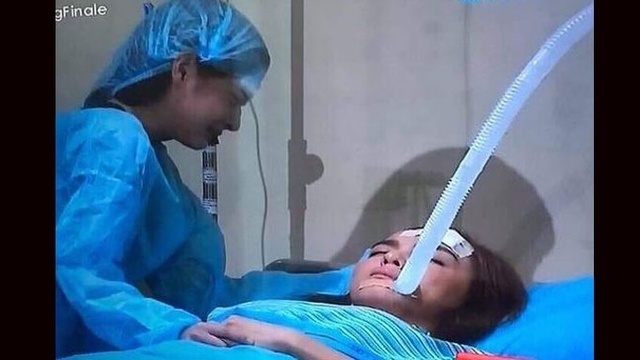 ***