Don't you just love it when you can watch your favorite K-dramas anytime you want? Unlike before when we have to ~patiently wait~ for an episode to air on TV on a certain timeslot, we now have streaming apps that allow us to watch our fave series 24/7. Just in time for the holiday szn, Smart has a wonderful present for us and it's exclusive access to the *best* tvN shows on GigaPlay!
In partnership with CJ ENM Hong Kong and Wilbros Entertainment, the leading telco brand brings the revamped tvN Premium channel on their new streaming app that any Smart mobile subscriber (which, btw, is more than 70 million—wow!) can watch for free. With a slew of  Korean content, we're pretty sure that you'll be using GigaPlay for hours!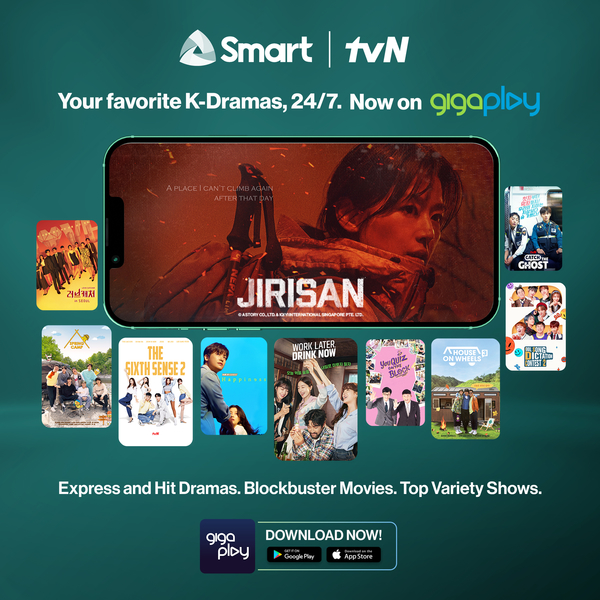 According to Jane J. Basas, Smart's SVP and Head of Consumer Wireless Business, this partnership is something that Hallyu fans will be excited about: "We're happy to collaborate with CJ ENM because K-content is truly close to Smart when it comes to service. We've been constantly listening to our customers as we enable our subscribers to pursue their passions despite the limitations of our current situation. GigaPlay plays a key role in our innovations platform because it delivers access to amazing experiences at their fingertips—and K-content is one of the main offers we have on the app alongside live sports, music, and entertainment."
ADVERTISMENT - CONTINUE READING BELOW ↓
Michael Jung, the Managing Director of CJ ENM Hong Kong, also shared his joy over this new collab: "It is evident [that] Hallyu fever is on an all-time high in the Philippines with fans who are extremely loyal to their idols and it will only continue to get bigger and more influential. Our continuous partnership with the Philippines' leading mobile services provider, Smart, is a dream come true for us to bring all the best premium Korean content to their customers via their GigaPlay app so that they can now enjoy our channel anywhere they go." 
So, what can you watch on Smart GigaPlay's tvN Premium channel? A LOT! The app has a string of popular 2021 K-dramas that you'll enjoy binge-watching: There's the mystery-fantasy drama Jirisan, the apocalyptic thriller Happiness, and the comedy series Work Later, Drink Now. For 2022, get excited because Ghost Doctor (Rain and Kim Bum) and Military Prosecutor Do Bae Man (Ahn Bo Hyun and Jo Bo Ah) will be available for streaming.
Apart from K-dramas, you can also view blockbuster Korean movies on GigaPlay starting January 8, 2021. This includes Officer Of The Year, Two Faces Of My Girlfriend, The Beast And The Beauty, Fatal Encounter, A Company Man, and The Witch: Part 1. The Subversion, to name a few.
The Fatal Encounter Official Korean Trailer (2014) - Hyun Bin Drama Movie HD
THE WITCH: SUBVERSION (2020) Official US Trailer | Korean Action Horror Movie
There's also *something* for you K-pop fans! If you've missed our ~annual tradition~ aka the 2021 Mnet Asian Music Awards, don't worry because you can also view it on the app. It's available for streaming on January 1, followed by the 2021 World K-pop Concert (featuring performances from NCT Dream, ITZY, SHINee's Key, and more!) on January 2.
[2021 MAMA] aespa - Next Level | Mnet 211211
Aaaaand on top of these, Gigaplay also has a bunch of Korean variety shows just in case you want to see ~candid~ side of your fave Korean celebs. This holiday season, you can watch The Sixth Sense, 3 Meals A Day: Fishing Village , Idol Dictation Contest Season 2, and Love Catcher.
The Sixth Sense 2 ? EP8 Unreleased Scene (ENG/CHI SUB)
Ready to binge-watch? Just download the Smart GigaPlay app (on the Google Play Store or Apple App Store), connect to your mobile data, select the show you want to view, and you're all set for some serious fangirling. Enjoy!
MORE K-DRAMA ROUNDUPS RIGHT HERE:
6 Must-Watch Dark And *Intense* K-Dramas
11 K-Dramas To Watch After Work That Won't Stress You Out, Promise