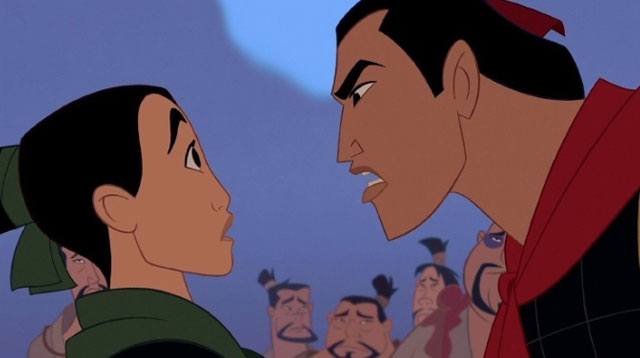 Following the news that Disney's new live-action Mulan will not be a musical, thousands of fans took to social media en masse to express their outrage and disappointment. And to further fan the flames, Disney also announced they would be cutting major heartthrob Li Shang from the picture—which caused many to wonder what the hell is going on with the film and why it's straying so far from the 1998 animated feature!
Here are just a few of the many reactions fans have had to the news so far:
1.
NO ICONIC SONGS?? NO BISEXUAL LEGEND CAPTAIN LI SHANG??? DISNEY AIN'T ABOUT TO RUIN MULAN LIKE THIS I WON'T ALLOW IT pic.twitter.com/fM5HXkY7SQ

— J???? (@multiversetony) March 19, 2017
2. 
Cinderella: same story w/ real ppl

Beauty and the beast: same story w/ real people

Mulan (a movie we begged for): let's fuck it up for fun

— IMAC ELBAKAERBNU (@BeySatisfied) March 19, 2017
3. 
If you don't understand the importance of Mulan's iconic songs, watch this video of kids singing "Honor to Us All" pic.twitter.com/atZGJATkLG

— Nerdy Asians (@NerdyAsians) March 20, 2017
4.
what if disney wants mulan to flop so they can point to it & say "we gave u an all-chinese cast & it flopped" even tho that aint the problem pic.twitter.com/CwrOr51Dcg

— angela (@captaindeadpooI) March 19, 2017
5.
mulan did not break gender roles and save her whole country for this mess. pic.twitter.com/KydLQsGgBx

— dead boyfriend (@unsmokabIe) March 20, 2017
6.
a live action chinese movie of mulan with no song numbers and no shang already exists tho pic.twitter.com/J1lZ3vuz0Q

— aillah (@thranduiIien) March 20, 2017
7.
IF BEAUTY AND THE BEAST GOT SONGS THEN I SHOULD BE ABLE TO SING WITH MY BOY LI SHANG THE BEST DISNEY BOP "ILL MAKE A MAN OUT OF YOU" #Mulan pic.twitter.com/9KJkLcBPJI

— Riley (@RShaffor) March 20, 2017
8.
They kept beauty and the beast basically the same but they tryin to change Mulan all the way up pic.twitter.com/5TKgMCCrHv

— ?? (@mintygi) March 20, 2017
9.
excuse me, no songs in live-action Mulan??? next they're gonna tell me Shang wears a shirt the whole time

— emery lord (@emerylord) March 20, 2017
10.
why would they take the music out of Mulan?? seriously their logic is MYSTERIOUS AS THE DARK SIDE OF THE MOOOOON

— kurtis conner (@kurtisconner) March 21, 2017
11.
I ask for two things from the live-action Mulan: one, an Asian actress that'd be believable as a boy or a man, and a hunky Shang.

— Lea Salonga (@MsLeaSalonga) March 20, 2017
12.
so disney can have movies of princesses falling in love with beasts & women falling in love with bees but not a bisexual liking mulan? pic.twitter.com/bhis2u5wBJ

— ??? fatin ??? (@lilyandjames) March 20, 2017
13.
Mulan live action movie? Never heard of it pic.twitter.com/FSQVU9ny8f

— laura (@daisyrdley) March 19, 2017
14.
Apparently the live action Mulan movie won't have any music. What kinda shit is this, how will we know when its time to get down to business

— Zen Thomas (@ZenThomas8) March 21, 2017
15.
mulan didn't save china to have her live action film be described as a "girly martial arts extravaganza" pic.twitter.com/BYVpb8dU8X

— ?? mulan clara ?? (@clehrah) March 20, 2017
Follow Gina on Twitter.
***
This article originally appeared on Cosmopolitan.com. Minor edits have been made by the Cosmo.ph editors.
Recommended Videos