Being a pre-debut fan of TXT, I have witnessed their journey through the screens of my gadgets and to finally see them live is just surreal. It was a long ride—one that I would willingly take again if I have to. I share this story with none other than my MOA (TXT's fandom) soulmate and BFF, Niah.
Three years ago when TXT just debuted, Niah and I made a promise to each other that we will see them live together. When the pandemic came, that dream got delayed. But no kind of barrier will stop us from turning it into reality. Now, that promise is already fulfilled. It still feels like I'm on cloud nine whenever I think that I went to TXT's concert in Manila with someone who made the waiting more worthwhile.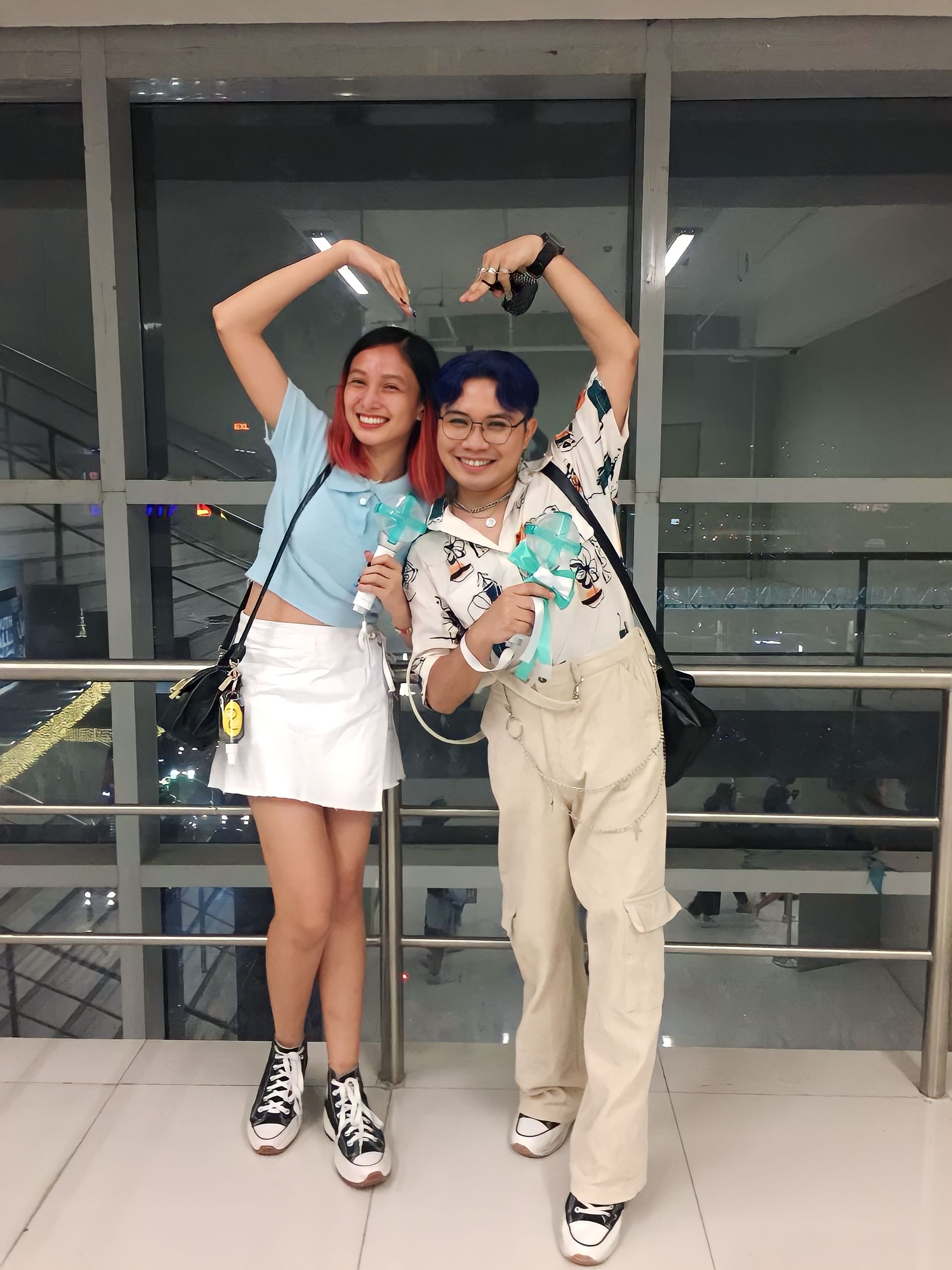 As I write this story, I'm trying to overcome the ~sadness~ that comes with attending concerts. The feeling is both agonizing and satisfying. One moment you're laughing at your fan cams and the next thing you know, you're having an emotional breakdown. TBH, I was never this attached before and now, I'm truly missing the five boys who helped me get through difficult times. Allow me to *immortalize* the best two nights of my life.
ADVERTISMENT - CONTINUE READING BELOW ↓
Things I did before going to the concert
Living in a province has always been a challenge for concert-goers. Not only do we worry about securing our concert tickets, but we also need to plan our accommodation and book either plane flights or bus trips. More iponing is needed. The Asian dates of TXT's tour were announced in June in which the two-day Manila leg was initially scheduled on October 15 to 16. In the second week of August, we already booked our flights even without concert tickets due to the prices. It was also in the same month when it was announced that the Manila concert dates were moved from October 27 to 28. That moment was just full of mixed emotions: First, we already booked our plane tickets. Second, it's going to happen on weekdays. And last, October 28 is Niah's birthday! Nonetheless, our eagerness to make it happen had remained unaffected.
Soon after, we purchased our MOA membership at Weverse and immediately registered for the member pre-sale. We didn't want to miss the chance of seeing the boys for two days, so Niah and I availed that. Since we are also part of the TXT Albay fanbase, we also volunteered to organize the unofficial queueing for the Legazpi ticketing to help our fellow MOAs.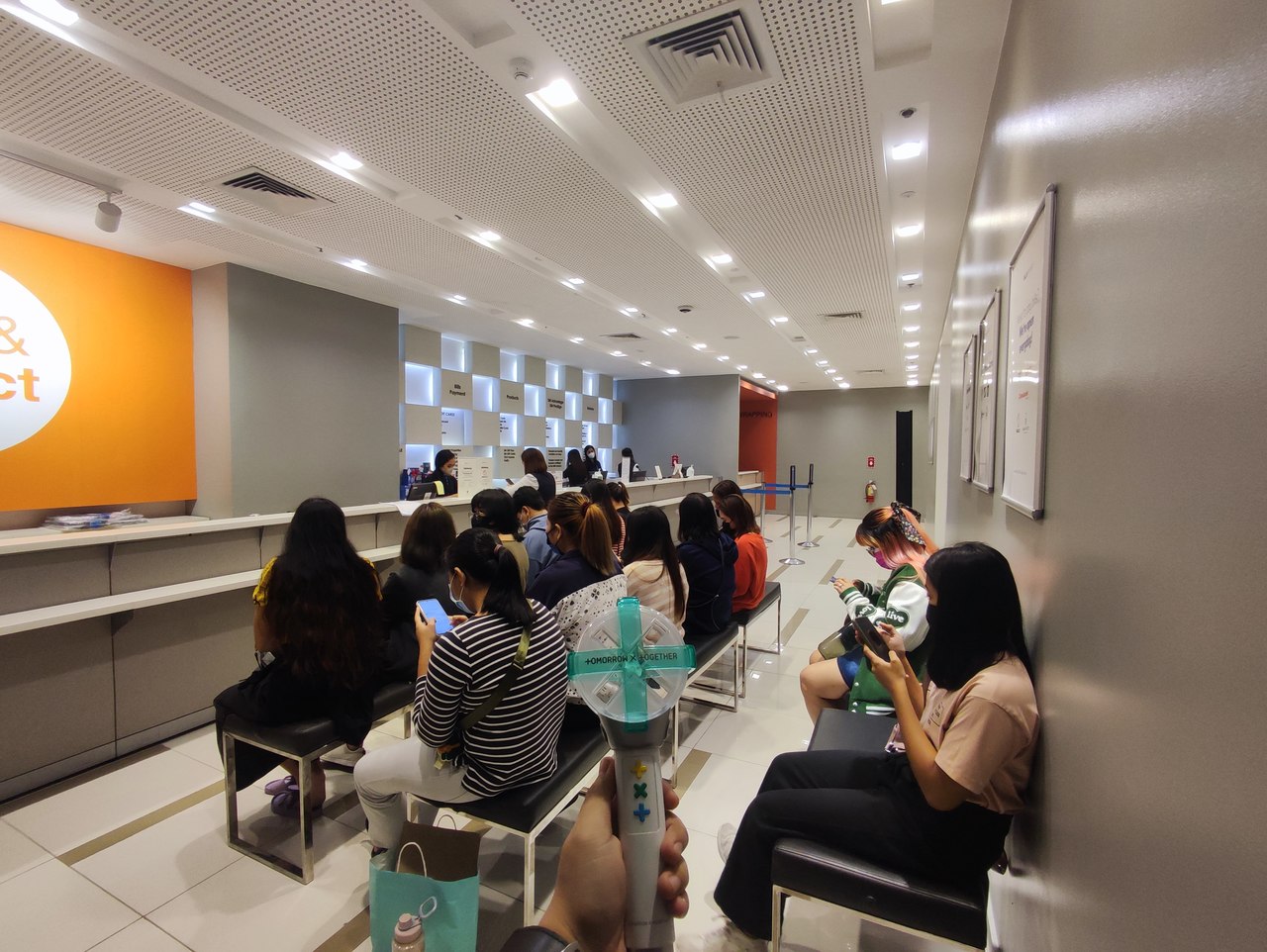 Fast forward to ticketing dates: September 24 was the MOA member pre-sale and Niah was already in our house an hour before the ticketing started. I remember her screaming that she needed an additional P200 for the online fee which we didn't know. As her BFF, I immediately sent her the amount. It was grace under pressure at its finest! She got a low queueing number which was a blessing because she was assigned to buy our top-priority tickets. In just four minutes, we already purchased our Royalty B tickets for Day 2. At 10:36 a.m, we finally bought our GA tickets for Day 1. It was one of those moments when I felt that destiny was in our favor because our target section of 505 had two seats available next to each other. I immediately clicked them open and paid.
We then packed freebies from the past events of TXT Albay to be distributed to MOAs who will be lining up in SM Legazpi. Later in the evening, we already claimed our tickets at Customer Service while waiting for other fans to come. This time, we were just there to head to the queue because we already got ours. At around 10:00 p.m, there was heavy rainfall and we needed to look for a place to spend our time. At 4:00 a.m the next day, we came back to the mall and MOAs arrived one by one. The general on-sale started at 12:00 p.m and thankfully, all MOAs who lined up in Legazpi secured their tickets in less than one hour.
ADVERTISMENT - CONTINUE READING BELOW ↓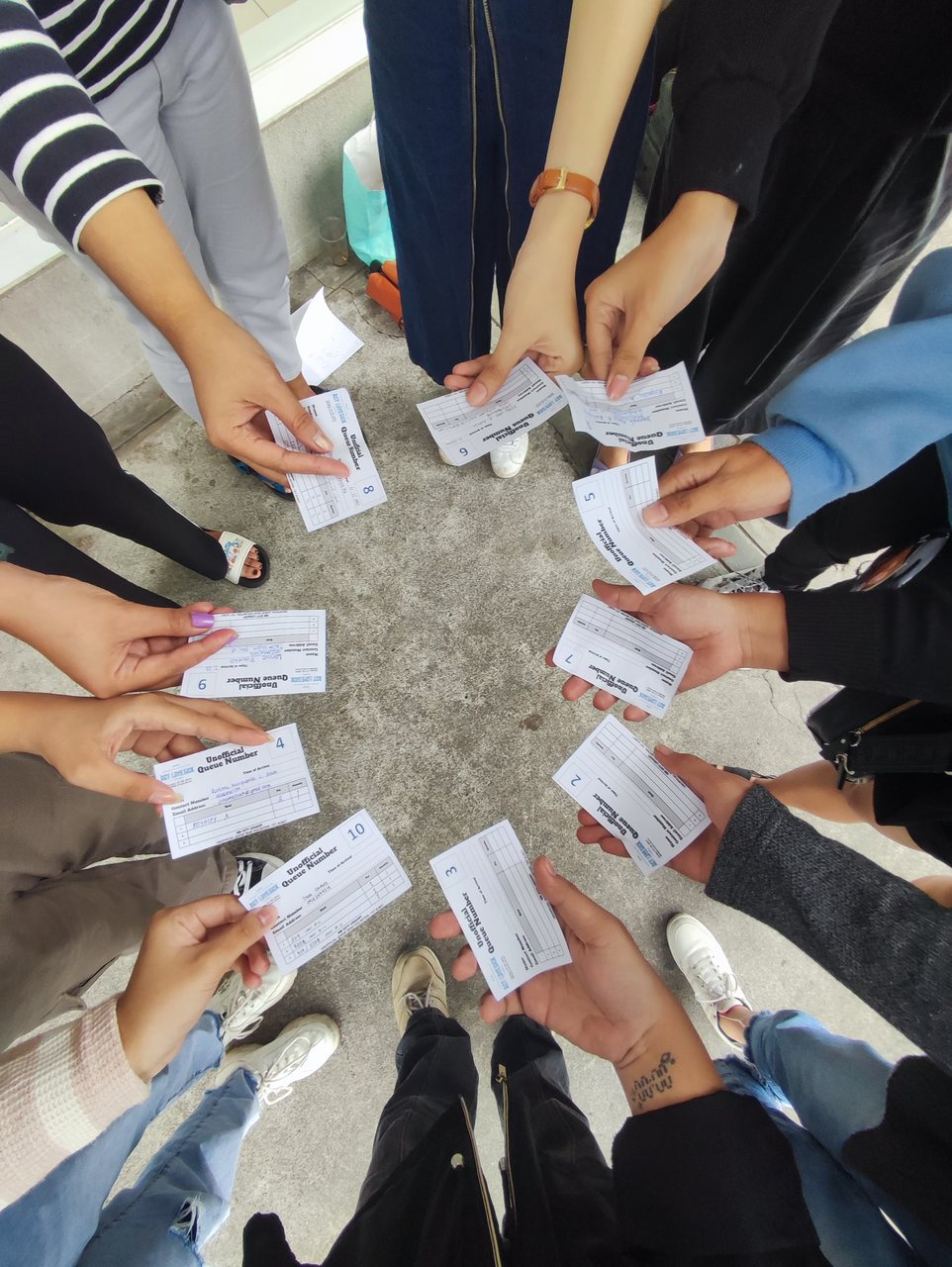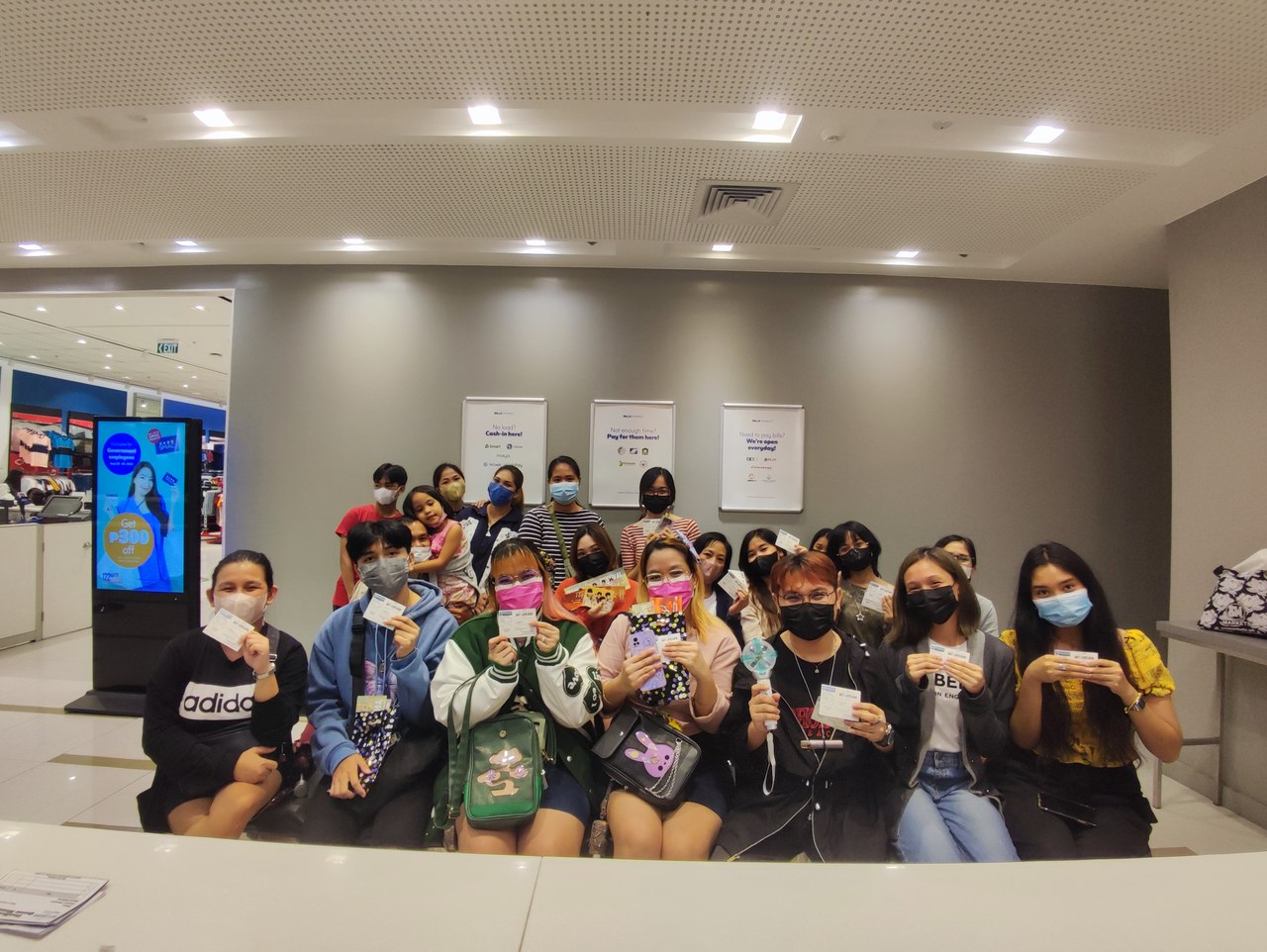 At this point, we only have three remaining concerns: Our booked flights, accommodation, and of course, our outfits. We then rebooked our Legazpi-Manila flight but since our return flight is on a weekend and close to the holidays, there's a huge difference in prices. And so, we rebooked it for 2023 (for future purposes) and just opted for a bus trip on our ~way home~ to Bicol.
The next thing we did was finalize our accommodation using the Airbnb app. For convenience, we chose a place near SM Mall Of Asia Arena. And to settle our third concern, we went hopping in almost all ukay-ukay shops in Legazpi. A few days before we fly to Manila, we also dyed our hair. Niah chose red and I picked blue. We wanted to have different vibes for the two-day concert and I think we successfully achieved that!
The chaotic chapter: LGP to MNL
Finally, it's October 27 a.k.a D-day! Everything's packed and we're ready to go (hindi ka sure). Our flight to Manila was scheduled for 5:25 a.m so we need to board at 4:40 a.m. We arrived at the Bicol International Airport at around 3:50 a.m and that's when I realized that I left my wallet at home. I wasn't worried at all not until our friend, Ate Nikka, joked and asked if I have my concert tickets with me. And that moment was SO HORRIFYING! How can I possibly forget two of the most important things to bring even with a checklist? Our house is just 20 to 25 minutes away from the airport, so I need more or less an hour to be able to get back and forth. I risked it all and went back home.
I called my Mom to prepare it and when I finally got my wallet and tickets, Niah was already messaging me if I could get back faster because they already heard the last call for check-in. Good thing I already checked in online. Less than 10 minutes before boarding, I arrived back at the airport with messy hair and sweat all over my face. My newly bleached hair strands were up in different directions but yay, I made it to the flight! Thankfully, I figured it out while still in Bicol because if we already landed in NAIA, what else can I do? Only *crying, crying, crying.*
ADVERTISMENT - CONTINUE READING BELOW ↓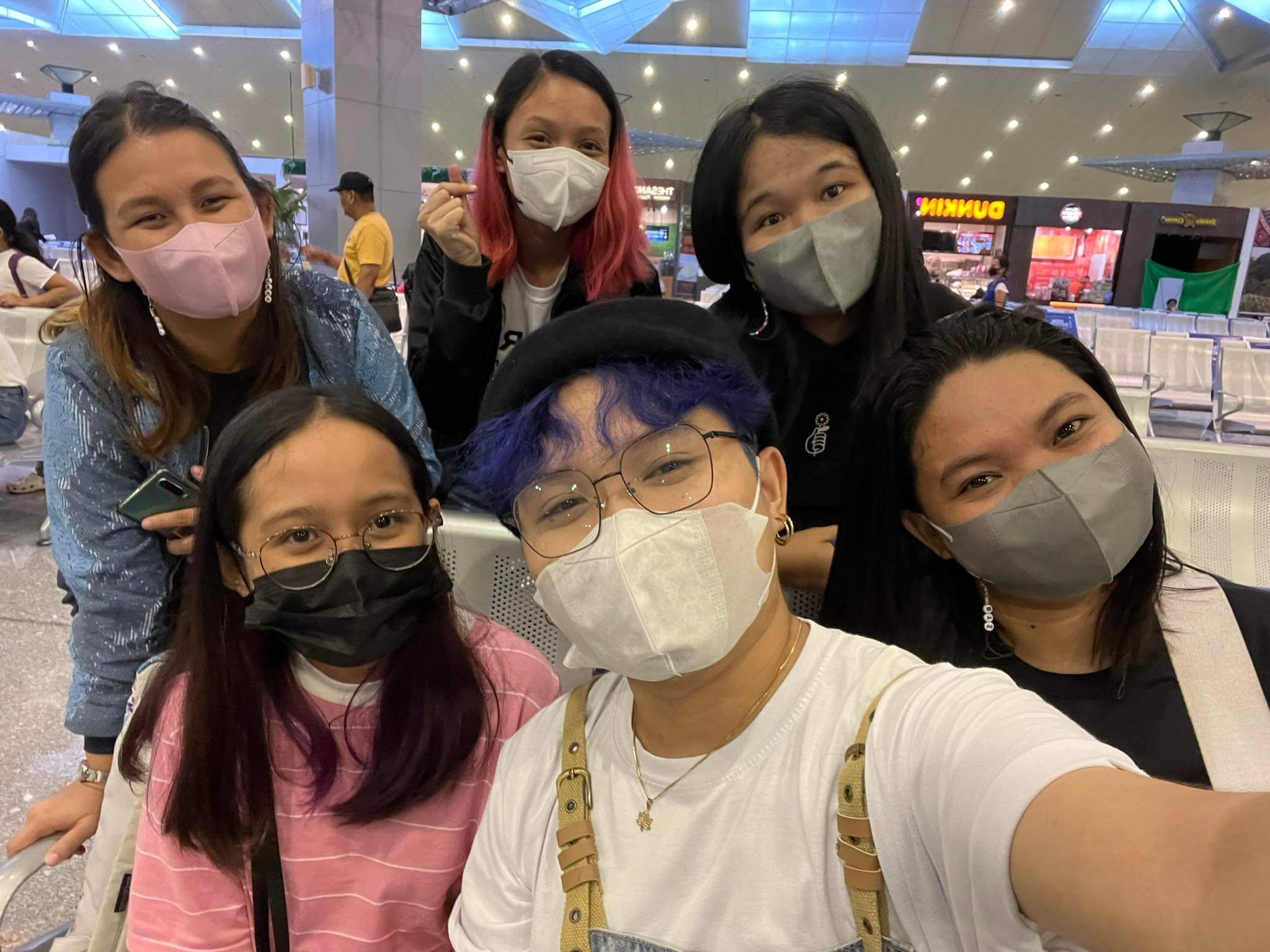 Until now, I still get chills whenever I think about that muntikan na moment. It was a lesson learned the hard way, and a huge reminder to put your concert tickets first inside your bag before anything else. The best feeling was when the plane finally reached the skies. The weather wasn't really good at that time but it was one of the most beautiful sunshine that I have seen. The overlooking clouds were like cotton balls that tickled my heart. I knew that I was off to a great day! The turbulence didn't bother me, and I took a good nap with Niah beside me. At around 6:00 a.m, we landed in Manila and I heave a sigh of relief.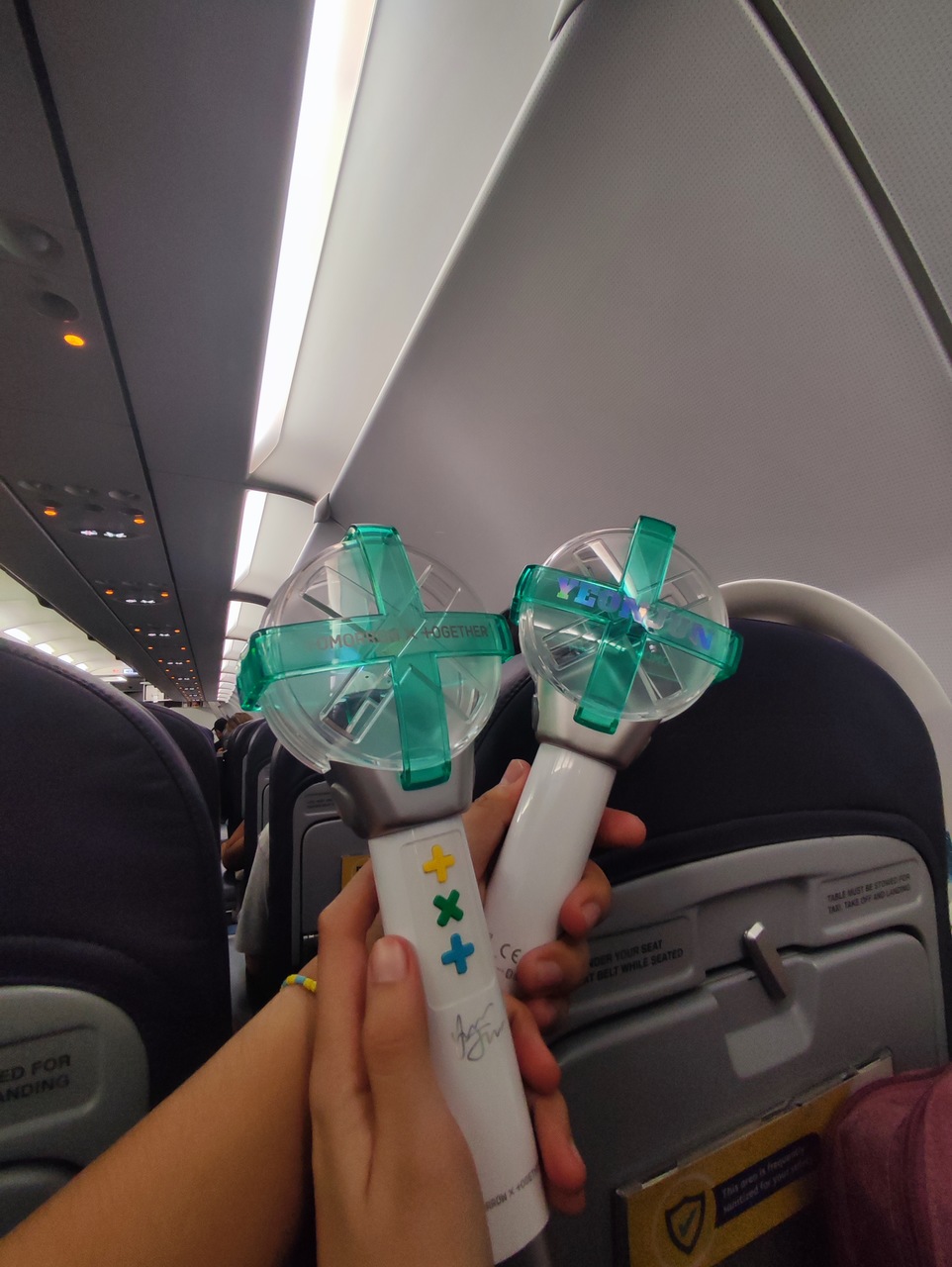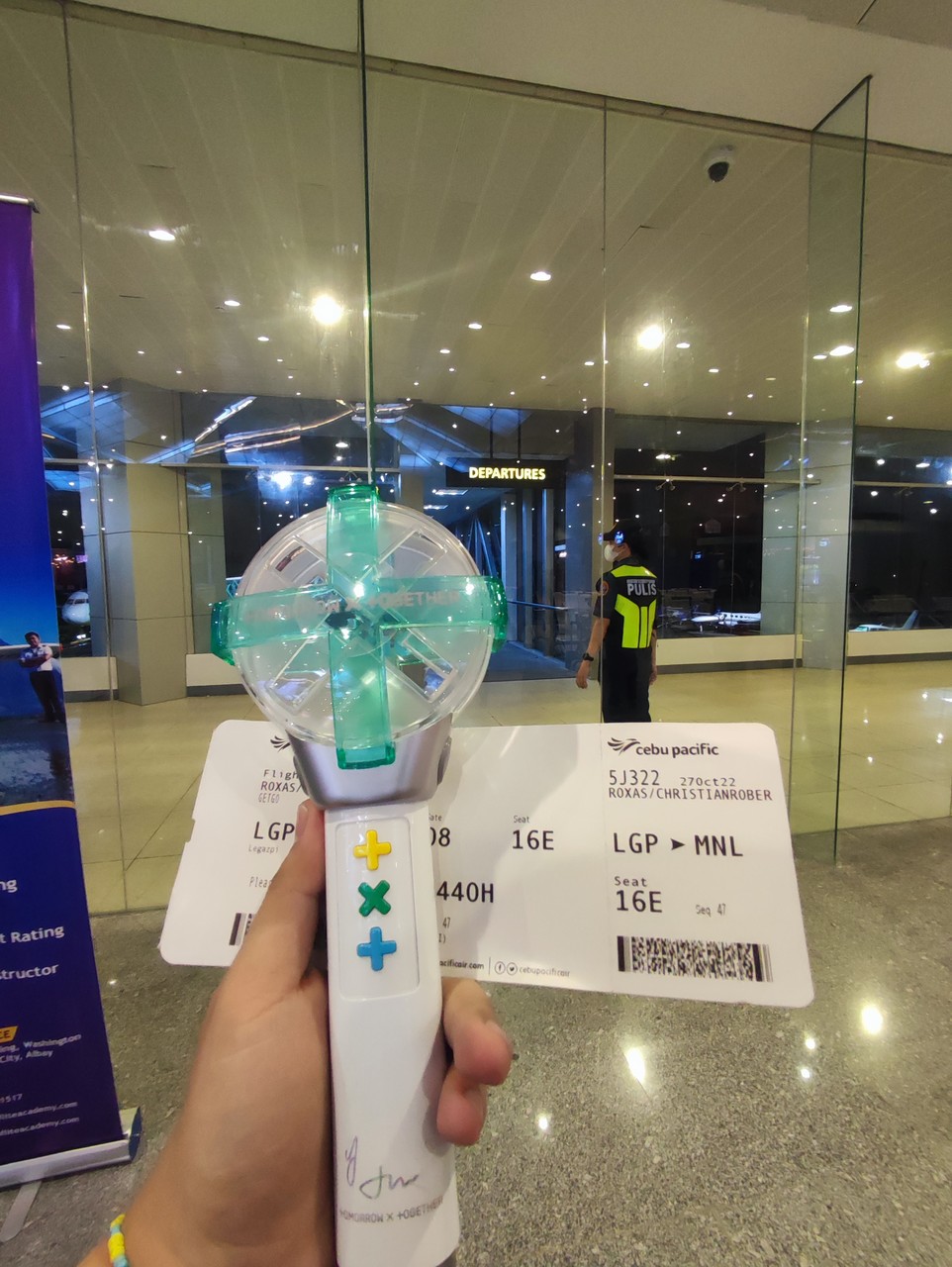 MOAs in MOA Day 1
Since we arrived early in the morning, we decided to get some rest first. We looked for a place that offers a short stay and slept for a few hours. At 1:00 p.m, we transferred to our booked accommodation for the rest of our stay. We fixed our things and started preparing. Niah is on a work-from-home setup but she doesn't have to choose between working and fangirling because my bestie can do both! In the afternoon, I was ready to go out. Ate Nikka was already in the venue for the Day 1 soundcheck. I met our other friend, Ate Leanna, at the SM Mall Of Asia and had lunch with her. The next few hours happened so quickly. At 6:00 p.m, I was waiting for Niah outside the venue. We didn't have much time for freebie hunting so we were really happy when some MOAs approached us and gave us fan merch that they made themselves. A few minutes after and Niah arrived, and we finally entered the arena.
ADVERTISMENT - CONTINUE READING BELOW ↓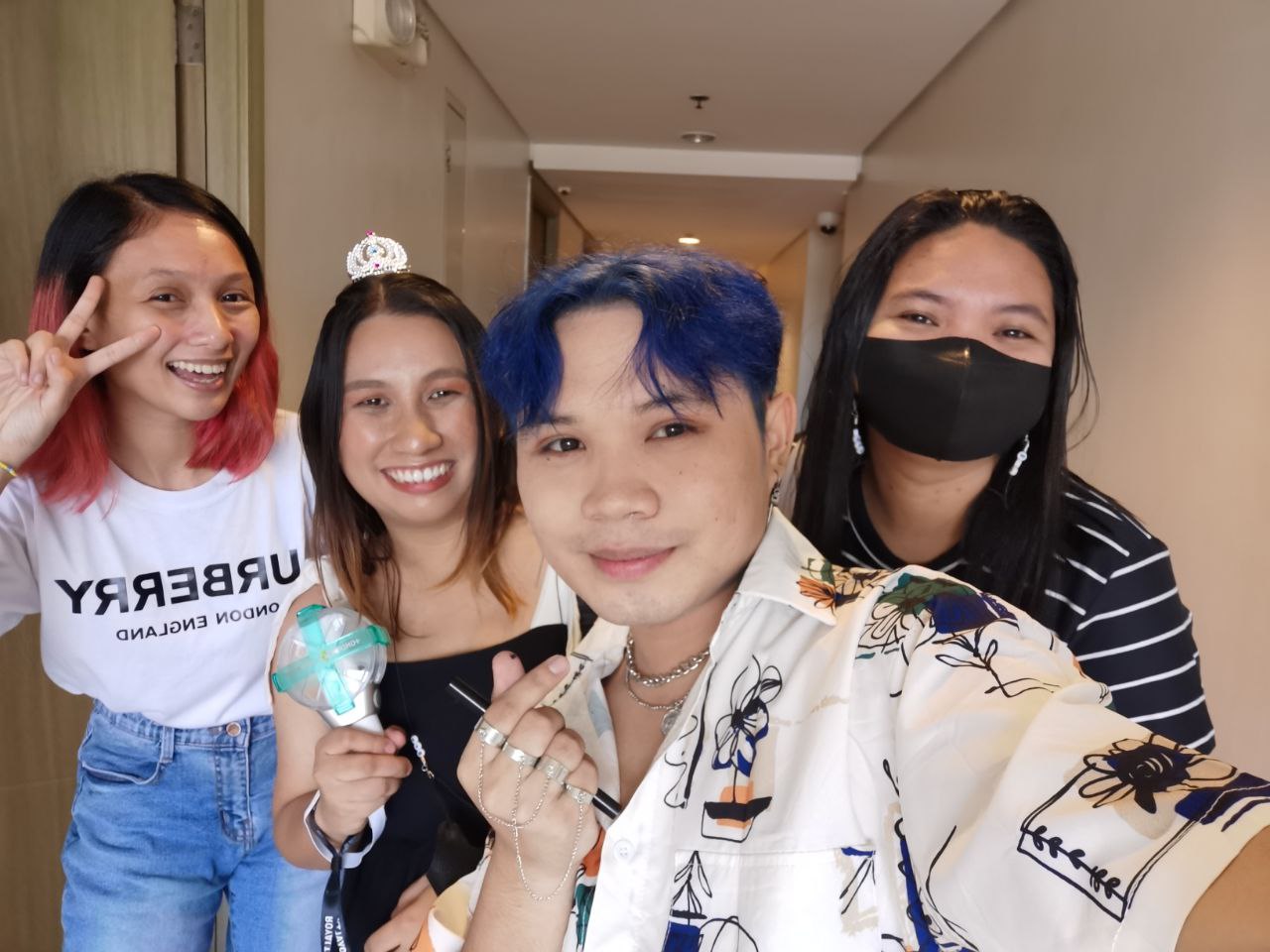 We were in the very last row of the Generic Admission area and there was nothing behind us aside from the wall. This means that we can freely make it our own standing section but of course, we had to be extra careful. I remember posting on my IG stories with the caption, "Bubong (roof) today, barricade tomorrow." This was my first time since the pandemic to be back in this place and now, I'll be watching my favorite K-pop group. There were flashbacks of the time I ~spent~ with TXT and I got teary-eyed already. Niah told me, "Kuya, wala pa nga sila."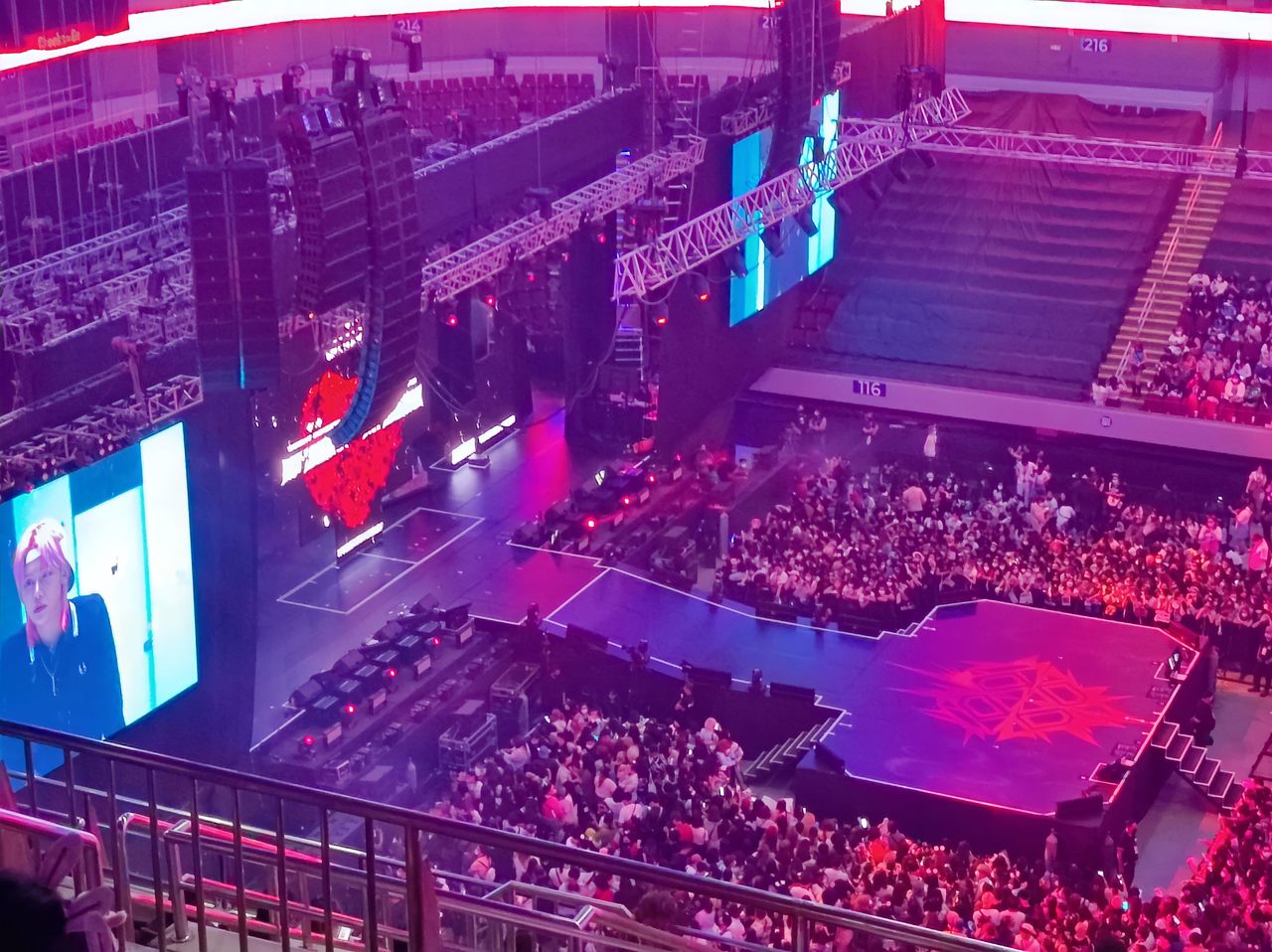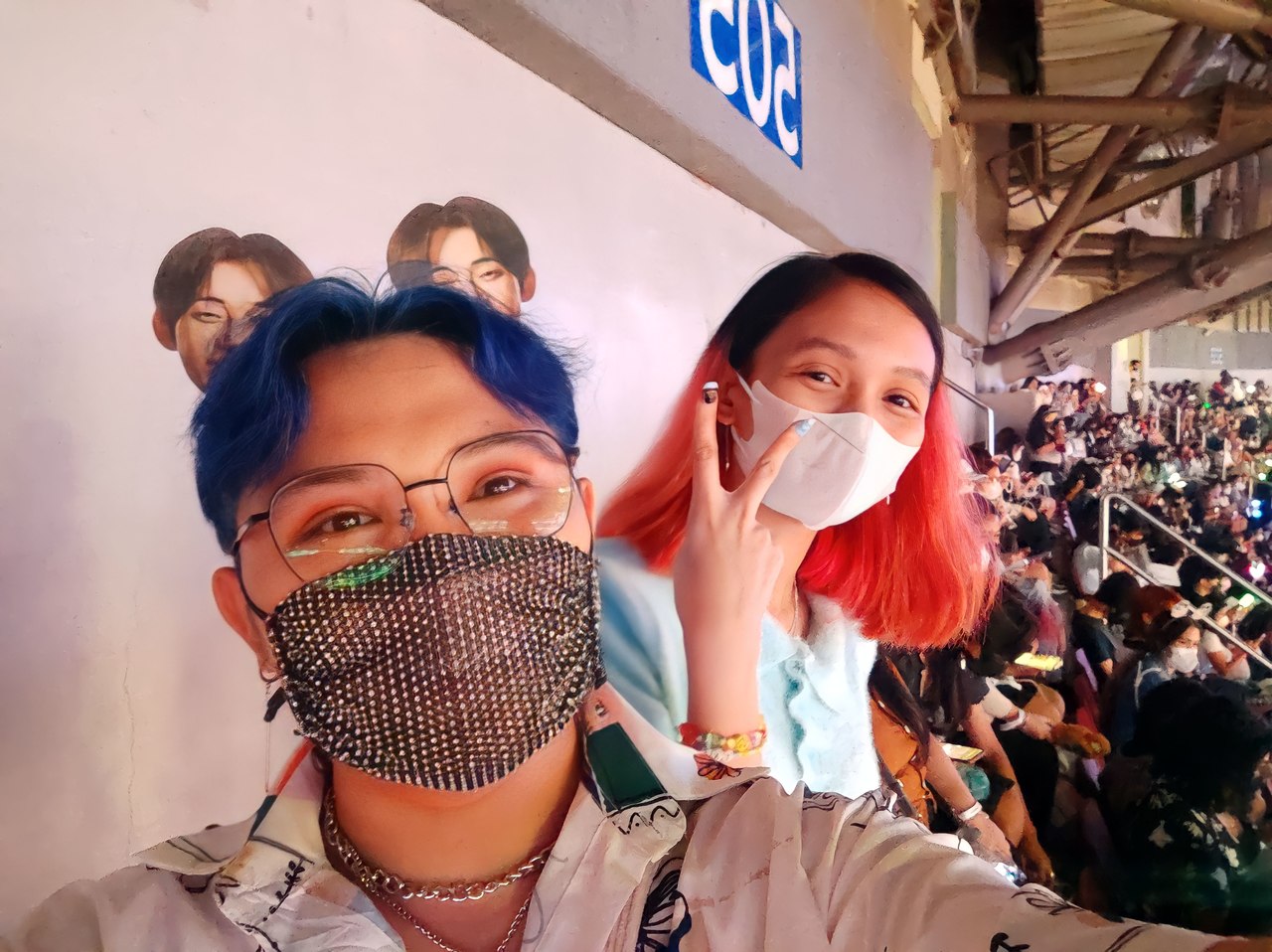 That moment when TXT came onstage will forever live in my head. Their opening song was "OX1=LOVESONG" and Niah and I shouted the fan chant. I even screamed, "This song helped me get through life"! At that time, I was already crying. Tears were unstoppable but those came from happiness. After that, TXT did their first ment and introduced themselves individually and as a group. Leader Soobin signaled the introduction: "Welcome, everyone! One Dream! We are TOMORROW X TOGETHER." You guys, their speaking voices are equally as pleasing as their singing voices! I gave my best to cheer for each member because even though I have my bias, I love all of them with all of my heart. The performances went on and hearing songs from their debut album like "Blue Orangeade" brings back memories from three years ago. The "Magic" performance lived up to its title—it was a magical moment to see. Plus our seats allowed us to see all the lightsticks glowing in sync.
ADVERTISMENT - CONTINUE READING BELOW ↓
A VCR was played after the perfs and even if the boys were backstage, MOAs were screaming out of excitement. It's because the top-tier visuals of the boys were being shown on the big LED screens so it's pretty much understandable to behave like that. The second set soon started with "New Rules." I'm always amazed every time TXT performs this song from The Dream Chapter: MAGIC album and it's even more wonderful to see it being performed live. It was followed by "PUMA" where Yeonjun started the song with a dance break.
After that, he said that before going on tour, they were debating on what songs they should include in the setlist. Being the wise boys that they are, they did incredibly. Of course, the best follow-up to "PUMA" is "What If I Had Been That PUMA." As the second set proceeded, TXT performed "Trust Fund Baby" and for a moment, we were thinking if it was actually TXT's concert or MOAs' concert! The whole arena was filled with beautiful singing voices, proving Taehyun's statement that most Filipinos are great singers.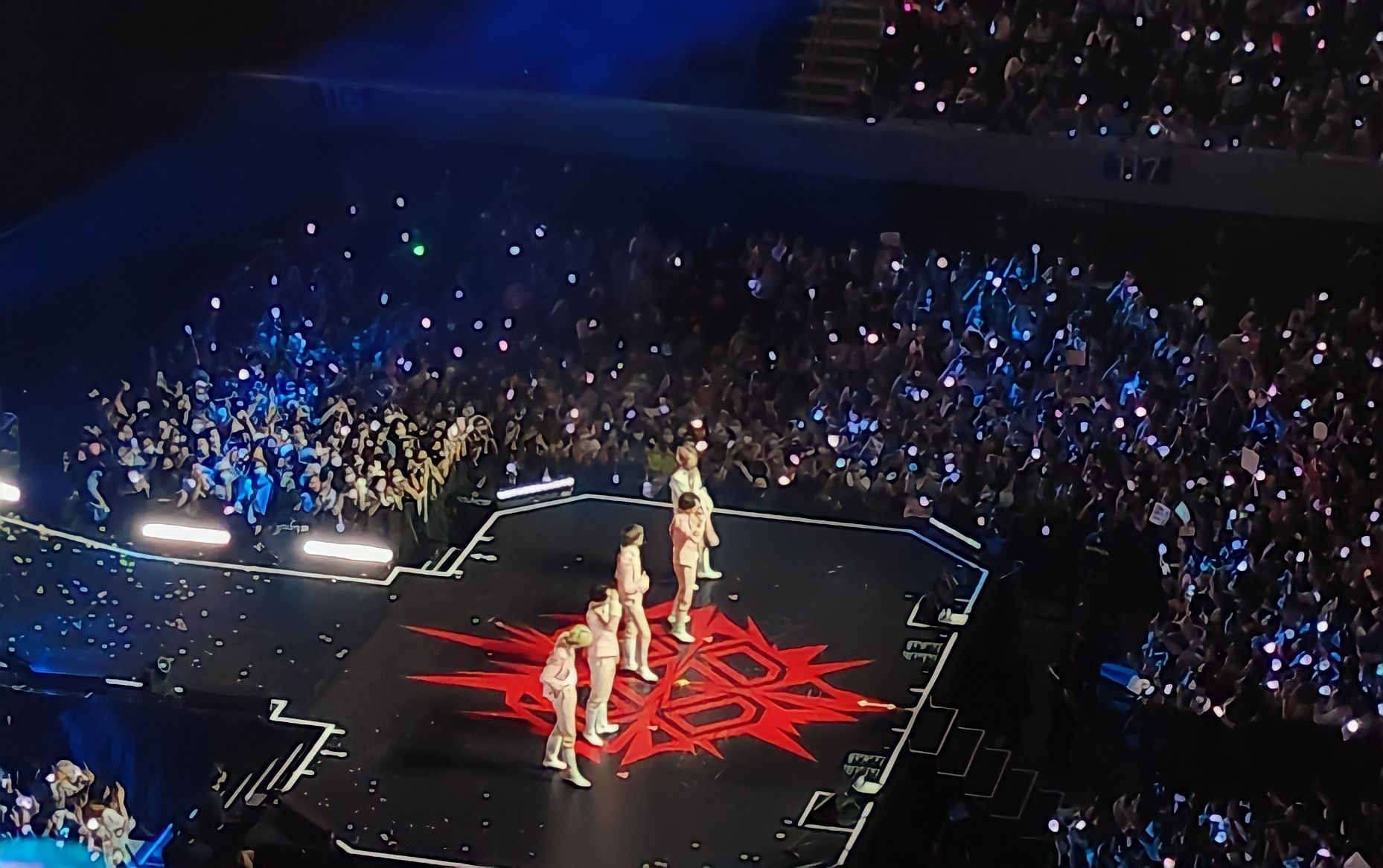 Another iconic moment during the second set was the members' ment. They did the MOA wave from left to right and vice versa, then from the fifth floor down to the first floor. It was beautifully done by the fans! The second set ended and another VCR was played.
For the next set, I felt like crying again especially when the boys were positioned in the most iconic formation. Seeing that, you would instantly know what song is going to be performed. A few seconds later, we heard the morse code—it was the song that introduced TXT to the world, which is "CROWN." The emotions were already coming because I remember supporting them even before their debut and now, I watched them perform their debut track on their first world tour. The next songs were "Magic Island" and one of the songs that defined my 2019, "9 And Three Quarters (Run Away)." The performances went on and their energy never faltered. The third set ended with "Blue Hour," a song that is close to the hearts of all MOAs.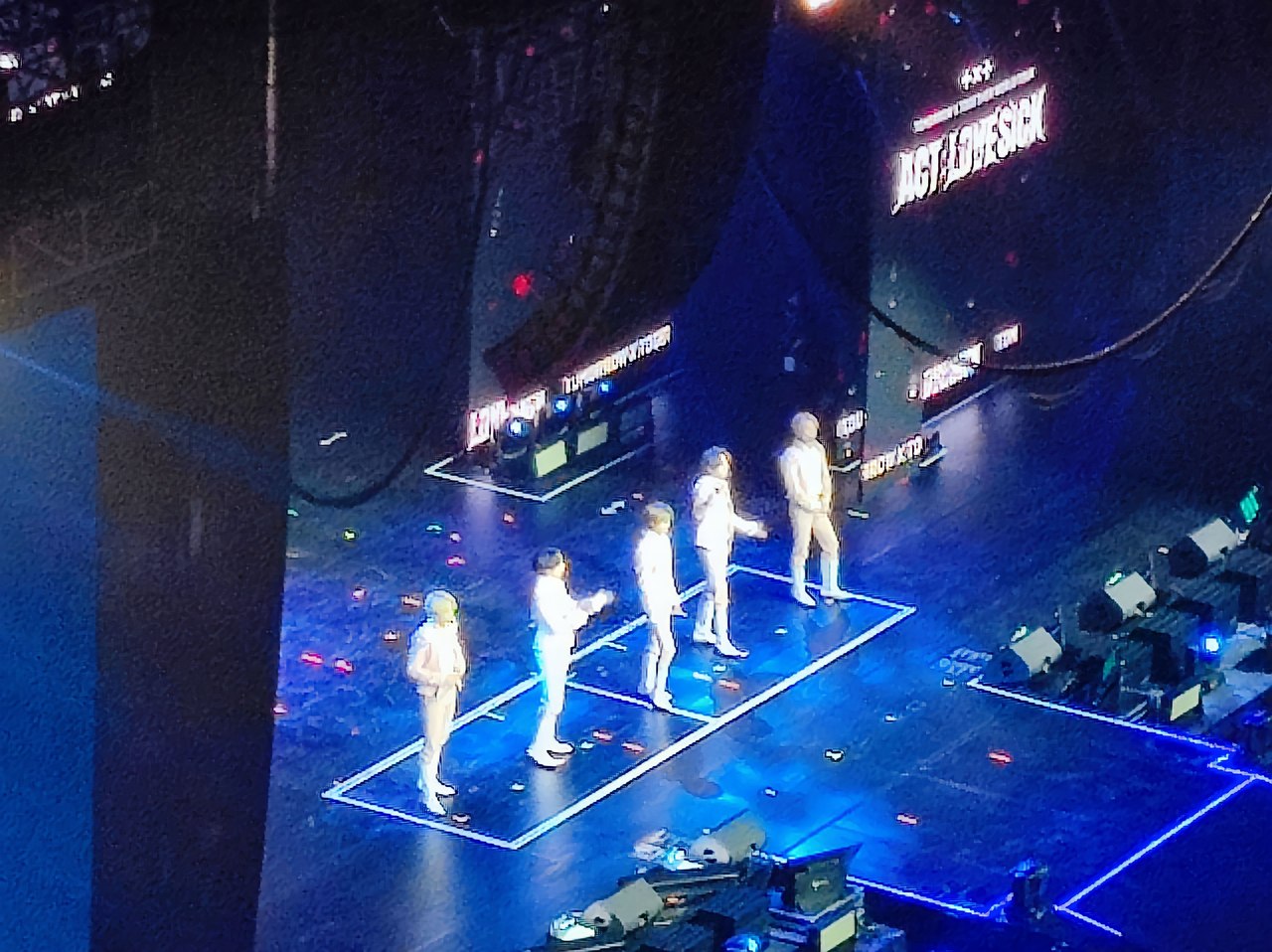 ADVERTISMENT - CONTINUE READING BELOW ↓
The next set started with "Frost" and the crowd went wilder! My only question at that time was why it was followed by "Maze In The Mirror" without any transition?! We were having a hard time processing our feelings from shouting to crying again but nonetheless, we weren't complaining. The next song came and it was "Eternally"—a total masterpiece! The change in arrangement and TXT's live performance of the song have shown how versatile they are as artists.
During this part, MOAs sang *literally* everything (even the instrumental part where we went "Dundundundururundundun du-du-dun.") The next one was the title track for The Dream Chapter: ETERNITY, "Can't You See Me." It was performed with a different arrangement from the studio version and it was the best! Would it be too much to ask for it to be released on streaming platforms? The following song was our sentimental favorite, "Opening Sequence." This number occupies a special place in our hearts because the track itself, the choreography, and everything in between is just *chef's kiss.* "Lonely Boy" came after that and I was one of the loudest during that time because it was my bias, Yeonjun, and my baby bias, Hueningkai! The first day of the concert ended with the performance of "Sweat." It's a song that was once a secret between TXT and MOAs and is now wonderfully shared with the world.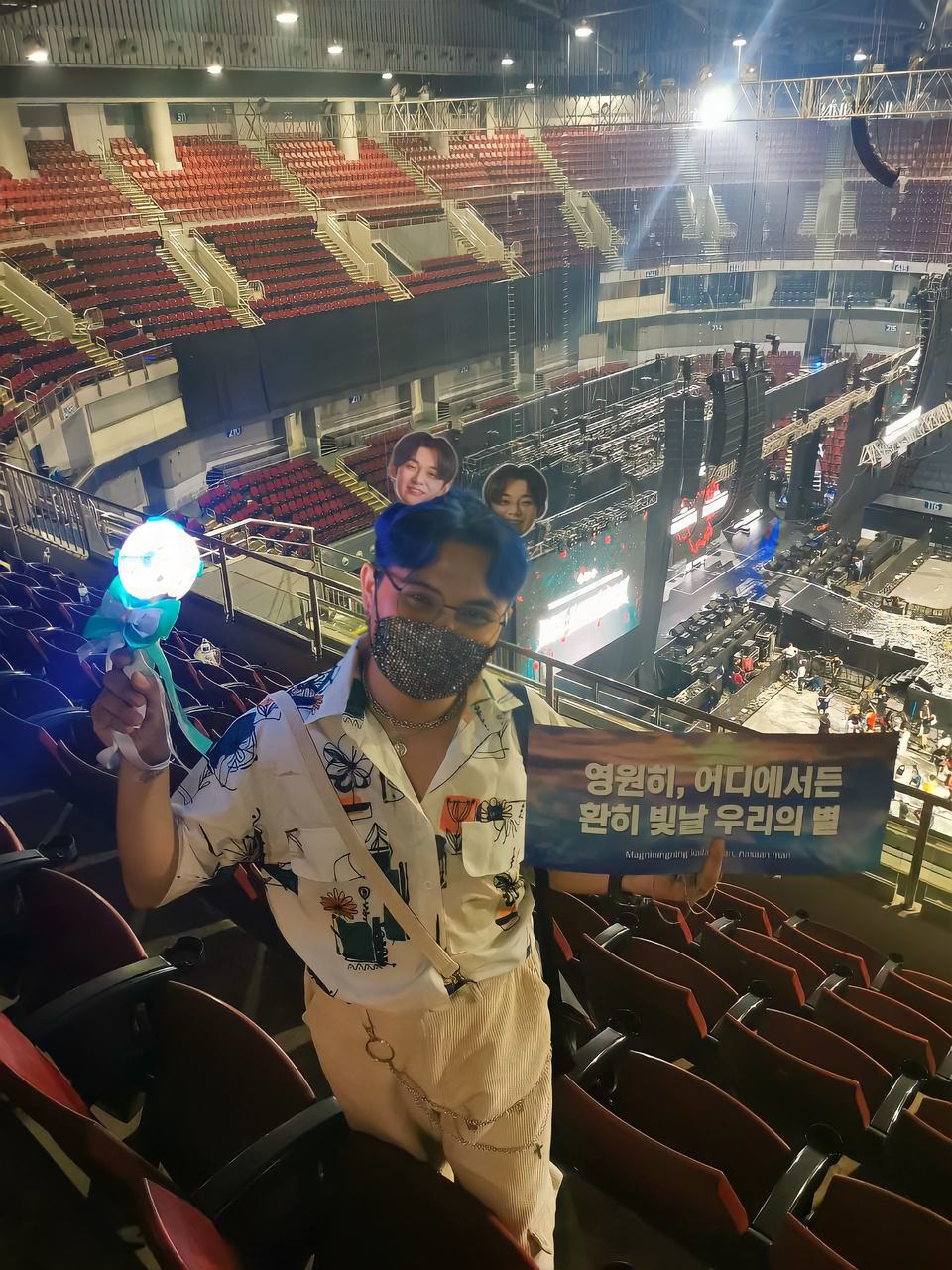 The best soundcheck experience EVER
It was our first time experiencing a soundcheck and while we have an idea of what was going to happen, we were still not sure about what to expect. Our queueing numbers were 145 and 146. While lining up, a staff from PULP Live World approached me and asked if I can do the "Dubaddu Wari Wari," to which I agreed. Unfortunately, I wasn't able to do it because that's when we needed to go to the concert area, huhu.
Finally, we entered the Royalty B section and guess what? All the manifestations worked because we were at the barricade! It wasn't our target area because our view was a bit obstructed but still, a barricade is a barricade—it's every Kpop fan's dream to be there. An hour after, Soobin, Yeonjun, Beomgyu, Taehyun, and Hueningkai came to the stage and I instantly got starstruck! I couldn't remember everything that happened during that moment but all I knew was I screamed to the best of my ability to express my love for the boys.
ADVERTISMENT - CONTINUE READING BELOW ↓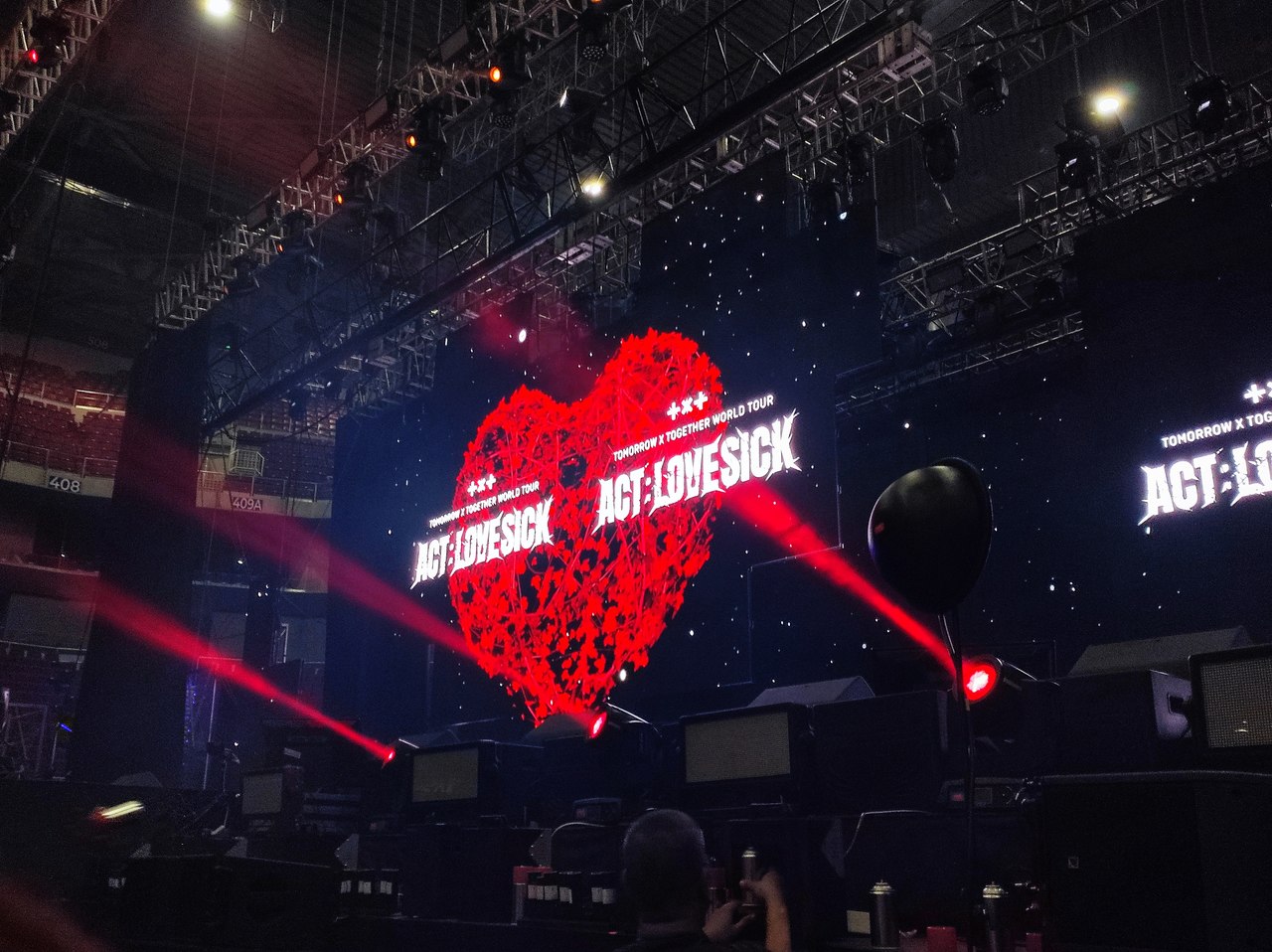 TXT performed "Good Boy Gone Bad," "Magic," and "LOSER=LOVER" during the soundcheck. Just when they were about to leave the stage, they stood in front of us. Niah showed her phone screen with the digital banner saying that it was her birthday. Yeonjun pointed to her twice and greeted her. And me? I also kept on calling him in the loudest way possible and that's when he glanced back at us and it's still so vivid in my memory! For a second, he looked at me and blew kisses to MOAs, and one of those was directed at me. Even days after, I repeatedly asked Niah about that moment because I don't want to be delusional even if I know that it was real. We never thought something like that would happen in our wildest dreams! Our TXT bias noticed us and the five boys we love so much stood in front of us. That was the fastest 20 minutes of our lives but it easily makes the best soundcheck experience we could ever ask for.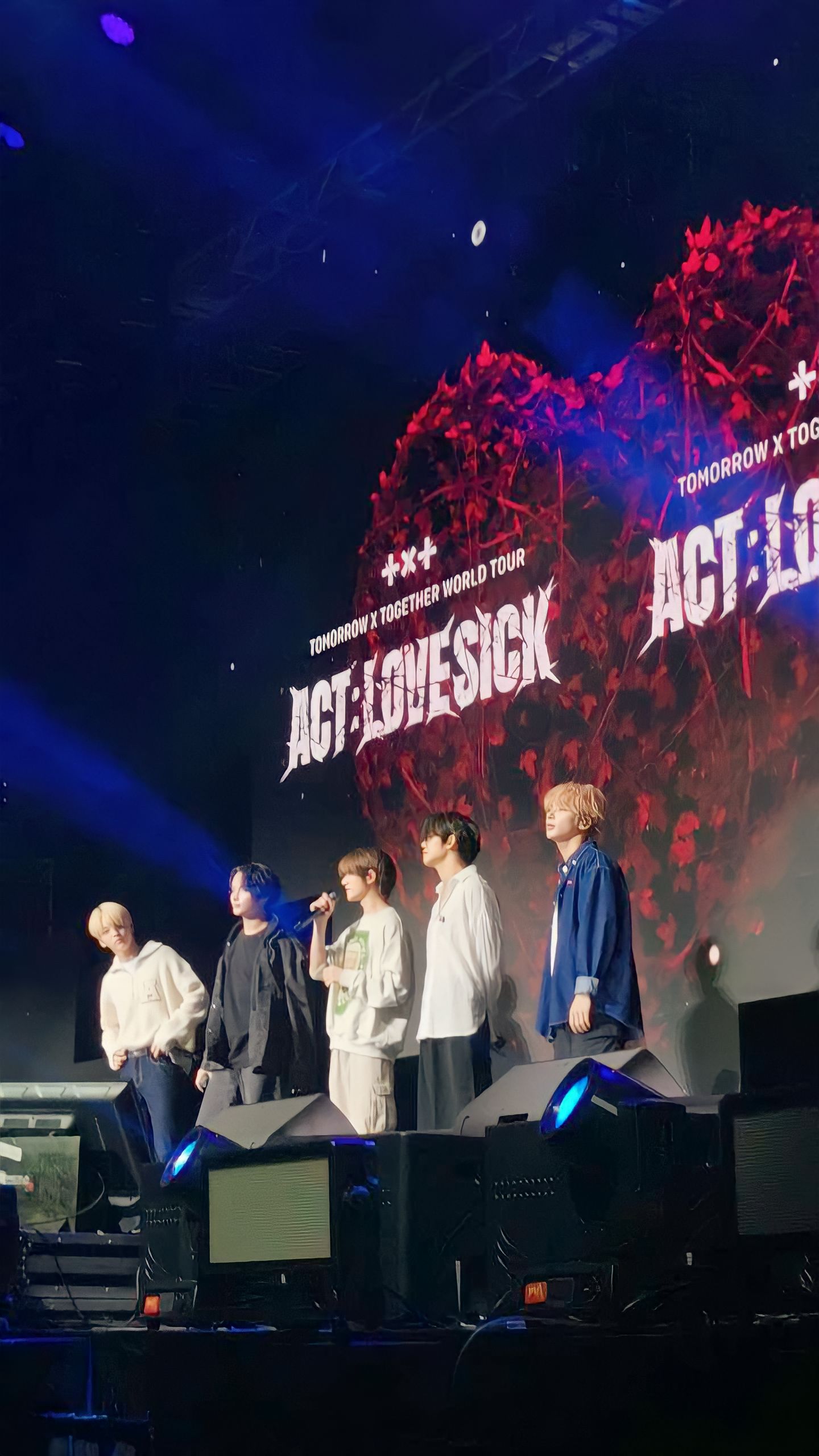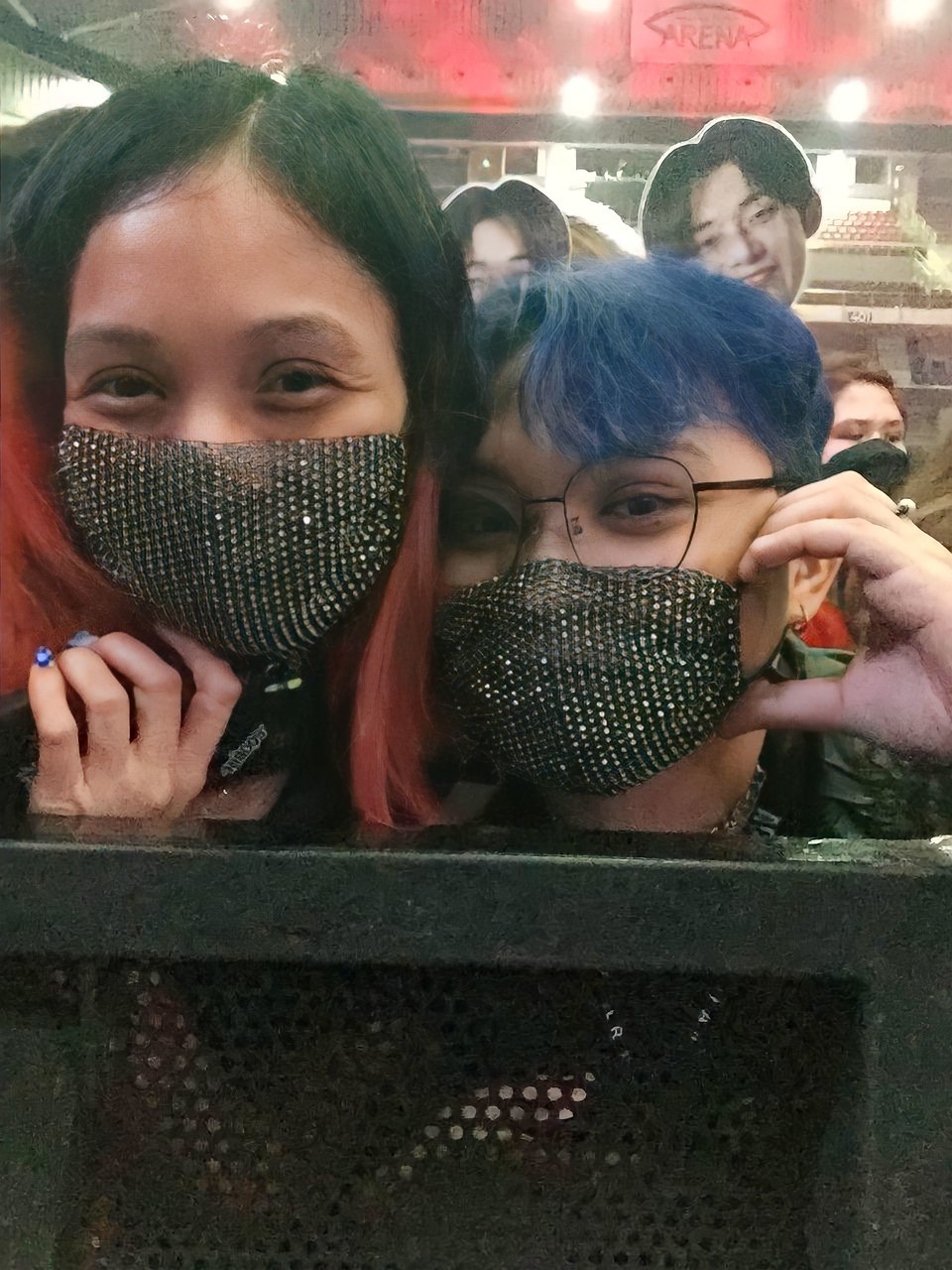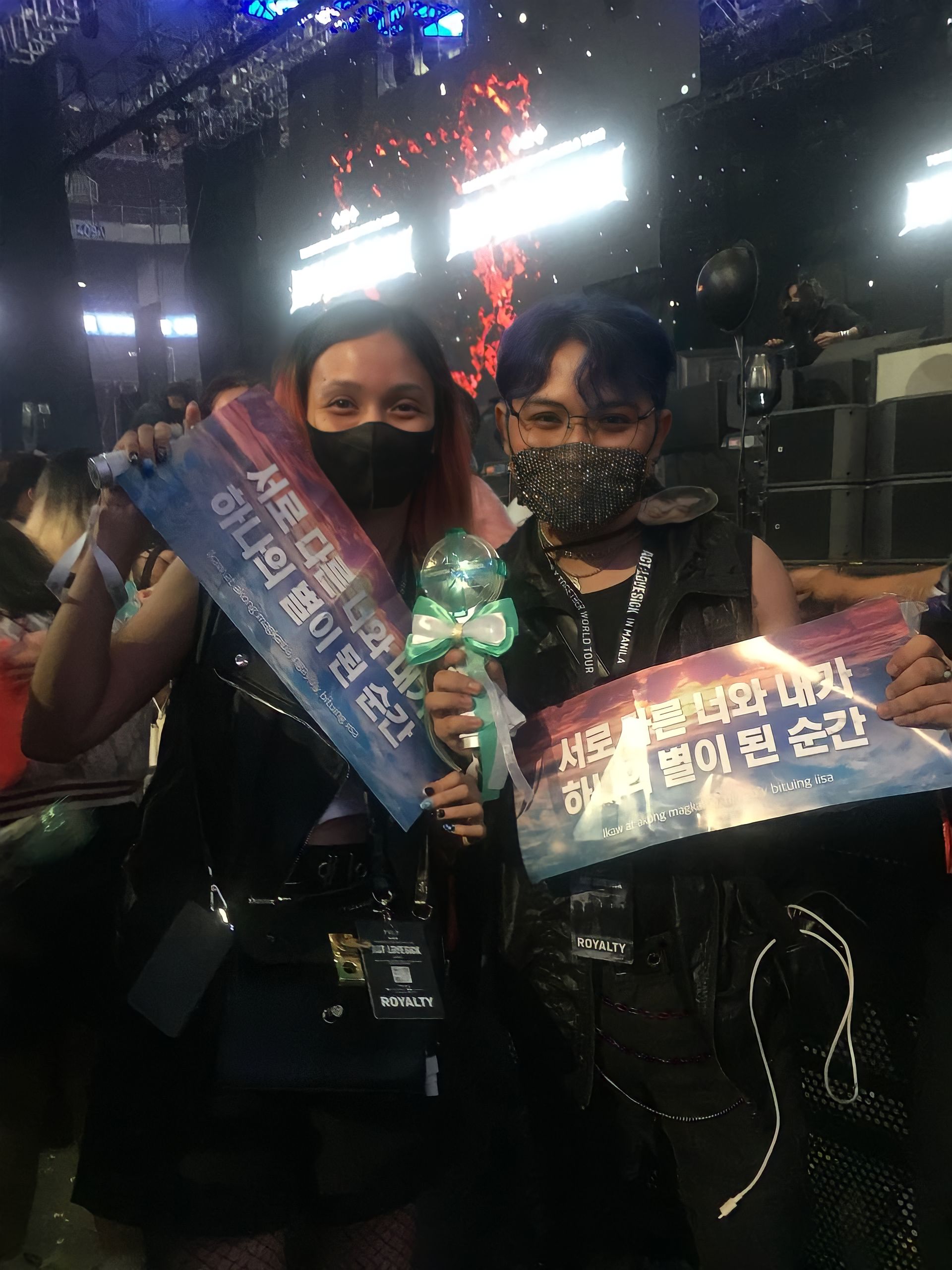 ADVERTISMENT - CONTINUE READING BELOW ↓
Granted *wishlist* for Day 2
It's Royalty Day! Before lining up for the soundcheck, we went to the strapping area first and had lunch with our fellow MOAs from Albay. Right after, we still couldn't believe what happened. We waited for quite some time before the show started and I appreciate the MOAs we met because we talked a lot. Also, there wasn't a single moment when we got pushed and everything went smoothly in our area. It was so organized!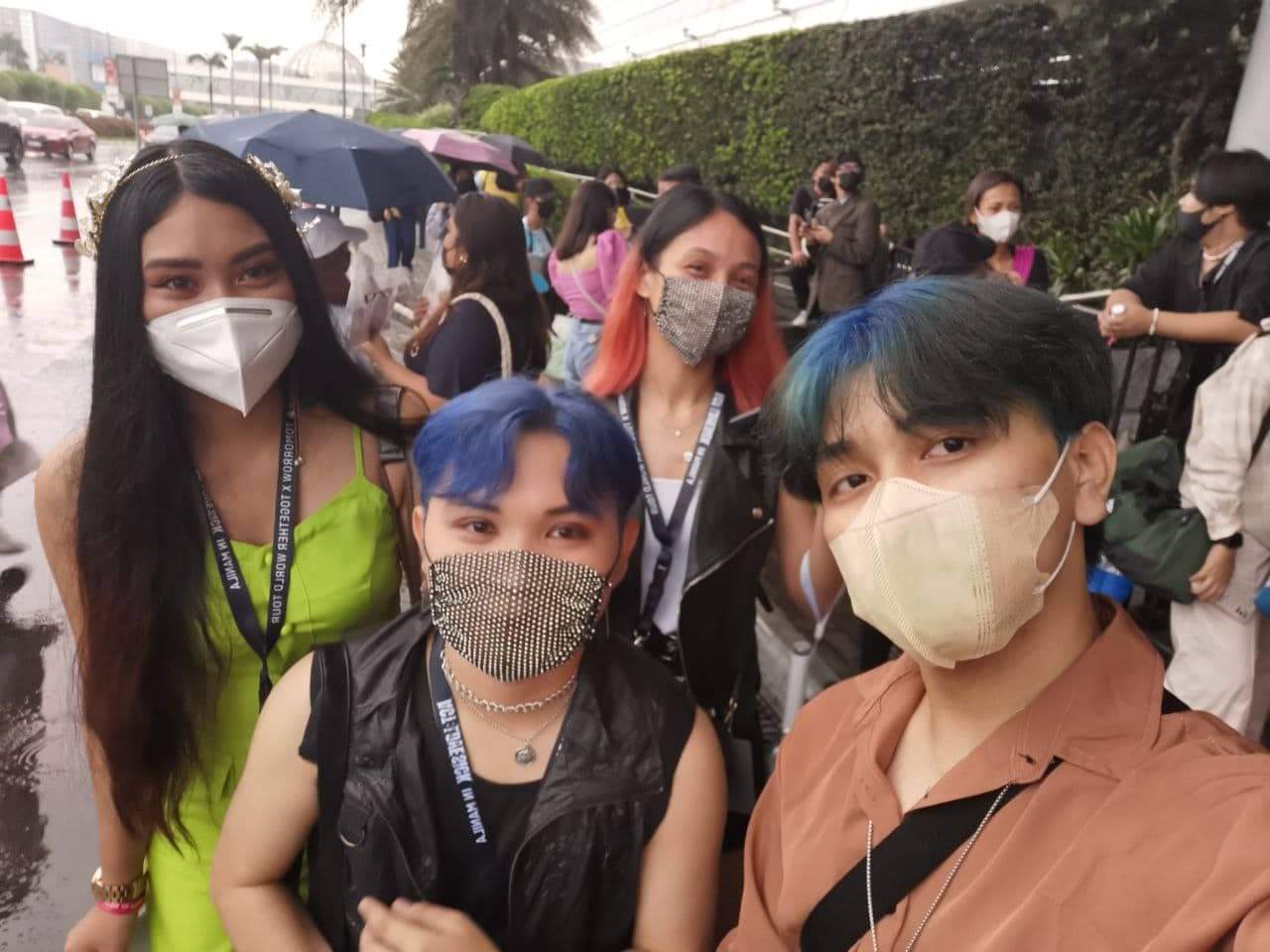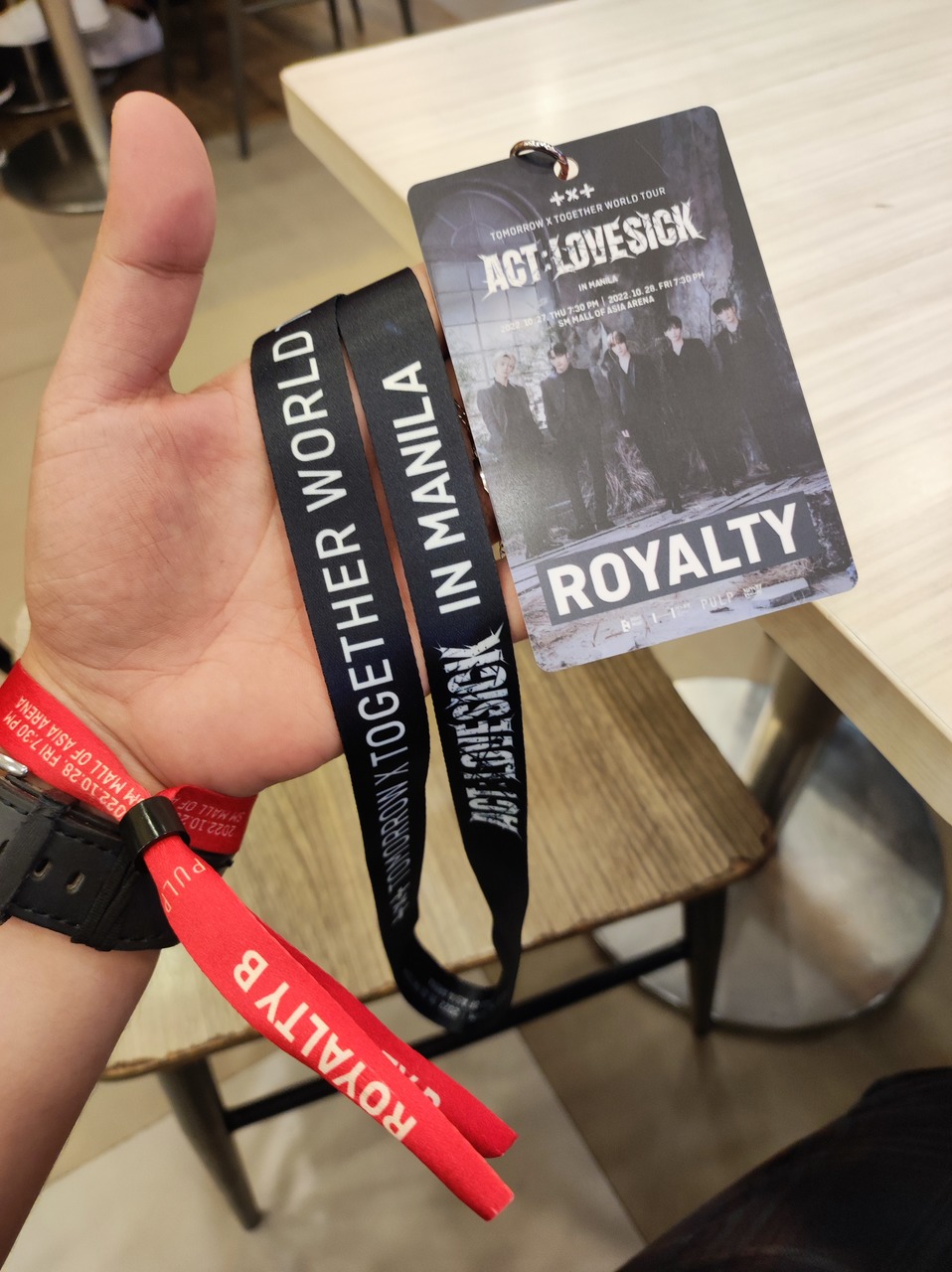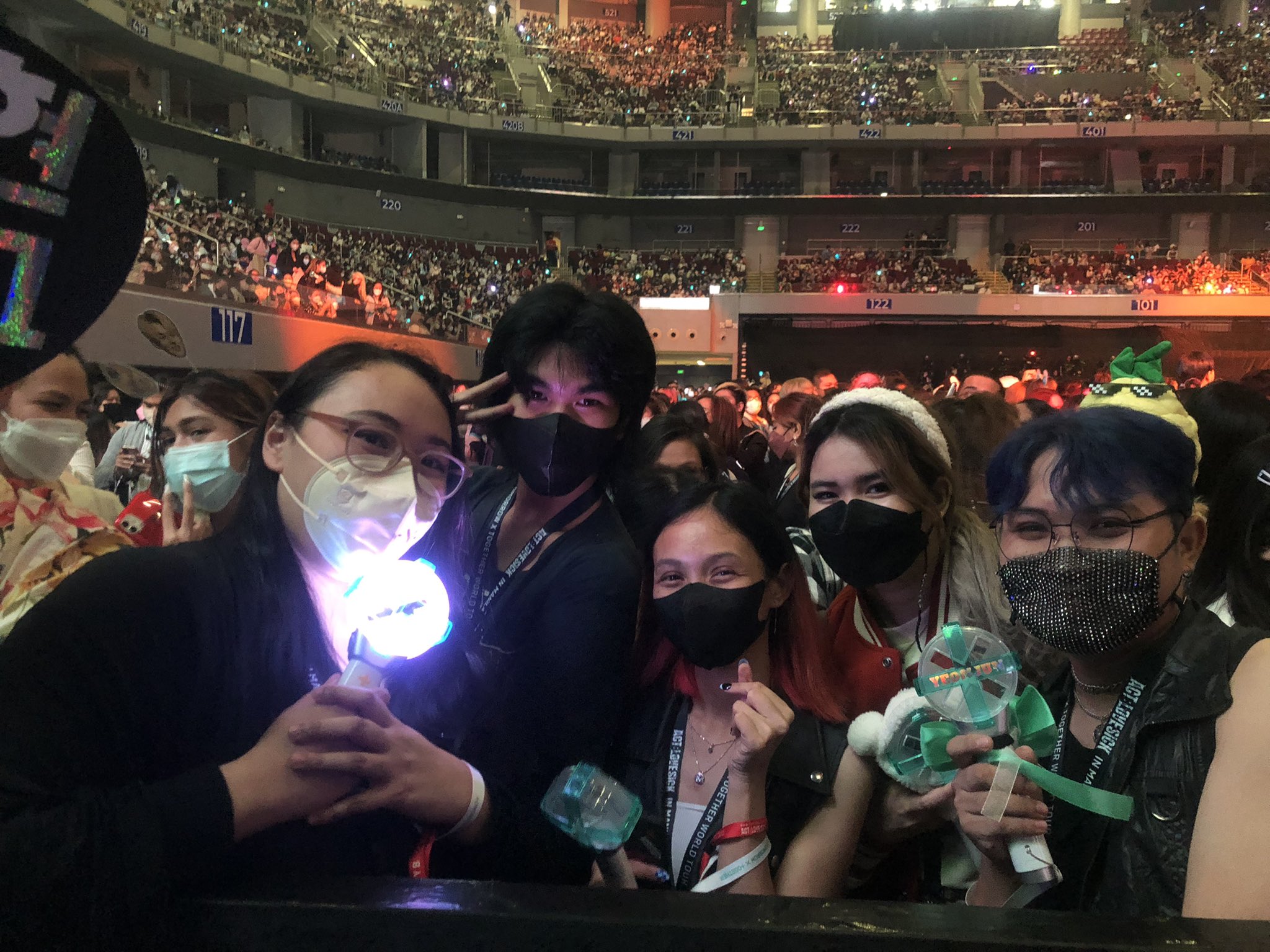 Day 2 shared the same setlist from Day 1 but a surprise was made in the end. During the first set, TXT asked MOAs to share their wishes and with much sincerity, we answered while screaming, "Natupad na ang wish namin!". We were just waiting for this dream to happen and during that time, we simply couldn't ask for more. Also, it was a very heartwarming moment to hear them sing "Wishlist." I can also clearly remember getting teary-eyed during the "Ghosting" performance because the lyrics "Sarajin neo, sa sarajin, huimihan yuryeongcheoreom sa sarajin" talked directly to the heart.
MOAs also received doses of kilig when the boys said their pick-up lines and called everyone in the arena as their "Babe." It was a moment where everyone was caught off-guard in the sweetest way!
ADVERTISMENT - CONTINUE READING BELOW ↓
Yeonjun asked, "Babe, kumain ka na ba?".
Beomgyu said, "Babe, aalagaan kita".
Soobin expressed, "Babe, nandito ako para sayo".
Hueningkai said, "Babe, akin ka na lang!".
And lastly, Taehyun delivered his line, "Babe, ikaw lang ang gusto ko" which was followed by ~*body rolls*~. They made it sound so Filipino, proving that they really put effort into how they can connect with Filo MOAs!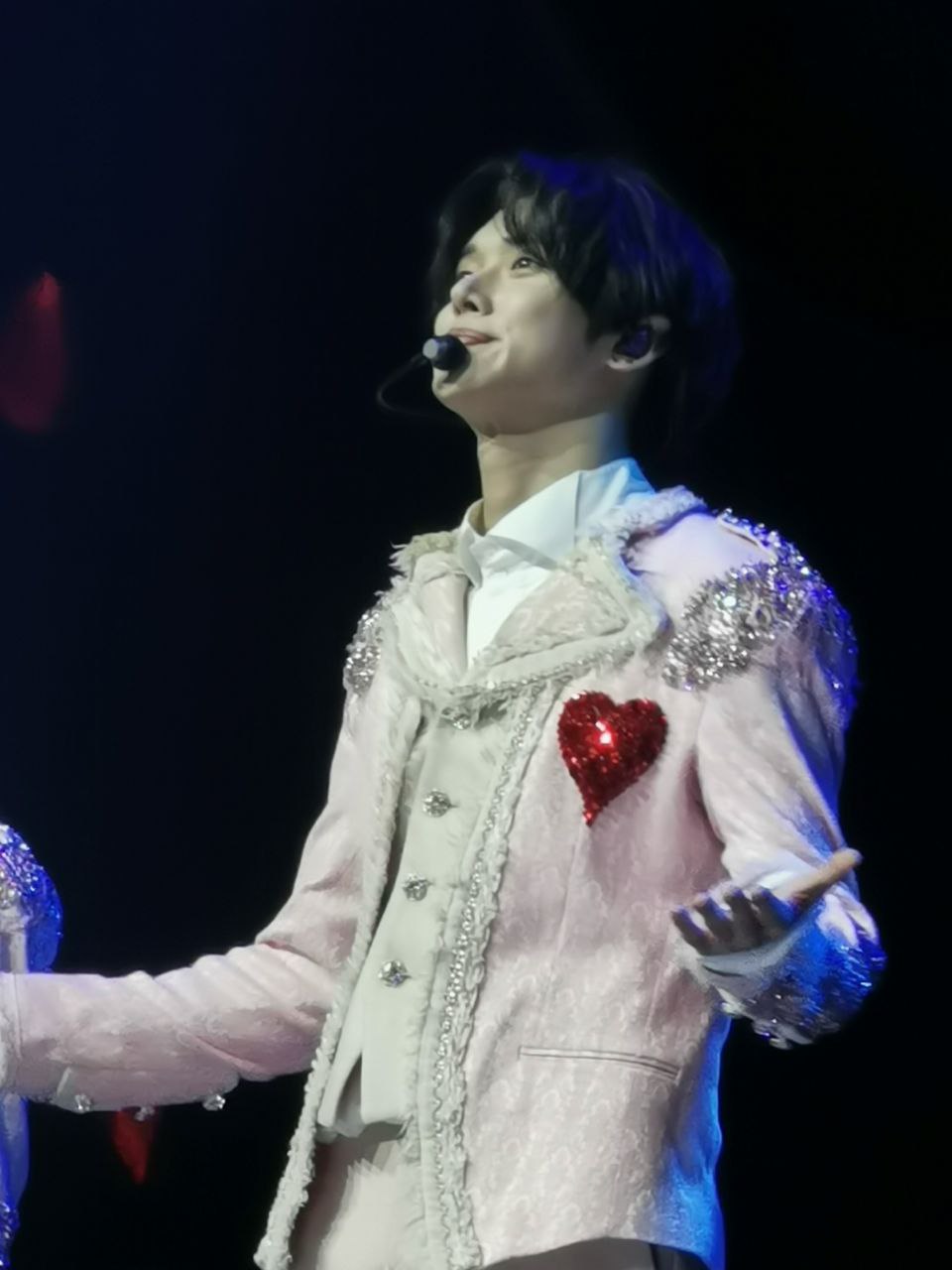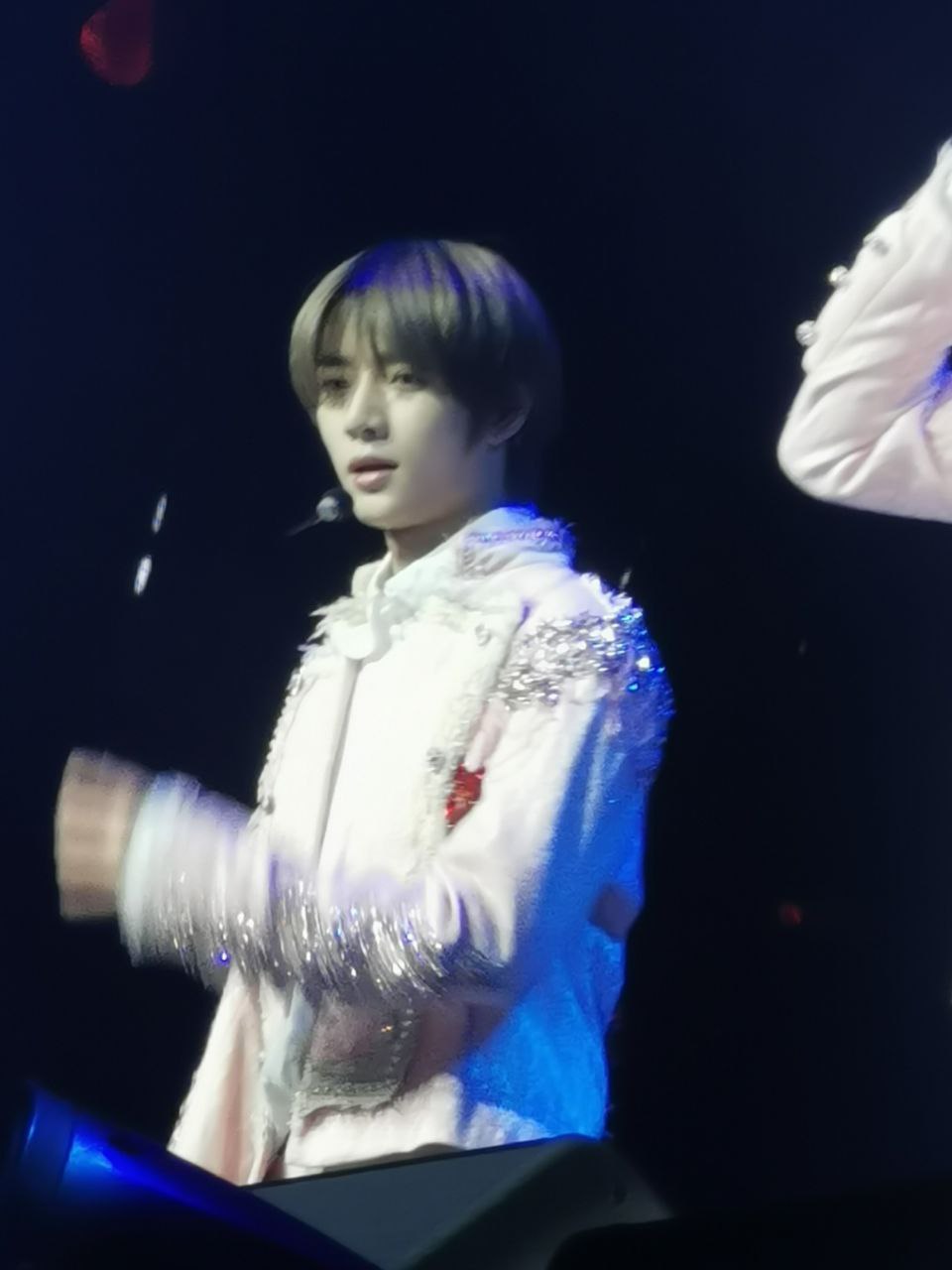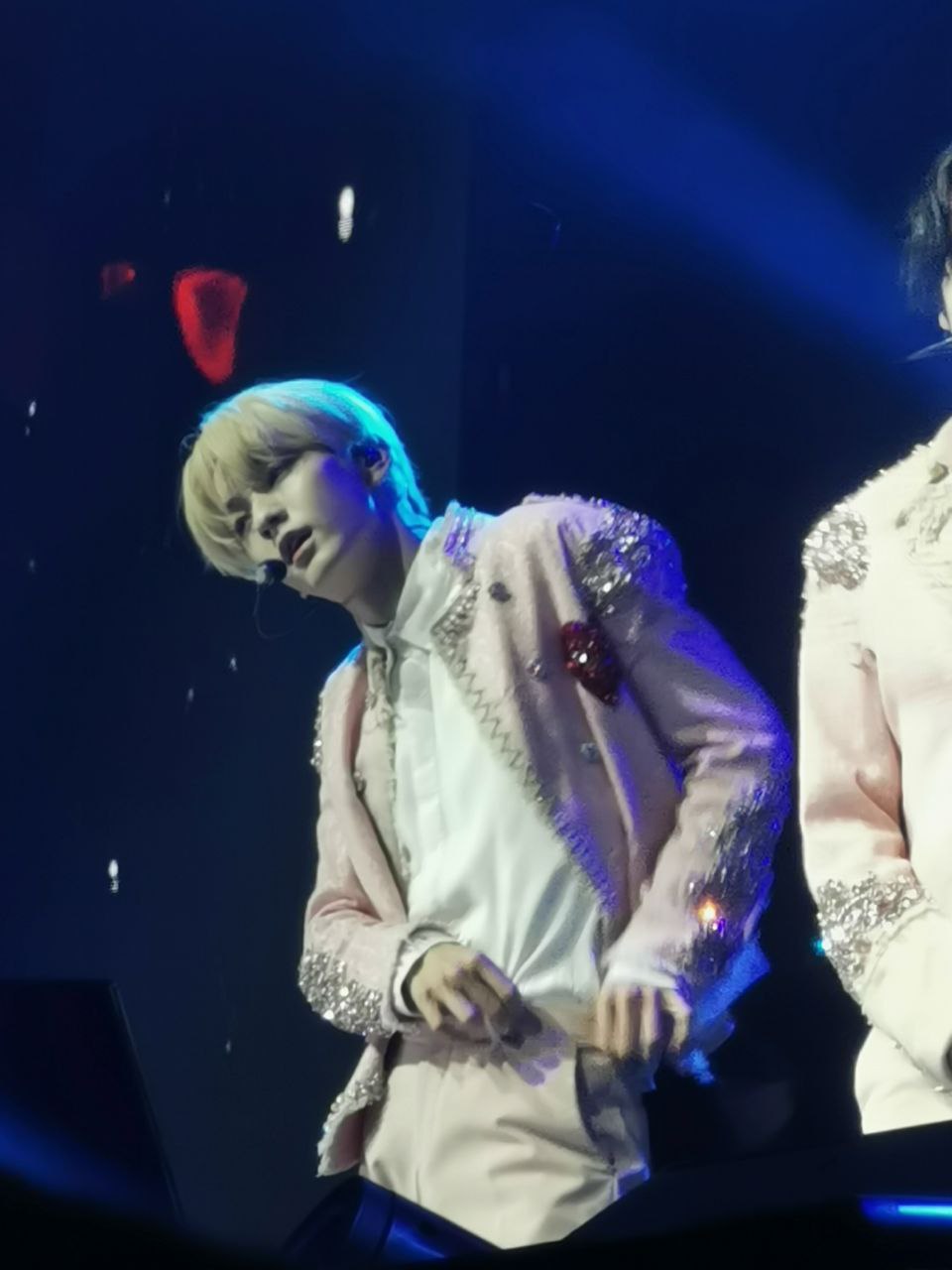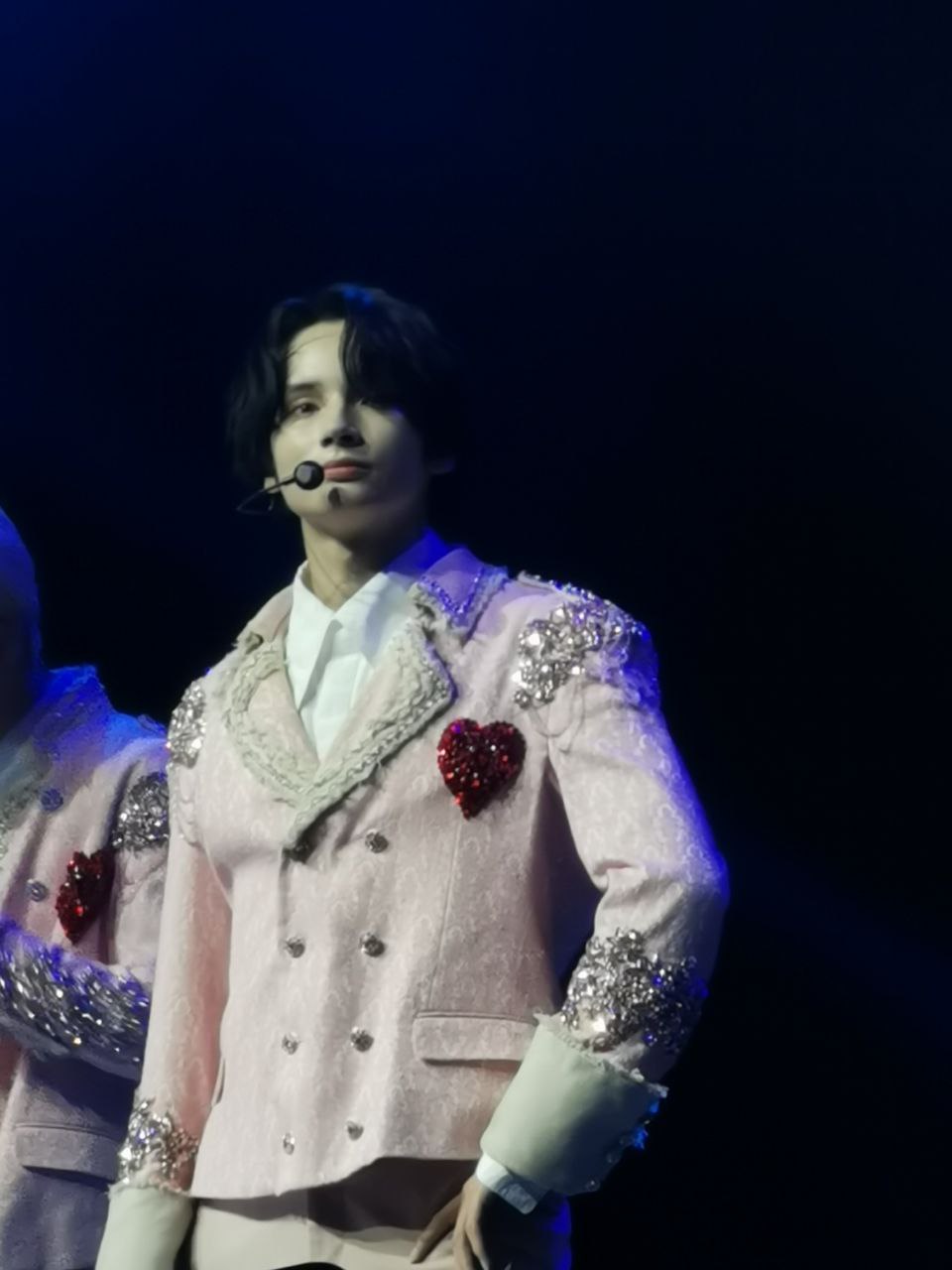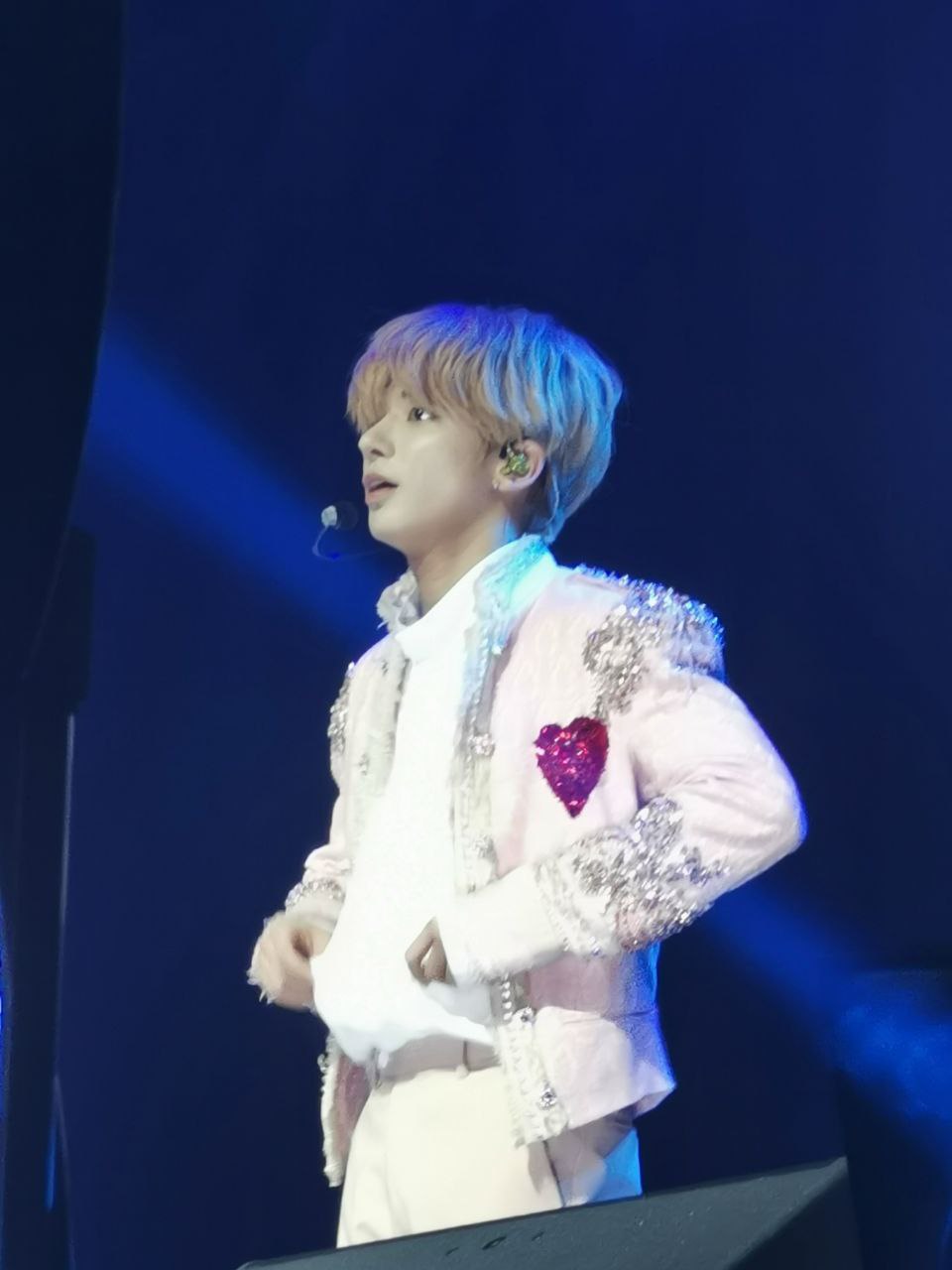 ADVERTISMENT - CONTINUE READING BELOW ↓
At this exact moment while I'm writing this article, I can still hear Hueningkai's voice when he was hyping up the whole crowd with: "Are you guys ready, fifth floor? Are you guys ready, fourth floor? Are you guys ready, third floor? Are you guys ready, second floor? Are you guys ready, first floor?", and so on. Our maknae (youngest) definitely enjoyed it as much as we did!
The second set of songs included "LOSER=LOVER" and the fan chants were so satisfying. The whole arena was singing along to it word by word. No one can deny that this track is such an anthem! I was so focused on watching the performance and when the L=L dollar bill confetti dropped, I knew I had to get at least one. I did but only the dark pink version.
The next sets of performances were equally stellar from the first day of TXT's Manila concert. I remember singing along to "Anti-Romantic" with all the emotions. I did a song cover of this before and now, I heard it live! Another dream came true—we were able to *bark* with MOAs when Yeonjun and Hueningkai sang "Cat & Dog." ICYDK, it's the ultimate goal for us fans and it added 10 years to my lifespan. *woofs*.
TXT also did the same surprise as Day 1 which was made especially for Filo MOAs: Taehyun sang the OPM hit "Akin Ka Na Lang" by The Itchyworms. It wasn't just performed once during Day 2 because MOAs asked for another one! And TXT being the generous boys that they are, granted our request. This time, it's an OT5 version with Taehyun as the main vocalist, Hueningkai and Beomgyu as backup vocals, Soobin as the guitarist, and Yeonjun as the drummer.
TXT already said that the next song would be their final stage and that's when MOAs cheered "walang uuwi." The confused reactions of the boys were so adorable until they realized that it meant no one was going home! Finally, they performed the title track from their latest comeback, "Good Boy Gone Bad" which never fails to hype up the crowd. To think that TXT has been performing for hours already for two consecutive days, they still managed to perform at their best. All I can say at that time were the words, "Sooooobrang galing!".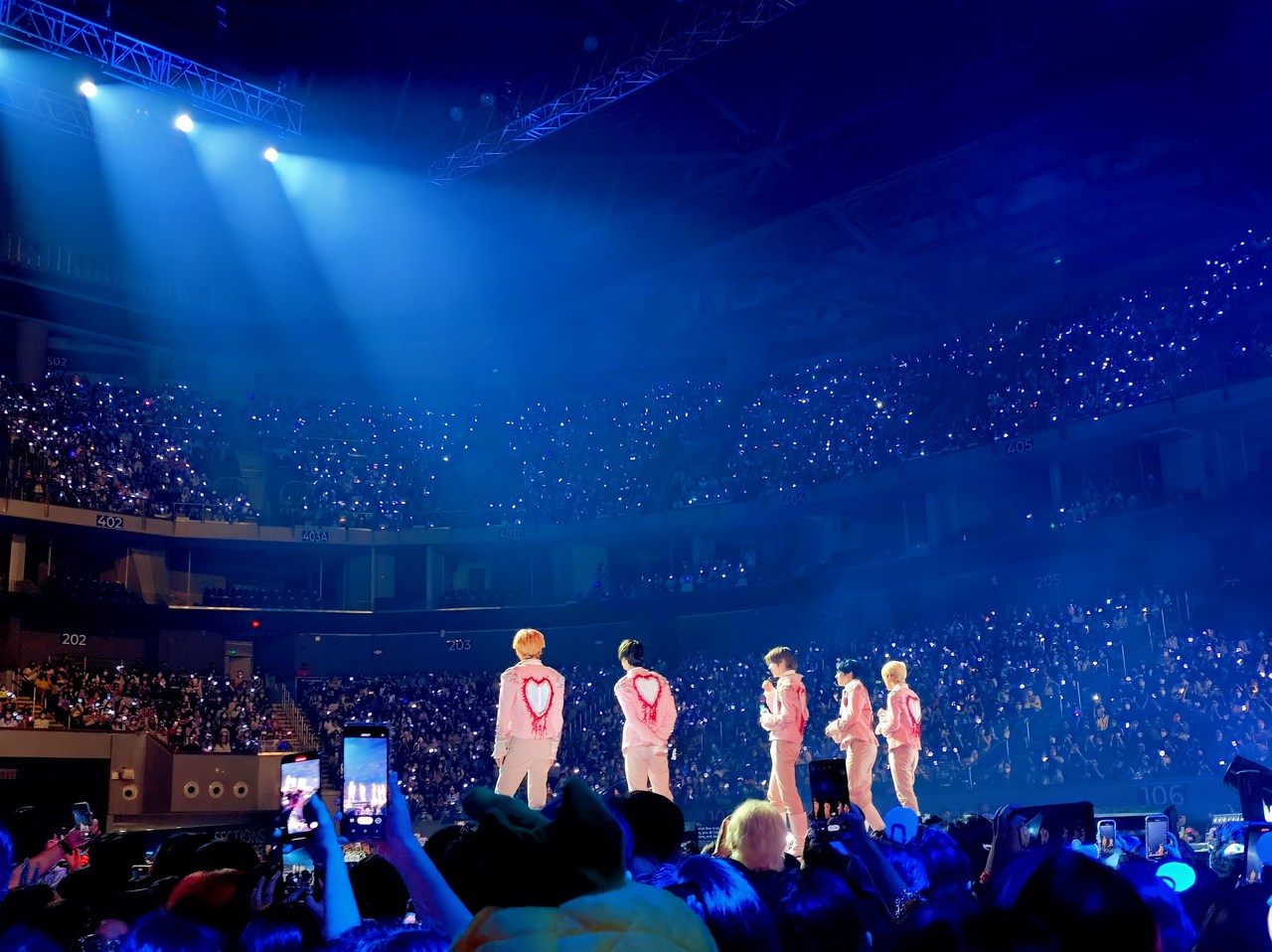 After that, MOAs started to cheer the members' names non-stop and it was a call for the encore performance. TXT then came out in their cute denim jumper outfits and they performed "Thursday's Child Has Far To Go." Just like what they did on the first day, Yeonjun and Hueningkai went to the VIP seated area while Soobin, Beomgyu, and Taehyun went down to the standing area because they wanted to be closer to MOAs. It was followed by TXT's fan song, "MOA Diary (Dubaddu Wari Wari)." The boys who brought thousands of us together in this huge venue were singing a song that talked about the love that they give and receive from their fans. It's a promise that we're going to stay together forever.
ADVERTISMENT - CONTINUE READING BELOW ↓
During the ending ment, each member thanked all the MOAs, their staff, and the people who joined them in the journey of successfully completing their first world tour. It was so sincere when MOAs cheered "Best leader! Best leader!" to Soobin. The boys didn't get it right away and when they finally did, Soobin's reaction was everything! He was so cute and full of gratitude. We saw it clearly through his eyes. I will also never forget Beomgyu's ment when he thanked his members one by one. Undoubtedly, the group's chemistry is strengthened by their genuine love for each other.
As we were all expecting, "Sweat" is the last song not until Taehyun explained that they started the ACT: LOVESICK Tour in July when it was so hot. He continued that MOAs around the world made their summer very special. Here comes the surprise when he said that they wanted to perform another song: I knew right away that it was going to be "Our Summer"! I was screaming my lungs out when it started because it's my favorite track from their debut and it remains to be one of my top faves. That moment right there sealed the fact that it was *dream come true.* I was already crying when I saw a fellow MOA crying, too. As a response, I cried harder. We were not in a crying competition—it was just a beautiful moment shared together. After that, we hugged each other (with consent) and until now, I'm trying to look for her on Twitter. If she's reading this, I would like to thank her for giving me the much-needed hug at that time.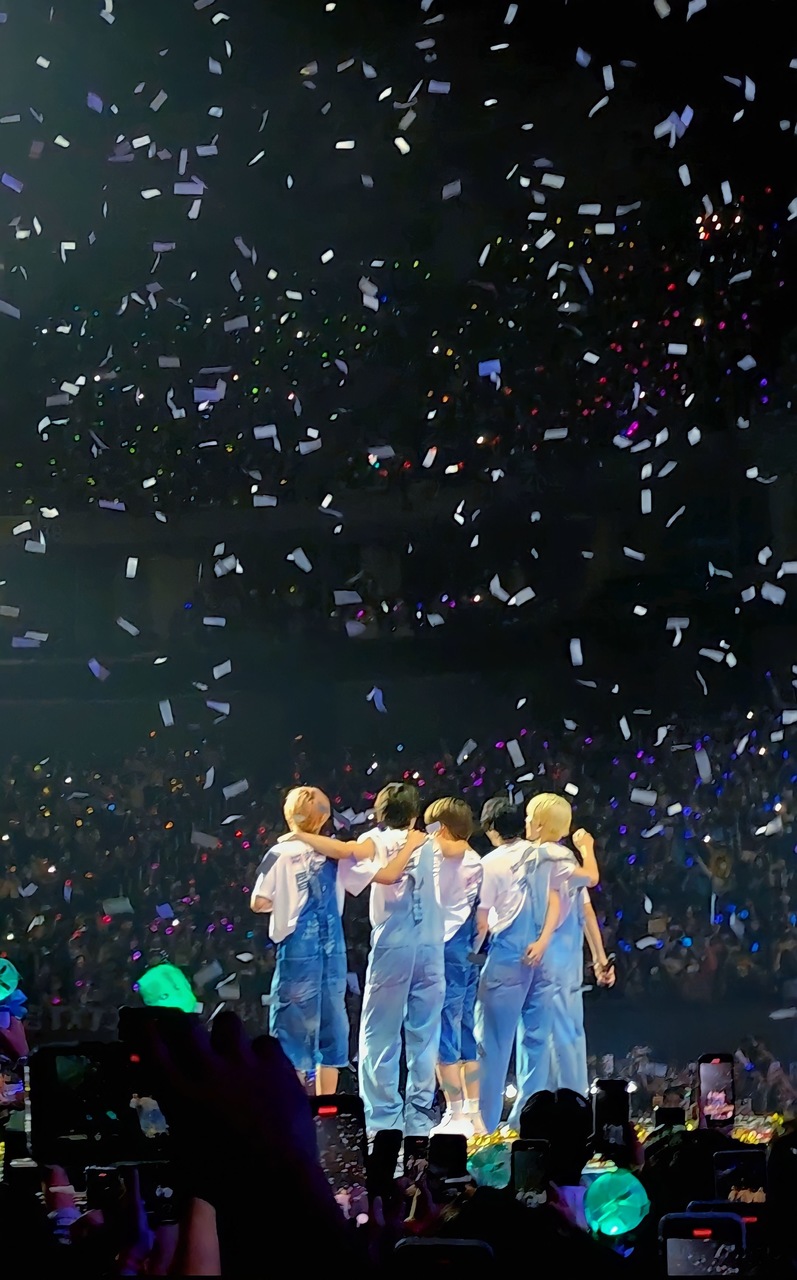 The last moments from that night were filled with love when MOAs did the paper planes fan project. It was when we flew our self-made paper planes to the stage with our personal letters on them and the members were able to pick some. "Our Summer" wrapped up not just the Manila leg but the whole ACT: LOVESICK tour. MOAs hugged each other and I received many from people whom I just met. It was truly a different level of comfort. Soobin was right when he said that he witnessed love with his own two eyes. Because as a MOA, I felt the same way, too. And I know that we all collectively felt it.
My love for TXT is very personal to me. Their music inspires me in different aspects of my life and seeing them in person is a great motivation to continue. I will forever remember this feeling and I know that this is not the last time. As the group said, this isn't the end but the beginning. I'm excited to see what lies ahead and I know in my heart that I will still be there—because I will be a MOA *forever.*
ADVERTISMENT - CONTINUE READING BELOW ↓
See you again soon, TXT!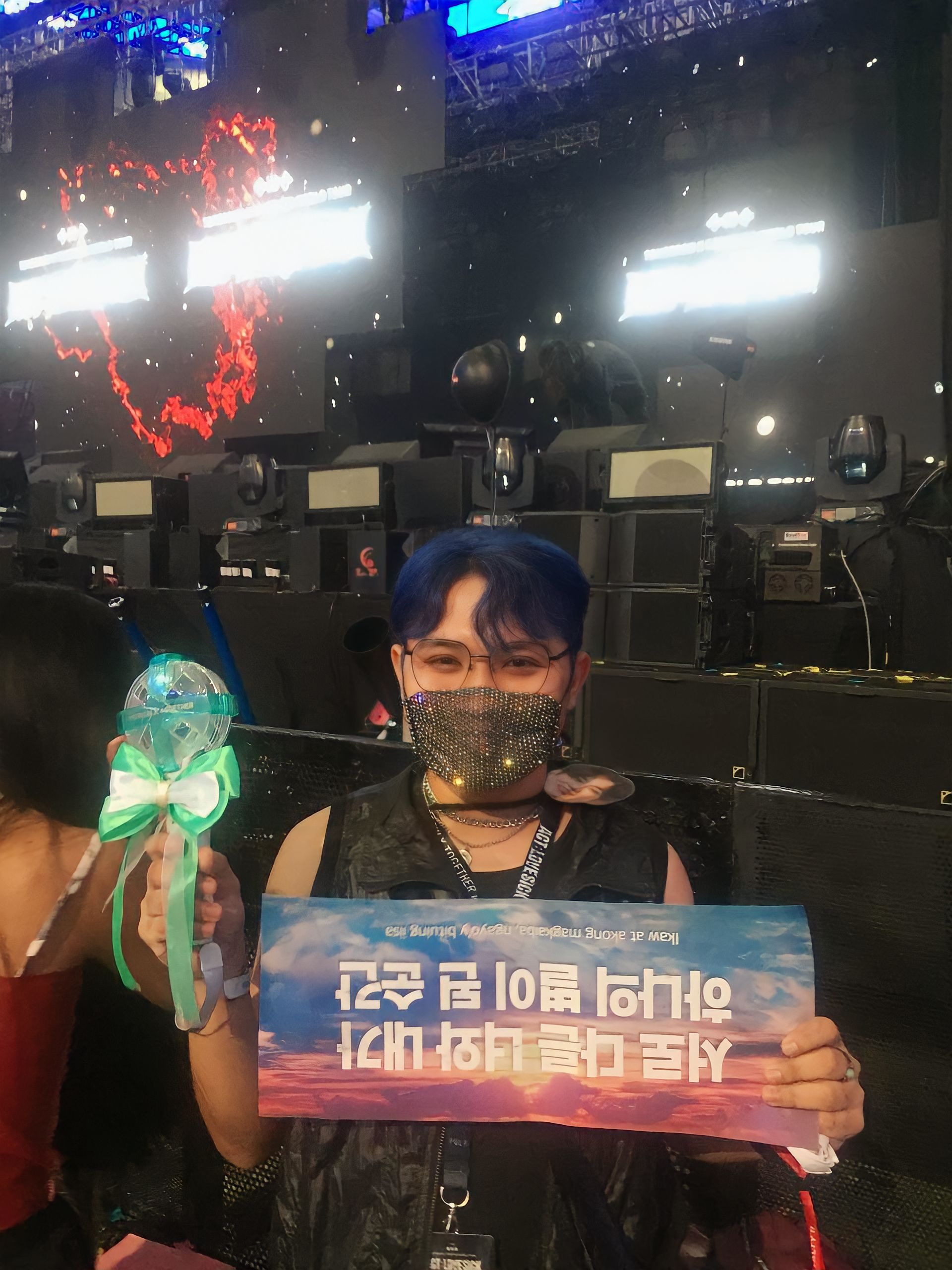 MORE FANGIRL STORIES HERE:
I *Finally* Met My Ultimate Bias B.I And It Was The Happiest Day Of My Fangirl Life
I Went To BTS' Manila Concert In 2017 And It Was *The Most Beautiful Moment In My Life*
I Went To SEVENTEEN's Concert And It Was A Night I Will *Never* Forget