One reason why we listen to music—may it be K-pop or any other genre—is for us to relieve stress and get our much-needed dose of comfort. The music industry is full of talented personalities but it's always nice to see young artists entering the scene with their new sound: Aside from having songs that can turn into an anthem, these performers create a *special* connection with those who are listening to them. Undeniably, TXT is one of the leading fourth-generation K-pop groups that ticks these boxes off with their amazing discography.
TOMORROW X TOGETHER or simply TXT, which debuted in 2019, is composed of five individuals who "come together under one dream in hopes of building a new tomorrow." From the start, Soobin, Yeonjun, Beomgyu, Taehyun, and Hueningkai have continuously brought magic to the lives of their MOAs (or Moments Of Alwaysness—their official fandom name). Dubbed as "healing idols," TXT understands the struggles of the younger generation who seek comfort through relatable music. With their top-tier visuals, synchronized choreography, soothing vocals, plus a touch of a magical alternate universe, TXT is definitely a group that's hard not to love.
ADVERTISMENT - CONTINUE READING BELOW ↓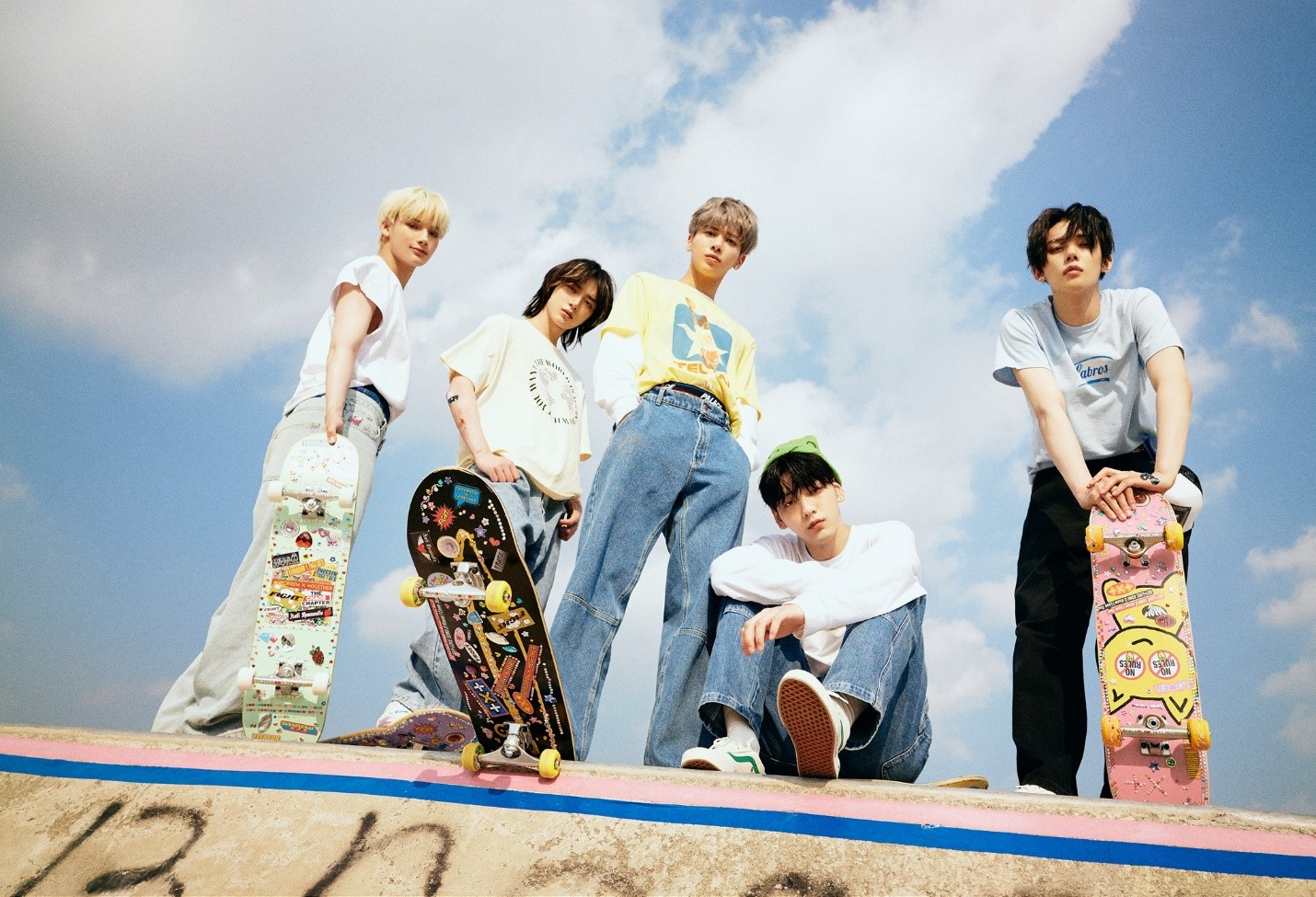 To assist you in your TXT journey, we have listed down tracks that are worthy of your time. While it's definitely not an easy job to make the list short (considering their flawless discography), these songs that made the cut will allow you to see TXT from a whole new perspective.
ADVERTISMENT - CONTINUE READING BELOW ↓
Recommended Videos
TXT Songs For New Fans
1. "9 And Three Quarters – Run Away"
After two delays for their first comeback, TXT surely did not disappoint when they released "9 And Three Quarters – Run Away" as the title track for their first studio album, The Dream Chapter: MAGIC. The boys have already shown their potential during their rookie days, but this track's stellar production and creative storyline made TXT's unquestionable talent and musicality shine even brighter. As a bonus, this song is something that Potterheads would surely enjoy—with references to magic and the title itself alluding to the famous train platform from the best-selling series.
"Oh that dark night, at the bottom of those stairs
The magic began the moment I saw you
Let's make a magic spell out of your tears
So that there will be no more tears"
2. "0X1=LOVESONG (I Know I Love You)"
It's safe to say that "0X1=LOVESONG (I Know I Love You)" is one of the best K-pop songs that came out in 2021. The number serves as the title track for TXT's second full studio album, The Chaos Chapter: FREEZE. The group takes on a different sound, incorporating the pop, rock, and alternative genres on this track, proving just how versatile they are as artists. The featured singer, Seori, gave additional flavor to the song that will make you go, "Say you love me."
ADVERTISMENT - CONTINUE READING BELOW ↓
"My life before you was a mess
Couldn't even win one round of this chess"
3. "Everlasting Shine"
"Everlasting Shine" serves as a soundtrack for the animated series, Black Clover. This heartfelt ballad is something that you can listen to when you need to remind yourself to keep going. As impactful as the song's meaning, TXT delivers pleasant vocals that will truly make you feel hopeful. One word: Healing!
"Navigating the city's waves, finding fault
Pretending we're not broken
Just doing these things makes us tired
What if we go out on a journey to find ourselves?
If we do that, I'm sure life will be good"
4. "Anti-Romantic"
First things first—this song is so good for an album opener! Despite being a ballad, "Anti-Romantic" became a viral dance craze on TikTok when a user created a short choreography with its highly-addictive chorus. This track is most relatable for those who are scared to fall in love or who doubt the sincerity of receiving non-platonic feelings.
ADVERTISMENT - CONTINUE READING BELOW ↓
"I know that you love me
It makes me deeply drunk again
You're like a champagne
This can't happen"
5. "Ito"
There is beauty in being together and that's what "Ito" is all about. As part of their Japanese EP, Chaotic Wonderland, this track delivers a message that any relationship bonded by fate would be hard to break. Just like the group's name, it's sure that MOAs will be together with TXT in every tomorrow.
"An encounter that brings people together by chance
The two of us tied together so that we will never be apart"
6. "CROWN"
Of course, this list would not be complete without the song that introduced TXT to the world. After months of patiently waiting, "CROWN" successfully gave TXT a remarkable debut in 2019 and earned the group three wins in Korean music shows. The Korean title of this track is about the horns that represent the growing pains of a boy who's going through adolescence. Years after its release, this song will still give you the LSS with its catchy beat in contrast to how deep the lyrics are.
ADVERTISMENT - CONTINUE READING BELOW ↓
"Why is the world treating me like this
Got a horn on me all of a sudden
Would there be light? Even for the devils?
And then your wings were spread in front of my eyes"
7. "Blue Hour"
Released during the pandemic, "Blue Hour" represents the unavoidable circumstances and adjustments that we must face in our lives. The whole minisode1: Blue Hour EP where this track belongs relays relatable messages not only to the young generation but also to other people who are affected by the immense changes in the world.
"The glow of the sunset on my time machine
I know if that the end will come
The sun is down before you disappear into the night
I take you into my eyes"
8. "Our Summer (Acoustic Mix)"
"Our Summer" is already a great song to listen to, but the acoustic mix made it greater and much more alive. The simplicity of this track serves as a factor as to why you would want to play it over and over again. The song showcases the smooth vocals of TXT and combined with the optimistic melody, it will make you feel like you're taken back to a wonderful summer season.
ADVERTISMENT - CONTINUE READING BELOW ↓
"Spread before your eyes is the ivory Milky Way
Blooming gold season, like our summer
No matter where you are, no matter what season
If we're together, feel like summer"
9. "Maze In The Mirror"
"Maze In The Mirror" is the first song that the TXT members wrote all together. The song serves as an expression of their journey during their trainee days and the boys really poured their hearts into this masterpiece. It's heartwarming to think that TXT successfully debuted and they are now sharing their stories through music.
"I reach out my hands towards the light
In the mirror, I push myself
In that figure that's broken and divided
I can't even find my real self" 
10. "Love Sight"
Serving as a soundtrack for the K-drama, Doom At Your Service, "Love Sight" is that one song that will make you feel like you are inside of what you are watching. TXT sings beautifully while expressing the message of a person's affection towards an individual. All wonderful factors considered, this song certainly deserves more recognition.
ADVERTISMENT - CONTINUE READING BELOW ↓
"When I see you, the feelings in my frozen heart
Start to blossom into beautiful flowers like the warm spring"
11. "20cm"
Beautiful is an understatement to describe this craft. "20cm" is a song that's perfect to listen to with your earphones on while watching the raindrops from your window. The clean falsetto and R&B sound of this track will have you hooked. Now, if you already love this song, do not forget to watch the live performance on TXT's We K-pop guesting and witness how majestic they executed the song by simply standing and singing on the stage.
"Counting the number of your eyelashes
It's like based on a mathematical formula
I wanna memorize every detail of it"
12. "MOA Diary (Dubaddu Wari Wari)"
TXT shows how much they love their fans through their first fan song. From the title itself, "MOA Diary (Dubaddu Wari Wari)" is like a collection of all their memories with their fans from the very beginning. So, if you're looking for a group that adores and supports their fans back, TXT is definitely one of them.
ADVERTISMENT - CONTINUE READING BELOW ↓
"Even these ordinary days
These days when we lost the summer
Record it in our diary tonight
It'll be our consolation, our summer night"
13. "Magic"
"Magic" is the quintet's first full English song. This is TXT's way of reaching out to all of their fans and listeners around the world, and the energetic vibe of the track will absolutely uplift your mood. Listening to this will cheer you up and make you go, "Everybody, clap your hands."
"Remember how I used to be so stuck in one place, so cold?
Feeling like my heart just froze nowhere to go with no one, nobody"
K-UPDATES