Hello and get ready for some happy-sad news depending on if you ship Vanessa Hudgens and Austin Butler or have been thirsting after Austin for the past decade. You see, while Austin has been in a very cute relationship with fellow former Disney star Vanessa for nine years, they just broke up. And the time has come to learn all about their love story, which began on the set of High School Musical and ended after a spooky Halloween together.
Circa 2005
Vanessa and Austin meet on the set of High School Musical while she's dating Zac Efron. Sparks don't fly just yet, but clearly, Austin is playing the long game. Also, this is probably a great excuse for us to watch "We're All In This Together," because, truly, we're all in this together.
September 19, 2011
People reports that Vanessa and Austin are dating after they're spotted kissing, although their reps decline to comment. The! Plot! Thickens!
December 29, 2011
Vanessa and Austin are photographed smooching in Miami.
January 6, 2012
The pair take their relationship suuuper public by making out courtside at a Los Angeles Lakers vs. Golden State Warriors game. Because nothing gets people in the mood like sports or whatever.
Continue reading below ↓
Recommended Videos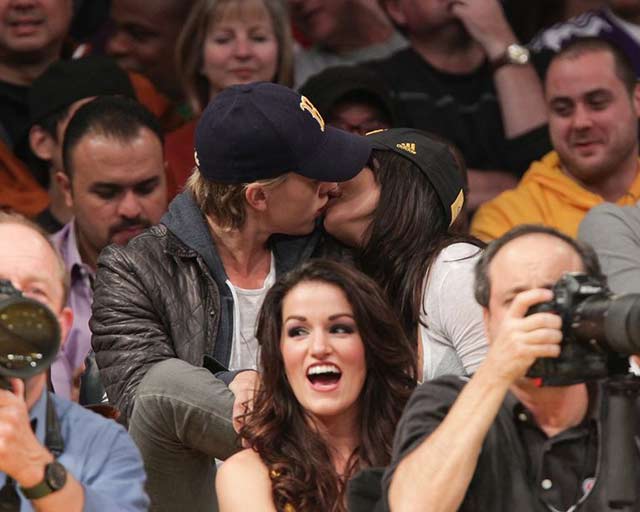 February 2, 2012
Vanessa and Austin make their first appearance as a couple at the premiere of Journey 2: The Mysterious Island.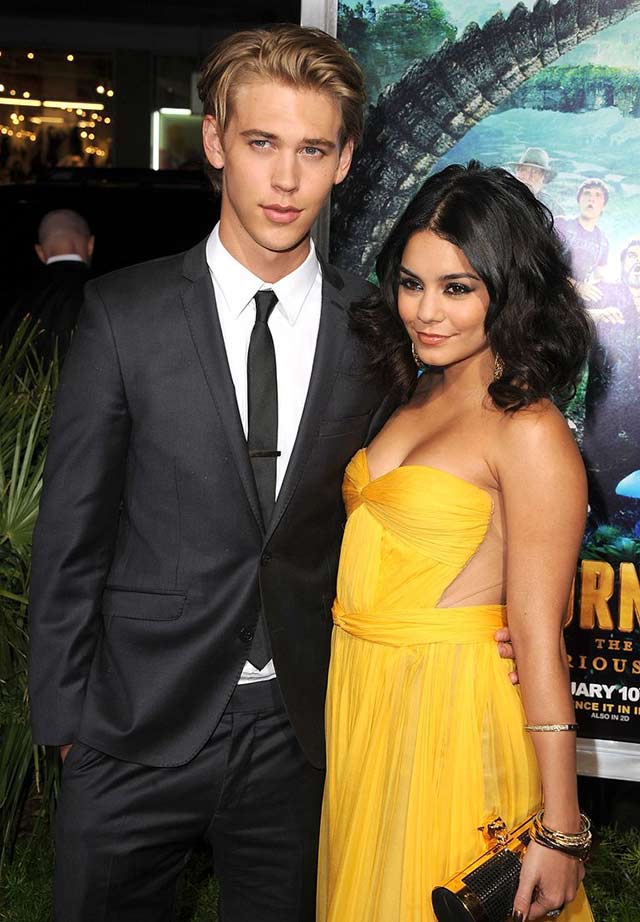 March 14, 2013
Austin hits Twitter with a public declaration of support for Vanessa's Spring Breakers premiere, calling her "the beautiful girl in the feather dress."
December 6, 2013
They go vaguely Instagram official on Vanessa's account, but honestly, if it's a group shot, does it even count?
December 14, 2013
They celebrate Vanessa's birthday with a huge party and this adorable picture is taken: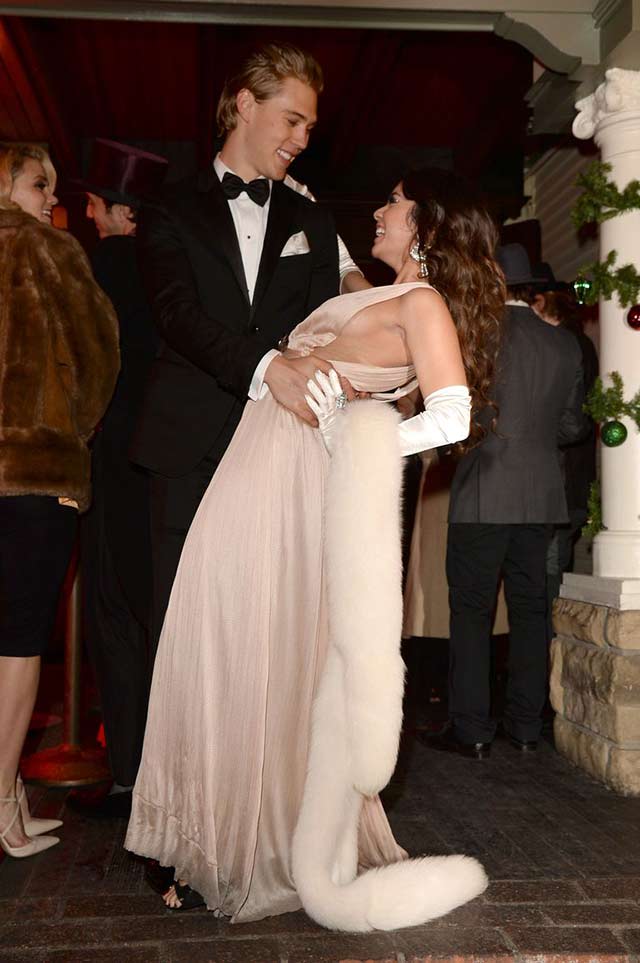 June 19, 2014
Austin and Vanessa are spotted looking super flirty on a hike. Or, like, a "hike."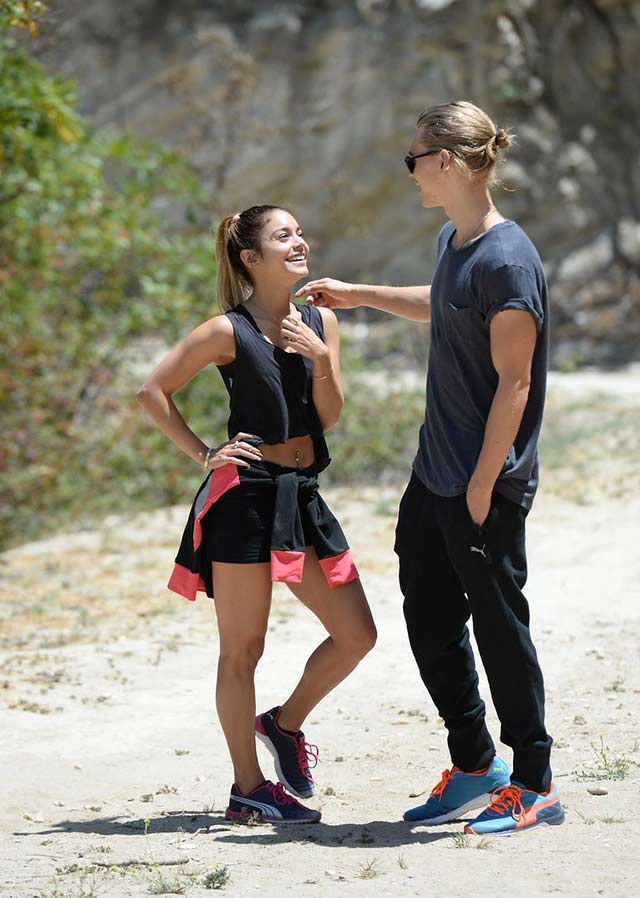 August 18, 2014
Vanessa goes ahead and makes it very clear that they're a couple on Instagram, calling Austin "the love of my life."
November 2, 2014
They dress up as sexy vampires for Halloween, which, sure, I fully support this:
August 22, 2015
Austin posts his very first photo of Vanessa on Instagram, without a caption because the pic speaks for itself.
August 31, 2015
Austin opens up about the relationship to ET, saying, "I think you just have to—it's important to put that other person first. If you're constantly looking for ways that you can make them happy, and they're constantly looking for ways that they can make you happy, then you kind of lift each other up as much as possible and you can't go wrong."
November 2, 2015
Their couples Halloween costumes take a turn for the surreal and I don't hate it:
March 15, 2016
Vanessa calls Austin her "family," which is extremely sweet. *ships harder*
October 31, 2016
Halloween rolls up and...
February 1, 2016
Vanessa performs in Grease Live just one day after her father's passing and Austin tweets that it brings tears to his eyes.
March 20, 2017
Vanessa posts a picture of herself and Austin kissing and says that long distance sucks. Truer words.
November 1, 2017
It's Halloween again and, like, we get it.
December 16, 2017
Vanessa denies engagement rumors after a photo of a ring on her finger causes fans to lose all chill.
February 14, 2018
The couple spends their sixth Valentine's Day together. Like, what are the rest of us doing wrong in life?
August 17, 2018
Vanessa celebrates Austin's birthday with a super cute post of what else? Them kissing:
February 14, 2019
Not only do they celebrate yet another Valentine's Day...
...but they also celebrate their seven-year anniversary:
April 23, 2019
Lord help us, it's Coachella:
July 6, 2019
It's International Kissing Day and you know who's celebrating.
July 23, 2019
Austin and Vanessa hit up the Once Upon A Time In Hollywood red carpet, and as you can tell, his hair is clearly method acting in preparation for playing Elvis.
October 31, 2019
Vanessa posts about Austin for the last time on Instagram. This sounds cryptic, but only because we all know what comes next: The breakup. 
January 14, 2020
It's not clear when or why the two split up, but Vanessa and Austin didn't spend the holidays together. An Us Weekly source confirms the news in January and says, "Vanessa and Austin are officially broken up, and Vanessa has been telling those close to her about their breakup."
And unfortunately, that brings us up to date. Stay tuned in case someone spills more info.
***
This article originally appeared on Cosmopolitan.com. Minor edits have been made by the Cosmo.ph editors.