We are now on episode 13 in the Song Joong Ki-led tvN drama Vincenzo and wow, we've seen a lot of familiar faces already! And we bet you've noticed this, too. So, just in case you're wondering which previous dramas they were a part of, we gotchu!
Below is your guide to the Vincenzo cast members and the other dramas they've appeared in:
1. Yoo Jae Myung as Lawyer Hong Yoo Chan
Actor Yoo Jae Myung plays the role of Hong Yoo Chan, the CEO of the Jipuragi Law Firm, and a lawyer who works for the benefit of the people. He leads cases that support underdogs and this is the reason why his company is called Jipuragi—because Yoo Chan is the last straw of his clients. In Episode 2, he said: "When they don't have anyone to lean on, they can still grab onto me." He also happens to be the father of Hong Cha Young (Jeon Yeo Bin).
ADVERTISMENT - CONTINUE READING BELOW ↓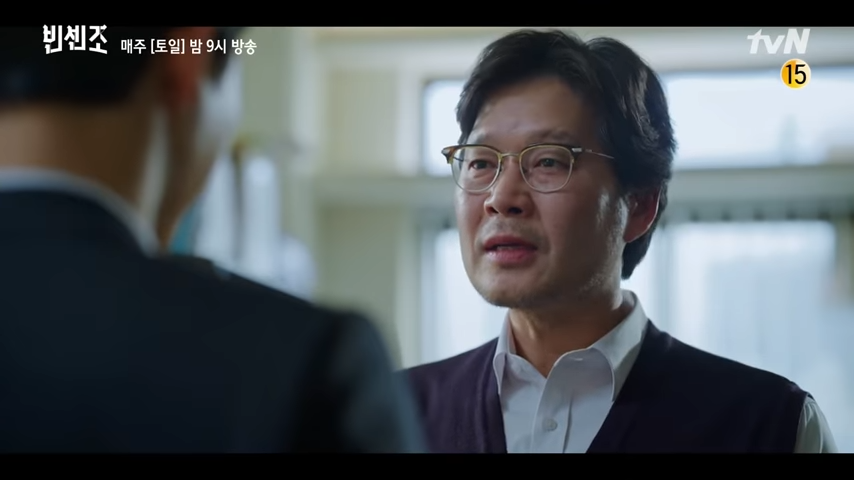 If he's a kind-hearted soul in Vincenzo, Jae Myung takes on a completely different persona in Itaewon Class! He's still a CEO in this K-drama but is obsessed with power. He also happens to be Park Saeroyi's (Park Seo Joon) sworn enemy Jang Dae Hee.
The 47-year-old actor also appeared in Strong Woman Do Bong Soon as Bong Soon (Park Bo Young)'s doting appa (father) who manages their walnut shop.
Of course, we can't forget him as the school dean and Dong Ryong (Lee Dong Hwi)'s strict dad in Reply 1988! 
2. Kwak Dong Yeon as Jang Han Seo
There were only a few scenes so far in Vincenzo where Kwak Dong Yeon's character Jang Han Seo appeared, but we can already sense that he has a lot of evil schemes! At the same time, he seems like the type who is scared deep inside, as seen in Episode 2 when he was mistreated by an unknown figure in the ice skating rink. Han Seo is the president of the Babel Group, aka the major client of Cha Young's law firm, Wusang.
ADVERTISMENT - CONTINUE READING BELOW ↓
Do you remember his special cameo in It's Okay To Not Be Okay? He is Kwon Ki Do, the son of an assemblyman who is diagnosed with manic syndrome. He may appear extra lively on the outside, but there's actually a deeper meaning behind his actions.
Dong Yeon was also cast in My ID Is Gangnam Beauty, this time as a teaching assistant and Do Kyung Seok (Cha Eun Woo)'s housemate! He was also part of the dramas Love In The Moonlight and Fight For My Way. 
3. Kim Yeo Jin as Prosecutor Choi Myung Hee
In Vincenzo, Kim Yeo Jin portrays the character of Choi Myung Hee, a prosecutor who joined the Wusang Law Firm as their Senior Lawyer. She may be plain-looking on the outside but watch out—she's one who doesn't run out of tricks up her sleeve! On the side,  she's also a Zumba enthusiast.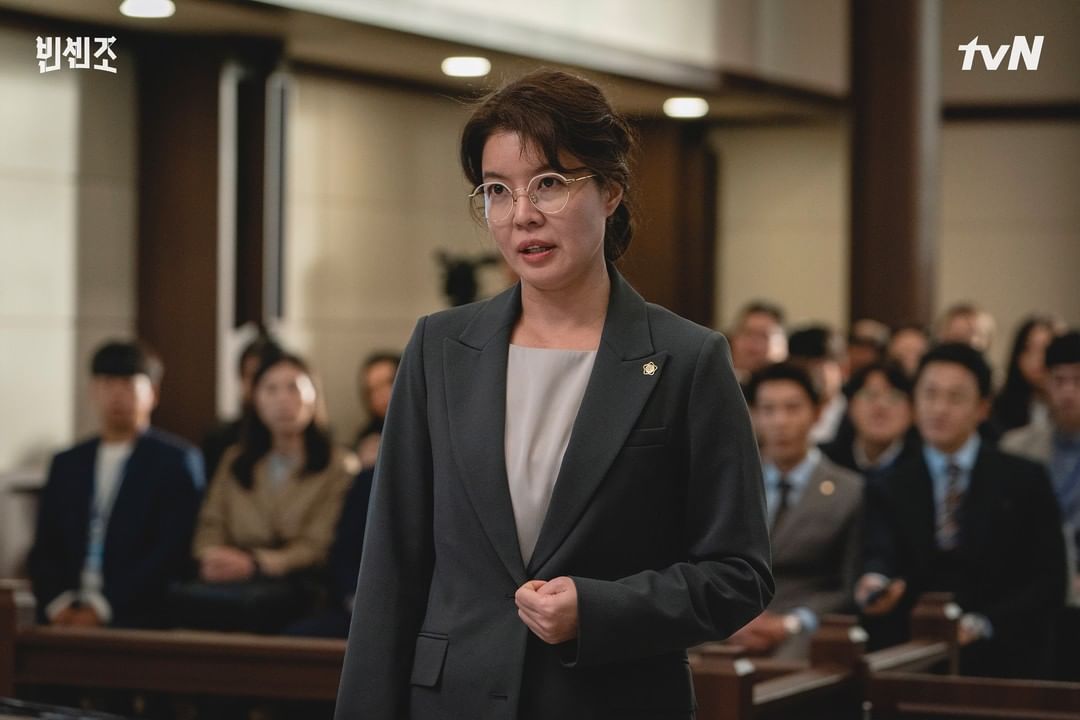 ADVERTISMENT - CONTINUE READING BELOW ↓
It looks like Vincezo is Yoo Jae Myung and Kim Yeo Jin's K-drama reunion because she was also featured in Itaewon Class as Jo Yi Seo (Kim Da Mi)'s mother!
In Extracurricular, she is detective Lee Hae Gyoung from the juvenile crime department, who can easily sense if there's something sketchy among a group of minors!
4. Yang Kyung Won as Lee Cheol Wook
One of the tenants in the Geumga Plaza is Lee Cheol Wook, who was the first person to spread the news that Vincenzo is going to live in their building. He declares himself as a martial artist but when there was ongoing chaos in their area, he excused himself and disappeared. LOL!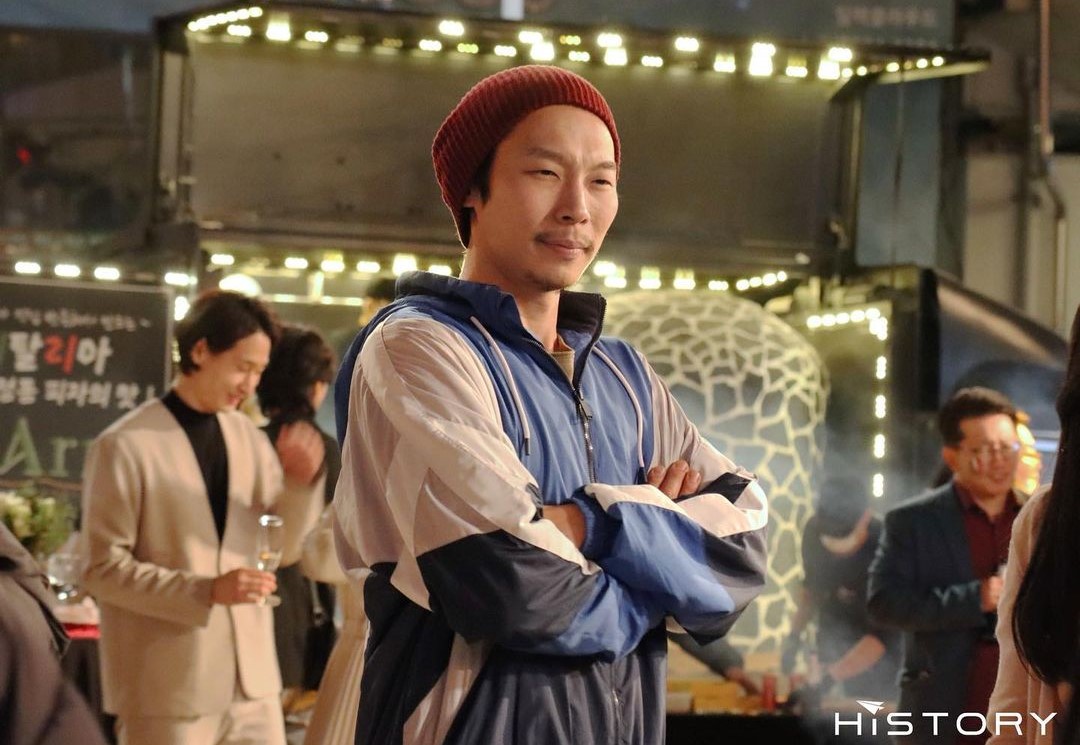 ADVERTISMENT - CONTINUE READING BELOW ↓
Yang Kyung Won may have starred in various K-dramas but you will definitely recognize him as a member of Captain Ri (Hyun Bin)'s Company Five, Sergeant Major Pyo Chi Soo in Crash Landing On You! He may be ill-tempered at times especially to Se Ri (Son Ye Jin) but he secretly has a heart of gold.
He was also in Hi Bye, Mama, Fight For My Way, and Arthdal Chronicles!
5. Kim Yoon Hye as Seo Mi Ri
When Vincenzo first entered Geumga Plaza, he was greeted with a group of odd strangers who soon became his building neighbors! One of them is Seo Mi Ri, the Destiny Piano School director who appeared as if she was possessed when they first met. In Episode 2, it looks like she has a soft spot for our lead guy!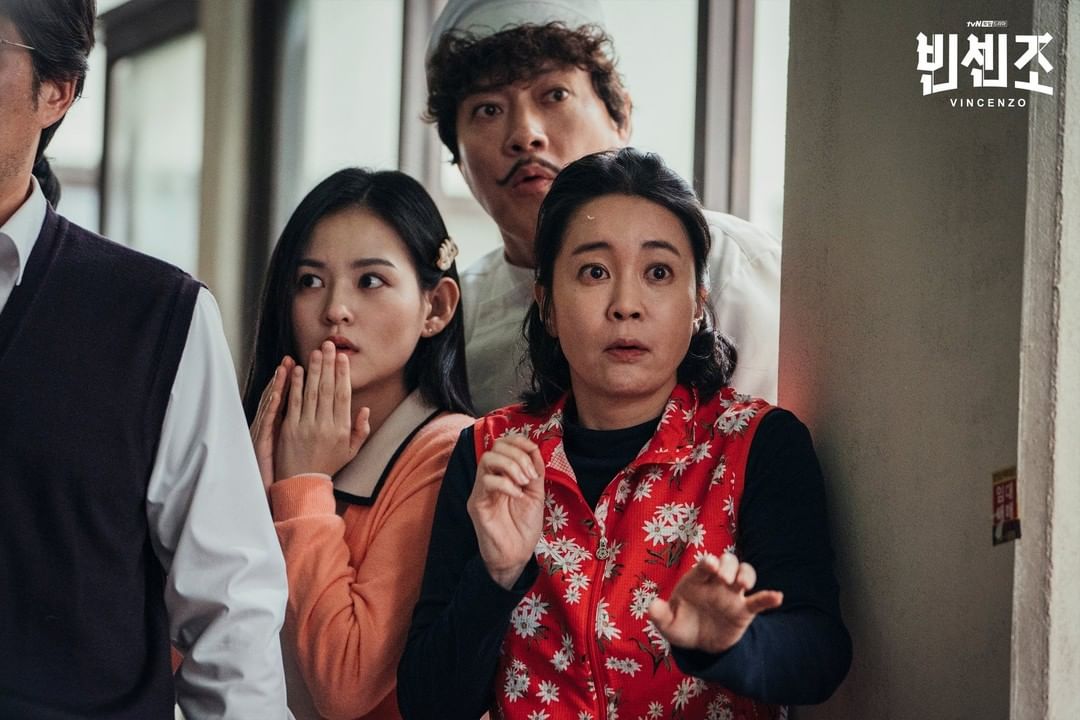 ADVERTISMENT - CONTINUE READING BELOW ↓
Before her stint in Vincenzo, Kim Yoon Hye appeared in 18 Again as Kwon Yu Mi, the co-intern of Da Jung (Kim Ha Neul). 
She also worked with Ok Taecyeon in Who Are You, and was cast in The Vampire Detective and Heartstrings! 
6. Kim Sung Cheol as Hwang Min Seong
In episode eight, we saw Kim Sung Cheol as Hwang Min Seong, the president of Shinkwang Bank. You guys, his character as a chaebol's son who fell head over heels with Vincenzo is super funny! They even went on a ~date~ in the amusement park and became all lovey-dovey. #SanaAll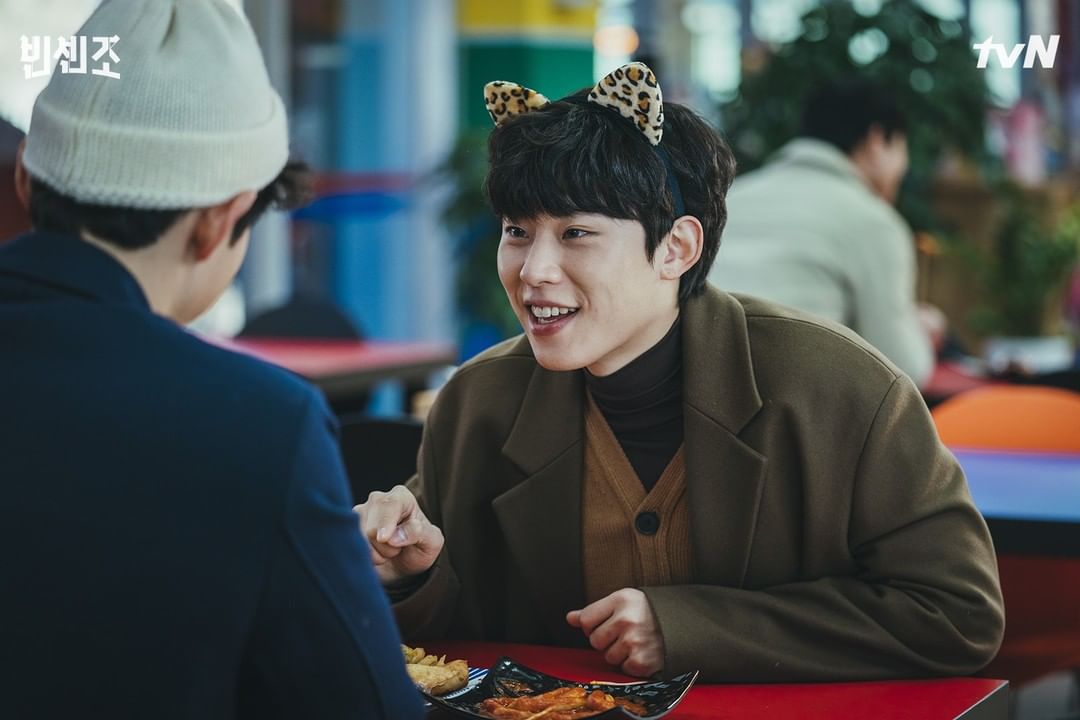 ADVERTISMENT - CONTINUE READING BELOW ↓
Did you know that Kim Sung Cheol has already worked with Song Joong Ki prior to Vincenzo? He was cast in the 2019 Netflix K-drama, Arthdal Chronicles, as Ipsaeng! You can also remember him in Prison Playbook as Kim Jae Hyuk (Park Hae Soo)'s loyal friend, Beobja (or Jailbird). Apart from these, he was also present in Sweet Home, Do You Like Brahms?, and Hospital Playlist.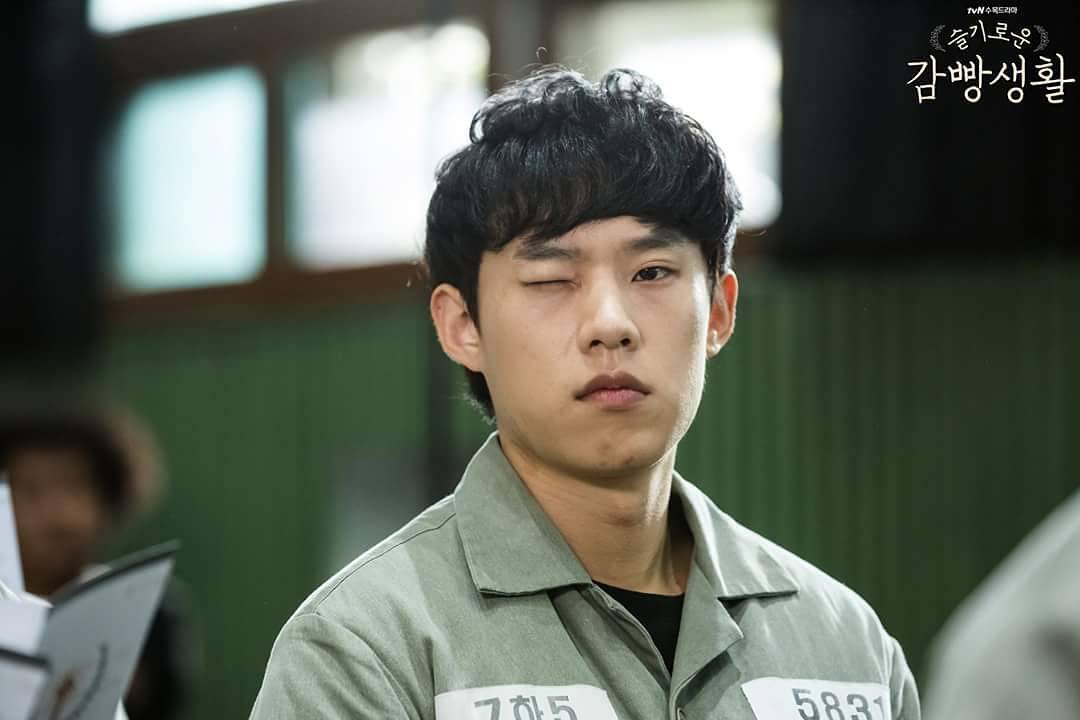 ADVERTISMENT - CONTINUE READING BELOW ↓
7. Im Chae Moo as the Ferris Wheel Attendant
Also in episode eight, we witnessed veteran actor Im Chae Moo as the Ferris wheel attendant who ushered Vincenzo and Min Seong into the theme park! He was the one who *playfully* slapped Min Seong on the cheek, causing him to accidentally kiss Tae Ho, aka Vincenzo. LOL.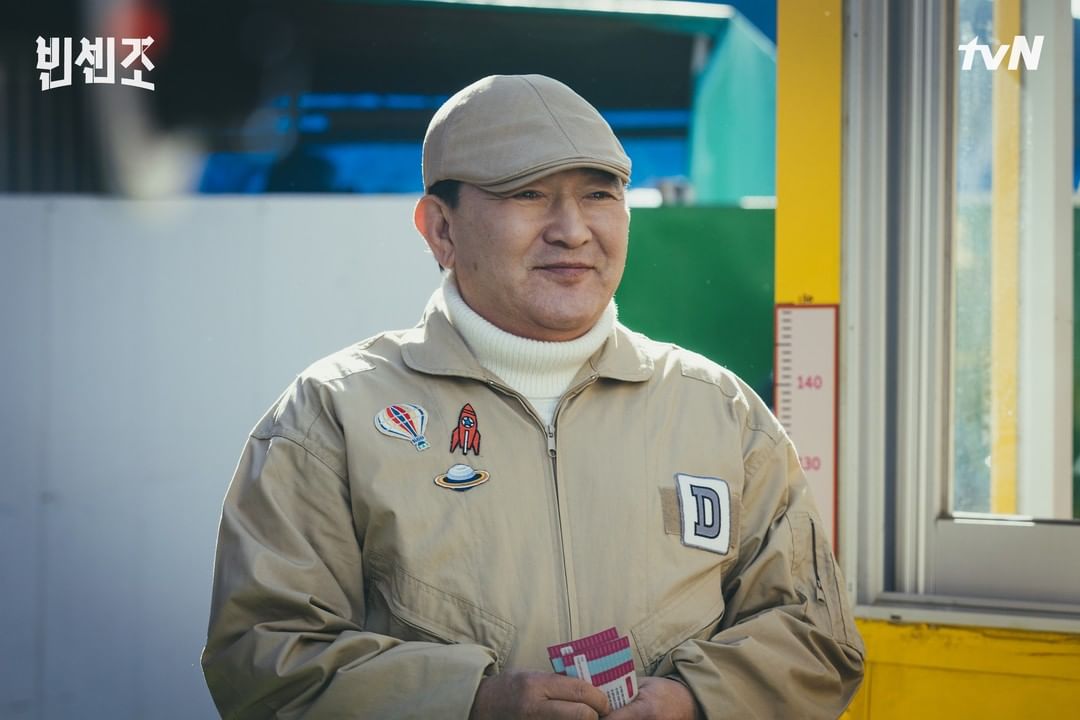 ADVERTISMENT - CONTINUE READING BELOW ↓
Apart from starring in K-dramas like Apgujeong Midnight Sun, A Thousand Days' Promise, and Temptation Of Wife, Im Chae Moo is also a CEO! In fact, he owns Doori Land, the exact theme park that was featured in Vincenzo. Ang galing!
8. Im Chul Soo as Ahn Ki Seok
Agent Ahn's initial plan was to *stalk* Vincenzo and prove that he is more than just an Italian lawyer. And so he applied in Chef's Toto's restaurant to check on him...only to realize that he's slowly liking his ~angelic~ personality! He is also about to turn into Vincenzo's fan club president. We love it when Ki Seok would squint his eyes whenever he's channeling his inner agent, haha!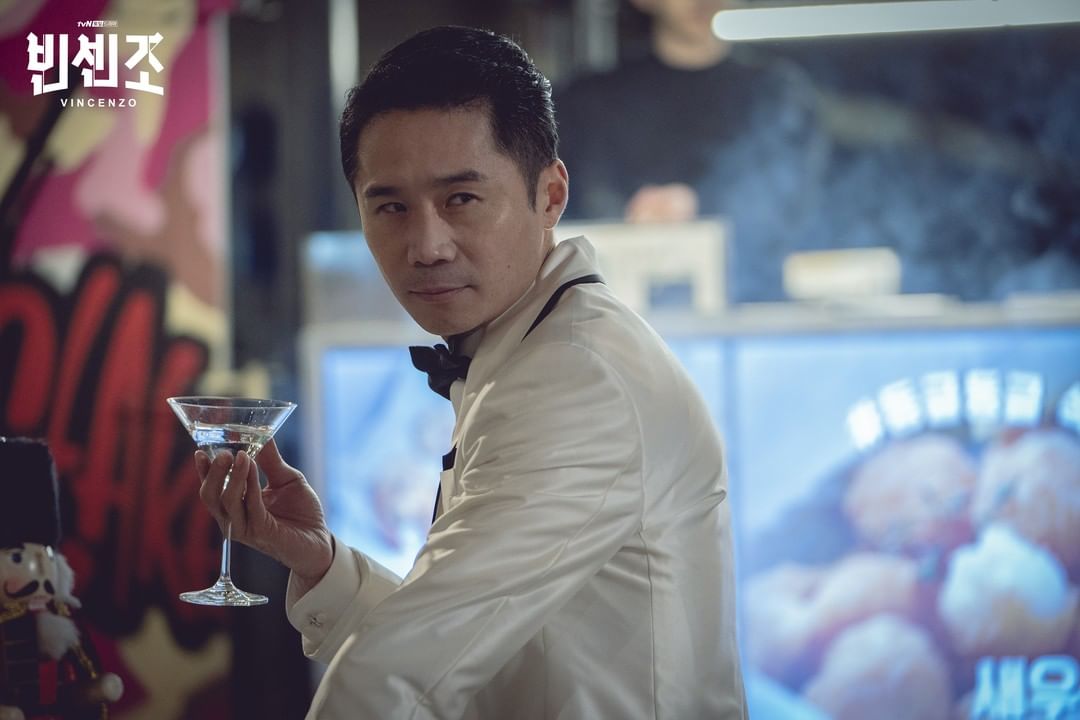 ADVERTISMENT - CONTINUE READING BELOW ↓
We bet you will remember Im Chul Soo in Crash Landing On You as Se Ri's insurance agent who ~*firmly*~ believes that our girl was able to survive her paragliding accident! He was also present in Dr. Romantic 2, Reply 1988, and Signal. 
9. Seo Ye Hwa as Jang Yeon Jin
One of the tenants in Geumga Plaza is Jang Yeon Jin, the wife of Lee Cheol Wook and co-owner of Mr. Pawnshop. In the recent episode of Vincenzo, we have witnessed her extraordinary strength when she was able to lift a thief all on her own!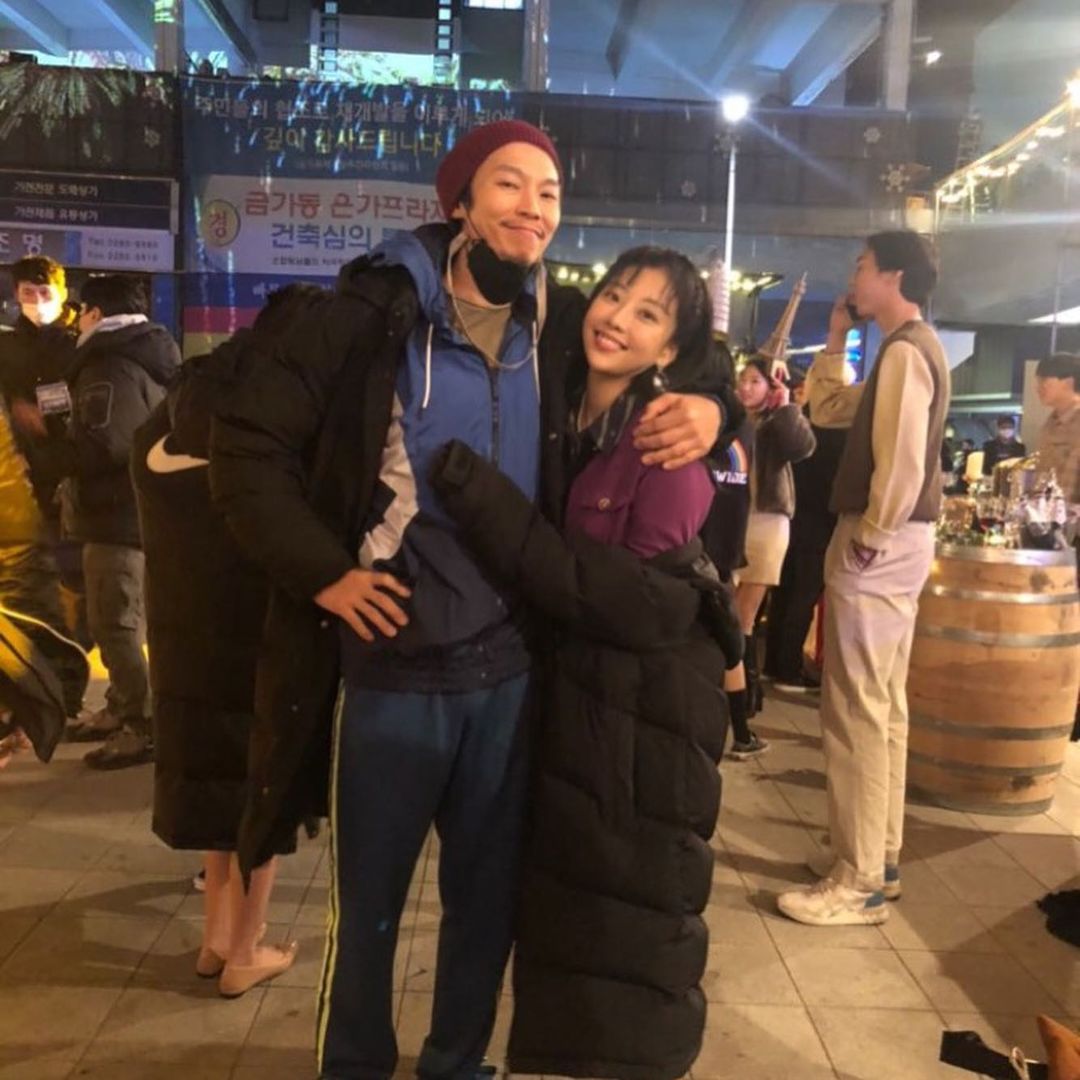 ADVERTISMENT - CONTINUE READING BELOW ↓
Actress Seo Ye Hwa is one of the many versatile Korean celebrities we know who can portray a character under any genre. One of her most impressive roles is in Netflix's Extracurricular as Na Sung Mi, a member of Uncle's group who was caught in a messy situation. In Backstreet Rookie, she made us laugh with her role as Hwang Geum Bi! Seo Hye Hwa's previous projects also include Her Private Life and Lawless Lawyer. 
10. Yoo Yeon as Kim Yeo Won
Who would have thought that Dr. Gil Jong Moon (Hong Seo Joon)'s own wife would testify against him in court in episode seven? Apart from Vincenzo, Kim Yeo Won, who leads Sungwon University Hospital's Pediatric Cancer Center, is Hong Cha Young' other surprise witness! She appears to be calm at first until she started hitting her husband's head with a microphone.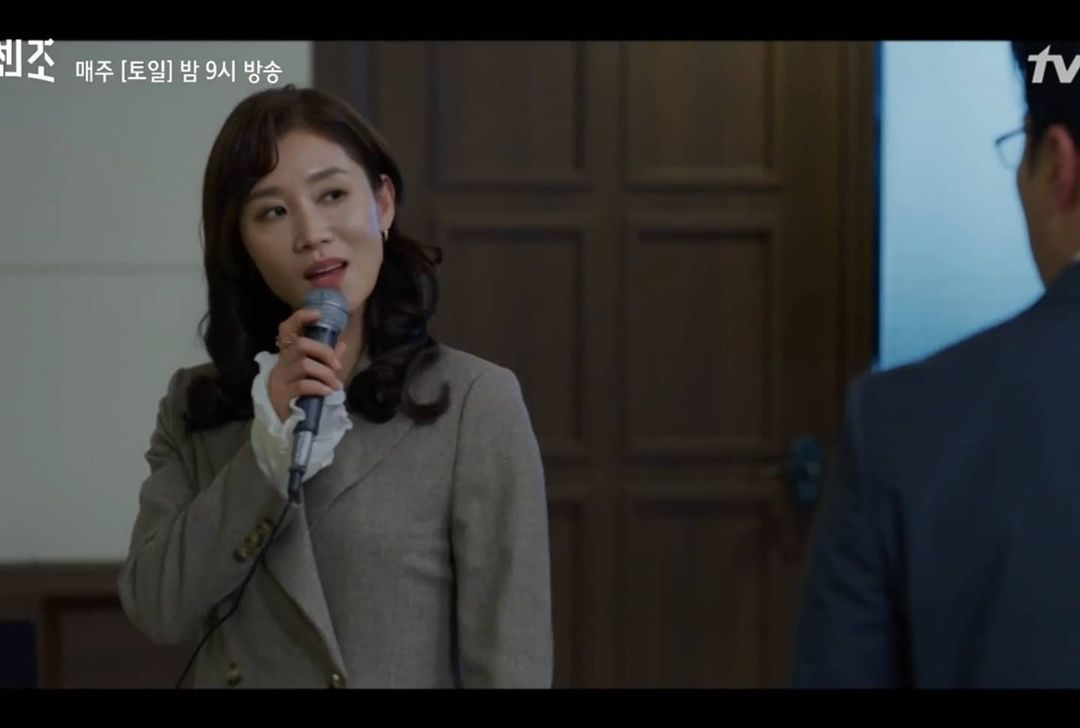 ADVERTISMENT - CONTINUE READING BELOW ↓
In When The Camellia Blooms, Yoo Yeon played the role of a reporter who kept on insisting that Dongbaek (Gong Hyo Jin) should speak out about her past. She also made an appearance in Sky Castle as Laura Jung, the one who recognized terror tutor Kim Joo Young (Kim Seo Hyung) as Jennifer from Fairfax, Virginia. Yoo Yeon was also cast in Hi, Bye Mama!, Touch Your Heart, and the Netflix movie, Alive.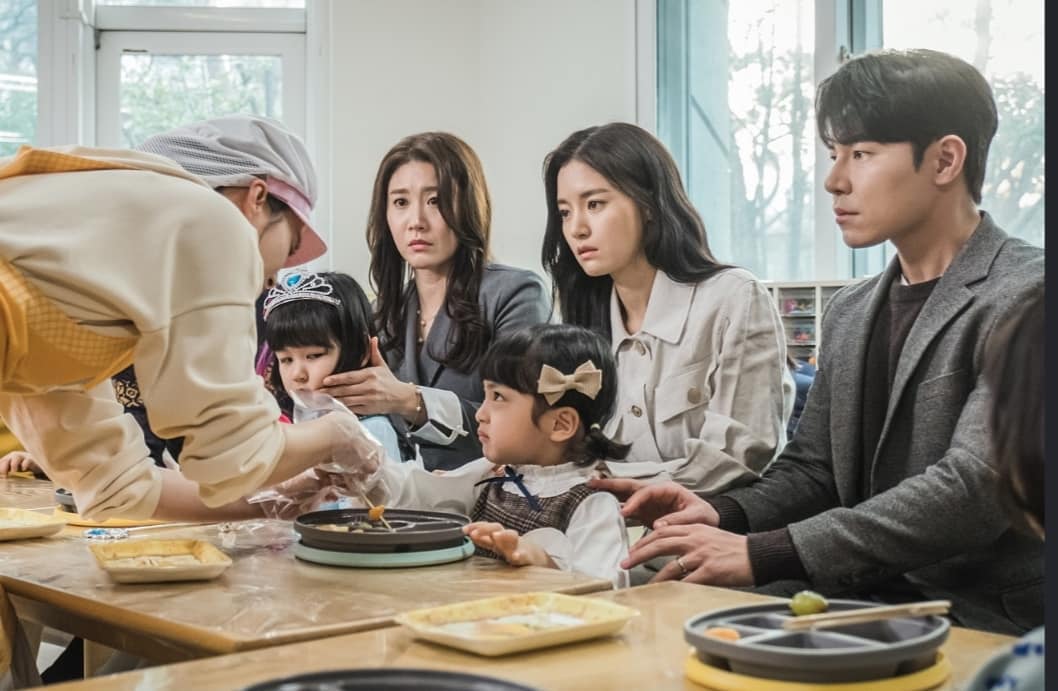 ADVERTISMENT - CONTINUE READING BELOW ↓
11. Ahn Chang Hwan as Gilbert
Vincenzo's gold stash wouldn't be revealed if not for Gilbert, the homeless man who overheard a convo about the treasure! As proof that he is saying the truth, Gilbert even showed a  photo of the worker who knows where the gold is. In episode 12, our mafia corn salad (I mean consigliere) met with Gilbert and paid him a thousand bucks for him to relocate and forget about the gold. Gilbert was hesitant at first, but then he opened the thicc envelope full of $$$. He even surrendered the mobile phone he found to Vincenzo and pretended to lose his memory! What gold???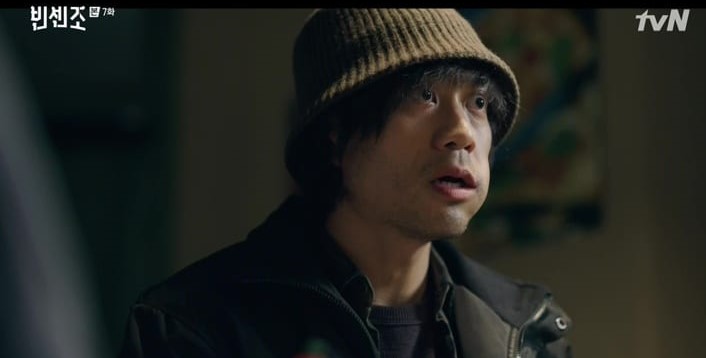 ADVERTISMENT - CONTINUE READING BELOW ↓
Prison Playbook fans, do you remember Ahn Chang Hwan as Croney, the enemy-turned-loyal assistant of Kim Jae Hyuk? He almost killed our baseball superstar when he had a different ~boss~ but he eventually warmed up to him and served Jae Hyuk the best that he can. Ahn Chang Hwan also starred in the other Park Jae Bum-written series, The Fiery Priest, and was also in Strong Woman Do Bong Soon. 
12. Choi Young Joon as Mr. Cho
Episode 12 also left us with a cliffhanger: Vincenzo and his long-time ally Mr. Cho successfully entered Geumga Plaza's basement, discovered the bars of gold, and when our mafia was already happy to see his pile of fortune, Mr. Cho places a gun against his head. I'm still *so* annoyed and hurt for Vincenzo after he betrayed him! Imagine trusting a friend and who turned out to be disloyal, all because of money. Nakakagigil!
ADVERTISMENT - CONTINUE READING BELOW ↓
Namumukhaan niyo ba si Choi Young Joon? Feel niyo ba na nag-appear siya sa isang 2020 K-drama? Then your guess is correct! The actor was cast in another Netflix series, Hospital Playlist, as the assistant emergency medicine professor, Dr. Bong Gwang Hyun. He was also in Flower Of Evil as Choi Jae Sub.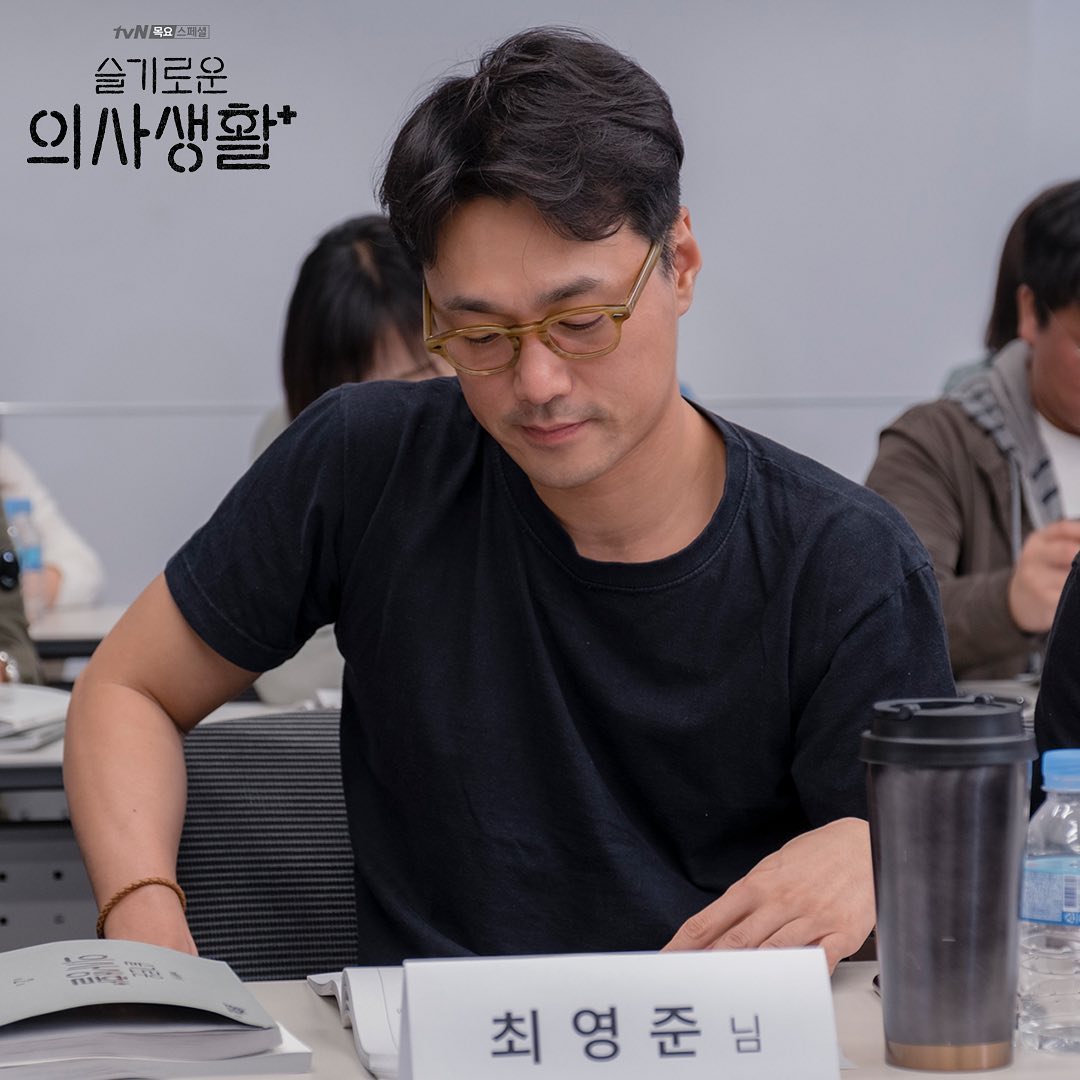 ADVERTISMENT - CONTINUE READING BELOW ↓
13. 2PM's Nichkhun and Changsub's special cameo
As an OG K-pop fan, I found myself screaming when I saw Nichkhun and Chansung in Vincenzo! ICYDK, the two are members of the second-gen K-pop group 2PM, along with Ok Taecyeon aka Jang Joon Woo. You saw them in episode 12 as the actors on the TV screen that Joon Woo was watching. Yung nagbabarilan, LOL. While I'm here, let me remind you about that 2PM reference in a Vincenzo episode where Joon Woo danced in front of Cha Young and said "Can you feel my heartbeat?" You guys, that's the lyrics of their iconic song, "Heartbeat"!
14. Jo Han Chul as Wusang's CEO, Han Seung Hyuk
Before he discovered that Jang Joon Woo is the *real* Babel boss, lawyer Han Seung Hyuk would often reprimand him as the law firm's intern. Joon Woo would often reply: "Sorry, boss!" Now, the tables have turned and he's always shaking whenever Joon Woo is near. But it looks like Wusang's CEO is partnering with Jang Han Seo and coming up with a plan to bring Joon Woo down. Will they succeed kaya? Abangan! 
ADVERTISMENT - CONTINUE READING BELOW ↓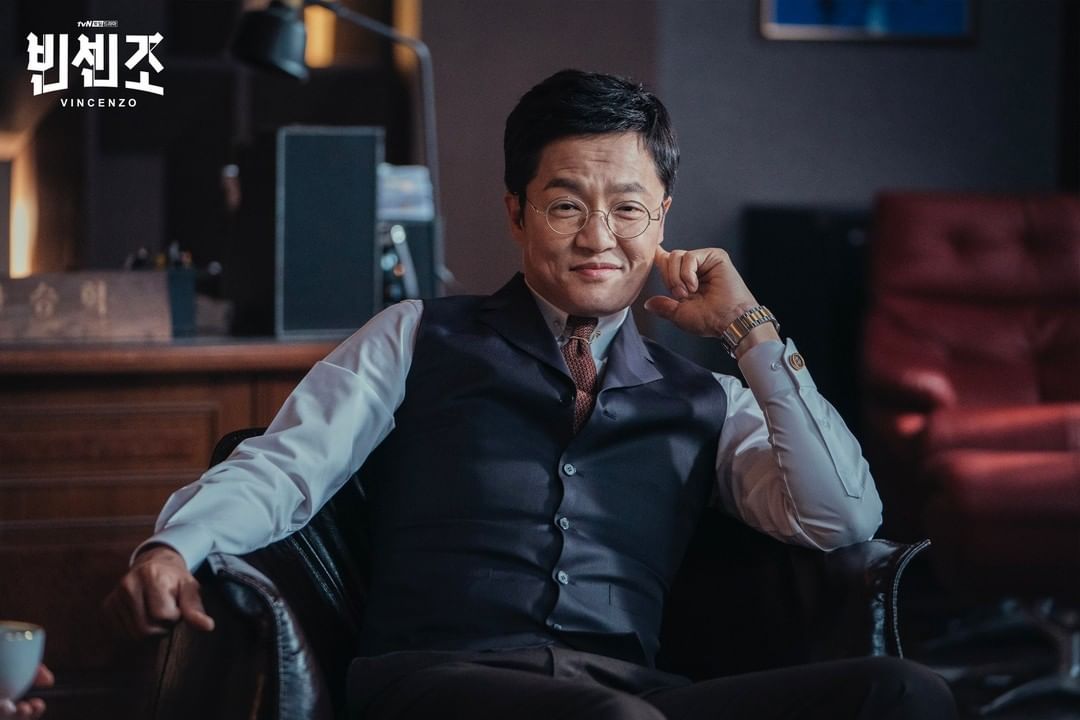 Jo Han Chul has a loooong list of K-dramas and Korean movies under his belt, and this includes Romance Is A Bonus Book, 100 Days My Prince, The Producers, Along With The Gods, and The Wailing!
15. Seo Jin Won as Chief Prosecutor Hwang Jin Tae


I will never forget that one scene when Joon Woo brutally killed a high-ranking official from the prosecutor's office in front of the Chief Prosecutor himself. At first, Hwang Jin Tae was *very* straightforward to Jang Han Seo and even told Choi Myung Hee that he wouldn't be a part of their mess, but when he saw his colleague covered in blood, he begged Joon Woo to spare him and his kid. Nakakatakot talaga si Babo!
ADVERTISMENT - CONTINUE READING BELOW ↓
Yup, like Choi Young Joon, Seo Jin Won is also a part of Hospital Playlist! He played the role of ruthless professor Min Gi Joon from Yulje's neurosurgery department. It looks like both actors will be part of Hospital Playlist season two, yay! For his other projects, Seo Jin Won transformed into a coach in Run On.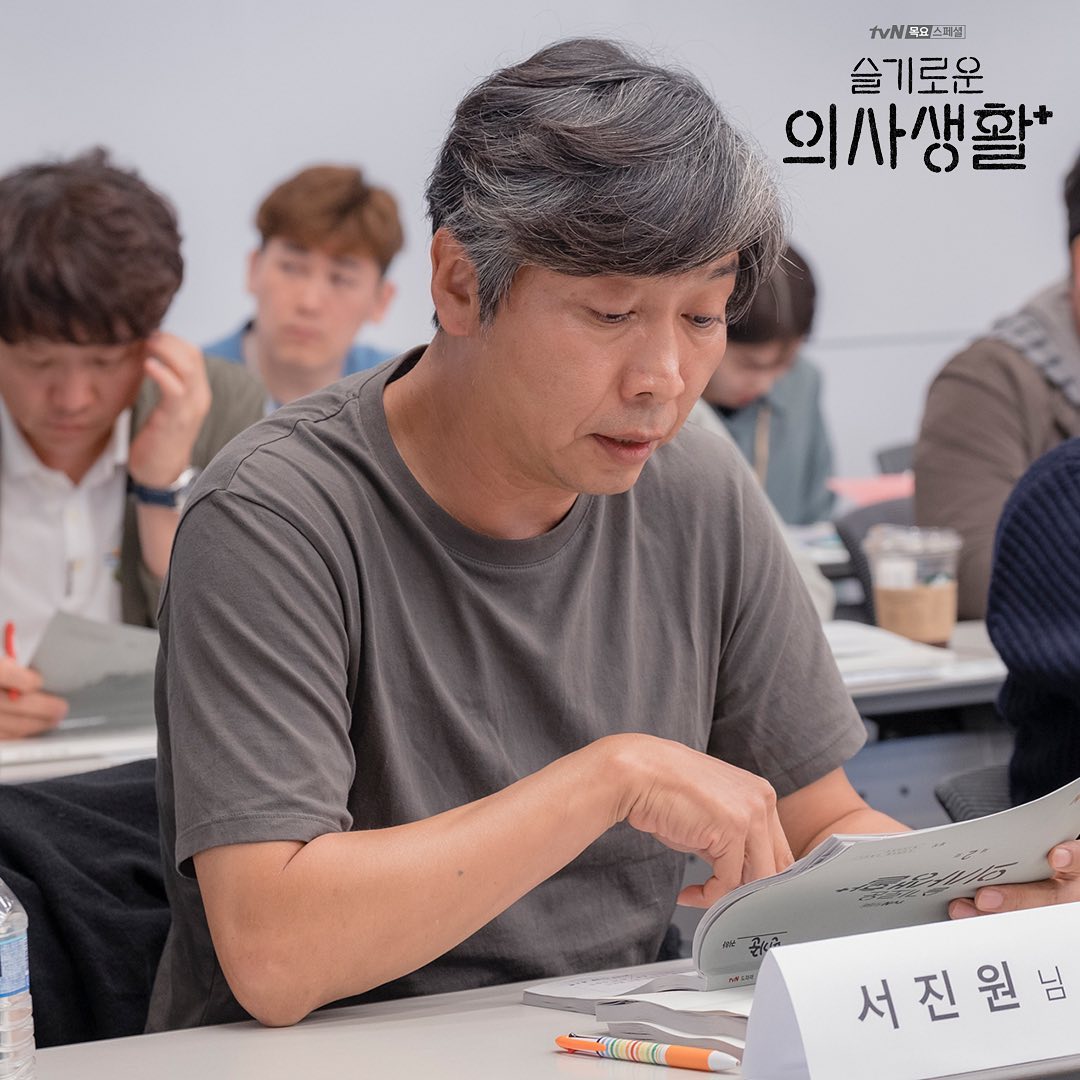 ADVERTISMENT - CONTINUE READING BELOW ↓
16. Jung Ji Yoon as Ms. Yang
As the fashionable accountant of Bye Bye Balloon, Ms. Yang is on the quiet side and would often sport a dark red lip with her fantastic outfit choices. Lately, she has been mesmerized with Vincenzo and even helped him and Cha Young in their search for illegal files from Babel's paper company. On the internet, you will that she's dubbed as Vincenzo's Jo Yi Seo! LOL.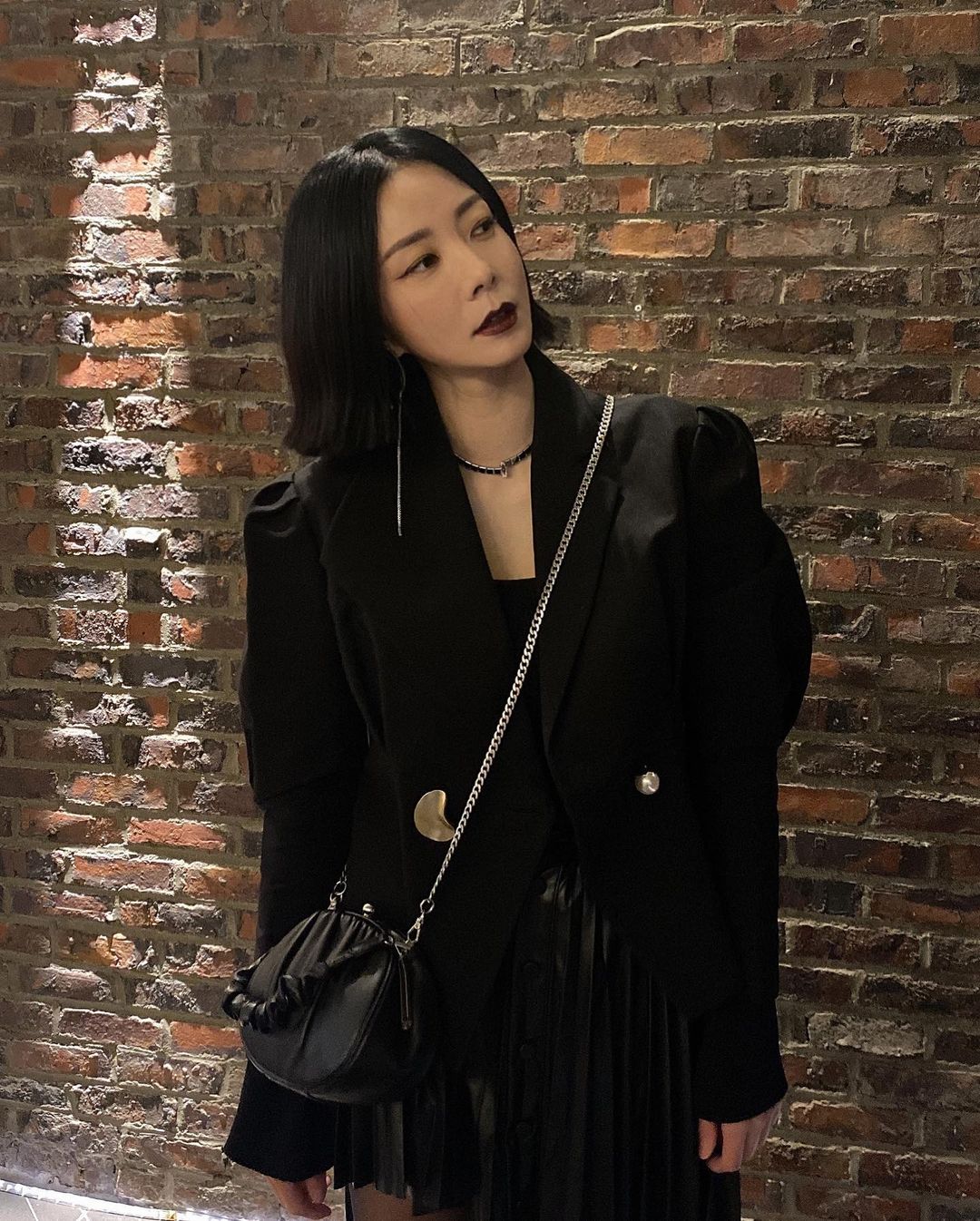 ADVERTISMENT - CONTINUE READING BELOW ↓
Last year, actress Jung Ji Yoon appeared in the K-drama Touch. In 2019, she was part of Flower Crew: Joseon Marriage Agency and played the role of a mom. You have also spotted her in the movies like Confession and Wonderful Nightmare.
17. Yoon Byung Hee as Mr. Nam
The reliable Mr. Nam has been Jipuragi Law Firm's assistant since day one and he used to help Lawyer Hong Yoo Chan. Now, he's an ally of Vincenzo and Cha Young in their plan to take down Babel...and look for hidden gold! Although he is often the last one to receive the latest news, Mr. Nam is still oh-so-loyal to the two and is willing to do anything for justice.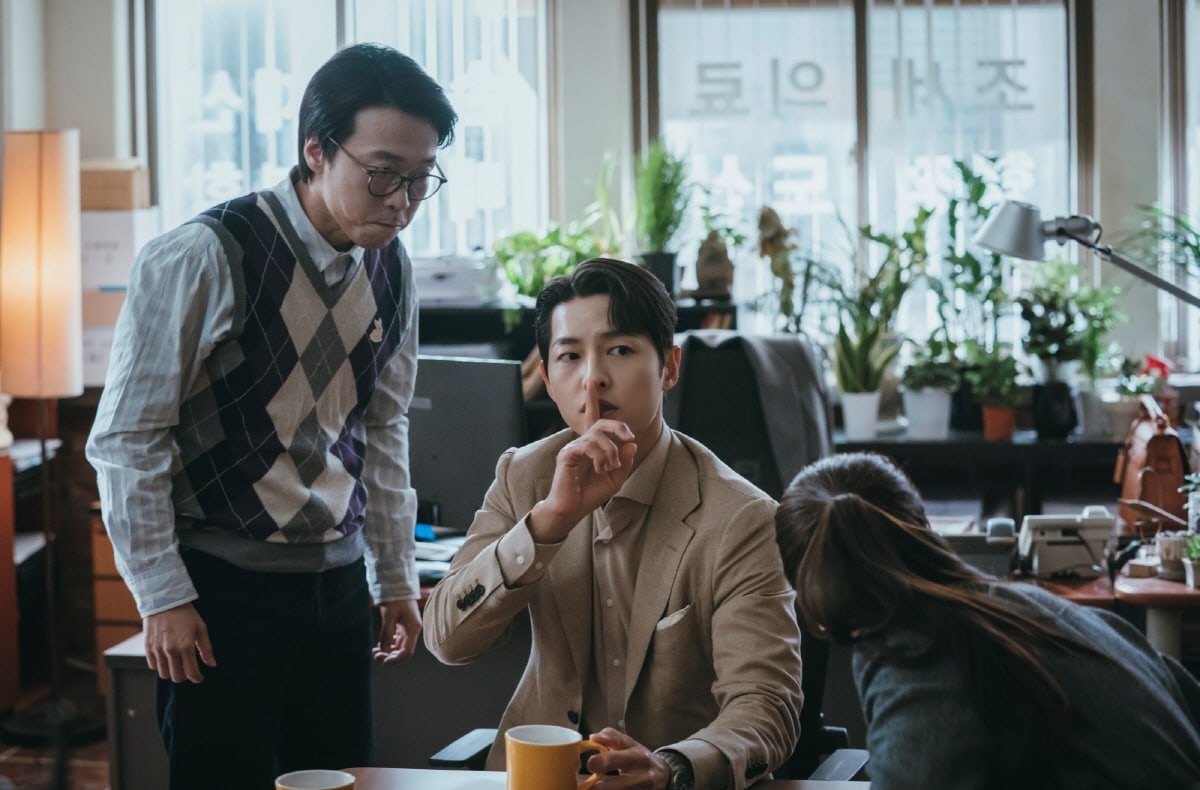 ADVERTISMENT - CONTINUE READING BELOW ↓
Look closer—yup, Yoon Byung Hee also had a supporting in Hospital Playlist just like his Vincenzo co-stars! You have seen him, too, in Flower Of Evil as Park Kyung Won. The actor has a *super* long list of K-dramas that he was featured and this includes Love In the Moonlight, The Heirs, Angel Eyes, and Mr. Sunshine. 
New episodes of Vincenzo are available on Netflix every Saturday and Sunday.
Follow Hanna on Instagram