To our fellow Vincenzo fans, we know how you feel right now: There's the excitement because another episode of our current favorite Netflix drama will air tonight. At the same time, you're also sad because we only have two more episodes left. The thought that there will no longer be another Vincenzo weekend to look forward to just makes us weep! 
But before we bid goodbye to this dark comedy series, let us first *acknowledge* how it's such a clever and well-written show. Once you realize the flawless executions in Vincenzo, the only thing you'll be able to say is *in Jang Jun Woo (Ok Taecyeon)'s voice*: "Brilliant, amazing, I love it!"
Ready to be ~surprised~? Here are all the references and easter eggs you might have missed in Vincenzo:
1. The mentions of Song Joong Ki's drama and movie characters
We would like to take this moment to recognize Vincenzo's writer Park Jae Bum and director Kim Hee Won as geniuses. In episode four, we saw Mr. Nam (Yoon Byung Hee)  watering the plants of the late Hong Yoo Chan and called them "Pung Ho", "Maru", "Si Jin", and "Eun Seom". If those names ring a bell, it's because those are Joong Ki's K-drama characters in K-dramas Triple, The Innocent Man, Descendants Of The Sun, and Arthdal Chronicles!
When Vincenzo (Song Joong Ki) *pretended* to be a lawyer in front of Hwang Min Seong (Kim Sung Cheol), he introduced himself as "Tae Ho". Can you guess where that moniker came from? Yup, it's Joong Ki's name in the Netflix movie, Space Sweepers!
ADVERTISMENT - CONTINUE READING BELOW ↓
P.S: Actor Jin Seon Kyu, who appeared as Tiger Park in Space Sweepers, was the limousine driver who robbed Vincenzo when he arrived in South Korea!
By episode 15, our mafia consigliere ~transformed~ into a shaman named "Yeo Rim" and if you're wondering where that name came from, it's a nod to Joong Ki's breakout role in the K- drama, Sungkyunkwan Scandal!
2. The ~cameo~ of the South Korean ballad singer, Park Hyo Shin
Also in episode 15, the Jipuragi Law Firm office became a temple where the god that they worship is named Park Hyo Shin. ICYDK, that's the name of the famous balladeer in South Korea! What's even funnier is that the flowers that Yeo Rim donned are an ode to Park Hyo Shin's song, "Wild Flower." You guys, the wordplay in Vincenzo is on a different level!
3. Writer Park Jae Bum and director Kim Hee Won as ~officials~ in the International Security Intelligence Agency
Remember when An Gi Seok (Im Chul Soo) was explaining the whereabouts of the guillotine file to his boss, Tae Jong Gu (Kwon Tae Wong)? He told him that it's hidden in Geumga Plaza's basement and Vincenzo is the only one who can retrieve it. Agent An assured Mr. Tae that he will turn over the file to him soon—and when that happens, his boss can become the agency's president and beat directors Park Jae Bum and Kim Hee Won, aka the masterminds behind the K-drama. LOL! This was my reaction when I watched that scene: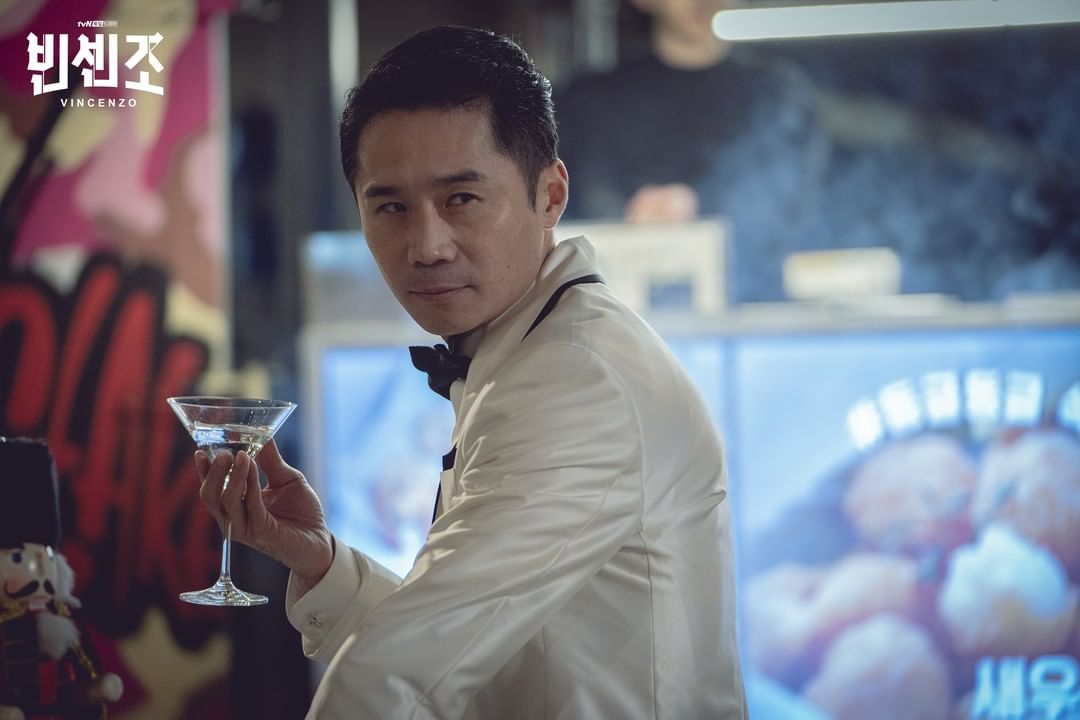 4. The Crash Landing On You and Itaewon Class ~crossover~
Of course, you didn't miss this! From the very start, Bye Bye Balloon's Jeon Soo Nam (Lee Dal) has been sporting the iconic chestnut hairstyle, similar to that of Park Saeroyi (Park Seo Joon) from Itaewon Class. This was further highlighted in a scene when he had a mini argument with Lee Cheol Wook (Yang Kyung Won), who called him a "Park Saeoroyi wannabe"! Soo Nam clapped back with the line "You look like a North Korean soldier", a reference from Crash Landing On You! Speaking of CLOY, actors Im Chul Soo and Yang Kyung Won were reunited because of Vincenzo.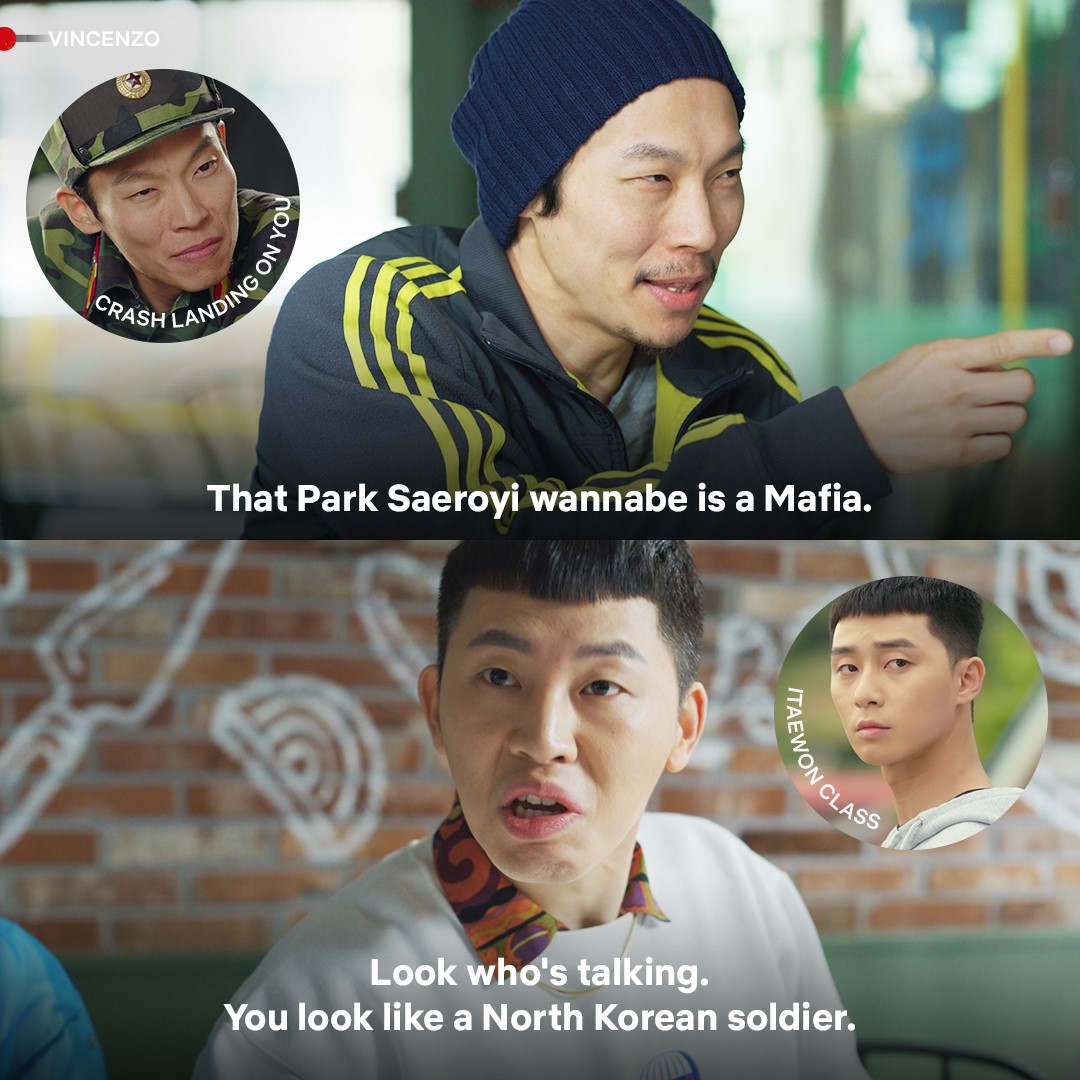 ADVERTISMENT - CONTINUE READING BELOW ↓
While I'm here, let me just share this photo of Jo Yi Seo...I mean Ms. Yang.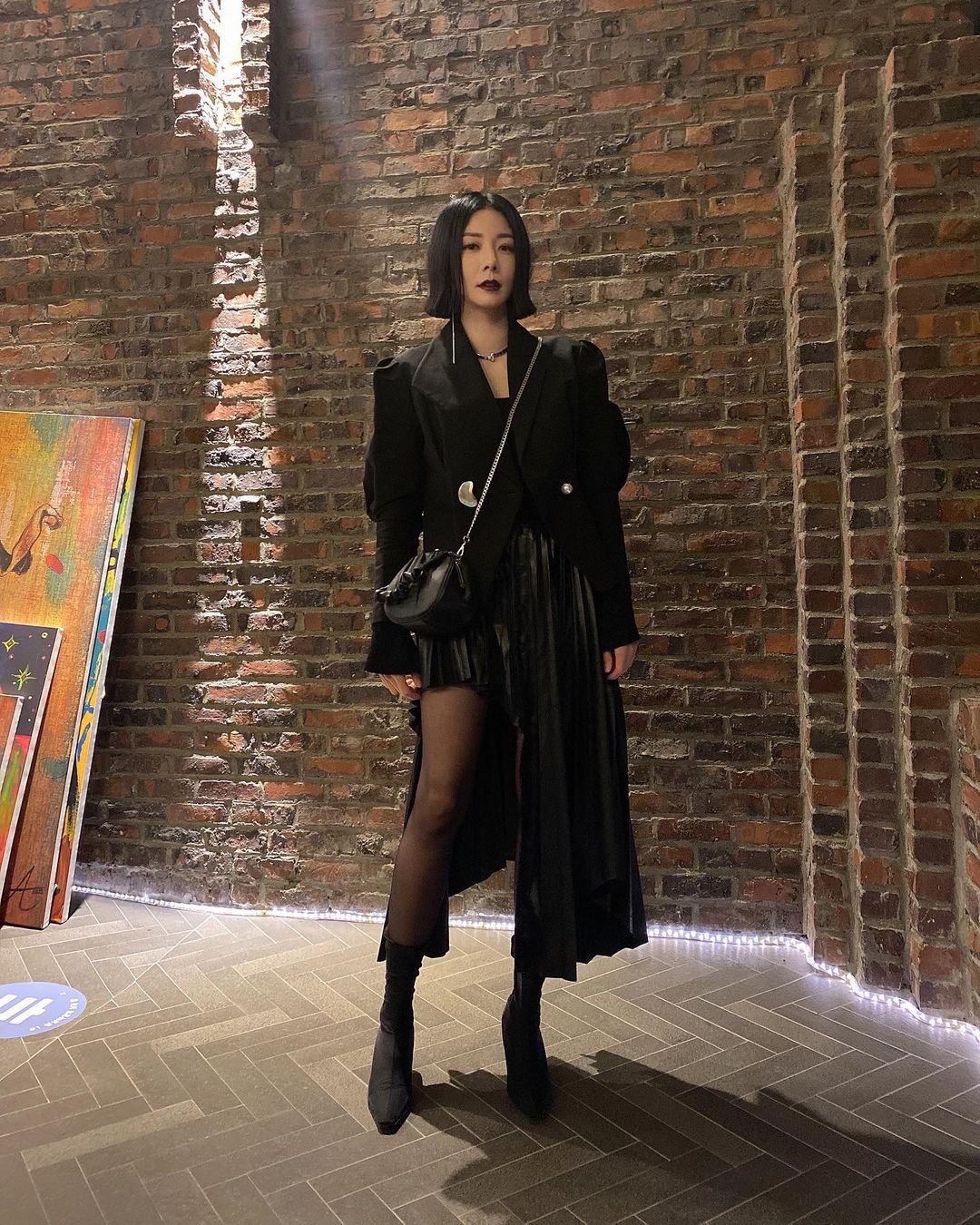 5. When Jang Jun Woo mentioned lyrics of a 2PM song
#TitasOfKpop, it's our time to shine! Ok Taecyeon is a member of the OG K-pop boy group 2PM and he made us ~put our hands up~ whenever he says "Can you feel my heartbeat?". This line is from the group's iconic 2009 song, "Heartbeat". Taecyeon, or Jun Woo, re-enacted his *infamous* dance step in episode five and he imitated a beating heart with his hands in front of Cha Young (Jeon Yeo Bin). Jun Woo also spoke the same line when he introduced himself as Babel Group's Chairman to the government officials after he was hospitalized.
By the way, 2PM members Nichkhun and Chansung made a special cameo in Vincenzo and you bet us Hottests (the group's fandom) were found screaming!
6. The Babel Tower's biblical reference
Jang Jun Woo's eyes would light up every time he looks at his miniature Babel Tower at home and this signifies how much he wants to build it. Did you know that the Babel Tower, or Tower of Babel, is a reference from the bible? The tower was built thousands of years ago "not to glorify God and lift up his name but to build a name for themselves" (side note: This can also explain Jun Woo's God complex). Those who were involved in constructing the Tower of Babel were then divided and they spoke different languages—leading to the disruption of its progress. 
Vincenzo and Cha Young mentioned this part when they discussed how they'll make the Babel Tower collapse and penalize those who helped in establishing it. Their first plan was a success when they threatened government officials, making them eat the contracts they signed and soon, they backed out of Jun Woo's schemes.
7. The comparison to Elizabeth Holmes
Right when Jun Woo gave the blessing to Han Seo in running Babel Bio, he said that his younger brother should be an innovator like Elizabeth Holmes and follow her path. Little did he know, our Han Seo is busy studying about business leaders: In a satisfying scene where Jung Woo was arrested, Han Seo whispered to his hyung: "You told me to become a businessman like Elizabeth Holmes. But she's a fraud and she's in prison." IRL, the Elizabeth Holmes he was talking about became a hot topic after her biotechnology company's scamming issue. See what they did there? Now we're speechless. Also, great job for listening to your Vin hyung, Han Seo! 
ADVERTISMENT - CONTINUE READING BELOW ↓
Ang galing, 'no? Let's give a round of applause to all the creative minds that brought us Vincenzo! <3
Follow Hanna on Instagram.