Out of all the K-drama genres, it's the action-packed series that I always skip—personally, I find them boring. I don't know what got into me but one Saturday night while I was looking for a new drama on Netlix, it was Vincenzo that caught my attention. An hour later, I told myself: "Wow, I've been wrong about action dramas this whole time."
The first time I watched a K-drama was in 2005 (Lovers In Paris) and for more than 15 years, I went through all the different K-drama fan phases. There are series where I only watched an episode and never came back. Some became my all-time faves (It's Okay, That's Love). But with Vincenzo, it was different—I let it consume my life 24/7 for months because the plot was so well-written. I was so hooked that I found myself Google-ing "What is corn salad in mafia language?" at 2 a.m. And after watching all 20 episodes, I can say that it's the best K-drama for me so far. No loopholes, no dull moments—just pure entertainment with a superb cast. Allow me to get into detail and convince you why Vincenzo will set your K-drama standards.
ADVERTISMENT - CONTINUE READING BELOW ↓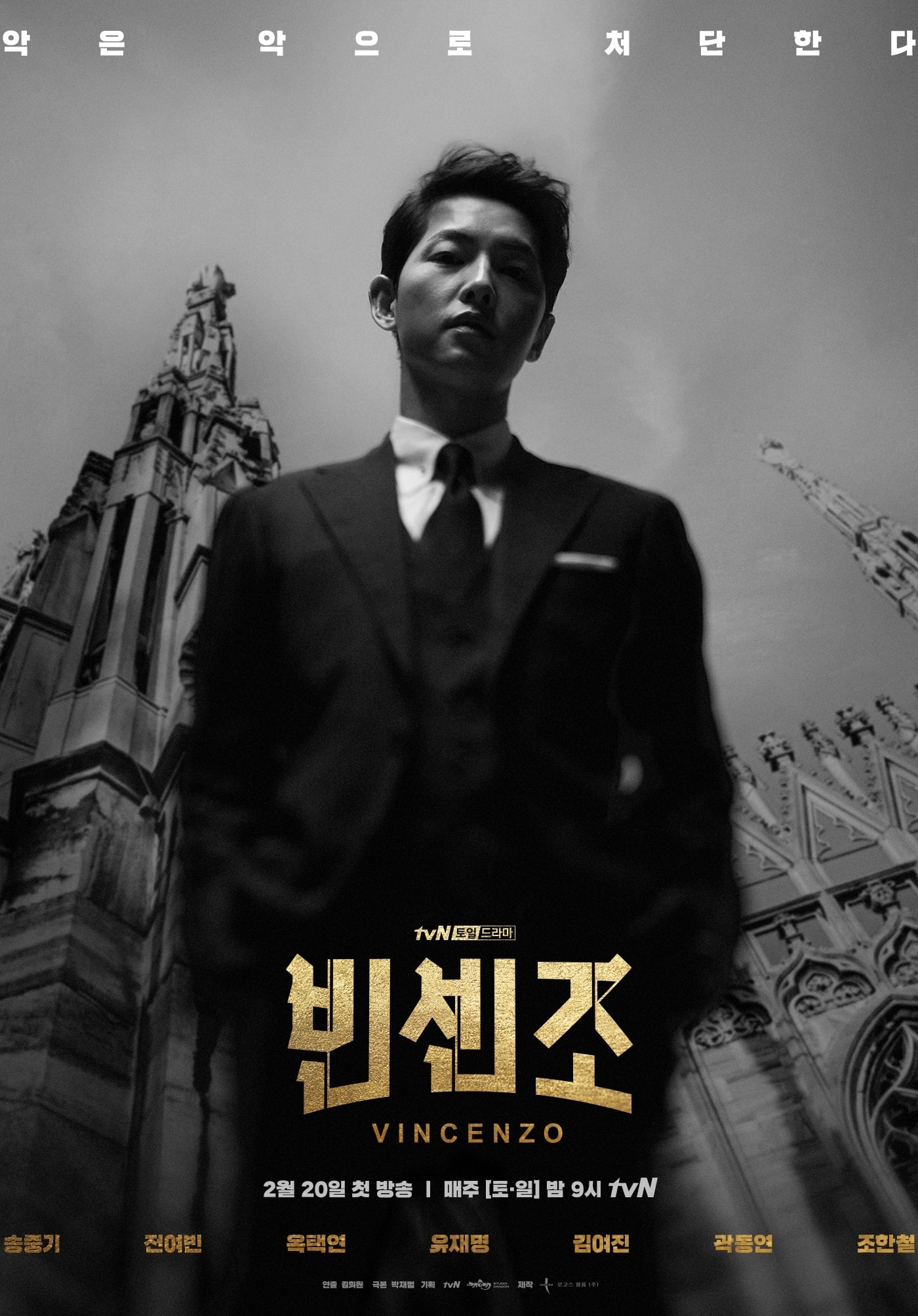 What is Vincenzo all about?
Vincenzo Cassano (Song Joong Ki) is a mafia consigliere who goes back to his home country, South Korea, with a single goal: To tear down the Geumga Plaza building and claim his hidden gold. Well actually, the real owner is a Chinese tycoon who passed away but he's one of the few people who knows about it. In his attempt to take the ~treasure~ out from the building's basement, he meets an odd group of tenants. Because of this, Vincenzo's original plans change, and he somehow ends up fighting for the tenants' rights.
Throughout the drama, you will see how Vincenzo is the ultimate antihero. Yes, he's ideal because he fights evil, but at the same time, he is one man who wouldn't bat an eyelash and will punish wrongdoers in the most brutal way you can ever think of. Let's just say that you can mess with anyone, except for Vincenzo. Now if you think the plot is *so* serious, you're wrong—I end up wheezing every night because of too much laughing from this show! I swear, the characters are so chaotic that one single photo of them makes me burst into laughter whenever I remember a scene. Vincenzo is an action-packed dark comedy with A LOT OF PLOT TWISTS (god, the plot twists here are like bombs!) but it will also make you cry. In short, this drama will toy with your emotions.
The Vincenzo cast members
1. Song Joong Ki as Vincenzo Cassano
The character: Everyone is whipped for Vincenzo and do you know why? Because he's smart, rich, good-looking, he'll make you feel secure—he's the kind of person you will want to be close with, stat. For his ~other~ side, Vincenzo is a ruthless mafia consigliere who's ready to break bones. Once you hear the flicking of his lighter, it's already a sign that you're doomed. 
ADVERTISMENT - CONTINUE READING BELOW ↓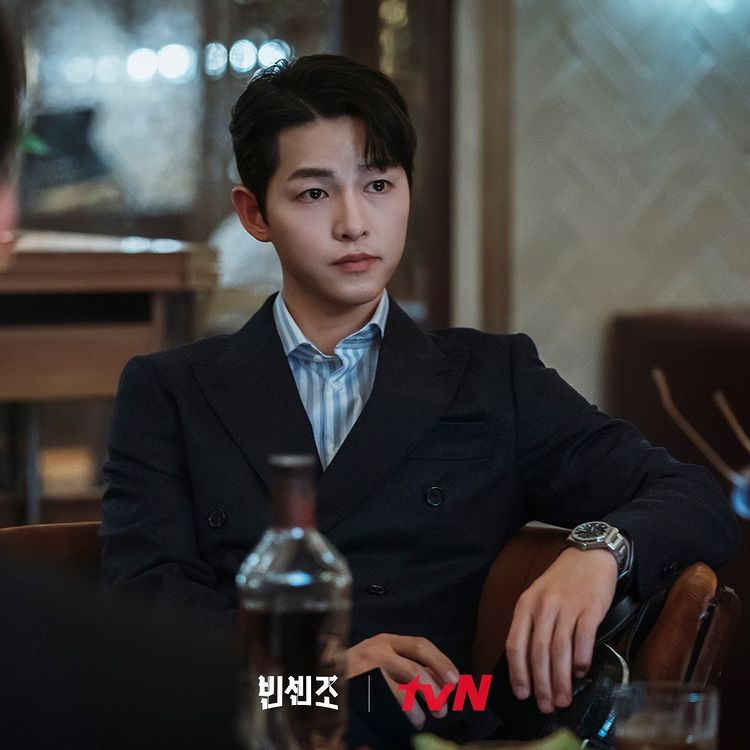 The actor: Before Vincenzo happened, I only knew Song Joong Ki as the captain in Descendants Of The Sun. Now, I know why he's a top-tier actor (and an intelligent and kind person IRL)! This K-drama introduced me to Joong Ki's acting and I can say that his versatility here is unparalleled. He can go from a cute and funny corn salad to a savage consigliere flawlessly. That Best Actor award? It has Joong Ki's name on it, periodt.
ADVERTISMENT - CONTINUE READING BELOW ↓
2. Jeon Yeo Bin as Hong Cha Young
The character: The quirky Cha Young started as a determined yet selfish lawyer who only cared for herself. However, her personality made a 180-degree turn and she ends up helping the tenants fight for the Geumga Plaza building. Cha Young is the epitome of a strong, independent woman but she also doesn't hesitate to ask for help. And that makes her one of the most iconic female lead characters in K-dramaland.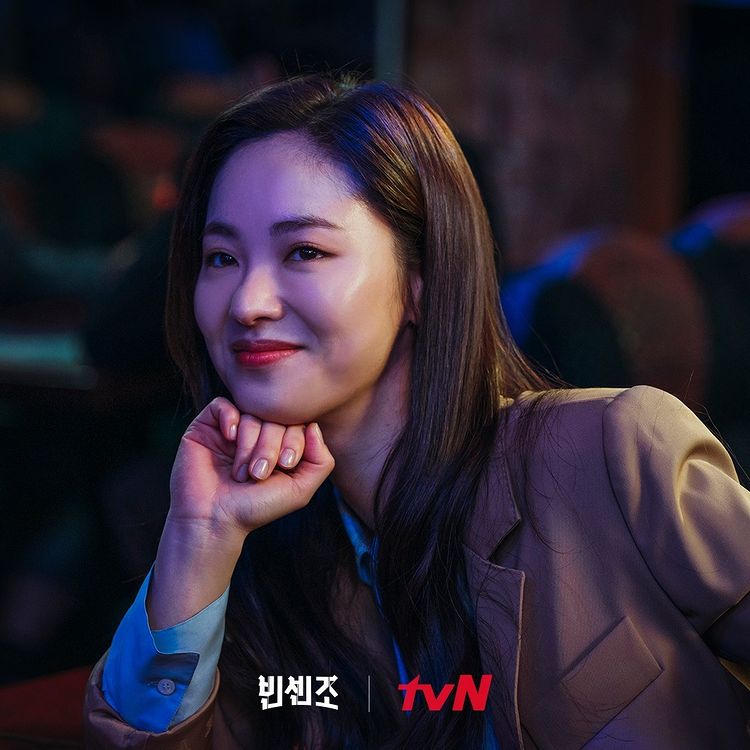 ADVERTISMENT - CONTINUE READING BELOW ↓
The actress: TBH, my first impression of Jeon Yeo Bin here is that she's a Cheon Song Yi (My Love From The Star) wannabe. After episode two, I realized that she was like that because her role demanded her to be like that. You guys, she absolutely nailed it! She's a rising star who will captivate you not only with her acting chops but also with her charismatic appeal.
3. Ok Taecyeon as Jang Jun Woo/Jang Han Seok
The character: *SPOILER ALERT* No one expected Jun Woo to be anything except as an energetic intern lawyer and I fell off my seat when it was revealed that he was actually the Chairman of Babel. I mean, he was a charming guy until he smashed someone's head with an ice hockey stick. I shivered and watched with one eye closed during that scene! Jang Jun Woo = 100% psychopath (but also, mama I'm in love with a criminal, huhu).
ADVERTISMENT - CONTINUE READING BELOW ↓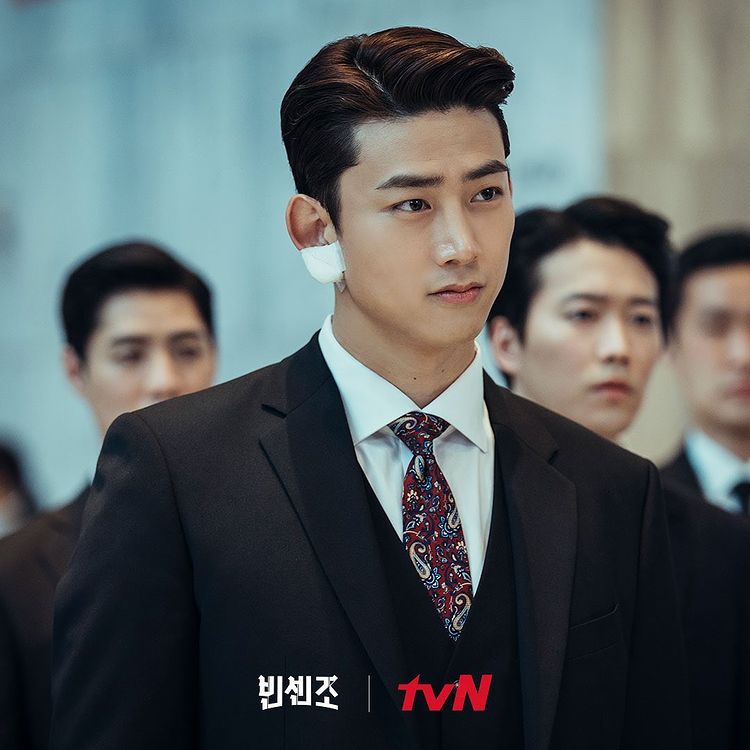 The actor: I know Ok Taecyeon as a member of the OG K-pop group, 2PM, and back then he was just...okay (hehe) for me. When I saw him as Jun Woo in Vincenzo, I went from okay to OH MY GOD TAECYEON MY HEARTBEAT IS BEATING FOR YOU! He's really breathtaking in his first villain role especially with the suspenseful scenes where he had bloodshot eyes. I'm still wondering why he hasn't been nominated as Best Supporting Actor! Anyway, with or without a nomination, he's already superior, amirite? Breathe if you agree.
ADVERTISMENT - CONTINUE READING BELOW ↓
4. Kwak Dong Yeon as Jang Han Seo
The character: And the Best Character Development award goes to...Han Seo! This man right here used to be a rude and annoying *fake* Babel Chairman until he met his Vincenzo hyung. It turns out, this younger Jang was deeply traumatized by his brother and I can only imagine how he lived in fear every day. Han Seo is loyal, always willing to learn, and has a positive outlook—he's the CEO we never had. He's the best boy ever!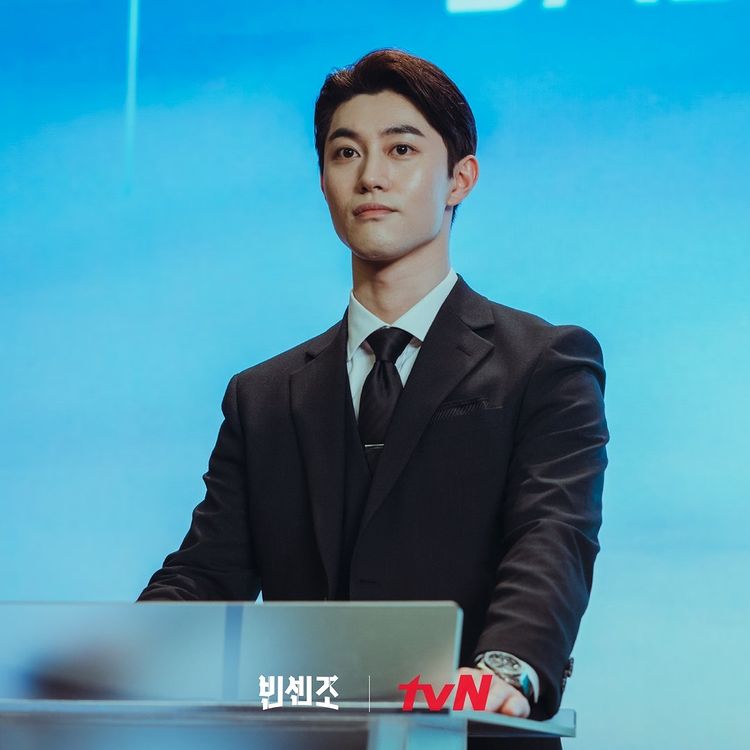 ADVERTISMENT - CONTINUE READING BELOW ↓
The actor: I remember Kwak Dong Yeon as a teaching assistant in My ID Is Gangnam Beauty and a bizarre character in his cameo in It's Okay To Not Be Okay, but I never saw any of that in his portrayal here. He's a completely different person in Vincenzo! That being said, I hope that Dong Yeon will get to lead a K-drama (or two) this year because that's just what he deserves. BRB, manifesting this! 
5. Kim Yeo Jin as Choi Myung Hee
The character: A day in the life of prosecutor-turned-Wusang-lead-lawyer Choi Myung Hee includes eating sushi, doing zumba, and planning how to kill those who get in her way. What makes Myung Hee such a scary villain is that she's so casual about it! She broke all the stereotypes attached with antagonists and you will *hate* her for this.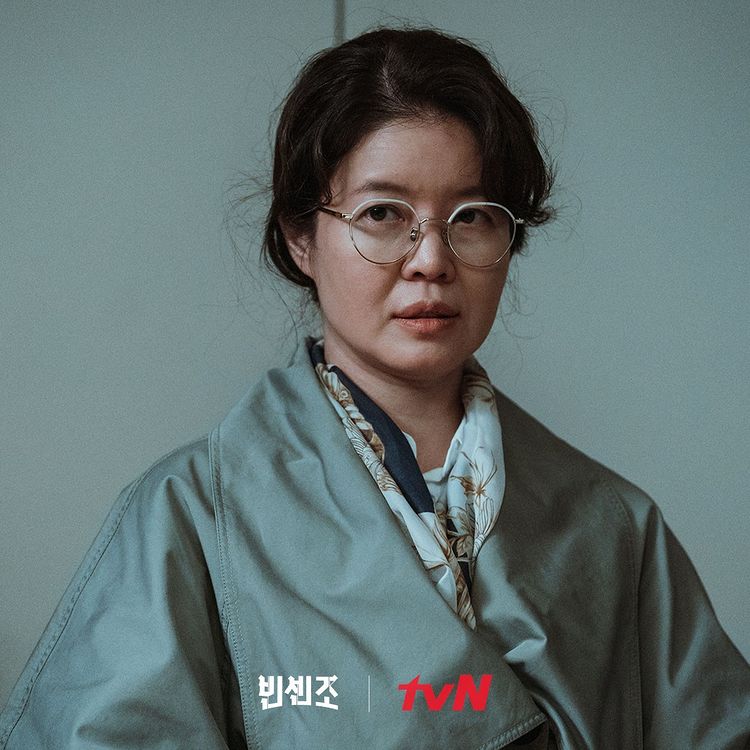 ADVERTISMENT - CONTINUE READING BELOW ↓
The actress: Kim Yeo Jin's character in Itaewon Class is a loving mom to Jo Yi Seo and it's the complete opposite here in Vincenzo. Nonetheless, she brought Myung Hee's character to life and proved that she's a legendary queen. You will despise her character but you will love her as an actress as she's able to increase your blood pressure and stress the hell out of you with her scenes.
Reasons to watch Vincenzo
The gripping storyline
Let me start by thanking screenwriter Park Jae Bum for creating a masterpiece that no other series can be compared to. As I said, Vincenzo is the most well-written K-drama I've seen and that's because it's helmed by a genius who's inspired by the convos he hears outside his window. Proof of his brilliance is the long list of references he used in the series, like Song Joong Ki's K-drama and movie characters, and the Babel Group's relation to the bible's Tower of Babel. Jae Bum writernim did not only tell a good story but he made sure that the entertainment value is there, too. I'd also like to mention director Kim Hee Won—if not for her leadership and eye for detail, Vincenzo wouldn't come out as impressive as this. According to the actors, she's always willing to listen to them during filming (instead of you know, just asking them to do stuff) and that's why the cast's chemistry is a chef's kiss.
ADVERTISMENT - CONTINUE READING BELOW ↓
The next-level cinematography and CGI
Here's a fun fact: None of the Italy scenes in this drama were filmed abroad and they're all computer graphics! Another surprising reveal you should know is that the pigeon, Inzaghi, is also not real, LOL. Nakakagulat, 'no? From the storytelling to the cinematography, everything in Vincenzo was well-executed. The hard work paid off because it's always the top show on Netflix's Top 10 and is now the 6th highest-rating tvN drama of all time.
The varying themes
The production team was clowning us when they revealed the teaser videos and posters for Vincenzo because they're all hella dark. But surprise—Vincenzo is peak comedy and my friends also say so! The scenes were never corny or pilit and it's the kind of humor no one can resist. So if you're looking for a mood booster, go to Netflix right now and watch it.
Since it's an action-packed dark comedy, expect your jaw to fall on the floor with all the shocking plot twists. Every ending is a cliffhanger and you'll have 123456789 theories in your head before you fall asleep! Plus, there's always a pasabog in each episode and there's no way you'll be guessing what the next scenario will be. An early death? OMG. A villain who bites someone's ear, literally? Que horror. Vincenzo's way of punishing the bad ones? No thoughts, head empty: Just Vincenzo Cassano as a mafia. Episode 20 got me clapping like crazy with all the *detailed* torture and I bet you'll be saying "Bravo!" in no time.
ADVERTISMENT - CONTINUE READING BELOW ↓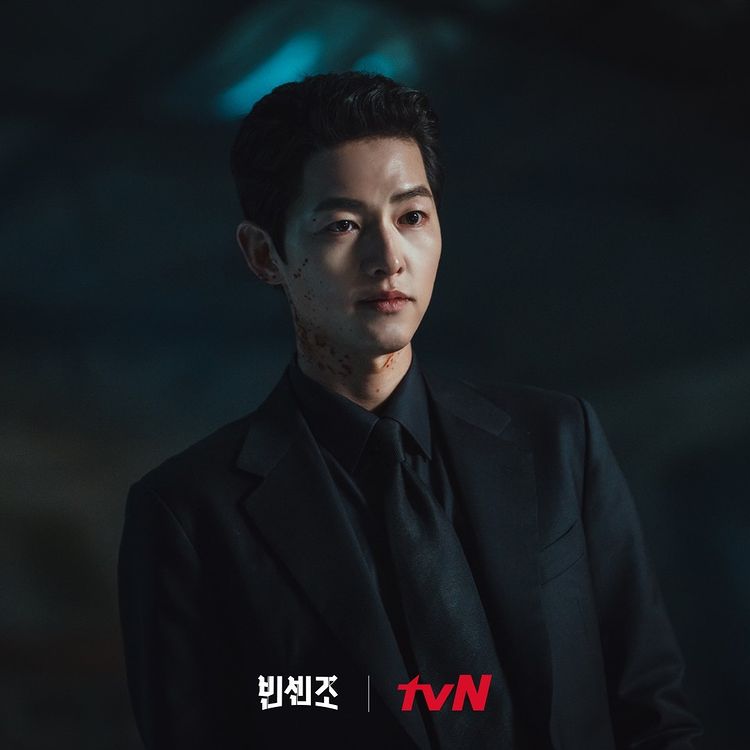 The fantastic set of actors
Everyone in Vincenzo was a show-stopper. Writernim really said "Nope, not wasting any role here!" that even the most unlikely allies (the monks) were given a chance to shine. The Geumga Plaza tenants also have their own backstories and you'll be amazed at how they're creatively stitched to Vincenzo in the long run. My favorite supporting characters would be Vin's ultimate fanboys, Agent An and Mr. Nam. They're soooo extra and are true-blue crackheads! Seo Mi Ri is also remarkable for me as she appeared to be a mystic pianist at first who happens to be an I.T pro. IRL, the Vincenzo actors have a tight relationship and I love that they still keep in touch (they have a chat group where they send each other pics, LOL) even after the drama has wrapped up. Need proof? Click here and here.
ADVERTISMENT - CONTINUE READING BELOW ↓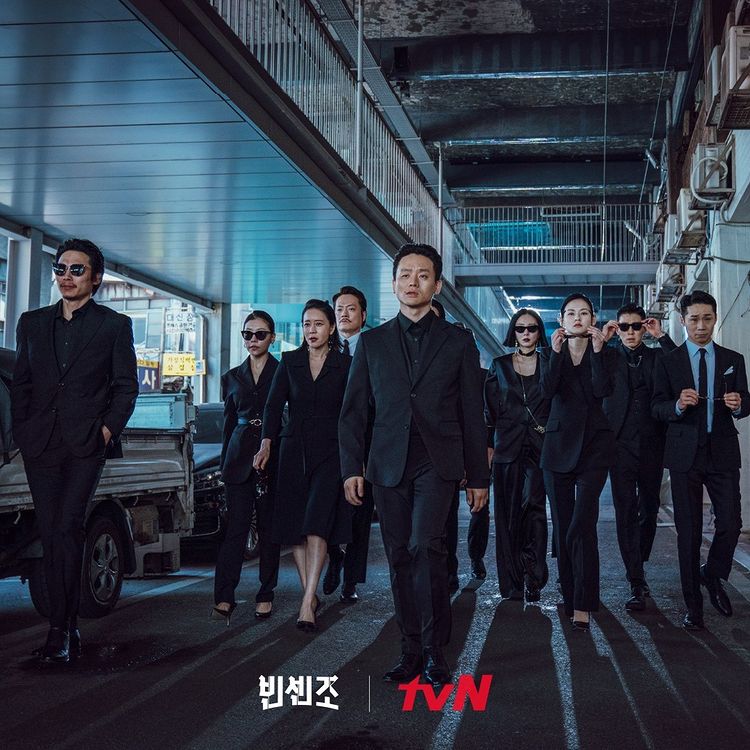 The undeniable kilig
Vincenzo and Cha Young's relationship is just a side story here but I'm not complaining! I like that it's a slow burn romance compared to other K-drama love stories because the two are more of partners-in-crime. There wasn't a single "I love you" said between them and yet Vincenzo is always to the rescue when Cha Young is in trouble—it's the comforting presence that will make you squeal, I'm telling you!! The OST "I'm Always By Your Side" is the perfect accompaniment to their scenes together as it speaks volumes on how Vin cares for her. On the other hand, Cha Young never asked him to stop being a mafia member and she respects his ways, similar to how Vin doesn't want her to become a monster. It's so refreshing to see a romantic relationship that doesn't push you to change but rather accepts you for who you are—and I think that's what makes this pair so beautiful. 
ADVERTISMENT - CONTINUE READING BELOW ↓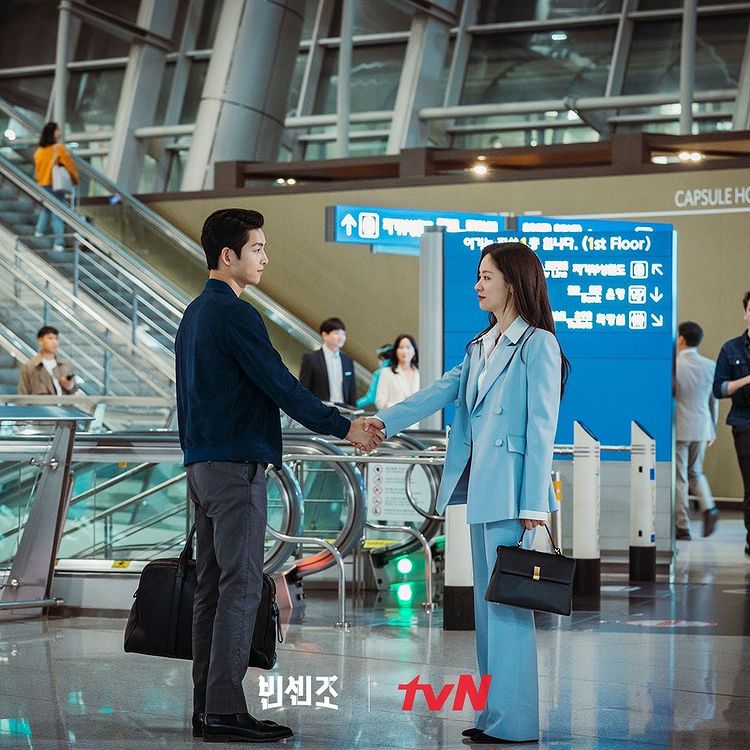 Song Joong Ki—that's it.
For the main star of the show, I'd like to repeat that Song Joong Ki should be awarded as Best Actor. He showed a variety of emotions in this series and I never knew he can be a comedian, too (I still can't stop laughing at his hair-whipping scene with Seo Mi Ri). At the same time, when he's supposed to be angry, Joong Ki lets his eyes do the talking—it's like sunny weather changing into a raging storm. You can see clearly see the pain and the wrath in his eyes and not everyone can do that. Vincenzo was definitely made for Song Joong Ki and I can't imagine anyone else playing the role.
ADVERTISMENT - CONTINUE READING BELOW ↓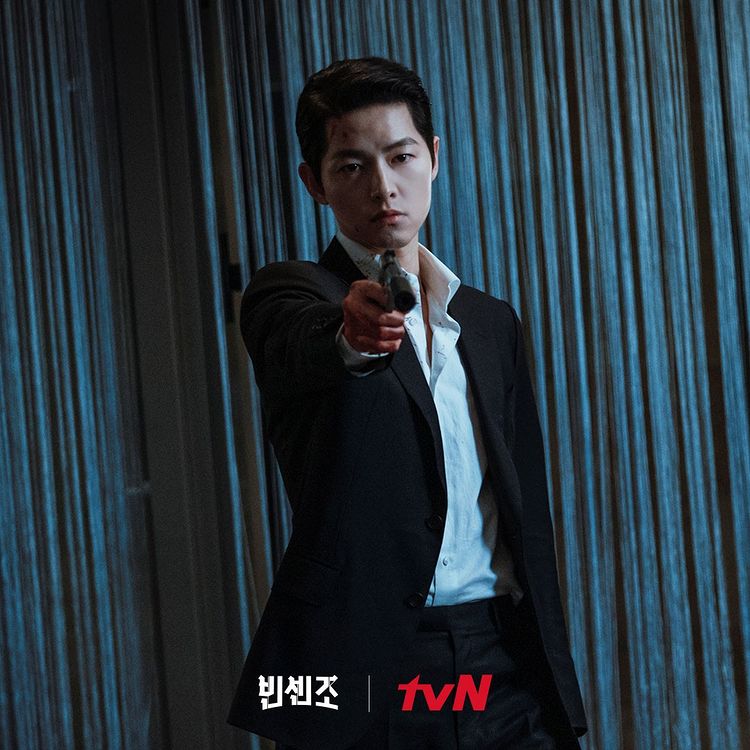 Overall, Vincenzo turned me into an emotional wreck. I think I felt all the emotions a human being can feel in a K-drama and that's how I will remember it forever. I was so, so attached to this show that I cried so hard in the final ep. For some reason, I feel like the characters are my real-life friends it's hard to bid them goodbye. I would stare at my room's ceiling every now and then, thinking if there's another drama where I'll be dedicating my who life to just like this. Maybe I'm just emo, or maybe Vincenzo is just the best because someone said in the comments section of an FB post: "Ganito pala yung pakiramdam. Hay, Vincenzo."
ADVERTISMENT - CONTINUE READING BELOW ↓
I don't think I will get over this K-drama anytime soon because it sustained me for months and the feeling will probably last for a few more. I'm glad that I decided to click the play button on Netflix that one Saturday night because I would regret it if I didn't. I swear, this series will not disappoint you! The beginning is compelling, the ending is realistic and satisfying, and everything in between is just simply exceptional. It's what you'd expect an amazing K-drama to be and it goes beyond the hype it received.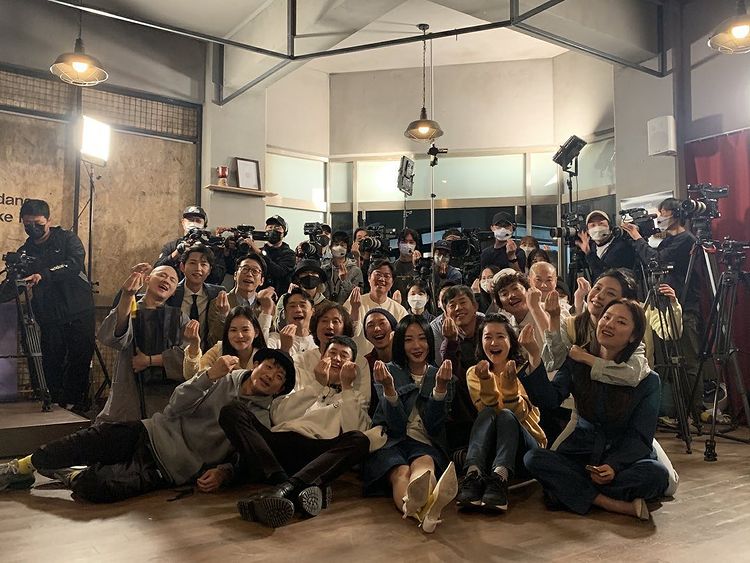 ADVERTISMENT - CONTINUE READING BELOW ↓
Vincenzo Cassano once said in an ep that "To find a true friend is like finding a treasure," and I couldn't agree more—to find a K-drama this good is truly like finding gold. 
Follow Hanna on Instagram.