Here's the ultimate throwback to celebrate Cosmopolitan magazine's 17th birthday: an exclusive preview of all 17 anniversary covers, plus a chance to vote for your favorite!
Before you check out the anniversary covers, here's a snapshot of Cosmo's first-ever issue in May 1997 featuring French model and actress, Laetitia Casta (P.S. You probably know her as a "GUESS? girl" and a Victoria's Secret Angel)—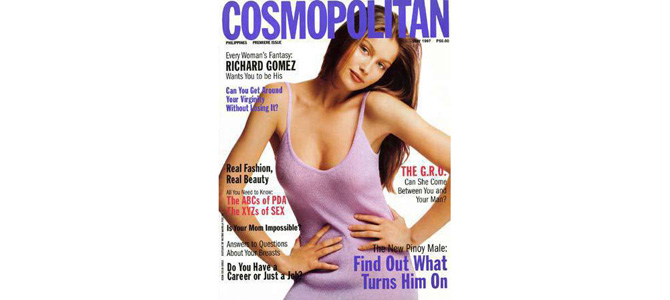 "I was 29 when I started Cosmo, eager to help the New Pinay come into her own and live life on her own terms at a time when women were still very much conflicted between pleasing themselves and pleasing others, and when frank discussions about sexuality were still taboo," says Editorial Director Myrza Sison, who launched the magazine in the Philippines in 1997. 
Continue reading below ↓
Recommended Videos
Trivia: Donita Rose was the first Pinay to grace Cosmo's cover! This was published in October 1999: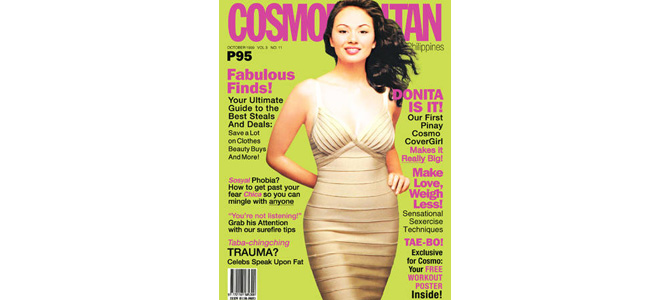 Myrza shares, "Cosmo armed young Pinays all over the country with all the information they needed to get through life from month to month through groundbreaking articles that delved deep into their hearts, minds, and psyches."
Scroll down for the anniversary covers!
Anniversary covers
1998: Ashley Judd; 1999: Fernanda Tavarez; 2000: Nina Alagao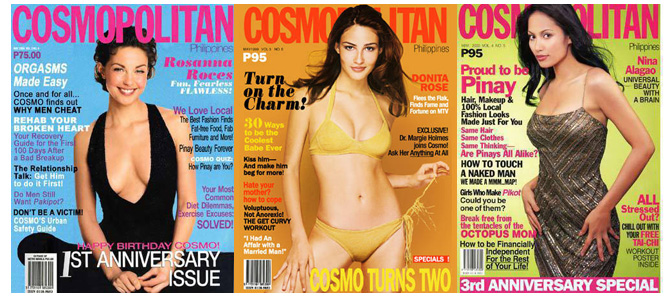 Each Cosmo cover girl featured in the anniversary issue is carefully selected by the editorial team; she should, after all, represent the confident, ambitious, and fun-loving female that the brand has always celebrated around the world. 
Anniversary covers
2001: Joyce Jimenez; 2002: Sarah Meier; 2003: Eula Valdez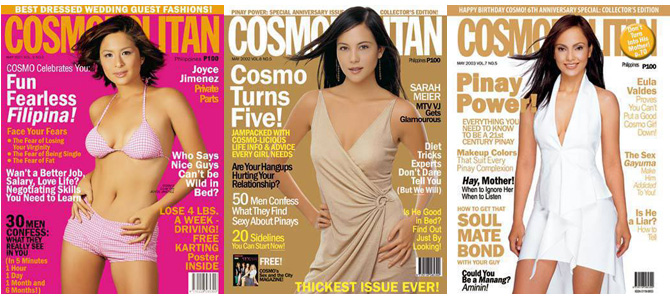 Zo Aguila took over in 2005, and she was editor-in-chief until September 2011. The first anniversary issue under Zo was in May 2006, featuring Judy Ann Santos (see rightmost photo below). 
Anniversary covers
2004: Mylene Dizon; 2005: Angel Locsin; 2006: Judy Ann Santos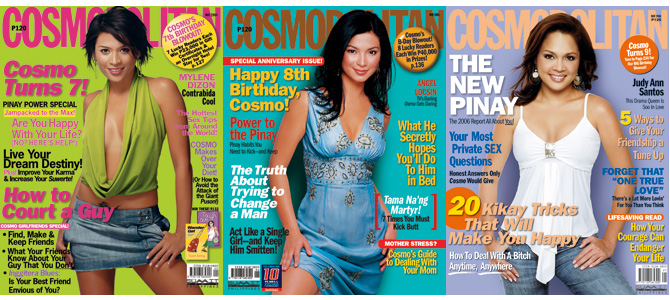 Anniversary covers
2007: KC Concepcion; 2008: Iza Calzado; 2009: Anne Curtis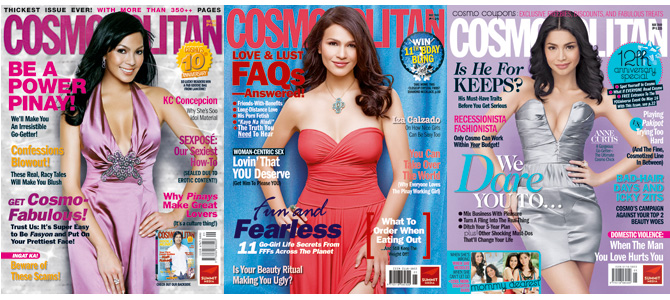 In November 2011, Myrza returned to Cosmopolitan and kicked off her comeback with a Carla Abellana cover (View it here!).  
When asked how the Cosmo Pinay has changed since she first launched the magazine in 1997, Myrza says, "Seventeen years later, I'm proud of how the Pinay has finally come out of her manang shell. She knows her happiness comes first and that she can chart the course of her life in whichever direction she wants. She has no more qualms about talking about sex and other formerly taboo topics openly. But even if love and relationships in the time of social media and instant gratification don't operate in quite the same way as they used to, the fundamentals of romantic and interpersonal relationships and of self-improvement remain the same. Now, more than ever, the Filipina finds in Cosmo the smart, useful, and frank life advice she has come to rely on month after month. Because no one like Cosmo tells it like it is!"
Anniversary covers
2010: Bea Alonzo; 2011: Venus Raj; 2012: Anne Curtis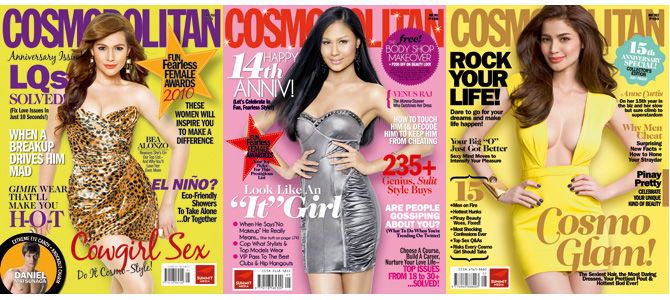 Trivia: Only two celebrities have graced an anniversary issue twice: Anne Curtis, and May 2014 cover girl Angel Locsin!
Anniversary covers
2013: Solenn Heussaff; 2014: Angel Locsin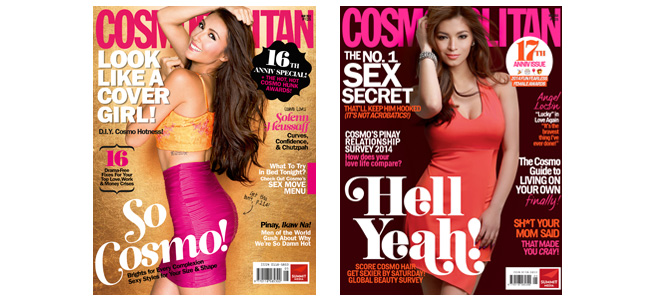 Now that you've seen the covers, it's time to vote!