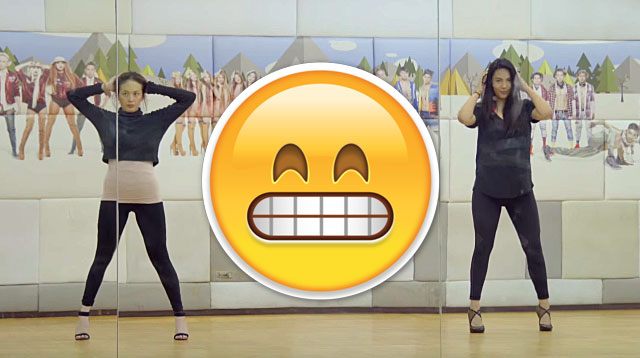 YouTube/Dominique Cojuangco
Ever wanted to see how Ellen Adarna twerked? Well you're in luck as she's doing it with none other than Dominique Cojuangco.

On her Instagram account, the daughter of actress Gretchen Barretto and business tycoon Tonyboy Cojuangco posted a video where she and Ellen practiced twerking.
"I am dancing with Ellen Adarna today because we cannot dance. Well she told me she can't dance and I'm hoping she wasn't like exaggerating," she said.

The twerking session was apparently just a warm up for the actual dance lessons they will be learning from G-Force dance company founder Georcelle Dapat-Sy.
Georcelle then taught the pair to dish out some dance moves to the tune of Ciara's "Dance like we're making love."

"She can move. She just has to know lang her anatomy. Because when she watches me she gets a different interpretation [of how I dance]," Georcelle said of Dominique after.
Ellen seemed to agree with their mentor adding that they need more "swag" to nail their newly learned dance moves.
"Dom can dance. It's just that were not that confident yet," she said.
However, Dominique wasn't so keen on getting back in the groove with her newfound dance moves.
"It's not something I want to pursue, but it's something I want to do for fun. I probably will go back with my friends who can't dance," she said.
Learning how to dance was among Dominique's 21 things to do before she turns 21 bucket list. She will celebrate her birthday on the 23rd of February.
Continue reading below ↓
Recommended Videos