Following the release of You season 4 part one (on February 9 to be specific), it's safe to say a *lot* of people have been murdered or mysteriously killed in the vicinity of Jonathan Moore / Joe Goldberg. While we wait for Netflix to drop the new batch of episodes, a.k.a season 4 part 2, which will land on March 9, let's look back on all of the characters who have met an untimely end.
ICYMI, the psychological thriller - which is based on the novels by Caroline Kepnes—follows Goldberg (Penn Badgley) as he embarks on an obsessive and violent quest to find true love. This means sadly, not all of the characters end up making it. Here's a definitive list of everyone who has been murdered so far, starting from season one all the way through to the most recent eps...
YOU: Season 4 Part 1 | Official Trailer | Netflix
All the characters who have been murdered *so far* on You:
Benji Ashby
Benji was Joe's first victim of the show. He played a guest character and love rival of Guinevere Beck, the aspiring writer who Joe is obsessed with in season one.
ADVERTISMENT - CONTINUE READING BELOW ↓
Peach Salinger
Beck's best friend Peach refused to fall for Joe like her friend did, which he obviously didn't like. In response, he snuck into her house, shot her, and left a suicide note to cover up the murder.
Elijah Thornton
Elijah appears in a flashback scene as the person Joe's ex Candace cheated with. In revenge, he pushes him off a building to his death.
Ron
Joe makes friends with his young neighbor, Paco, who he learns is scared of his stepdad, Ron. After witnessing him chasing Paco, Joe takes matters into his own hands and stabs him in the neck.
Guinevere Beck
After escaping from Joe's soundproof cage, Beck thinks she's outsmarted him. However, he gets to her before she manages to leave, overpowering and killing her. Joe then frames Dr. Nicky for the murder, who subsequently ends up in jail for the crime. Joe then posthumously publishes Beck's memoir, titling it "The Dark Face of Love."
Jasper
After moving to LA and changing his name (he steals someone called Will's identity), Joe is followed by someone called Jasper, who's looking for the original Will as he owes him money.
Joe decides he needs to kill Jasper, and at Love's grocery store, feeds his body through the mincing machine.
ADVERTISMENT - CONTINUE READING BELOW ↓
Henderson
Joe finds out his new young neighbor Ellie (Jenna Ortega) has been taken advantage of by a comedian called Henderson. After breaking into his house and witnessing some disturbing things, Joe ends up pushing him down the stairs.
Joe's mum's boyfriend
Season two reveals that Joe actually killed his mum's boyfriend when he was younger after he found out that he abused her. She puts him into child protection as a response, but it seems that these events are what triggers his future murders.
Sofia
This murder wasn't actually committed by Joe, but rather Love (his season two love interest). Sofia was the au pair of Love and her twin Forty, who abused and sexually assaulted them as children. In an episode, Love admits to Joe that she killed the childminder, confessing that she slit her throat.
ADVERTISMENT - CONTINUE READING BELOW ↓
Delilah Alves
After finding Joe's neighbor Delilah being held hostage in the soundproof cage we mentioned before, Love kills her in order to protect her boyfriend.
Candace Stone
Candace was Joe's ex-girlfriend who he thought he'd murdered long before he met Beck. However, unbeknown to him, she escaped being buried alive, and naturally, was out for revenge.
She ends up trapping Joe in the same cage and tries to convince Love to leave him by revealing his true colors. Unfortunately, Love doesn't listen and stabs Candace in the neck with some broken glass, killing her.
Natalie Engler
The first person to die in the third series, Natalie is murdered by Love after she finds out that her husband Joe has become obsessed with her.
Gil
While he wasn't technically murdered, Gil hung himself in Joe and Love's vault in the bakery after discovering his son had been assaulting young girls. The couple moves his body back to his home, fake a suicide note and a confession for Natalie's murder, therefore putting them in the clear.
ADVERTISMENT - CONTINUE READING BELOW ↓
Ryan
After Love kills Natalie, Joe becomes obsessed with a librarian called Marianne. He learns that her husband, Ryan is causing her emotional stress due to a custody battle for their daughter, so he decides to stab him.
James Kennedy
Series two revealed that Love was previously married to her first husband James, who unfortunately succumbed to cancer.
ADVERTISMENT - CONTINUE READING BELOW ↓
However, Love's mum tells Joe that her daughter was actually responsible for his death in season three.
Love Quinn
In a dramatic turn of events, Love meets her own end in the third season. After "poisoning" Joe and "paralyzing" him, (which is how she killed James) it turns out he anticipated her actions and took adrenaline in order to counteract the effects of the Wolfsbane (which Joe had seen her growing in their garden months before).
ADVERTISMENT - CONTINUE READING BELOW ↓
Joe then ends up injecting Love with the drug that she intended for him and paralyzes her instead. He then fakes his own death, sets their house alight, and forges a suicide note from her.
Malcolm
The first person murdered in season four of You is Malcolm, Kate's boyfriend and Jonathan Moore's neighbor, who he finds dead on his kitchen table after a particularly raucous night out. But viewers quickly discover the 'Eat The Rich Killer' is actually the perpetrator.
Vic the bodyguard
Lady Phoebe and Adam's bodyguard Vic is suspicious of Jonathan Moore from the get-go, which is probably why he murders him after Vic catches him creeping in all sorts of unsavory situations.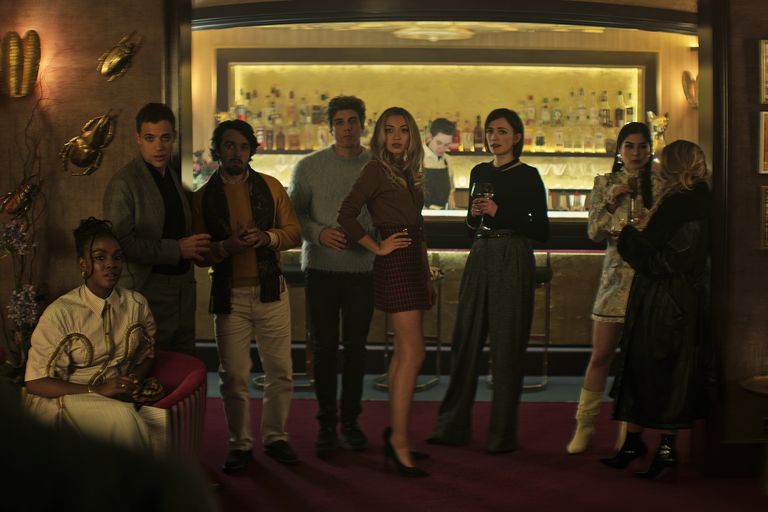 ADVERTISMENT - CONTINUE READING BELOW ↓
Simon
Another person murdered at the hands of the 'Eat The Rich Killer' is Simon, after Blue, his former assistant tries to sabotage his exhibition. The murderer stabs him in the chest and cuts his ear off in a Vincent Van Gough-style tragedy.
Gemma

While enjoying a weekend away at Sundry House, Joe/Jonathan discovers Kate holding a murder weapon near Gemma's body, after discovering her throat has been slit in one of the bedrooms. While we don't see the murder happening on screen, and Joe helps Kate to dispose of the body, the death prompts Rhys Montrose to admit to being the 'Eat The Rich' killer to Joe.