Hey y'all, it looks like we have a brand-new celebrity couple on our hands! Just when we thought Halsey was enjoying being single as a pringle, it looks like she's already moving on from her ex-boyfriend Yungblud. RIP to their relationship, though—it was v cute! Now, Halsey might have her sights on a new man, who just so happens to be American Horror Story's very own Evan Peters. Sure, he might frequently play characters with murderous intentions, but IRL he's a total dreamboat!
This past weekend, Evan and Halsey were spotted cozying up together in California during a coffee date. "Halsey and Evan were at Sweet Butter Cafe in Sherman Oaks," a source told Us Weekly. "They definitely looked like a couple. They were eating together and Halsey was laughing throughout their lunch. When they walked out of the restaurant they were hugging each other."
If that didn't already sound super adorable, Halsey and Evan were also allegedly spotted together having a fun lil' time riding rollercoasters at Six Flags Magic Mountain theme park in Los Angeles last September. A couple that has fun together stays together, amirite?
But let's be real—the reason why you probably clicked this article is because you likely don't know who the heck Evan Peters actually is yet. Don't worry, though—we all have to start somewhere, and I gotchu. Below, everything you need to know about Evan, before he and Halsey start getting ~serious~.
Halsey has been thirsting after Evan for YEARS now.
Nope, this whole maybe-thing with Evan is not some random crush! Halsey believed that Evan was a hottie waaaay before she became famous, and publicly let her burning desire for him be known on Twitter dot com. In fact, Halsey literally talked about creating a petition for her to start dating Evan, and guess what—that sh*t might've worked!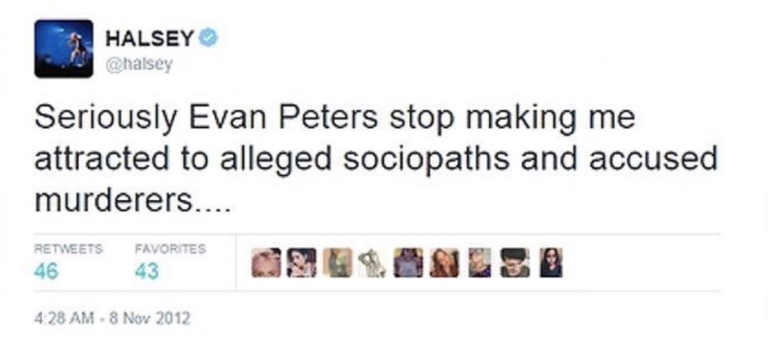 Continue reading below ↓
Recommended Videos

Evan and Halsey have allegedly been dating for a few weeks.
There's not a specific time stamp on how long Evan and Halsey have been hanging out, but when the news first broke back in September, a source said they'd been "seeing each other for several weeks." So at this point, that'd be about one to two months.
Evan's last relationship was with Emma Roberts.
Evan and Emma first met back in 2012 on the set of their movie, Adult World. As cute as they were, Evan and Emma had their fair share of drama, which included three breakups, two broken engagements, and a domestic violence case. After being off and on for seven years, Evan and Emma finally called their relationship quits for good in March 2019.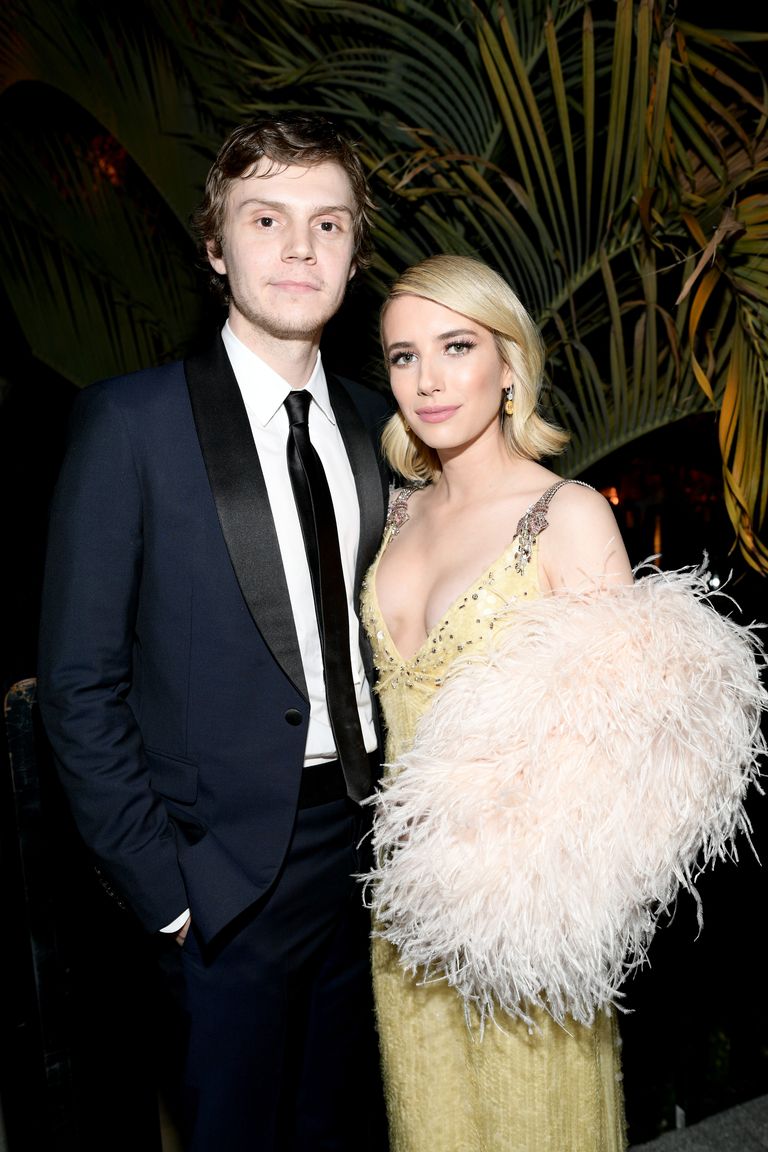 Evan starred in some of your favorite childhood TV shows and movies!
Evan starred in the iconic slumber party movie, Sleepover, alongside Sarah Paxton and Alexa Vega. He played the role of Russel "SpongeBob" Hayes, a hilarious skater boy with like, half a brain. But hey, he was adorable!
Evan also had roles in Phil of the Future, One Tree Hill, and Kick-Ass before landing his featured role in season one of American Horror Story: Murder House.
Evan has starred in almost every season of American Horror Story.
Evan got his big break when he starred in Ryan Murphy's American Horror Story: Murder House as Tate Langdon, a sociopathic teenage ghost. It's a lot to get into if you haven't ever watched the show, but basically, Tate has ongoing dreams about committing mass shootings at his high school... which he actually did do in his past life. Regardless of Tate's violent and alarming behaviors, his character was a hit on Tumblr back in 2011.
Evan has starred in every season of American Horror Story, with the exception of the most recent season, American Horror Story: 1984. Evan admitted that filming the show as well as Ryan's Pose took an exhaustive mental toll on him, which is likely why he chose to take a baby step back.
"It's just exhausting. It's really mentally draining, and you don't want to go to those places ever in your life," he told GQ last year. "And so you have to go there for the scenes, and it ends up integrating it somehow into your life. You're in traffic and you find yourself screaming and you're like, 'What the hell? This isn't who I am.'"
***
This article originally appeared on Cosmopolitan.com. Minor edits have been made by the Cosmo.ph editors.