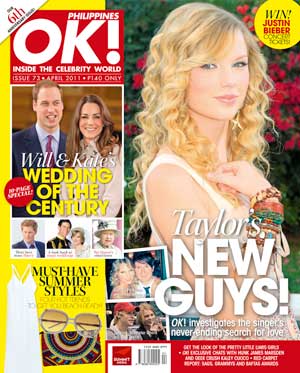 It's the closest thing to a fairy tale we'll witness anytime soon. A handsome prince falls for a beautiful middle class young woman. She's swept off her feet and, after an eight-year romance, is offered his hand in marriage. The upcoming nuptials of Prince William of Wales, 28, to Catherine "Kate" Middleton, 29, on April 29, 2011 have got the whole world clamoring for the latest piece of information on the future rulers of the Commonwealth realm. While the date may not be a public holiday here like it will be in the United Kingdom, there's no reason we can't join in the celebration! Here's a primer to catch you up on all you need to know about the big day:


Continue reading below ↓
Recommended Videos
The future princess has decided to arrive at the Westminster Abbey in a Rolls-Royce state car instead of a traditional carriage. After the ceremony, they'll take the same 1902 State Landau carriage that Prince Charles and Princess Diana used en route to the reception at Buckingham Palace. In case of inclement weather, a glass coach is also being readied. A real-life Cinderalla story, indeed!


The guest list comprises 1,900 names of people invited to the ceremony. 600 guests are invited to the lunch reception hosted by Queen Elizabeth II at the Palace, while 300 are invited to an evening dinner hosted by Prince Charles. Who's on the list? Well, 40 members of foreign royal families are invited, and it's been reported that among the celebrity guests are Victoria and David Beckham, Elton John (who performed at Diana's funeral in 1997), and Kanye West!


The biggest secret right now is who's designing Kate's dress, and while it's still top secret info, one designer has come forward to dicuss royal wedding fashion. Diana's dressmaker, Elizabeth Emanuel, explains the secrecy behind the royal wedding dress, her predictions for Kate's design, and how she even made a back-up dress in case the press leaked Lady Di's first choice!


Despite James Blunt's joke that he would be performing at the ceremony, the real line up for the musical accompaniment has been released. A fanfare team of trumpeters from the Royal Air Force (in which William serves as a pilot) and the Household Cavalry will perform traditional hymns and choral works.


While their choice of vows will only be revealed at the ceremony itself, some have speculated whether or not Kate will include the vow to "obey" William. Princess Diana broke tradition by omitting this part from her own vows during her wedding to Prince Charles.


Two cake makers have been hired for the reception. Fiona Cairns is designing the Royal Wedding cake—a multi-tiered, traditional fruit cake decorated with cream, white icing, and flowers personally requested by Kate. Paul Courtney is creating a dark chocolate cake with broken up tea biscuits—one of Prince William's  childhood favorites!


The Royal Mint, official manufacturer of coins in the United Kingdom, has created a Royal Wedding coin worth 5 pound sterling to commemorate the event. Talk about a keepsake that will last forever!


The Royal Mail have also released a series of official stamps to be issued on April 21, featuring the engagement photos of the royal couple. It will be William's third time to appear on a stamp and Kate's first.


Instead of gifts, the Prince and soon-to-be Princess have created a gift fund whose proceeds will go to charity. Five causes have been chosen by the couple, and you can choose which charity to donate your contribution to at the website. What a great way for them to share their special day with others!


Everyone wants to be part of the celebration, and private companies and entrepreneurs have created their own unofficial ways of marking the historic occasion. Check out the creative novelty items that have hit the market, which range from the bizzare to just plain wacky (think, Will and Kate refrigerators, dog clothes, garden gnomes, nail art, beer, and even barf bags!). Amazon.com offers books, dolls, mugs, posters, and cardboard cut-outs of them, and they ship right here to the Philippines!


Catch up on your royal history with this chart of past royal weddings (from William's great-grandparents onwards) that detail the dress designs, controversies, notable gifts, and menus of each big day!


Grab a copy of OK! Philippines' April 2011 issue, which has a 10-page special on what they've dubbed the "wedding of the century!" Read more details about the royal family, the entourage, and the processions that are expected to follow!