WARNING: *Major* spoilers ahead for Start-Up! Don't read if you haven't seen the latest episodes yet.
Start-Up may be over, but we're still so thankful to have been introduced to the show's breakout star, Kim Seon Ho. His character, everyone's Good Boy Han Ji Pyeong, had a rough and heartbreaking childhood but found unconditional love in the form of Mrs. Choi (Kim Hae Sook), an ahjumma who sold corndogs. She took in a teenaged Ji Pyeong when he was homeless and fresh out of an orphanage. The two then developed a bond so strong, that 15 years after parting ways, they still had the same endearing mother-son dynamics that all of us viewers grew to love so much.
Early on in the series, Ji Pyeong was determined to pay his "debt" to Mrs. Choi for all the good she's done to him when he was a teen. And even in the final episode, Ji Pyeong still wanted to go above and beyond for Mrs. Choi just to prove his gratitude! But for Mrs. Choi, Ji Pyeong didn't need to do anything else for her 'cause, at that point, there really was no need for it. She then told him this piece of advice, "If you feel so bad, do something nice for someone worse off than me."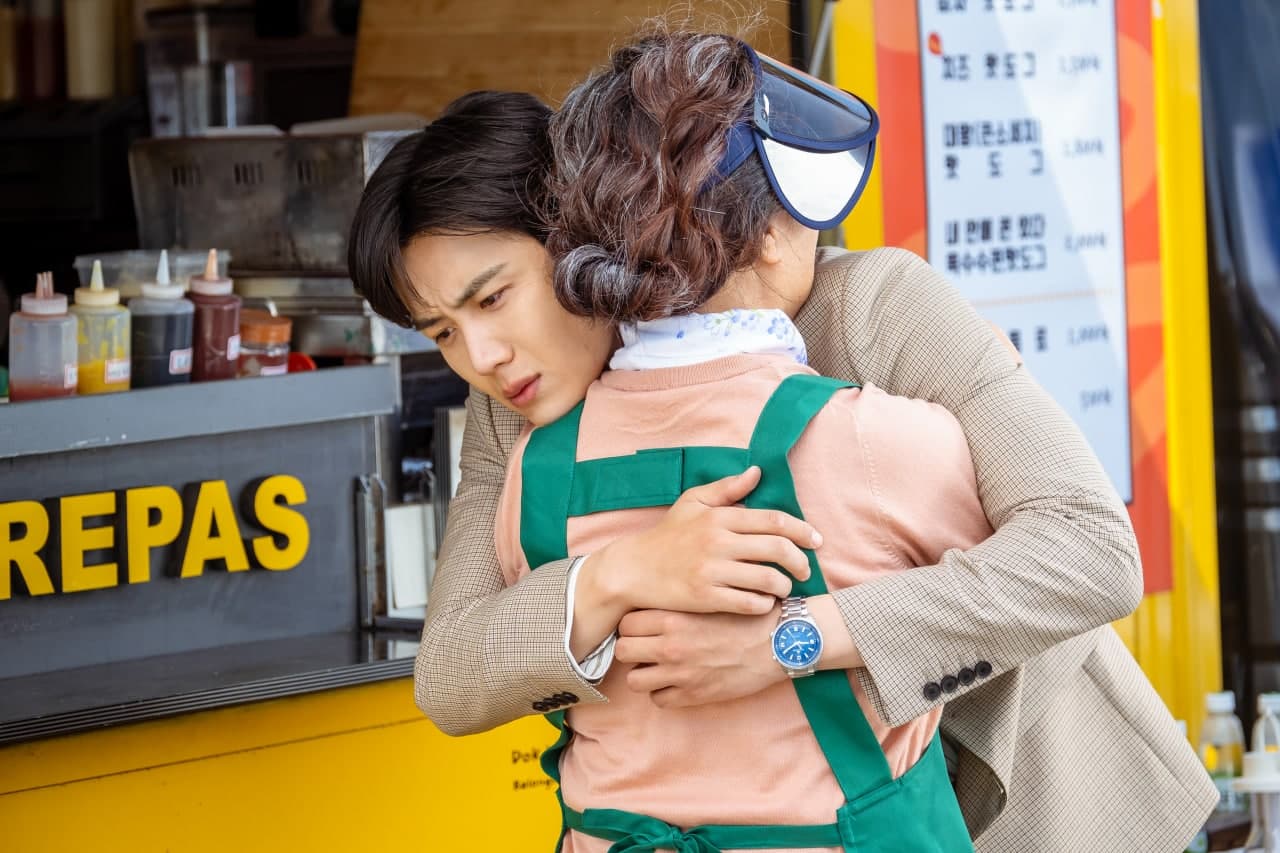 ADVERTISMENT - CONTINUE READING BELOW ↓
These words stuck with Ji Pyeong when he encountered a young and bright-eyed start-up owner, Hong Ji Seok, played by Yeo Jin Goo. FYI, the 23-year-old Hotel Del Luna leading man is the voice behind Ji Pyeong's sassy AI speaker, Jang Young Sil! We've been hearing his cool baritone voice throughout the whole series, but it was only on Episode 16 that Jin Goo did a live-action appearance on the show.
And this scene perfectly wrapped up Ji Pyeong's "burden" in making it his life's mission to give back to Mrs. Choi. You see, Ji Seok was pitching to Ji Pyeong about his new service that'll pair adults with teenagers who just got out of the orphanage and need to get settled in life. Yup, just like Mrs. Choi and Ji Pyeong!
"When you leave the orphanage, you're not really a child or an adult. They're separated from society by tall walls. Our solution will help them overcome the walls," Ji Seok explained. Ji Pyeong cut to the chase and said his company would not invest in his service, but that HE PERSONALLY WILL. "I like your voice," said Ji Pyeong, a cheeky nod to Young Sil. "I'll invest 100 million won and donate 300 million. I don't need many shares. I just want you to find me some nice kids who need my help."
Yup, Ji Pyeong does have one of the most heartwarming storylines in Start-Up. And this last bit only proves that he is a Good Boy indeed.
All episodes of Start-Up are available on Netflix.
***
What does your zodiac sign say about you? Subscribe to Cosmopolitan Philippines and find out!
Follow Jacinda on Instagram.