Ready for a brand-new season of You already? Same. Because trust: I also ripped through the entire series in a single sitting and have no idea how anyone has the willpower to space out episodes when they all end on a cliff-hanger. Of course, the finale gave us perhaps the biggest cliff-hanger of all, and everyone's dying to find out what will happen next. Good news: we have some ideas. Not to mention a new teaser trailer and a premiere date!
Season 3 is arriving in October.
Specifically, October 15. And Netflix went ahead and blessed everyone with an official description:
"Joe and Love, now married and raising their baby, have moved to the balmy Northern California enclave of Madre Linda, where they're surrounded by privileged tech entrepreneurs, judgmental mommy bloggers, and Insta-famous biohackers. Joe is committed to his new role as a husband and dad, but fears Love's lethal impulsiveness. And then there's his heart. Could the woman he's been searching for all this time live right next door? Breaking out of a cage in a basement is one thing. But the prison of a picture-perfect marriage to a woman who's wise to your tricks? Well, that'll prove a much more complicated escape."
Continue reading below ↓
Recommended Videos
We! Have! A! Trailer!
Fine, it's a teaser trailer, but still:
The showrunner has some wild ideas.
In an interview with Cosmopolitan UK, executive producer Sera Gamble shared that she has major plans in mind for Joe's adventures (if you wanna call them that) in a potential Season 3…although she didn't give away any secrets.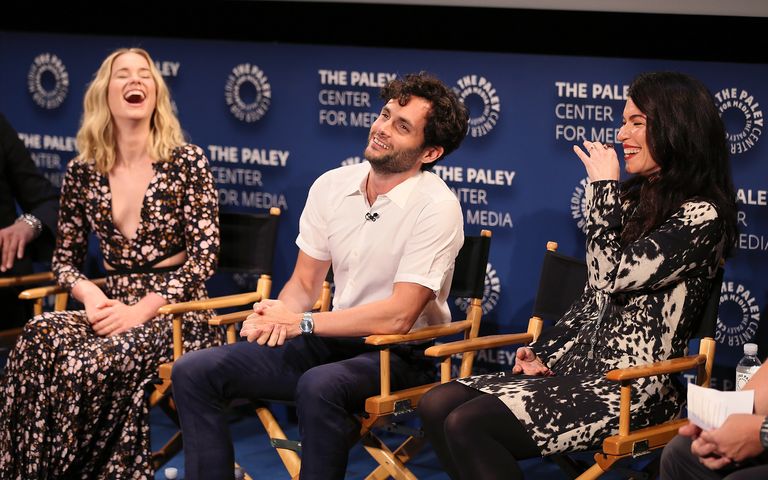 "I will say that we have an idea for Season 3 that is SO exciting that people talk about it in the [writers'] room every day," said Gamble. "So my fingers are crossed....I'll just say, I hope we get the chance to keep making the show."
The show got a huge Season 3 incentive.
According to Deadline, You was awarded a California tax credit of $7.213 million for the production of a third season. Of course, that's not a guarantee more seasons will happen, but it's certainly a good reason to renew—or seven million reasons, give or take.
A third book recently came out.
For fans who may not have known, You is based on a series of books by author Caroline Kepnes, with the first season based on the first book and the second season based on the sequel, Hidden Bodies—with a few details changed, of course. The third book dropped back in April. 
Can't wait to read/watch. And uh, maybe start rethinking your social media privacy settings, just in case anyone out there is watching the show for creeper tips. Can't hurt!
***
This article originally appeared on Cosmopolitan.com. Minor edits have been made by the Cosmo.ph editors.