YouTube is the home of drama, scandal, and the odd tutorial on how to re-pressurize your boiler. Our favorite YouTubers have been documenting the ups and downs of their lives for years, and if you're anything like me you'll have loved every minute of scandal, from Trisha Paytas vs Gabbi Hanna to Jeffree Star vs er... everyone. If there's one thing that's sparked more drama than anything on YouTube it's the breakups. Here's our rundown of the most dramatic splits YouTube has ever seen.
1. Jeffree Star and Nathan Schwandt
Jeffree and his boyfriend Nate were together for five years, before splitting in January of this year. Fans began speculating about the breakup when Jeffree removed "wife of Nathan" from his Instagram bio and canceled his make-up masterclass tour with Mmmmitchell due to "personal reasons." Roughly a week later Jeffree posted a picture to his Instagram captioned with "We broke up...Sorry for the silence, I've been trying to heal."
Continue reading below ↓
Recommended Videos
In a video titled, "Updated House Tour! Being SINGLE and Quarantined" and posted to his channel in March, Jeffree mentioned the breakup, saying, "I am really going through it, there's a lot of really dark ugly stuff going on behind the scenes since the breakup," telling viewers, "I've been going through it, I really have." His friend Maddie then comments from behind the camera, saying, "It's sad what you do for people and what they do in return."
The drama is ongoing so while we don't yet know what all these cryptic comments mean, we're pretty sure it's all going to pop off soon.
2. Alissa Violet and Jake Paul
This one played out all over social media when the two broke up in early 2016 after reportedly on-off dating since summer 2015. They even had "Jalissa" merch.
The drama all started when the two began hurling cheating accusations at each other on Twitter. Firstly, in a now-deleted tweet, Jake accused Alissa of cheating on him with "someone that was very close to me," before Alissa responded by tweeting a screenshot of a lengthy note accusing Jake of cheating on her, saying he had "girl after girl over every other night."
Jake then released a track about Alissa called "It's Everyday Bro", which included lines like, "Yeah, I'm talking about you, you beggin' for attention talking s*** on Twitter, too. But you still hit my phone last night, it was 4:52, and I got the text to prove. And all the recordings, too… don't make me tell the truth."
In response, Alissa then released her response track called, "It's Everynight Sis", where she accused Jake of being a bully and of more cheating.
It's drama, sure, but it's no Eamon and Frankee.
3. Jaclyn Hill and Jon Hill
Beauty YouTuber Jaclyn and husband Jon split in 2018 after nine years together. In a video posted to her channel, Jaclyn told fans, "I will always love Jon, but Jon and I have never made good partners, we have always made good friends."
"After almost nine years it got to a point where we had to finally face the music, look at what this was and be like…it can't go on. Jon and I have had problems our entire marriage but we have always worked to be bigger than our problems and it just got to a point where it was exhausting. I was bled dry, there was nothing left to give."
Then in December 2019, YouTuber Trisha Paytas posted an Instagram Story of her and Jon kissing and the internet lost it. How did Jaclyn respond? She tweeted about her friend's corn dip recipe. Respect.
4. Shane Dawson and Lisa Schwartz
This one is more cute than dramatic, but Shane Dawson is such a massive part of the YouTuber world, we can hardly ignore it. Lisa and Shane got together in 2011 and broke up in 2014. Then in 2015, Shane came out as bisexual in an emotional video posted to his channel. The ex-couple was very clear that this had nothing to do with their breakup and Lisa took to YouTube to post a teary and supportive video telling fans "I feel a lot of joy for Shane. For years, I watched him suffer. For years, I hurt for him. I didn't know why he was suffering. Sometimes I thought it was me, sometimes work, his family, his body image."
Shane and Lisa are still good friends and in summer 2019 they even filmed a video together explaining the breakup, in which Lisa told Shane, "Breakups are awful and the one with you was so painful. But then at the same time, I was so proud because once we got past that stuff, then I was proud for you."
Even my cold, stone heart felt that.
5. Tana Mongeau and Jake Paul
This whole relationship has been under constant scrutiny from day dot, with fans speculating that various parts were hoaxes or publicity stunts. It all started in April 2019, when Tana posted a picture to Instagram of Jake tying her shoelaces with the caption, "new video with my rebound. link in bio to join us in bed ;)"
By May they were flogging 'Jana' merch and by June they were engaged.
Things got weird, or weirder, when the pair got married in an outrageous Vegas ceremony in July. The wedding took place at the Graffiti Mansion, and the outside walls had been covered with the word "Jana" and included the pair's social media handles. Which doesn't seem like a plug at all.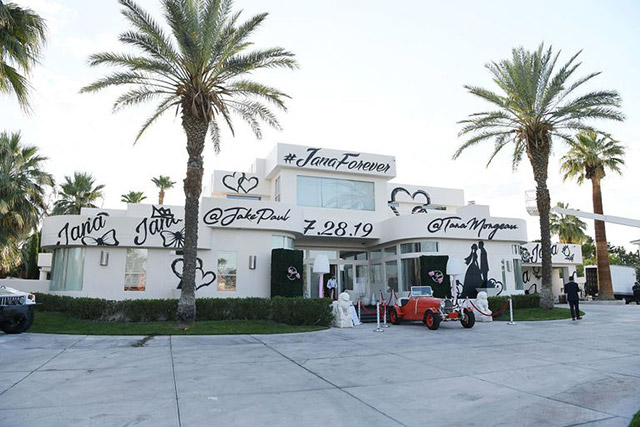 Theories that the marriage was a publicity stunt weren't helped by the fact that the ceremony was filmed by MTV for the show MTV No Filter: Tana Turns 21, and Fans could also pay $50 to watch a live stream online.
Eventually, the couple revealed the marriage had been a fake, non-legally binding ceremony and then less than six months later the couple split, announcing their breakup in matching Instagram posts.
People instantly started sleuthing. Tana's YouTube following rose by 33 percent as a result of the swift romance, while Jake's rose by 7.5 percent. Tana released a perfume that sold out in 76 minutes and Jake fought a boxing match against fellow YouTuber AnEsonGib, which he won in one round.
Handy when those whirlwind romances are so good for business isn't it?
6. Hannah Hart and Ingrid Nilson
Ingrid and Hannah had a secret breakup after being together for four months until January 2016. They managed to keep their split secret for almost three months until fans started asking why they weren't showing up in each other's social media posts anymore.
Hannah and Ingrid then confirmed the split, both tweeting that they were no longer in a "romantic relationship" but continued to work on building a friendship.
Followers were completely heartbroken when they heard the news about Hangrid, who had been a fan favorite for months after Hannah defended Ingrid when people accused her of turning into whoever she dates.
The fan fallout from this short but very cute relationship was big.
7. Trisha Paytas and Jason Nash
These two have had so many breakups the word has lost all meaning. From the time in May 2018 when they broke up for a week to when they broke up again in June of that year after he called her fat. It's all very messy, to say the least.
So, this is a many-layered saga, but stay with us. In February 2019 Trisha posted a video calling out Jason Nash, friend David Dobrik and others, after David posted a number of videos in which Nash joked about wanting to sleep with Tana Mongeau.
In Dobrik's (now-deleted) video, Nash is recorded saying, among other things, "if you can get Tana Mongeau to have a threeway with me and Trisha, I'll buy you a Ferrari." Charming.
***
This article originally appeared on Cosmopolitan.com/uk. Minor edits have been made by the Cosmo.ph editors.