A delightfully surprising part of Sunday's Oscars (though certainly not the most surprising part) came when Jimmy Kimmel introduced a group of people who'd been told they were taking part of a Hollywood tour. After showing the theater a live-stream of the tour bus pulling up and the group entering the building, Kimmel asked to dim the lights to further surprise the group—who thought they were merely stopping the tour to see an Oscars dress exhibit—when they entered. They had no idea they were about to be introduced to a room full of the world's biggest celebrities live on one of the biggest nights of television.
Cosmopolitan.com spoke to Yulree Chun, 32, one of the women on the tour, who, as she was walking through the theater, was stopped by Jimmy Kimmel and has since gone viral. Chun explained what it was like to meet Dev Patel on her honeymoon, what Ryan Gosling said to her off-camera, and, like, what the hell it was like to be casually paraded through the Oscars.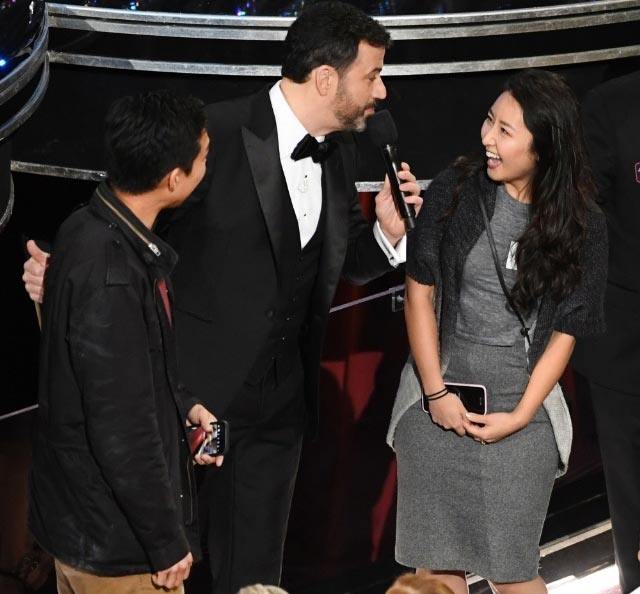 How did you choose Hollywood for your honeymoon?
Because [my husband Patrick and I] had this huge destination wedding [in the Philippines three weeks ago]. We were holed in our apartment for months trying to plan the thing, [and] we got back and we didn't have a honeymoon planned at all. So we just thought that we'd take a weekend and have a little staycation! We figured we'd just go up to L.A. [from Fullerton, California, where they live] and see what there was to do.
How did you come across the tour?
We were just walking around and happened to pass by one of the Starline tour offices. One of the employees there—or someone who we thought was an employee but was actually one of Jimmy Kimmel's producers—had a poster put up that said they were trying a new tour for the first time, and that we'd get exclusive access to an Oscar exhibit that only the guests of the Oscars get to usually see. The exhibit was supposed to include ball gowns, as well as trophies from past winners. They said there would be an additional regular tour through Los Angeles. So we thought "Why not? Let's be spontaneous." And we signed up!
Were you at all suspicious that anything other than a tour was going to happen?
Kind of! The thing is, I had lived in L.A. in the past, so I know some of the city's history. So while we were on the tour, I told my husband, "Uhhh, I don't think this tour guide is that great." He was great as an entertainer, making jokes left and right, he engaged very well. But for someone who was supposed to know L.A., he wasn't really sharing information with us. We would pass by historical buildings and he would just kind of mention, "Oh yes, here's a historical building," but not go into detail. He was reading Hollywood information off cards.
I was actually wondering if it'd get better at all [laughs]. He did keep asking us who our favorite stars were and what Oscar movies we'd seen, so I figured maybe at the end of [the tour], they were going to have one star come out. He kept mentioning Denzel Washington, so I thought it might be him.
Did anything else tip you off?
They did say that they were filming for a Starline promotion—and that Samsung was sponsoring and that because of that, they had to take everyone's phones and smart watches away and, instead, they'd give us new Samsung phones! So they replaced our phones with new ones and said that we could keep them, which was a big incentive to join the tour in the first place. I see why now they took away our phones! They were absolutely flooded with messages when we got them back. They [also made us sign a waiver consenting to being filmed and] said it was for the Starlight tour promo.
Who's your favorite actor or actress?
I would say Natalie Portman.
Oh and she wasn't there, that's such a shame! 
No, she wasn't! I did look for her in the crowd but she wasn't there.
Which celebs did you actually get to touch?
[Laughs] When I first walked in, I saw Kate McKinnon. I didn't get to touch her because she was several rows back, but I made a heart with my hands and I told her I loved her. I did touch Dev Patel, Nicole Kidman, and Keith Urban, and Patrick, my husband, got to kiss Meryl Streep's hand. It was so funny—as we were passing by, she kind of reached out her hand toward Patrick. She either wanted a handshake or wanted a kiss, and he, being a gentleman, gave her a nice kiss on the hand. And then we got to hug her. Halle Berry was sitting right next to her, so we shook her hand too. And, oh yeah! We hugged Ryan Gosling and his sister. We even took a selfie with him, which is crazy. When I asked him if we could take pictures, he was like, "Sure, why not?"
Was there anyone else you got to take a picture with?
He was the one selfie, because it was just such a blur and it all happened so quickly that I actually forgot to take pictures. I totally forgot there was a phone in my hand! I drew a total blank. It was Patrick who made sure to capture some of the moments.
Were there any sweet celeb interactions that we did not get to see on TV?
I got to speak with Dev Patel for a little bit. I approached him because I wanted to thank him for representing Asians in the media—because there really aren't very many. Seeing him in real life and being able to personally thank him was such a treat.
How did he respond to you thanking him for something so personal?
At first he was sitting down but as I was making my way to him he got up. He [seemed] really surprised that I approached him because he wasn't even sitting in the front row—surprised that of all the celebrities, I wanted to single him out and talk to him, you know? He was very humble about it.
Who else did you get to say more than just "hi" to?
We got to speak with Ryan Gosling and I told him how I thought he did so well learning piano for his role [in La La Land] and that he was so talented in so many different facets. He was so sheepish and shy about it! He was like "Oh, you know, that's just part of the job." He was really underplaying it. He wasn't even like "Thank you!" He was just like, "Oh, well, that's how we do things!"
What has the reaction from friends and family been since the Oscars?
It's unbelievable! I actually had no idea [the segment] was live until after the fact. I thought maybe they were shooting during a commercial break, so realizing that a lot of people in the world saw it as it was happening was crazy. It was also exciting to celebrate our new marriage in front of everyone! And then also having people be able to pronounce and spell my name correctly for the first time was cool.
Jimmy Kimmel did face backlash for the quip about your name. How do you respond to people who jumped on him for making fun of you?
Well, I did see it as possibly offensive, but I tried to be hopeful that it would help people become more accepting of unique names or unique backgrounds. I am very proud of the name given to me by my parents. I'm glad that people recognize it's such an unusual, weird name! So I took it as a great opportunity to stand proud.
Who in the world besides Natalie Portman would you have loved to have seen?
We wanted to meet Aziz Ansari! He's kind of a part of our love story.
Do tell.
On mine and Patrick's first real, official date, he took me to an Aziz Ansari show, and Aziz talked about starting relationships. That was his whole [bit], how people do relationships in the 21st century. And he actually chose Patrick from the audience to come up and he went through our texts in front of hundreds of people in the auditorium!
Stop it!
Yeah! He read through our first texts to one another. And he read through a good amount, like when Patrick texted me for the first time, how I responded to him. I was so embarrassed. And we hadn't really told our friends or family that we were dating yet, so that was a crazy-public way of announcing us being together. Which, actually, I'm just realizing, makes this whole thing very full circle because we talked about our new marriage on live TV! Anyway, we wanted to personally thank Aziz.
Follow Tess on Twitter.
***
This article originally appeared on Cosmopolitan.com. Minor edits have been made by the Cosmo.ph editors. 

Recommended Videos