I've been a *huge* fan of Webtoon since it began way back in 2014. It's an online platform from South Korea that allows people from all over the globe to read a collection of colored webcomics on an episodic basis. Yumi's Cells happens to be one of my fave webtoons of all time, and it's one I followed on Webtoon every week until it ended in 2020. The series follows the adventures of office worker Yumi and her wacky brain cells that help her make her daily decisions in life and love. It's both hilarious and relatable, and I found myself daydreaming about one day seeing it as a K-drama.
Imagine my excitement when I found out that it really would get a K-drama adaptation! Fast-forward to September 2021, and Yumi's Cells started streaming on iQiyi. Being an OG fan of the webtoon, I tried to keep my expectations low (I didn't want to get my heart broken if things went awry), but as it turned out, I didn't need to. Each ep left me feeling *extremely* satisfied, and watching it quickly became the highlight of my every week! The best part is, the show is set up to have multiple seasons, so I have something to look forward to next year. Read on to see why I love Yumi's Cells so much.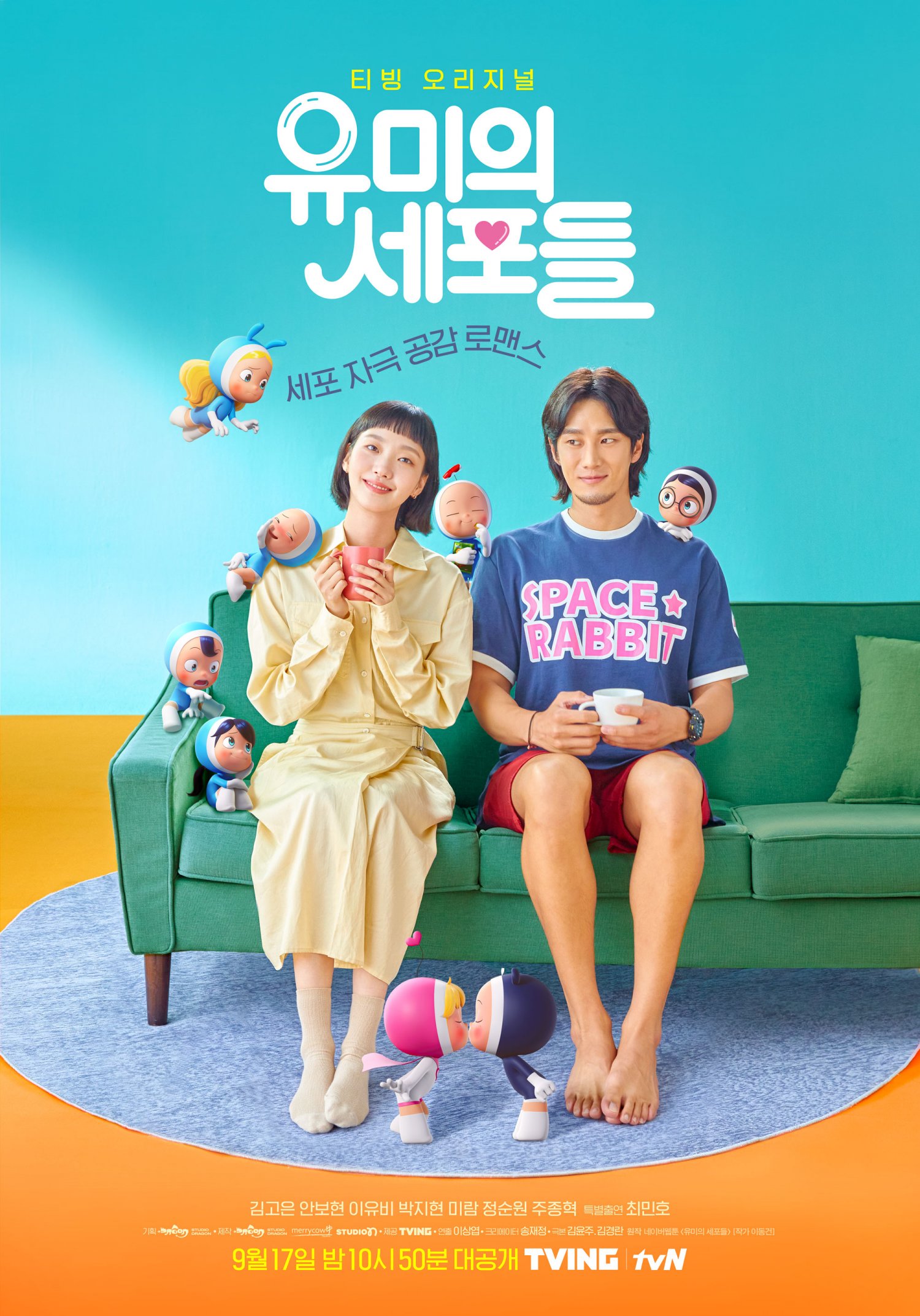 ADVERTISMENT - CONTINUE READING BELOW ↓
What is Yumi's Cells all about?  
Yumi (Kim Go Eun) is just your average office worker, going about her days. She has a crush on her younger co-worker, Woogi (cameo by SHINee's Choi Minho), but after getting burned in her last relationship, her brain's Love Cell is in a coma, and Yumi's wary about making any moves. When a series of mishaps makes her retreat even further into her shell, a new man appears to try and change her mind. What follows is a colorful slice-of-life love story with Yumi's cells helping her every step of the way.
Yumi's brain is its own version of paradise—or hell, depending on how Yumi is feeling. The cells all have major (or minor) responsibilities they're in charge of, like emotions, rationality, fashion, and hygiene. Yumi even has a giant Hunger Cell who makes her stop working to grab a snack and an unstoppable Lust Cell who imagines the *hottest* scenes at the most inconvenient moments. Watching Yumi's Cells is just like watching real life unfold in front of your eyes—with the fun bonus of seeing the whys that lead to a person's decisions.
The Yumi's Cells cast members
Kim Go Eun as Kim Yumi
The character: Yumi is the face of every office worker who's not in a relationship, trapped in an exhausting cycle (you know how you're always that one person who gets volunteered for overtime because you're single?), and wondering if there's something more to life and love. She's smart, capable, and passionate about the things she loves, but her past experiences have dimmed the light in her eyes. Despite outward appearances, though, she has a rich inner life and oodles of talent (and I'm not just talking about her impeccable taste in food), just waiting for an outlet to shine.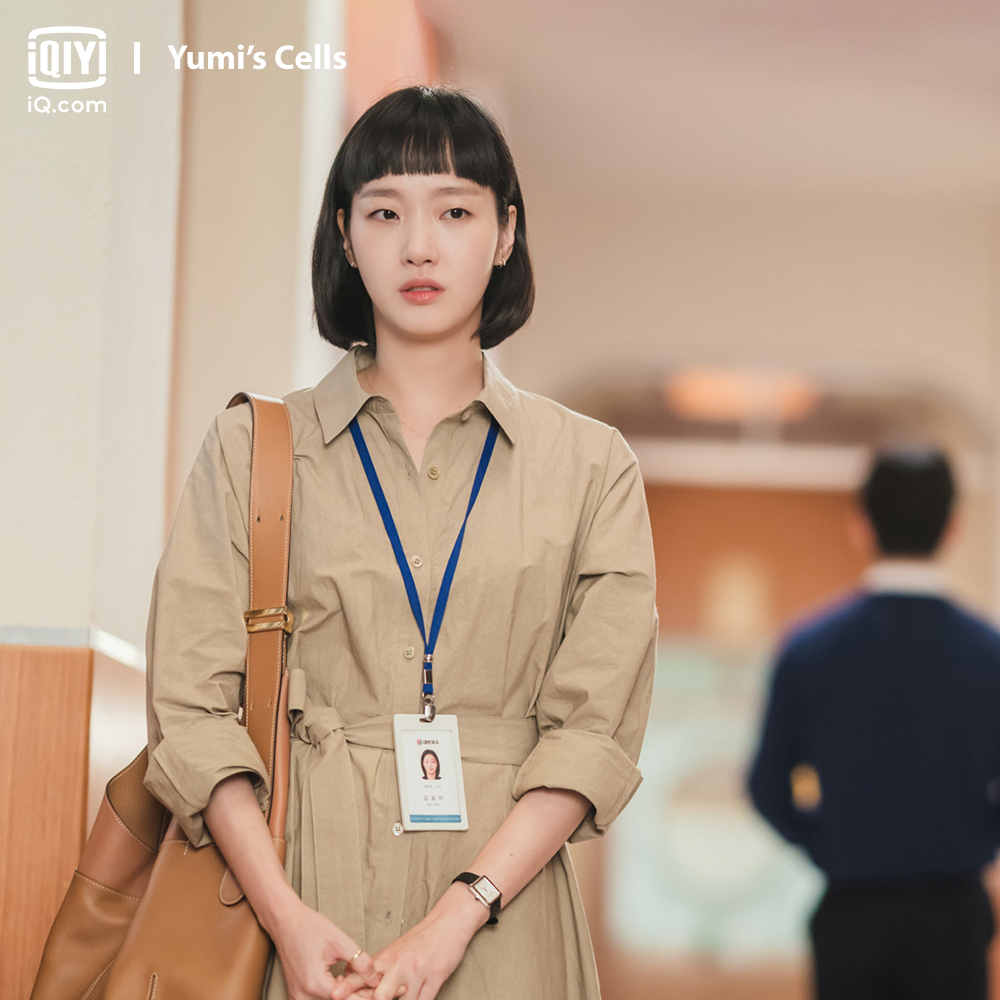 The actress: Go Eun's acting portfolio is as stacked as it can get. Her role in the debut film, A Muse, where she plays a high school girl who catches the attention of a poet, won her several acting awards. When it comes to dramas, she's worked with big names from Gong Yoo in Goblin to Lee Min Ho in The King: Eternal Monarch. Go Eun is such a chameleon, and she always manages to create a great character out of her roles.
Ahn Bo Hyun as Goo Woong
The character: Woong is a talented game developer who runs his own company. He's upfront about the things and the people he likes, but he can also be a bit oblivious about what matters most. He comes across as a bit unkempt—at least, that's what Yumi thinks—thanks to his long hair, beard (spoiler: see how quickly he loses it), and shorts-and-sandals combos. But he's actually pretty meticulous when it comes to his image, and he can be thoughtful when it comes to love.
ADVERTISMENT - CONTINUE READING BELOW ↓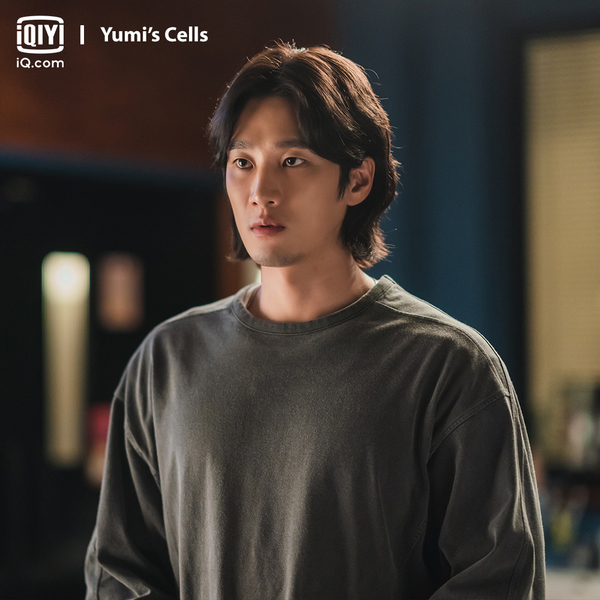 The actor: I've been in love with Bo Hyun since I realized how good an actor he was, playing the surprisingly relatable "villain" in Itaewon Class (and, okay, I guess maybe he was *hotter than hot* there, too). Then his double-faced antics in the thriller Kairos made me gasp. 2021 has been quite a busy year for him. Aside from Yumi's Cells, he also played reliable Detective Pil Do in the hit Netflix series My Name. Talk about doing a 180 when it comes to his characters! It was refreshing to see him in Yumi's Cells with the man buns and super casual clothes, his bulging biceps on display, so different from his previous characters where he's usually in suits.
Park Ji Hyun as Seo Sae Yi
The character: Sae Yi is a brilliant art director who always puts her career first. She was also Woong's classmate from college, so their friendship has been around for a while. Despite saying that she doesn't do relationships, she can't help putting out feelers. She has trouble being upfront about her feelings, but she wants the object of her affections to know just how much she likes him, anyway, even if it drives a wedge between him and his SO. I have to admit, it was *very* hard for me to be on Team Sae Yi (I also didn't like her in the webtoon), but I tried my best to understand where she was coming from.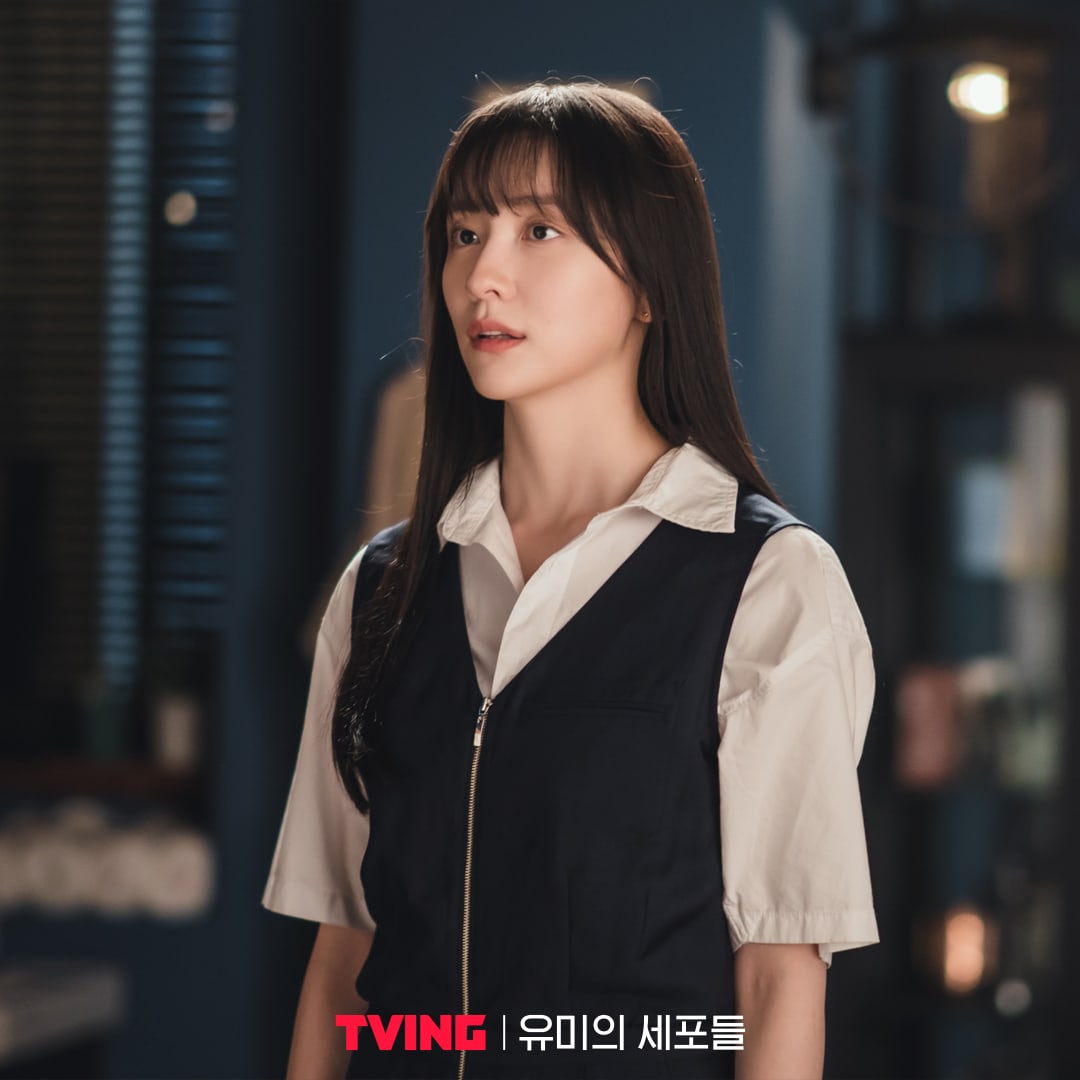 The actress: If you think Ji Hyun looks familiar, you've probably recently watched the musical romance, Do You Like Brahms?, a tale that revolves around the lives of classical music students. There, she plays Lee Jung Kyung, the possessive second lead. Come to think of it, she reminds me a lot of a certain Yumi's Cells character beginning with the letter S. Ji Hyun is a good actress, which just makes it even easier to hate her characters. She was also in other dramas like Your Honor, My Secret Terrius, and Rookie Historian Goo Hae Ryung.
ADVERTISMENT - CONTINUE READING BELOW ↓
GOT7's Jinyoung as Yoo Babi/Bobby
The character: Babi is Yumi's handsome and friendly co-worker from the marketing department. He's surprisingly perceptive when it comes to others' feelings, and he does his best to always be kind and helpful. He and Yumi keep running into each other at the most random places outside the workplace, making Yumi start remembering him at odd moments.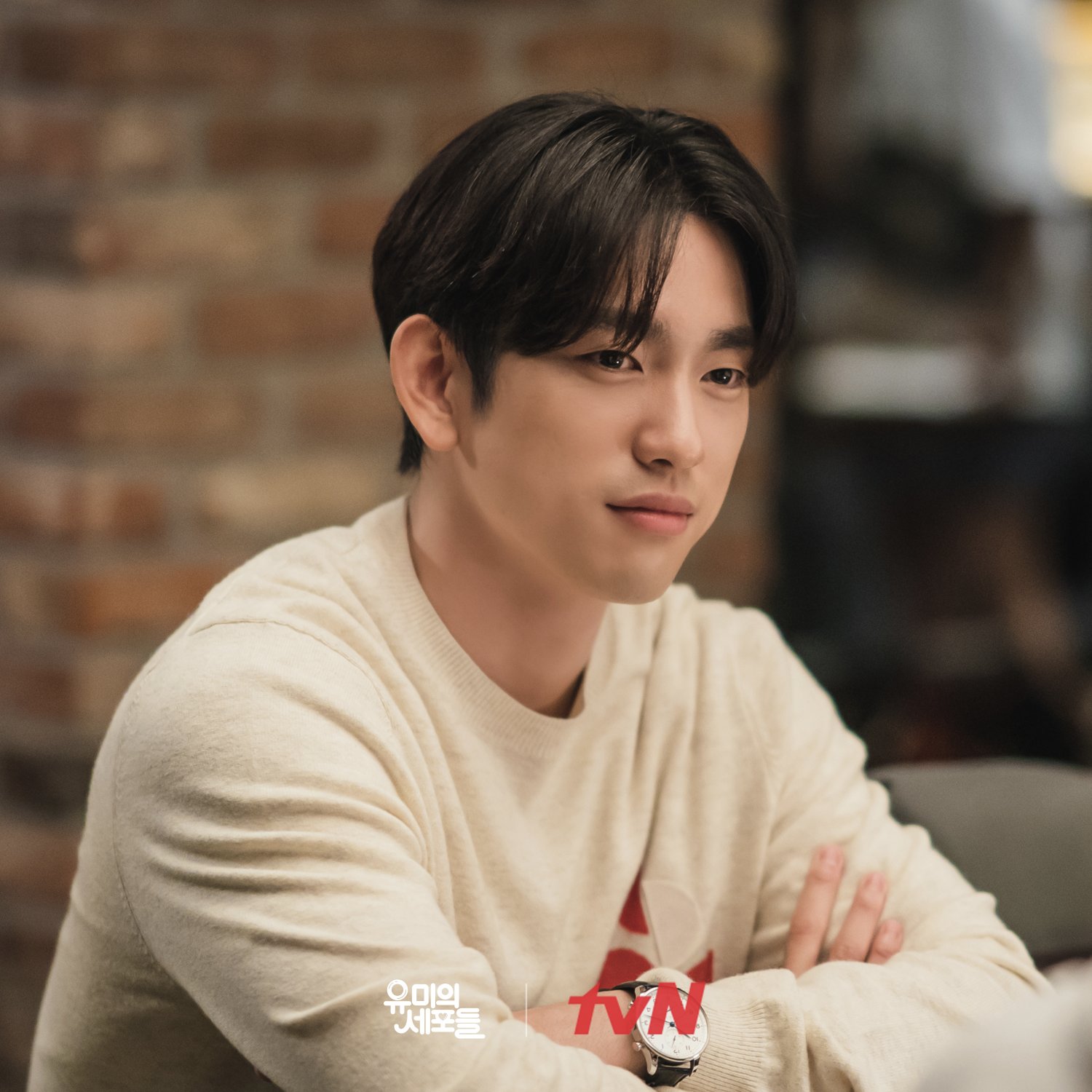 The actor: GOT7's Jinyoung has been racking up drama credits over the years. My fave Jinyoung role is still that of Lee Ahn, the boy who can read people's pasts by touching them, from the romance-slash-thriller He Is Psychometric. But if you're looking for more recent fare to add to your to-watch list, make sure to try The Devil Judge, where Jinyoung gets to act alongside veteran actor Ji Sung.
Why you should watch Yumi's Cells
I used to wax poetic about the webtoon all the time (you can still read it on Webtoon), and now I also end up recommending the drama version to all my friends, both to those who love dramas and those taking a break from K-dramaland. With so many rom-coms out there going for the same old tropes, it's such a breath of fresh air to see a drama that inhabits such a unique world. It's surprising just how well they were able to blend fantasy and reality in this drama. Despite the fantasy elements, I found it so easy to relate to Yumi and her plight because her story itself isn't an abstract concept—it's something that can happen to anyone. Underneath all the wild scenarios Yumi's cells get into, she's just trying to get to know herself better while struggling to make her relationship work. You'll find yourself rooting for Yumi's happy ending as if it were your own.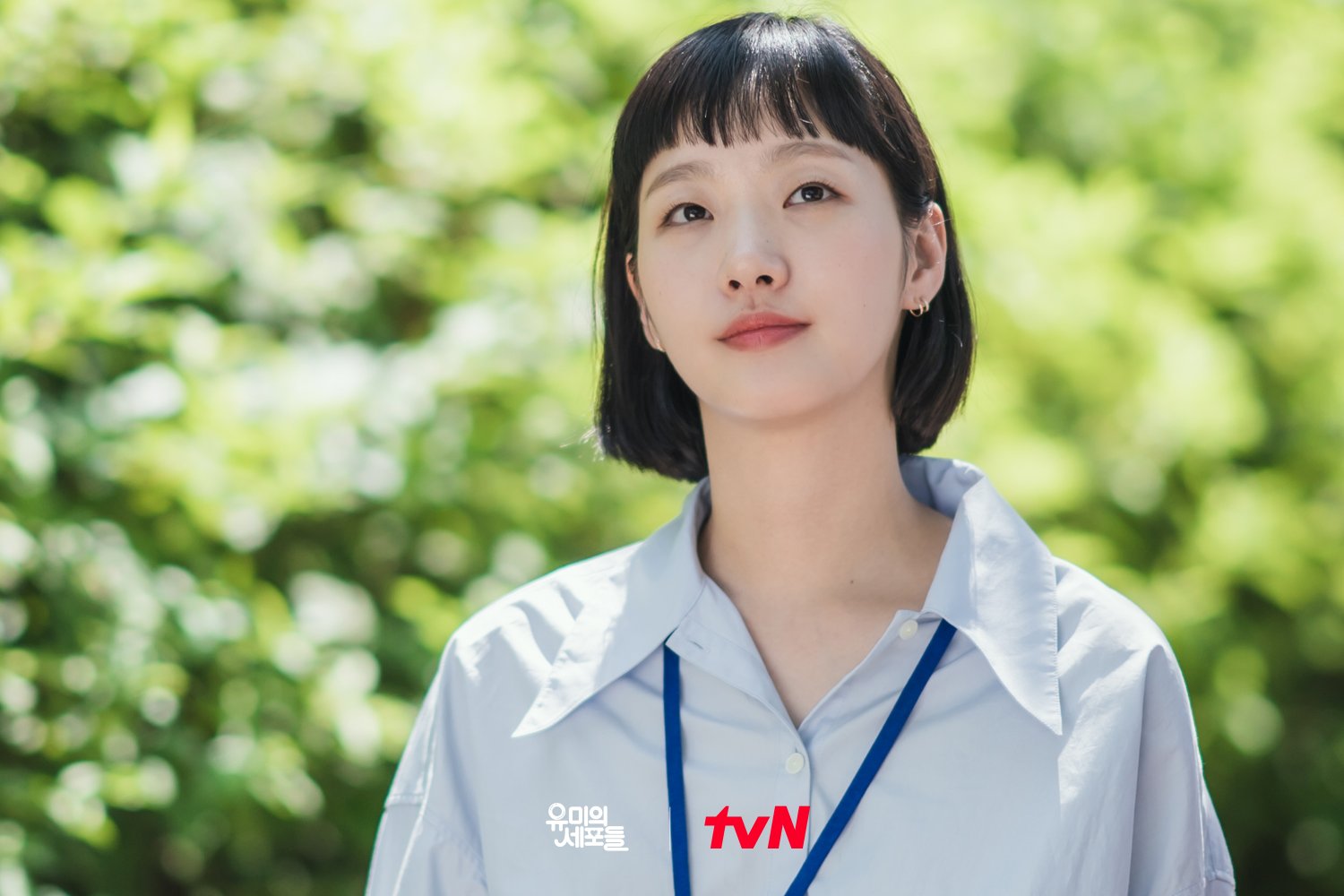 ADVERTISMENT - CONTINUE READING BELOW ↓
The cast does a fantastic job with a great script. I loved seeing the progression of Yumi and Woong's relationship from zero to 100. You can tell from the get-go that Go Eun and Bo Hyun have beautiful chemistry. My heart flutters just recalling my fave scenes from the show. Only Go Eun and Bo Hyun can make me believe frogs are the most romantic animals on the planet (watch the show to find out why). They're also both good actors, highly capable of displaying the nuances in their characters' emotions as the story starts getting serious.
But of course, the show won't be Yumi's Cells without the animated cells doing their work. When the K-drama adaptation was first announced, I wondered how they would handle showing the cells who are essentially also the show's main characters. They decided to use 3D animation to bring the cells to life, and the results are *amazing.* The animation is smooth, the songs are catchy (Note: Watch for Fashion Cell singing to get Yumi to buy clothes), and the voice actors are just *chef's kiss.* I especially loved how they portrayed Yumi's forever smirking Lust Cell and Woong's roaring Lustosaurus, and I will always have a soft spot for Hunger Cell after seeing his tteokbeokki antenna fall off his head.
The drama is intentionally built to have multiple seasons, which makes the ending of the first season's last ep leave such a lasting impression (I'm still screaming). But don't worry, it's not a cliffhanger, so you'll get closure even if you decide not to watch the upcoming second season. Keep that in mind when you pick Yumi's Cells up for your next drama marathon. Go on. You know you want to watch it.
MORE K-DRAMA REVIEWS RIGHT HERE:
'Vincenzo' Is Probably The Best K-Drama I've Ever Seen, Here Are All My *Feelings*
I Watched 'Hospital Playlist' For The First Time And Now I Know Why Everyone Loves It
Why 'It's Okay, That's Love' Is The K-Drama You Shouldn't Sleep On