While Gigi Hadid has officially confirmed she and Zayn Malik are expecting their first child (and likely the most stylish baby in the world), the ex-One Direction singer hasn't yet broken his silence on the news.
But according to the latest fan speculation, jeweler George Khalife might have accidentally just revealed that 27-year-old Zayn and 25-year-old Gigi are engaged! Can you even?
@georgethejeweler on Instagram, who is renowned for kitting out celebs with everything from rings to necklaces, shared a grid post of Gigi and Zayn wearing matching evil eye bracelets.
"Good vibes only for this beautiful couple!! @gigihadid @zayn congrats." he wrote to his 66k followers, before later sharing another photo of Zayn's bracelet on his Stories.
Continue reading below ↓
Recommended Videos
In the Story, as well as eyeing up the bracelet, eagle-eyed fans also spotted a new tattoo on Zayn's forearm: the poem 'On Marriage' by Kahlil Gibran. The words read:
"Sing and dance together and be joyous but let each one of you be alone. Give your hearts, but not into each other's keeping. Stand together, yet not too near together; For the pillars of the temple stand apart. And the oak tree and the cypress grow not in each other's shadow."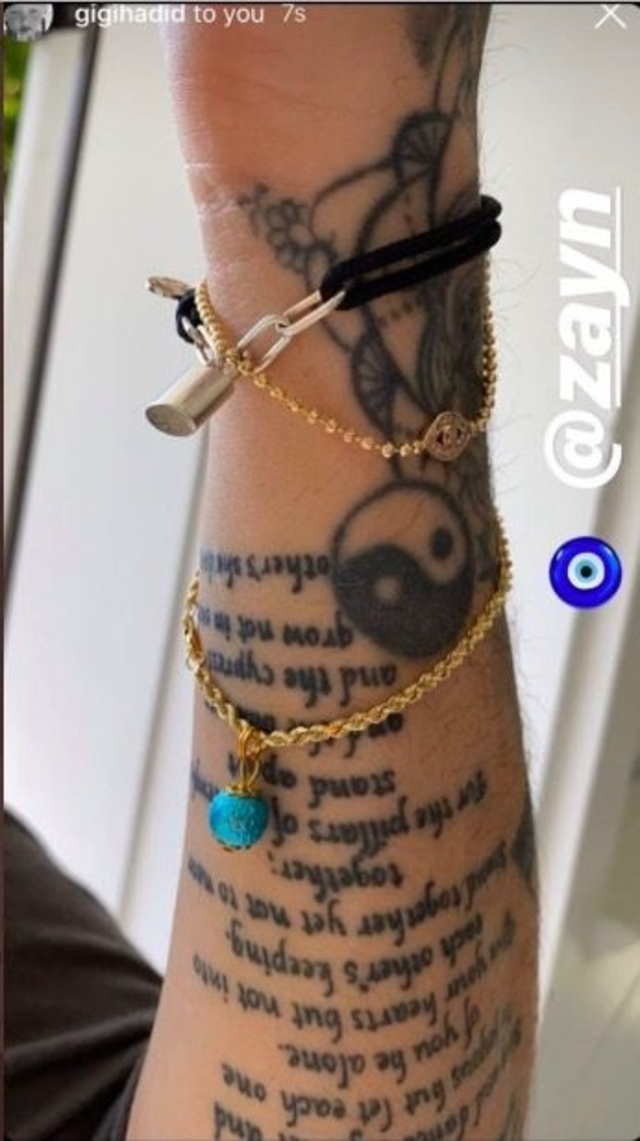 Fans went on to note the poem is a popular choice for readings at weddings, and questioned whether this means the couple are already engaged. "Y'ALL THEY'RE GETTING MARRIED MY ZIGI HEART IS SO HAPPYYYYY!!!!!" one excited fan wrote.
Another added, "Call me crazy, but after seeing Zayn's new tattoo and reading what he's wearing, I've come to the conclusion that he and Gigi might be engaged."
This wouldn't be the first tattoo Zayn has dedicated to Gigi. The singer actually already has the model's eyes tattooed on his chest, which she revealed in January 2018. Maybe he'll get one to confirm the marriage, too?
***
This article originally appeared on Cosmopolitan.com/uk. Minor edits have been made by the Cosmo.ph editors.