Having a crush on Zayn Malik is not hard. For starters, he was A-L-W-A-Y-S the bad boy of One Direction, he started an iconic collection of tattoos way before Harry Styles did, he had THE BEST solos in the group (feel free to fight me on that), and, most importantly, he was often shrouded in a big fat cloud of mystery. Like…posting to Instagram only a handful of times per year? Mysterious as hell!
But you know what else is hella mysterious about Zayn? The fact that no one *truly* knows how he makes his money. Obvi the bulk of it comes from his 1D days and music releases, but aside from that…we don't know too much. And considering the fact that he's about to become a father to Gigi Hadid's baby girl, it's worth digging into!
Here's a lil breakdown of Zayn's $$. Apologies in advance to your empty piggy bank.
ADVERTISMENT - CONTINUE READING BELOW ↓
Let's go back, back to the beginning.
And no, I'm not talking about to the day that Zayn was born. I'm talking about November 8, 2011, aka the now-legendary day that One Direction released its debut album, Up All Night.
The album OUTSOLD. Up All Night topped the charts in 16 countries, sold 4.5 million copies worldwide by 2012, and grossed more than $5 million with the album's corresponding tour. And that was just the start of Zayn's career as a musician!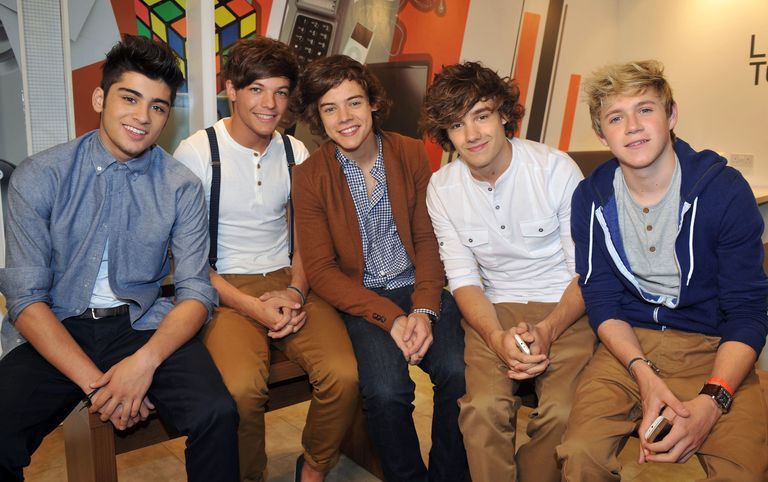 ADVERTISMENT - CONTINUE READING BELOW ↓
Recommended Videos
According to Celebrity Net Worth, the rest of the 2010s were incredibly kind to One Direction (while they were still together). The site reports that between June 2013 and June 2014, One Direction earned $75 million in revenue, and in the subsequent year, that figure grew to $130 million. Oh, and that Where We Are Tour? Yep, that made a whopping $282 million. So yeah, Zayn was making bank.
We can't forget his solo career though.
Zayn broke hearts everywhere when he decided to leave One Direction in 2015, but to his credit, it was a massive power move. The following year, Zayn released his first solo album, Mind Of Mine, and it did stupidly well on the charts. Mind Of Mine secured the number one spot on the United States' Billboard 200 Chart, sold 232,000 copies in its first three weeks of release, and topped daily iTunes charts in more 70 countries. And here's a major flex: With Mind Of Mine, Zayn also became the first British male solo artist to get a number one album with a debut record since George freakin' Michael.
ADVERTISMENT - CONTINUE READING BELOW ↓
Two years later, Zayn released his sophomore effort, Icarus Falls. In the United Kingdom, the album moved only 1,730 copies in the first week of release, and it peaked at 61 on the Billboard 200 Chart. But! On September 10, 2020, Icarus Falls was certified gold by the RIAA, meaning that it sold more than 500,000 copies. An impressive feat!
ADVERTISMENT - CONTINUE READING BELOW ↓
Later that month, on September 25, 2020, Zayn proved he's an artist who just never stops, releasing "Better," the first single from this (then forthcoming) third studio album, Nobody Is Listening. The track was Zayn's first solo release in almost two years and, on January 8, 2021, he followed it up with "Vibez," which served as Nobody Is Listening's second single. The full album dropped just over a week later, on January 15, 2021. The album was met with overall favorable reviews and performed pretty well commercially, peaking at No. 44 on the U.S. Billboard 200 and No. 17 on the U.K. Albums Chart and racking up more than 300 million streams on Spotify. Not. Too. Shabby.
About his home purchases...
Zayn paid $3.1 million for a swanky single-story home in Bel Air back in 2015, and he remodeled it to include a weird space-themed galaxy room. In October 2018, Zayn listed the property for $3.5 million but ended up walking away with $2.94 million after the sale.
ADVERTISMENT - CONTINUE READING BELOW ↓
Believe it or not, that wasn't the only time Zayn took an L with one of his properties! In March 2018, Zayn purchased a Very Expensive™ penthouse in New York's Soho neighborhood for (wait for it!) $10.69 million and listed it for sale in July 2019 for $10.8 million. Zayn's property didn't sell until January 2020, and he made $9.45 million from the sale. WOW.
Zayn is trying to be more low-key now—in May, he purchased a farm in Pennsylvania next to Yolanda Hadid's place, where he and Gigi were reportedly isolating together.
His creative endeavors would like a word.
Did you know that Zayn is super into fashion?? Well, if not, now you do. In October 2016, Zayn was named the creative director of Versus, Versace and released a collection titled Zayn x Versus the following May.
ADVERTISMENT - CONTINUE READING BELOW ↓
In January 2017, Zayn created a capsule collection with the Italian footwear gods at Giuseppe Zanotti. In September 2018, he also codesigned a line of backpacks (which he took some very hot pics with, might I add) with The Kooples.
Reminder: Luxury designer goods don't come cheap, so Zayn likely made a pretty penny off of creating collections with these brands.
ADVERTISMENT - CONTINUE READING BELOW ↓
Sooo, what the heck is his net worth? 
Celebrity Net Worth claims that Zayn is currently clocking in at a cool $75 million (approximately P3,792,037,500), meaning that yes…his and Gigi's, daughter, Khai, will want for nothing.
***
This article originally appeared on Cosmopolitan.com. Minor edits have been made by the Cosmo.ph editors.
EXPLORE COSMO