Mental health problems affect a lot of people. And they don't take in to account how (delete as applicable) rich/ successful/ gorgeous/ famous you are, which means some of our favorite stars suffer too.
Like Willow Smith, for example. Speaking to her mom, Jada Pinkett Smith, and grandmother, Adrienne Banfield-Norrison on the web series Red Table Talk, she explained how she used to self-harm when she was younger.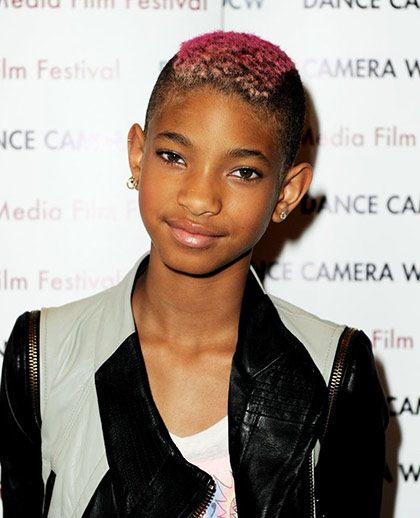 Now 17, Willow said it happened following the release of her song "Whip My Hair," which received widespread exposure when it was released in 2010 when she was just nine. Willow recalled how "after all of that settled down and there was a lull, I was just listening to a lot of dark music and it was just so crazy.
Continue reading below ↓
Recommended Videos
"I was just plunged into this black hole and I was cutting myself," she said. Willow said on the show that she stopped hurting herself five years ago.
But Willow isn't the only celebrity to have opened up about her mental health.
Mariah Carey on having bipolar disorder:

In a recent interview with People magazine, Mariah Carey revealed a 17-year-long battle with bipolar disorder. Describing how she'd tried hard to keep her mental health condition a secret, the singer said: "Until recently I lived in denial and isolation and in constant fear someone would expose me.

"It was too heavy a burden to carry and I simply couldn't do that anymore. I sought and received treatment, I put positive people around me and I got back to doing what I love—writing songs and making music."



Mom-of-two Mariah is now having therapy as well as taking medication for bipolar disorder, which she says seems to be working well for her. "I'm actually taking medication that seems to be pretty good. It's not making me feel too tired or sluggish or anything like that. Finding the proper balance is what is most important," she said.



Liam Payne on putting a brave face on:

Liam spoke to The Sun last year about how being in One Direction impacted his mental health and didn't allow him to work on his problems because he constantly felt like he had to put a happy mask on. During a recent chat, Liam explained that the band canceled a show in 2015 in Belfast after he had split from his then-girlfriend Sophia Smith and Liam admitted that he was struggling to cope.

"I let it get to me that day. I wasn't in a good place. And unfortunately I was going through a rough time and I let it get to me a little bit too much. That was it," he recalled. Liam added that part of the problem was that despite One Direction's success, they never stopped and "celebrated enough how great things were going"—instead they swiftly moved onto the next show.

"I shouldn't have been able to do as many shows as we did, if I'm honest about it, if I'm brutally honest about it," he added. "Going out and putting that happy smile on my face and singing the songs, honestly, sometimes it was like putting on one of those costumes, going out there and, underneath the costume, people don't really see what's going on."

Scarlett Moffatt on her anxiety:

Scarlett opened up recently to The Mirror about the agonising anxiety she's suffered that has, at times, left her unable to eat, sleep, or even leave the house.

She may have been loved nationwide following her winning stint on I'm A Celebrity, but the 27-year-old suffered has crippling panic attacks in recent times, stemming from all sorts of worries.

"Recently my anxiety has been really bad, especially after seeing those acid attacks on the news," she explained. "I'd cry for two hours in the morning, because I had it in my head that people would see the camera and that would make me a target. In my head I was going to be an acid attack victim. It sounds bizarre, because the chances of that happening are so small, but that's how my brain works."

The panic attacks started when she first featured in Channel 4's Gogglebox back in 2014. Describing how she felt, Scarlett said: "I got to the front door and convinced myself something was going to go wrong. I had palpitations and I could feel the blood rushing round my body. It felt almost like I was having an out-of-body experience. Everything seemed to go silent.

"Sometimes I would pass out. I would know if that was happening because I would get tingly fingers, so I would lie down on the floor. It became a daily struggle. I would get to my front door, cry, then go back and try to pump myself up again. Sometimes I got out the door after nine or 10 goes. Sometimes I stayed inside all day."

Demi Lovato on having bipolar disorder:

Speaking to Rolling Stone about her experience with bipolar disorder, Demi spoke about how proud she is to have the condition. "If anything, I'm proud to be bipolar and speak about it. Bipolar is a mood disorder. I deal with mood swings, I deal with episodes of mania, and bipolar-depression phases as well. But I've used my voice to help others, and I feel proud that I've been able to do that," she said.

Zayn on anxiety:

Zayn told UsWeekly that he finds being "straight up" with people about his anxiety, the best way to cope. "Just being honest about everything, explaining what it is that makes you feel uncomfortable, what it is that you're cool with. And making sure that all of that is in order and everyone's got a clear understanding of what that is."

He added: "People now have a better perspective on where I was coming from [in the past] and just an understanding that it wasn't coming from necessarily being ungrateful, shall we say, or not aware of the opportunities that were in front of me, it was just me struggling with being able to actually be there."

Taylor Swift on anxiety:

"I'm always terrified that something's going to happen. And I'm not going to be able to do this anymore and it's all going to end in one day. Part of the fear comes from loving this so much and not wanting to lose it."

Lena Dunham on OCD:

"I have obsessive compulsive disorder and it started manifesting itself when I was three... I have only the vaguest memory of life before fear. [Exercise] helped my anxiety in ways I never dreamed possible."

J.K Rowling on depression:

"It's difficult to describe depression to someone who's never been there because it's not sadness. I know sadness. Sadness is to cry and to feel. But it's that cold absence of feeling—that really hollowed-out feeling."

Emma Stone on panic attacks:

"I was a very, very, very anxious child and I had a lot of panic attacks," Emma said recently on The Late Show with Stephen Colbert, before revealing she had regular therapy as a youngster. And speaking to the Wall Street Journal in 2015, she spoke about her "immobilizing" panic attacks: "The first time I had a panic attack, I was sitting in my friend's house and I thought the house was burning down. I called my mom and she brought me home, and for the next three years it just wouldn't stop."

Jennifer Lawrence on anxiety:

"I just try to acknowledge that the scrutiny is stressful and that anyone would find it stressful. So I've got to try to let it go, and try to be myself, and focus on important things, like picking up dog poop."

Beyonce on depression:

"Now that I was famous, I was afraid I would never find somebody again to love me for me. I was afraid of making new friends. Then one day my mom said: 'Why do you think a person wouldn't love you? Don't you know how smart and sweet and beautiful you are?' That's when I decided I only have two choices: I can give up, or I can go on."

Sia on anxiety:

"I have social anxiety. It's easier being up on stage because there's security in being there. When I'm off stage, I'm trying not to be a manic freak. I'm quite shy."

Lady Gaga on depression and anxiety:

"I learned that my sadness never destroyed what was great about me. You just have to go back to that greatness, find that one little light that's left. I'm lucky I found a glimmer stored away."

Adele on anxiety:

"I have anxiety attacks, constant panicking on stage. My heart feels like it's going to explode because I never feel like I'm going to deliver, ever."

Zoella on panic attacks:

"I'm constantly having a battle with myself. But you do have control over your body. You have to think of the worst case scenario and how that's not going to happen. You're not going to die. You can do this."

Miley Cyrus on depression:

"So many people look at [my depression] as me being ungrateful, but that is not it. I can't help it… There's nothing worse than being fake happy."

Talking about the intense depression she suffered as a teenager, the model turned actress and writer recently told This Morning she "had moments where I didn't want to carry on living.

"The guilt of feeling that way and not being able to tell anyone because I shouldn't feel that way and I shouldn't feel bad," she said.

Cara Delevingne on depression:

Talking about the intense depression she suffered as a teenager, the model-turned-actress and writer recently told This Morning she "had moments where I didn't want to carry on living." 

"The guilt of feeling that way and not being able to tell anyone because I shouldn't feel that way and I shouldn't feel bad," she said.
***
This article originally appeared on Cosmopolitan.com/uk. Minor edits have been made by the Cosmo.ph editors.