You must have heard by now that the Supreme Court issued a temporary restraining order (TRO) that effectively suspended product registrations on contraceptives.
Having a hard time finding your pill at the drug store? Nope, it's not the usual stock out problem. You are feeling the effects of the TRO.
Here's a look back at how we got here: 
In June 2015, the Supreme Court issued a temporary restraining order prohibiting the Department of Health from procuring and distributing the contraceptive implant, Implanon and Implanon XT. 
The TRO was in response to a petition by the conservative group Alliance for the Family Foundation Philippines who claimed that implants cause abortion.
The following year when the Department of Health (DOH) filed a motion to lift the TRO, the Supreme Court expanded the coverage of the TRO. The impact is that product registrations—which function as a license to sell—for all hormonal contraceptives certified by the Food and Drug Authority cannot be renewed; applications for product registrations of new contraceptive brands are put on hold as well.
If the TRO remains in place, there will be a total contraception ban.
Here are some important points:
1. "I don't use birth control and even if I did, I can always buy my pill or whatever at the drug store. I don't depend on the government for my birth control needs."
Continue reading below ↓
Recommended Videos
Everyone will be affected by the Supreme Court TRO because it is causing the gradual phase out of hormonal contraceptives (pills, IUDS, injectables) from the country. Even if you have money to buy birth control, there won't be any available.
And supplies are disappearing fast. The Commission on Population (POPCOM) estimates that by 2020, only condoms, abstinence, and surgical procedures like vasectomy and tubal ligation will be available.
POPCOM estimates that 31% (or about 15 brands) of contraceptive certifications expired as of December 2016.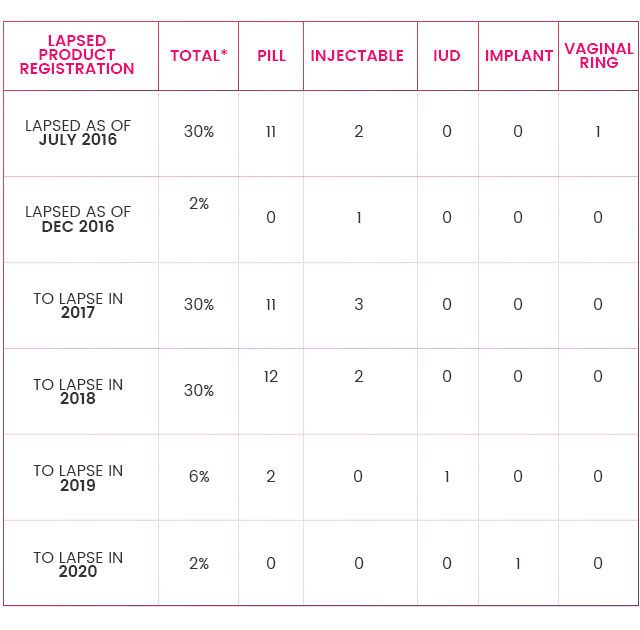 * Allow for minor discrepancies due to rounding. (Source: POPCOM)
2. "The RH Law has been passed already. What more do we want?"
Sure, the Reproductive Health Law was passed way back in 2012. Five years ago. It's actually old enough to warrant a couple of throwback pictures. But guess what? Ever since the RH Law was passed, it's been cockblocked.
It was cockblocked right after it was passed when conservative groups filed a petition before the Supreme Court claiming the law was unconstitutional. In 2014, the Supreme Court upheld its constitutionality.
It was cockblocked again in 2016 when legislators stripped the health department of its $21 million contraceptive budget. The law was essentially defunded, and without funds for implementation, a law is just a piece of paper.
This latest cockblocker, this Supreme Court TRO, is by far the biggest whammy of them all.
The TRO suspends renewal of product registrations of new and existing hormonal contraceptive brands.
The history of the RH Law shows that it was never given the opportunity to fulfill its promise of giving every Filipino an equal chance to plan their family size.
3. "The President already signed an Executive Order supporting the RH Law and calling for its full implementation. All good."
No, not exactly, here's why.
So, yeah, President Rodrigo Duterte's strong support for family planning goes back to his days as Mayor of Davao. He promised to support family planning as president and he made good on that promise when he signed an executive order in January calling for the full implementation of the RH Law.
But since the president and the Supreme Court are equal branches of government, the EO only adds some pressure but it is not be enough to lift the TRO. 
It's great, but it's not enough. Kind of like a limp dick. It's promising, but until it, um, hardens its position, it's not going to make you happy.
4. "It's temporary as in Temporary Restraining Order. Chill."
If it were any other court, a Temporary Restraining Order would be in force only for a certain period of time. But this is the Supreme Court we're talking about—a Temporary Restraining Order issued by them is in force until they decide to lift it.
In its August 2016 decision, the Supreme Court called on the Food and Drug Administration and the Department of Health to meet certain conditions for them to consider lifting the TRO. Some of these conditions are not feasible. For example, the High Court recommended subjecting product registrations of oral contraceptives to a public hearing where anyone and their brother, cousin, and tita could contest its claims.
While it states that this is only for oral contraceptives, the FDA only has one registration process. If the FDA agrees to opening its registration process to a public hearing, it will set a precedent. It will open the floodgates to allow anyone to contest and question the product registration of any medication or health product registered under FDA—even life saving ones for heart disease or maintenance medicines for chronic diseases like diabetes.
Also, certifying a drug is a serious matter. Whether they are registering a new product or renewing an existing one, the FDA screening process takes months. Imagine subjecting that process to a public hearing. It could take years before a drug is registered.
Lastly, given the limited  resources of FDA, addressing cases filed by opposing parties would put a strain on the core functions of FDA as opposing parties may file a case at regional courts.
5. "This is the Supreme Court. They hold forever in their hands."
Just when you stopped believing in Forever, here comes the Supreme Court. The Court of Last Resort. The highest tribunal. The decisions they pen serve as the basis for all other decisions of similar cases.
If they rule in favor of the conservative groups, the buck stops there. There is no other body to appeal to after the Supreme Court.
Their decisions are final.
There is no such thing as forever—unless you're talking about the Supreme Court.
***
Help gather 1 million signatures!
Sign this petition making an appeal to the Supreme Court to lift its TRO. Once you have signed, pass on to at least 10 of your friends when you sign so you can help spread the word.
Use the hashtag #DontTakeAwayMyBirthControl when you post this petition or any articles related to the Supreme Court TRO.
***
Send a letter to the Supreme Court and tell them how this TRO is affecting your life. Email them at pio@sc.judiciary.gov.ph.