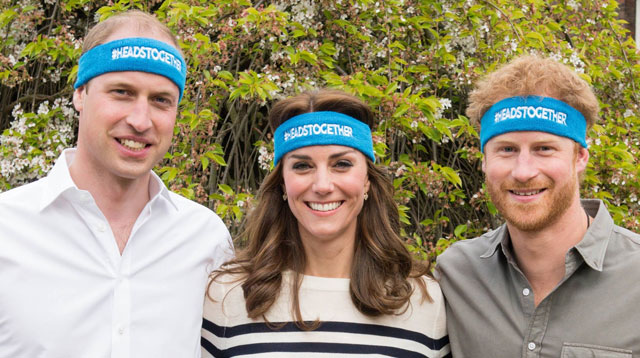 Just in time for Mental Health Awareness month (May 2016), the Duke and Duchess of Cambridge and Prince Harry have spearheaded a new campaign to end the stigma surrounding mental health. The Heads Together campaign is considered the single biggest project the royal couple has undertaken together. It aims to change the conversation on suicide prevention, depression, and mental well-being.
Heads Together was named charity of the year for the 2017 Virgin Money London Marathon. They are working with a team of charity partners to cover a wide range of mental health issues that are close to Prince William, Duchess Kate, and Prince Harry's hearts.
Check out the PSA they recently launched, especially the adorable bloopers at the end:
"Mental health is just as important as physical health," said Duchess Kate. "We can all play our part by talking and listening to each other and helping each other find support," added Prince Harry. "Let's get our heads together and change the conversation on mental health," Prince William said in the closing statement.
In the Philippines, while people are more open about depression and mental health awareness, the stigma still prevails. It's been over a year since the petition for our country's first-ever Mental Health Act was launched, but we have yet to reach ¼ of the goal. We're hoping that the royal couple's initiative will inspire more people to talk openly about depression and support projects that target mental health.
Visit Kate on KateWasHere.com and follow her on Instagram and Twitter.
Recommended Videos