Vaping has gained a lot of popularity over the past few years—maybe it's because people are more conscious of cigarette smoking, or maybe it's simply due to the fact that vape smoke smells a lot better than cigarette smoke. Either way, cigarette sales are continuing to fall as vaping gains more momentum in the market. A particularly trendy e-cigarette that's dominating the said market is JUUL. You've probably seen celebs like Sophie Turner, Bella Hadid, and Dua Lipa photographed with the tiny vape. But what exactly is JUUL? Read on to learn more about the cigarette alternative. 
WARNING: JUUL is for adult smokers seeking an alternative to smoking cigarettes. Remember, smoking is dangerous to your health.
So, what is JUUL?
JUUL is a type of e-cigarette that uses a closed vaporization system to deliver nicotine the same way cigarettes do—minus the tar, carbon monoxide, and other chemicals that are present in combustible tobacco. It heats up the cartridge, or the ~JUUL pod~, to create a vapor that mimics the look, feel, and sensation of smoking.  
ADVERTISMENT - CONTINUE READING BELOW ↓
It was created by Adam Bowen and James Monsees, former cigarette smokers who weren't happy with what cigarettes can do to the body. Together, they started working on design concepts in the mid-2000s and eventually launched JUUL in 2015. 
How is it different from other e-cigarette devices?
A JUUL is a type of e-cigarette. Much like an actual cigarette, the JUUL device is small, compact, and easy to use. It doesn't have any buttons or gauges as a typical vape does, and if you didn't know any better, you'd think it was just a USB flash drive. This design makes it a lot easier for cigarette smokers to switch to JUUL.
According to the American Lung Association, cartridge-based e-cigarettes like JUUL contain nicotine salts that do not produce vapor or visible emissions when the device is used and may make the product even more addictive. To use it, all you would need to do is inhale out of the mouthpiece.  
The JUUL device is also easier to refill compared to a vape. The JUUL pods are disposable cartridges pre-filled with the nicotine e-liquid (and they come in different flavors!). Instead of carefully pouring liquid into a tank as you would with a vape, you can just click the JUUL pod into place and inhale to start smoking. 
Who is JUUL for?
JUUL Labs has one goal: to improve the lives of one billion adult smokers. With that said, JUUL is meant for adults who smoke cigarettes but want to find better and more sustainable alternatives. But because of JUUL's quick and sudden rise in popularity, non-cigarette smokers and minors have started picking up the habit as well. This goes against JUUL's mission and the company has taken steps to spread awareness on nicotine and to limit the access of its product to minors through their retailers' regulations and checks. 
How do you use JUUL?
Charge the JUUL device using the USB charging dock. You'll know it's fully charged when the indicator light turns green.
Take the JUUL pod and remove the colored cap. 
Click the JUUL pod into the JUUL device.
Inhale from the mouthpiece like you would from a combustible cigarette.
ADVERTISMENT - CONTINUE READING BELOW ↓
Does JUUL contain nicotine?
Yes, and you can choose between three percent and five percent nicotine strength. One JUUL pod containing five percent nicotine is equivalent to one pack of cigarettes in both amount of puffs (roughly 200) and nicotine strength. 
Although JUUL is intended to be an alternative to cigarettes, nicotine is still an addictive stimulant that can cause a number of health problems. Nicotine can help you feel relaxed and can even help enhance your focus and performance at work, but once it builds up in your body, you'll start to develop a tolerance to it. This means that if you regularly use nicotine, your brain will adapt to the point where you need the substance to function normally. Meanwhile, when the effects of nicotine begin to wear off, your body will signal you to relieve the feeling of abstinence by smoking more. If you decide to quit smoking, your brain function could become disturbed and you'll experience withdrawal symptoms such as restlessness, irritability, sweating, headaches, and tremors.
ADVERTISMENT - CONTINUE READING BELOW ↓
Other than its effects on the brain, nicotine can also negatively affect different parts of your body. Nicotine use has been linked to cardiovascular, respiratory, and gastrointestinal disorders, and it can compromise your immune system and reproductive health. 
So while JUUL does contain nicotine, it's important to remember that it was created as a tool for smokers to reduce or eliminate their addiction. It's important to remember, though, that electronic cigarettes are just as addictive as traditional ones.
According to Johns Hopkins Medicine, many e-cigarette users could get even more nicotine than they would from a tobacco product. There are extra-strength cartridges available with a higher concentration of nicotine, and you can even increase an e-cigarette's voltage to get a bigger hit. A study has also shown that e-cigarette use did not increase quit rates; it was even associated with a higher risk of continuing to smoke. 
How much does JUUL cost in the Philippines?
One Device Kit (which includes one JUUL device and one charging dock) comes at the suggested retail price of P1,600. You can also buy just the charging dock for P500. 
ADVERTISMENT - CONTINUE READING BELOW ↓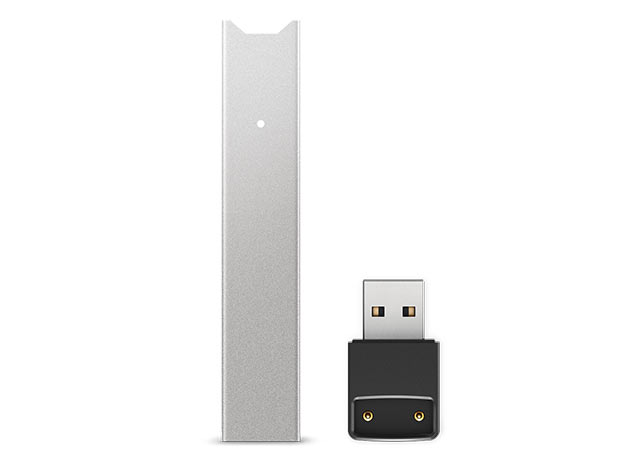 JUUL pod refills are P350, with two refill pods in each pack. The JUUL pods are available in four flavors: Virginia Tobacco, Mango, Mint, and Creme.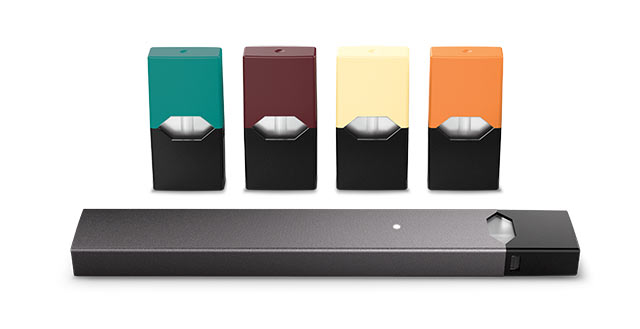 ADVERTISMENT - CONTINUE READING BELOW ↓
Where is JUUL located in the Philippines?
JUUL products are available at FUMA, Lighters Galore, and other select vape stores. They're also available in Ministop, Robinsons Supermarket, Shell Select, and 7-Eleven stores. You can also find JUUL kiosks in major malls like Bonifacio High Street, Robinsons Galleria, Glorietta, SM North Edsa, Robinsons Magnolia, and Ayala Malls.
Follow Chab on Instagram.