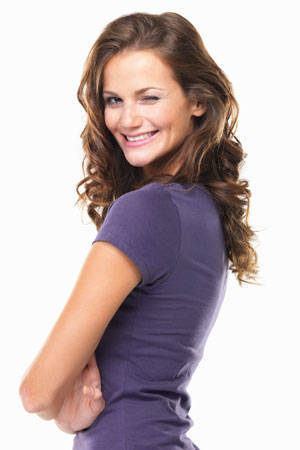 1. Watch what you eat. If you want to don that little black number on your next nightout, be more mindful of your diet. This means stocking up on fruits and veggies and saying goodbye to soda and junk foods. Important: Concentrate on getting enough protein and fiber, and reduce your intake of carbs.

2. Stay hydrated. Consider water as your new best friend. Not only will it help burn fat faster and make you feel full quickly, it will also keep your skin supple! Try this: Alternate drinking water of different temperature (hot, lukewarm, and cold) throughout the day. Doing so will burn fats 50 percent faster.

3. Sweat it out. Jog, dance, do yoga—choose whatever you fancy! What's important is you burn fats regularly so you can easily score your dream bod. Need a boost? Ask your BFF to be your workout buddy. Gym time can double as bonding time, too!

4. Go ahead—pamper yourself. So what if indulging in a luxe spa session is a little pricey? You deserve it! Opt for a full-body massage, get a facial or French manicure, and you're guaranteed to feel sooo good about yourself after.  

5. Think: To be sexy is to be healthy. Quit nasty habits (smoking anyone?) and keep in mind the value of being healthy 24/7. Remember: being sexy starts by leading a healthy lifestyle.



6. Be confident…Attitude is everything. Trust us: Believe that you're hot and everything else will follow. Once you exude such enviable confidence, you will carry yourself with posh and grace, and everyone will just stare at you in wide amazement. This is why we can't get enough of celebs—they're just oozing with appeal and confidence! Follow their lead.

7. Stay fresh. Sexy confidence starts with taking good care of oneself, so make sure you're clean and fresh even in your intimate area. Use a feminine wash that understands your need to be confident and sexy from day to night. Your best bet is pH Care Feminine Wash that now comes in a sexy bottle, so you can stay fresh and sexy all the way to the last drop.
Continue reading below ↓
Recommended Videos