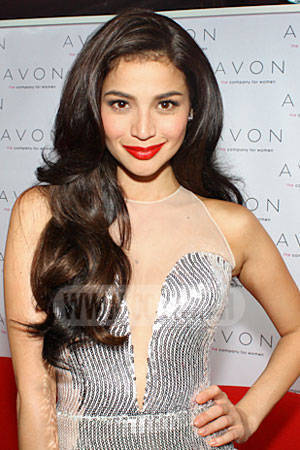 Ever wonder how six-time Cosmo cover girl Anne Curtis achieves her perfect pout? We got the beauty secret straight from the Superstar herself when we met up with her at the Avon Color and Shine Party held in a luxurious glass Avon Tent at Fort Bonifacio, where she was introduced as the newest face of Avon Color.

Anne found her perfect match in Avon's new lipstick line, Avon Shine Attract. Available in 10 Asian-friendly shades, it is the world's first lipstick to have a glossy, moisturizing outer gel and a rich, vibrant core of color. As Anne mentioned at last year's Fun, Fearless Female Awards night, she has always wanted to have a lipstick line of her own, and now Avon has allowed her to get closer to that goal by becoming the official endorser of their unique product.

Read on to find out more about Anne's history with the brand, her lip care beauty secrets, and her fitness tips, too!

How did you get involved with Avon?

I was offered to join the league of beautiful women representing Avon, and when I found out it was for their lipstick line, it was an instant go!

You know, I even had plans of creating my own lipstick line, but I put that on hold muna because why would I turn down an offer endorsing and being the ambassadress for lipstick? Especially since it's for a lipstick that I know I will be able to use. I was so happy when I found out about the Shine Attract lipstick line, the colors and how it works--it's something you can wear every day.

Were you a fan of Avon products before?

Yes! I started to collect Avon more than 10 years ago because the teen line was uso before! I think the casing was like a pastel green and pink, and every month my mom would allow me [to order] one from the catalogue. That was my first introduction to lipstick.

Which of the Shine Attract shades is your favorite?

Of course, Passionate Red! But I also like Happy Pink, or for something lighter, I just mix the both of them.

Why is red your signature lipstick shade? What do you like about it?

I like it 'cause it's classic. It gives you that old-school look. You can wear it in the morning and still look ready for TV even if your hair is still wet (Laughs). If you're wearing lipstick, you can get away with it.

What's your daily lip care routine?

I make sure to buff my lips. I don't know if you can get it here, but I use a lip care set from Bliss. You put the cleanser on your lips for about 15 seconds then you just wipe it off with a warm towel, then it has a lip scrub to buff off all the dry skin, and then it has a moisturizer for the nighttime.

Moving on to body care, what are your tips for busy working girls who want to be healthier?

Go to the gym. I find yoga more relaxing, though. Also, I've tried Juju cleanse for three days, not to lose weight but really just to cleanse. It's more like a jumpstart to a healthy diet. With my schedule right now, I'm not really able to exercise that much, but even a 15-minute run, if you can fit it in, really helps a lot. I think the fastest way to lose weight is by running.

What is your motivation for keeping fit?

When I started working out for No Other Woman, my "thinspiration" was Jessica Alba. I knew I had to be fit for that movie because of the bikini scenes and everything. After that, I just enjoyed working out and I knew how to keep a proper diet. You know, [it's okay] even if you gain a few extra pounds, just as long as you know what you have to do to maintain a healthy body.


Launch the gallery to see photos of Anne at the Avon Color and Shine Party!
ADVERTISMENT - CONTINUE READING BELOW ↓
2020