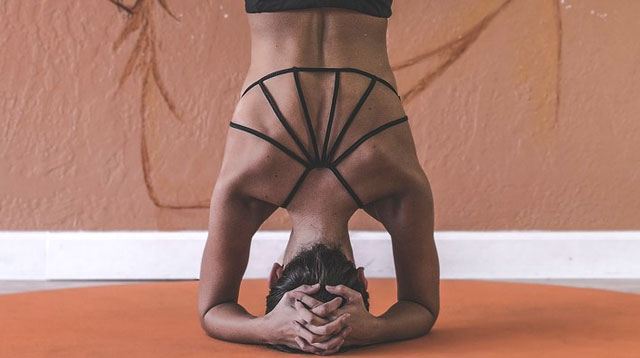 There's a growing number of alternative yoga classes in the US. While these may raise the eyebrows of traditional yoginis, a lot of students swear by them. Which one of these do you think should be brought to Manila, CGs?
1. Harry Potter Yoga
Certified yoga instructor Isabel Beltran enlisted the help of her Potterhead sister, Ximena Larkin, to come up with pop-up magical classes that infuse yoga, beer, and Harry Potter. It's held at Austin-based brewery Circle Brewing Co. Every student gets a wand to use while doing poses renamed after Harry Potter elements, like Whomping Willow (tree pose), cat and cow transfigurations, some Slytherin cobra poses, and wand-wielding backbends to summon a Patronus. As students relax under their invisibility cloaks (Okay fine, they're just yoga blankets), the yoga instructor reads lines from Harry Potter books. After Namaste, you're free to drink beer and check out the Hogwarts installations such as the Mandrake garden.
2. Naked Yoga
Bold & Naked, the first coed naked yoga studio in New York City, started a few years ago. According to founders Joschi Schwarz and Monika Werner, "practicing yoga naked frees you from negative feelings about your body and allows you to be more accepting of your physical imperfections." Hey, at least you won't be peer-pressured into buying expensive Lululemon gear to look cool while doing a headstand. Just a warning to those with a dirty mind: "If you are looking for an orgasm, you are in the wrong place," their website states. 
3. Hip-Hop Yoga
It started with Namasdrake, a one-hour Vinyasa Flow class set to an all-Drake playlist. When this class became a hit in mid-2016, collaborators T.J. Petracca (DJ/event promoter) and Paul Schneider (DJ/yoga instructor) decided to expand their selection to include Namasye, a Kanye-themed yoga class, and Namasbey, which is—you guessed it—Beyoncé-themed. A live DJ spins the tracks of the featured artist at Resident, a hybrid bar, beer garden, and nightclub in Los Angeles, California, while a yoga instructor guides you throughout the class. After shavasana, you're invited to buy "namasdranks."
4. Rock 'N' Roll Yoga
If hip-hop isn't your thing, Chicago's Yoga View offers rock music to help you perfect your poses and find your center. Yoga instructor Sara Strother teaches classes with Led Zeppelin, The Beatles, and Pink Floyd as her soundtrack, while instructor Vinnie Marino teaches a signature flow class with a classic rock soundtrack. They even encourage their students to get into the music by head-banging and playing air-guitar.
5. Doga
If mommy yoga encourages moms to bring their babies to class, then who's to stop dog lovers from taking their four-pawed buddies to join them in downward dog? Doga actually started way back in 2001 when New York-based yoga instructor Suzi Teitelman's Cocker Spaniel named Coali started taking over her yoga mat. Fast-forward to 2016 and Suzi continues to teach one-on-one yoga classes to help owners and their dogs practice yoga harmoniously together. There's a growing number of yoga studios that offer group Doga classes, but it's not that easy. It takes proper bonding with your dog, a lot of patience, occasional treats to lure the dog, and proper coaching from a certified doga instructor.
6. Paddleboard Yoga
If you're looking for something more challenging, try doing yoga poses while balancing on a stand-up paddleboard (SUP). According to NamasteSUP, paddleboard yoga "can enhance an individual's yoga practice, because unlike a mat the board responds to the movement of the yoga practitioner." Combining the benefits of yoga and SUP, you'll get increased stability, flexibility, and core strength. Just be open to getting drenched if you lose your balance.
Visit Kate on KateWasHere.com and follow her on  Instagram and Twitter.
Recommended Videos