Do these scenarios sound familiar?
#1: You go to the gym and immediately pick the corner treadmill. You drape your towel over the machine's screen, so no one judges you for having an incline of 0 and a speed level of 4. 
#2: You pick the back row at spinning class, happy that nobody notices you, because all the ab-baring students in their cute little sports bras are in front. 
#3: At yoga: You obsess over the front girl's foot hitting your face. So much for emptying your mind. Ommm.
#4: Your arms are shaking like crazy while holding your plank position. And it's JUST BEEN 15 seconds. 
We've all had a similar experience—dealing with our inner thoughts that constantly doubt what our bodies are capable of. So, Nike Women came up with this video to show us that hey, it's OK to have your doubts. But carry on, because you will be #BetterForIt. Watch!
Cosmo.ph attended the Nike Digital Media Conference on March 10, where I got to meet Nike Southeast Asia Brand Director Bulbul Khera. When I asked her how the brand is helping non-athletic girls (like myself!) to be more empowered and health-conscious, she said that it starts with fundamentally inspiring women. "This is how I would explain to my team: 'Jump!' But why would I jump, right? There's an emotion connected to it, and that's very important to us. It's very easy for people who already do sports to say, 'I can do more.' But it's more challenging when somebody's not moving. So our objective is to take them out of their comfort zone—and that comfort zone would just be sitting and doing nothing, right?"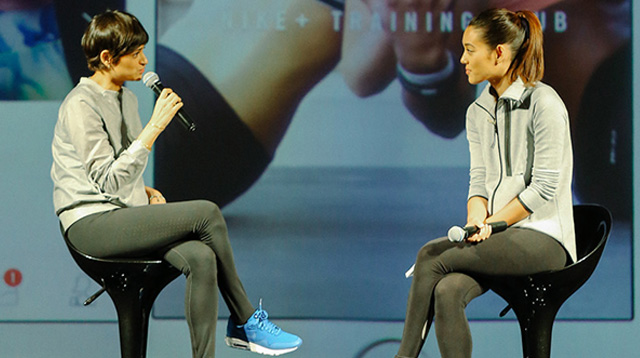 Nike Southeast Asia Brand Director Bulbul Khera with host Kim Jones at the Nike Digital Media Conference on March 10, 2015.

Continue reading below ↓
Recommended Videos
To inspire women to get out of their comfort zone, Nike turns to its roster of elite athletes featured in the Nike Training Club app. Of course, there's also the Spring 2015 collection; nothing motivates more than brand-new workout clothes, right? "Sometimes, you see this cool shoe, and you say, 'I want to wear it, and I want to go for a run, although I've never run in my life. Maybe I can bring my buddy and see how she can help me,'" explained Bulbul.
Speaking of runs, you can join Nike Women's 10k Manila on May 9! What's great about it is you need to have a running buddy to register (That way, you'll have all the motivation you need to train for the race!). The event will be in Filinvest, Alabang, with 10,000 slots available.

Once you register via this link for P1,800/pair, you'll gain access to elite Nike Run Club training sessions in the weeks leading up to the event. For instance, race registrants get free access to a variety of fitness classes such as yoga, Pilates, barre, HIIT and an exclusive NTC Live (Nike Training Club Live) event on April 25 at Valkyrie.  
For those who aren't into races, I have this to say: Don't set a crazy goal for yourself, but DO set goals. It doesn't have to be a 10k race—but it can be a 1k run. It can be as simple as getting up early to spend 20 minutes on the treadmill, or taking the stairs instead of the elevator. Do it, even though every muscle in your body says otherwise. Listen to Bulbul who said, "You know what? If you take your first step—you'd be surprised that you can take a hundred steps [after]." 
You'll be #BetterForIt, Cosmo girls!
Follow Jillian on Instagram.
RELATED:
These Clothes Make Us Want To Exercise, Like Right Now
Boyfriends, This Is What The Nike Air Max 90 Looks Like Now
EXPLORE COSMO