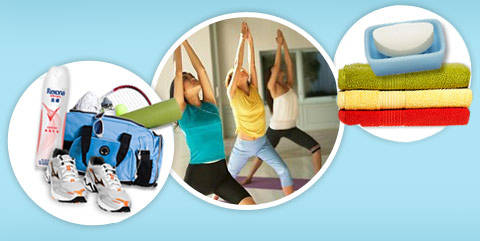 Always make sure you have the essentials in your bag. Don't leave your towel at home, too, as this will surely be handy. And never, ever forget to use deodorant after taking a bath!


It's that time of the year again when bikinis, shorts, and summer dresses take center stage in your closet. But the question is: Do you have the confidence to flaunt your body? We're willing to bet that your physique wasn't a priority these past few months, so we're going to remind you about a little thing called "working out."
Take control and head to the gym. If you easily get bored with the usual treadmill, try group exercises like dancing or boxing. You can also enroll in yoga classes or gather your barkada for fun runs and a game of Frisbee.


Gear up right. Wear the right kind of clothes for maximum comfort during workouts. Also select shoes that will give you ample support and cushioning. And do take a bath and use deodorant before you start working out--you can't smell yourself, but others can, so better be safe than sorry! You wouldn't want to turn off the potential summer fling on the treadmill beside you. Try Rexona deo spray--it's convenient to use plus it dries instantly upon application! It also leaves a cooling, refreshing feeling on the underarm skin, so you can feel fresh and confident all day long.


Don't forget to stretch and warm up beforehand to avoid cramps. Maintain good posture as you stretch and be careful not to pull your muscles.


Gradually increase your intensity. Aim for more reps or faster speeds. Here's an easy way to check your intensity level: If you can talk, but not sing during your workout, then you're doing all right. If you have to take a breath after every word, you may be overworking yourself.


As you finish a session, lower the intensity of your workout and wait for your heart to return to its normal pace. Cool down by walking it off. This will help you avoid muscle stiffness.


Stretch, stretch, stretch. Your body will thank you for it.


Use the steam room or sauna to relax and soothe tired muscles.


And last but not least, don't forget to take a bath after a sweaty hour at the gym. Sweating doesn't stop when your workout ends, so use Rexona deo spray to keep your underarms dry and fresh throughout the day!


Continue reading below ↓
Recommended Videos
You have no excuse not to be in tip-top shape this season. It's time you ditch those unwanted pounds and show off your summer-lovin' figure!