ICYMI, the first leg of the #CosmoMoveIt series was held at the Ride Revolution studio on Saturday, April 2, where Cosmo Girls like you got to try spinning for the first time. Check out these sweaty sparkly faces post-ride! S.O. to our ride instructor, Lexi Gancayco!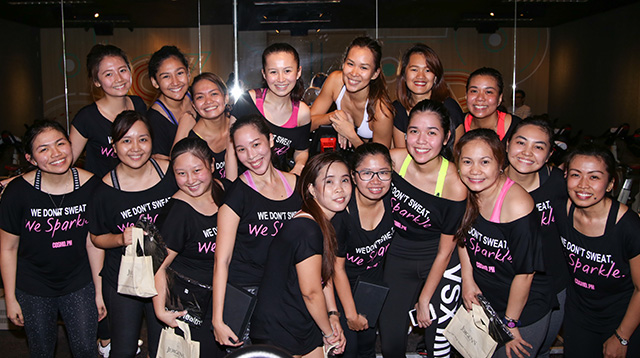 For the second and final part of the workout series on April 21 at the BGC Ampitheater, we're flexing our dance muscles to give BODYJAM and hiphop a shot. The first class will be BODYJAM, followed by HIP HOP. Let's just say it's gonna be one big dance cardio workout party on Thursday!
Continue reading below ↓
Recommended Videos
P.S. If you're wondering what BODYJAM is all about, here are 10 things to expect during the event:
1. According to Gandalf Archer-Mills, Les Mills BODYJAM Program Director, "BODYJAM is the ultimate combination of music, culture, street appeal, and dance, all thrown together into one euphoric dance class." 
2. You DON'T HAVE TO BE A DANCER. It's designed so everyone who tries it for the first time will enjoy!
3. It's for all music lovers. The songs played during the dance workout will be across ALL music genres. So if you like pop, hiphop, EDM, or house, you will have an amazing time, guaranteed.
4. Expect huge movements, done with speed. It's cardio on steroids!
5. You'll learn dance combinations and do them repeatedly. You'll have an entire routine before you know it!
6. If you find yourself struggling, dontchaworry! It'll be over in like 5 minutes and you'll start another move soon after. 
7. You WON'T be put on the spot. The instructor's not going to point at you and say, "It's now YOUR turn!" No presh. BODYJAM doesn't discriminate, so people won't care if you have two left feet, or you're slaying it like Beyonce. 
8. Bring along a dance buddy to make it twice as fun! P.S. We've prepared outfit suggestions here!
9. Come in the right shoes. You don't want to end up with blisters from breaking all your hot dance moves!
10. BODYJAM is available as a 55-, 45-, or 30-minute workout. The one on April 21 will take 45 minutes.
Watch this video to check out what's in store for you!
There ain't any better way to de-stress than to let it loose and dance like no one's watching. See you on the 21st!  
***
Follow Jillian on Instagram.
Special thanks to our sponsors, Belo and Jergens, for making this event possible.