Have you ever imagined what you'll do when a famous K-pop idol notices you? Would you be able to look at them in the eyes? Or even speak to them? We doubt that we'd be able to act normally in front of them.
We've thought about all the Pinoy celebrities who had the chance to interact with some *really* famous Korean celebs this year. Perhaps we can try to take some notes from their interactions—while whispering "sana all," of course.
Here's a list of Korean and Filipino celebrity interactions in 2023: 
1. Niana Guerrero and BTS' Jungkook
Filipino content creator Niana Guerrero must've done something right in her past life for a member of a global K-pop group to follow her on social media. Yes, BTS' Jungkook is now following her on TikTok! 
ICYDK, Niana is the sister of another content creator Ranz Kyle and they've been making content together since 2017. The two went viral for their dance cover of Ed Sheeran's Shape of You. Later on, they began to produce their individual content—resulting in Niana's individual TikTok account, which has 40 million followers as of writing.
ADVERTISMENT - CONTINUE READING BELOW ↓
Niana has been going viral for her dance covers and collaborations with various international and local celebrities. On August 1, Niana shared the moment Jungkook liked her dance cover of the idol's digital single Seven together with younger sister Natalia Guerrero. 
Days after, Niana took to Twitter to express her shock when it appeared that Jungkook became one of her followers!
2. Andrea Brillantes and BLACKPINK's Rosé
2023's not yet over but Andrea Brillantes and BLACKPINK's Rosé have already interacted twice. The first time was during BLACKPINK's Manila leg for their world tour Born Pink.
During that time, Andrea attended the concert with her now ex-boyfriend Ricci Rivero. The young actress went viral for her Star Magic prom-posal to Ricci as Rosé read Andrea's card saying "I just wanna ask Ricci Rivero, will you go to prom with Andrea?" Of course, Ricci said yes.
ADVERTISMENT - CONTINUE READING BELOW ↓
Months later, Rosé went live on Instagram and noticed Andrea's comments. Andrea commented, "MY FAVE MEMORY WAS WHEN YOU NOTICED ME FOR MY PROMPOSAL HAHAHAHAHAHA." The K-pop idol then remembered Andrea's prom-posal and said that they had never done anything like that before.
Andrea told Rosé through her live comments that she and Ricci had broken up, to which Rosé responded with, "I'll pretend I didn't see that."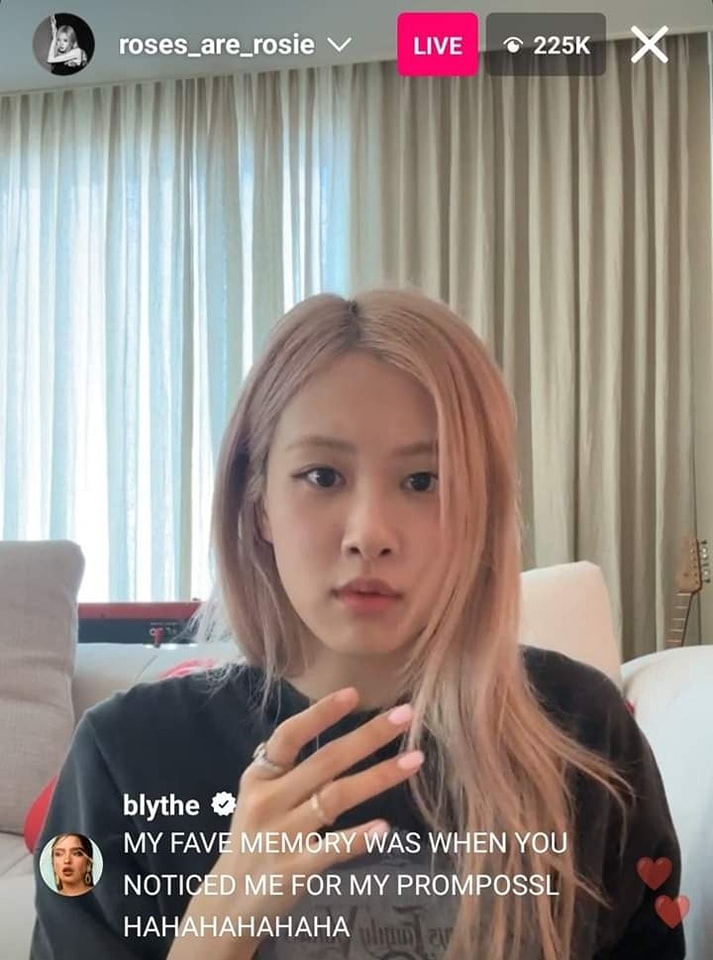 ADVERTISMENT - CONTINUE READING BELOW ↓
3. Lola Amour and ENHYPEN's Jay
So, this might not be a direct interaction, but it's proof that the "Raining in Manila" fever reached South Korea. "Raining in Manila" is a song by the Filipino indie band Lola Amour. The song gained popularity for its easy-to-follow lyrics and its melody.
ENHYPEN's Jay played "Raining in Manila" during one of his WeVerse live sessions. Lola Amour took to Twitter to share how much they appreciated Jay for choosing to play their song.
ADVERTISMENT - CONTINUE READING BELOW ↓
4. Kristel Fulgar and Seo In Guk
We all know Kristel Fulgar as one of the luckiest fangirls to ever exist. This 2023, Kristel continues her blooming fangirl life as she met her ultimate bias among Korean actors, Seo In Guk. 
View this post on Instagram
In Guk had his first-ever Manila fan meeting on August 2023 and it was initially announced that Kristel would be hosting the event. But due to "unforeseen circumstances," Kristel had to step down as the host.
Nonetheless, Kristel still had a good time with her idol as she shared fun snaps of them together via her Instagram account.
View this post on Instagram
5. Liza Soberano, James Reid and Ji Chang Wook
We all know that Liza Soberano and James Reid are both going international with their careers. But we never expected them to meet one of our favorite K-drama actors, Ji Chang Wook. 
View this post on Instagram
The three met at a fashion event in Singapore, ICYDK. Liza uploaded her photo with Chang Wook—and yes, they look gorgeous together! The photo of James with the Korean actor was uploaded on Careless Music Manila's official Facebook page.
ADVERTISMENT - CONTINUE READING BELOW ↓
6. Liza Soberano and Jeon Somi
Yup, here's another one from Liza Soberano. It looks like she has a newfound bestie in K-pop solo artist Jeon Somi. Liza posted snaps of her recent Seoul trip on Instagram, and included a photo of her and Somi in a sweet BFF kind of pose.
ADVERTISMENT - CONTINUE READING BELOW ↓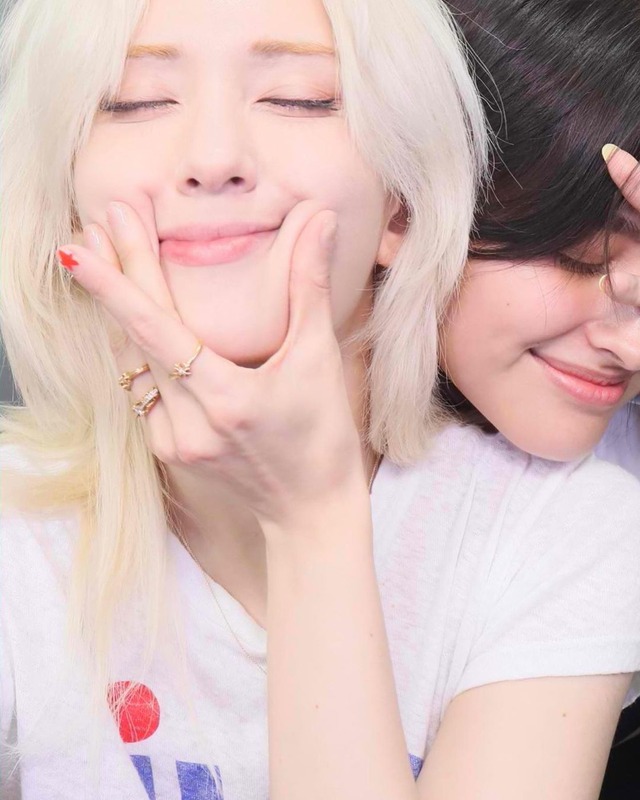 7. Bela Padilla and Song Joong Ki
The universe gave Bela Padilla a once-in-a-lifetime experience as she met one of the ultimate K-drama actors, Song Joong Ki, by chance!
Bela unexpectedly met Joong Ki while she was in France for the Cannes Film Festival not for work but to learn more about the film industry. She thought she was only there to appreciate the film industry, but fate had other plans for her. Her visit to Cannes also brought her the chance to see her fave Korean actor up close.
ADVERTISMENT - CONTINUE READING BELOW ↓
In her Instagram post, the actress described Joong Ki as "chill and friendly." Bela and Joong Ki's photo made everyone so jealous—it's the ultimate "sana all" moment!
View this post on Instagram
8. Brian Puspos and BTS' Jungkook
It looks like BTS' Jungkook loves to interact with Filipino dancers this year. Renowned Filipino-American choreographer Brian Puspos performed with Jungkook on stage!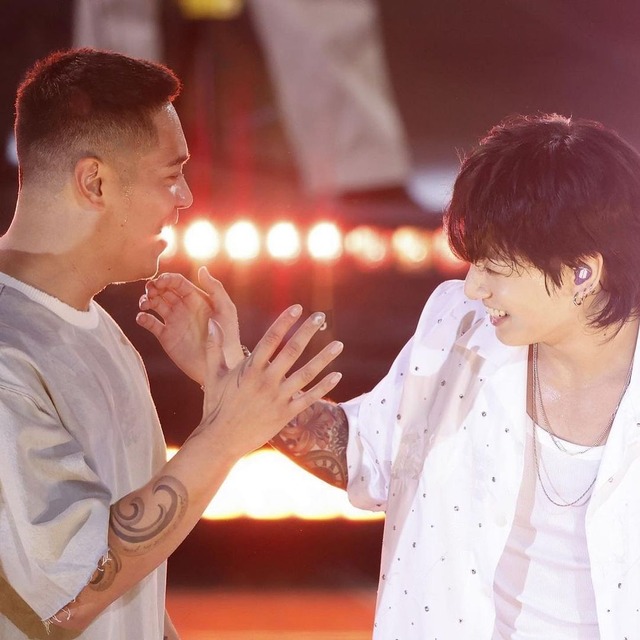 ADVERTISMENT - CONTINUE READING BELOW ↓
Jungkook performed his single Seven during a concert series in the U.S. and one of the dancers who joined him onstage was Brian. The Fil-Am dancer and choreographer shared on Instagram how happy he was about their performance.
View this post on Instagram
Brian was also part of Jungkook's Seven dance practice video on YouTube! Watch their performance here:
9. Niana Guerrero and TREASURE's Jihoon and Yoshi
Yes, Niana Guerrero appears on the list again—this time, she got to collab in person with TREASURE! This 2023, K-pop boy group had their Manila concert for the Hello world tour.
Niana danced to TREASURE's song "Hello" together with members Jihoon and Yoshi. The content creator uploaded their collab video via TikTok with the caption, "aahhhhh such a vibe!! lets go #HELLOChallenge with Jihoon and Yoshi."
10. Kim Chiu and TREASURE's Jihoon, Asahi, and Jaehyuk
So here's Kim Chiu getting all *kilig* because of her "Darari" dance challenge with none other than TREASURE's Jihoon, Asahi, and Jaehyuk.
ADVERTISMENT - CONTINUE READING BELOW ↓
Kim revealed that she is a big fan of TREASURE (the fandom are called Treasure Makers, FYI), and was starstruck when she got to meet them. She even had a YouTube interview with TREASURE!