You might have met Ahn Bo Hyun in Netflix's My Name where he stars alongside Han So Hee, or perhaps you've loved him from Yumi's Cells. Recently, Bo Hyun starred in a fantasy rom-com drama titled See You In My 19th Life. He played the role of Mun Seo Ha, the love interest of Shin Hye Sun's character, Ban Ji Eum.  
Here are 13 interesting facts about See You In My 19th Life star Ahn Bo Hyun:
1. Bo Hyun is a former boxer!
Yes, he was a professional boxer since middle school. His toned physique may have been the result of his history as an athlete. And it's pretty obvious that his physique contribute a lot to his acting roles in shows like My Name. ICYDK, Bo Hyun graduated from Busan Sport High School. 
Although this happened after his acting debut in 2004, we've actually found a boxing video of Bo Hyun in 2016:
ADVERTISMENT - CONTINUE READING BELOW ↓
2. He decided to give modelling a try, despite being a remarkable athlete.
Bo Hyun got inspired to become a model—and later on an actor—despite having a successful run as a boxer. In a past interview, he revealed that he actually won gold during his short stint as a boxer. Still, he proceeded to pursue a career in the entertainment industry.
View this post on Instagram
3. Bo Hyun had his acting breakthrough thanks to Itaewon Class.
ICYDK, Bo Hyun starred in Itaewon Class alongside Park Seo Joon. He was actually the antagonist in the drama, yet he definitely left a lasting impression thanks to his intense acting skills. The drama let Bo Hyun make a name for himself in the K-drama world.
View this post on Instagram
4. He is a Taurus from Busan.
Bo Hyun is a Busan native and a Taurus! He was born on May 16, 1988.
View this post on Instagram
5. This Bo Hyun can sing!
Bo Hyun has a knack for singing. It's not usually highlighted in his recent works, since he's been starring in action and rom-com dramas as of the moment. But in a Knowing Bros episode in 2020, he showed a different side of himself as he revealed his lovely voice! Here's the video of Bo Hyun singing:
6. Bo Hyun currently lives in apartment—and it's his first apartment ever.
Back in 2020, Bo Hyun's new home was featured in an episode of the variety show I Live Alone. Bo Hyun said that it was his first apartment ever, and it was also his first time to live in an apartment—all thanks to his success as an actor. Bo Hyun revealed that it took three days for him and his friends to finish his apartment's wallpaper design!
7. He is an adorable son!
After finishing Itaewon Class, one of his representative dramas, a whirlwind of projects came rushing to Bo Hyun—one of which were offers to guest on variety shows. We all love variety shows, right? It's where our fave celebrities get up close and personal, and also show us their "real selves," not their onscreen personas. 
For Bo Hyun, we're picking I Live Alone as our fave variety show where he showcased his most endearing and adorable side. He shared precious moments with his mother as they went on a special date. They wore couple outfits, took a lot of photos together, enjoyed biking around Seoul, and Bo Hyun even gave his mom a touching handwritten letter!
ADVERTISMENT - CONTINUE READING BELOW ↓
8. He worked multiple jobs to make ends meet.
In an episode of Knowing Bros, the model-actor opened up about a part of his life where he had to work as a construction worker, a food court staff, a newspaper delivery boy and a gasoline station attendant.
He also revealed that even after appearing in 2016's Descendants of the Sun —which was a very popular drama at the time and a hit series until now—he still had to do other jobs aside from acting to support himself.
9. He was in Descendants of the Sun!
Yes, as we mentioned earlier he appeared in DOTS. He was one of Song Joong Ki's co-soldiers in the drama. Bo Hyun even posted a selfie with Joong Ki and Jin Goo on his Instagram!
View this post on Instagram
10. EXO's Sehun is actually close with Bo Hyun.
This might come across as a surprise to some, but EXO's Oh Sehun is actually another idol-turned-actor! Bo Hyun and Sehun worked together on a movie, Dokgo Rewind. During his I Live Alone episode in 2020, the two also went camping together, and even tried making a dalgona coffee! Remember when that was a thing? LOL.
ADVERTISMENT - CONTINUE READING BELOW ↓
View this post on Instagram
11. Ahn Bo Hyun and Kim Woo Bin's friendship goes way back.
After finishing high school, Bo Hyun went on to train as a model. During his modeling years, he met Kim Woo Bin. In a 2018 interview, Bo Hyun shared that Woo Bin is one of the most important persons in his acting career, as the latter became a major source of inspiration for him.
"We graduated from the same modeling school. We're one year apart, and before we met as actors, I even borrowed his clothes once for a school event. When I was in the army, he was the only one that came to visit me," Bo Hyun said.
12. Bo Hyun has a habit of using meaningful cellphone accessories!
This actor actually has a cute habit, and his fans were the ones to notice it first! Bo Hyun always uses a cellphone pop socket or design that matches either the characters or the theme of the drama he is currently filming.
ADVERTISMENT - CONTINUE READING BELOW ↓
For example, in his mirror selfie during the filming of his action drama, Military Doberman, Bo Hyun had a doberman pop socket! And he did the same thing for Netflix's My Name.
View this post on Instagram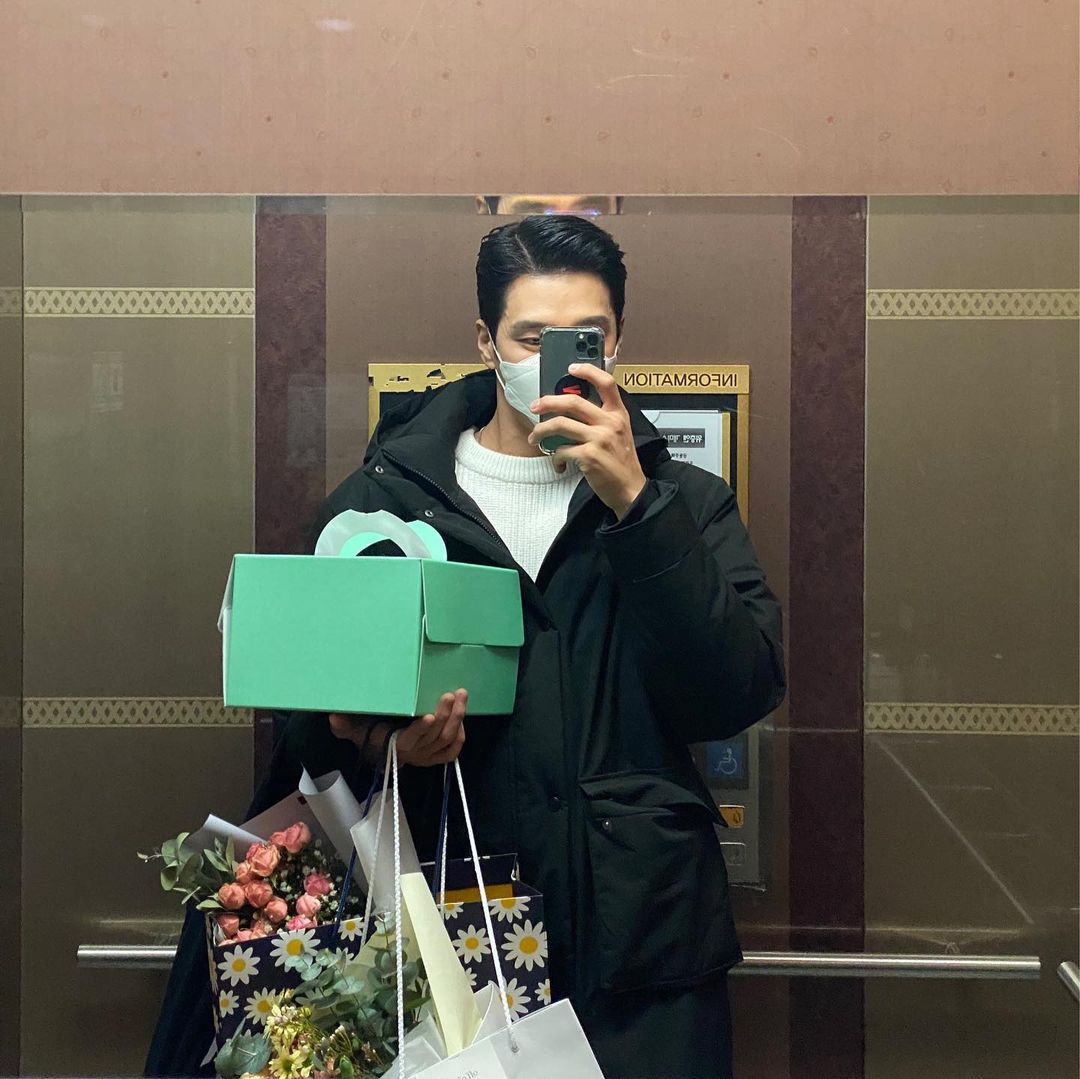 13. Bo Hyun is dating BLACKPINK's Jisoo. 
BLACKPINK's Jisoo and Bo Hyun's relationship was exclusively revealed by Dispatch Korea. Both Jisoo's agency, YG Entertainment, and Bo Hyun's company, FN Entertainment, confirmed the news. Their dating relationship appears to be the first publicly confirmed by YG Entertainment, among all the dating news concerning Jisoo's fellow BLACKPINK members Jennie, Rosé, and Lisa.
ADVERTISMENT - CONTINUE READING BELOW ↓
View this post on Instagram
As of the moment, Bo Hyun is positively considering some drama offers, but nothing has been confirmed. We look forward to Bo Hyun's future works!