Need some new inspiration to try on a new style? Park Min Young, who plays the role of Choi Sang Eun in Love In Contract, got your back! From comfy sweaters to stylish dresses, she gave us endless ideas about what to wear on ~various occasions in our lives.~
Here are some fashion items worn by Park Min Young in Love In Contract that are closet must-haves:
1. The Miu Miu pink set
With her sophisticated personality, Min Young definitely looked like a pro in her work when she wore this Barbie-pink Miu Miu single-breasted tweed jacket and tweed A-Line mini skirt during the first scene when she was having dinner with Go Kyung Pyo, who portrayed Jung Ji Ho. She matched this refreshing set with a pair of black stiletto heels as she headed out from her husband's unit, which added a whole formal vibe to the look. What can we say? You can never go wrong with a pair of black heels. This outfit is perfect for your everyday office wear!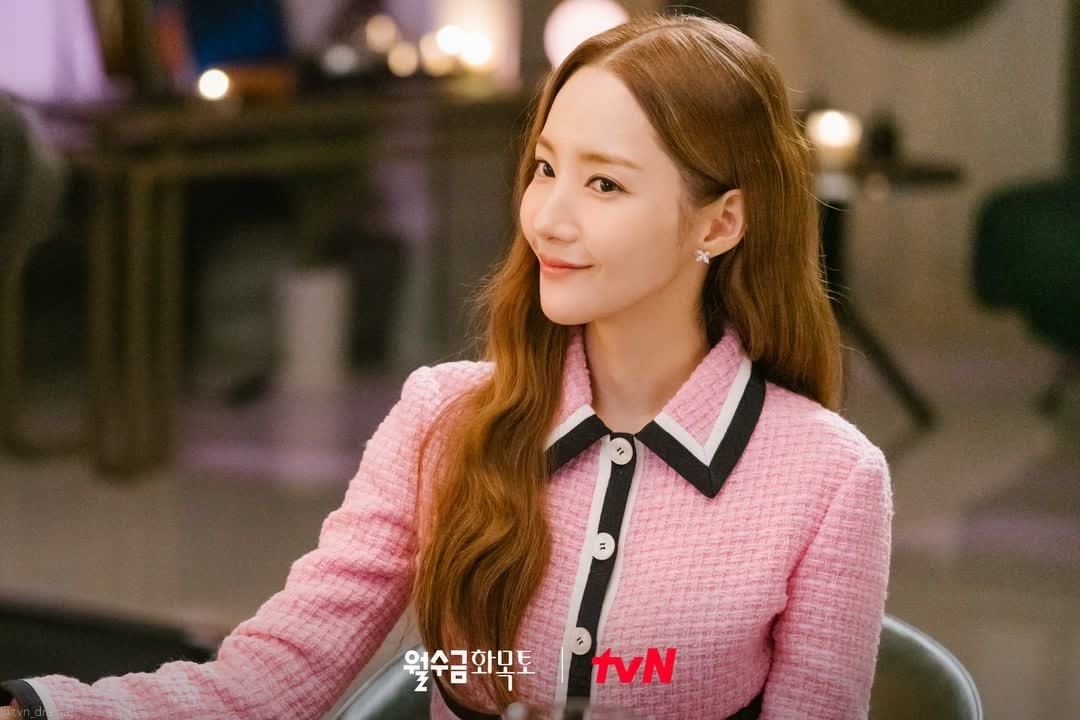 ADVERTISMENT - CONTINUE READING BELOW ↓
2. The SPORTMAX off-white esploso short dress
Don't you love the times when the weather is just right—not too hot that we feel on our skin the scorching heat of the sun, or not too cold that we feel our body freeze and the hairs on our skin stand up? This cozy sleeveless cotton-blend short dress is surely the go-to outfit for that kind of humidity! The knit-in white plus the graphic cherry design in red and green makes the style give off a more comfortable feeling and the rib knit hem embraces Min Young's body shape marvelously. What's even more convincing for you to try on this dress is you can pair it with heels to pull off a bit of a classy style or just sneakers if you're going for a more casual look.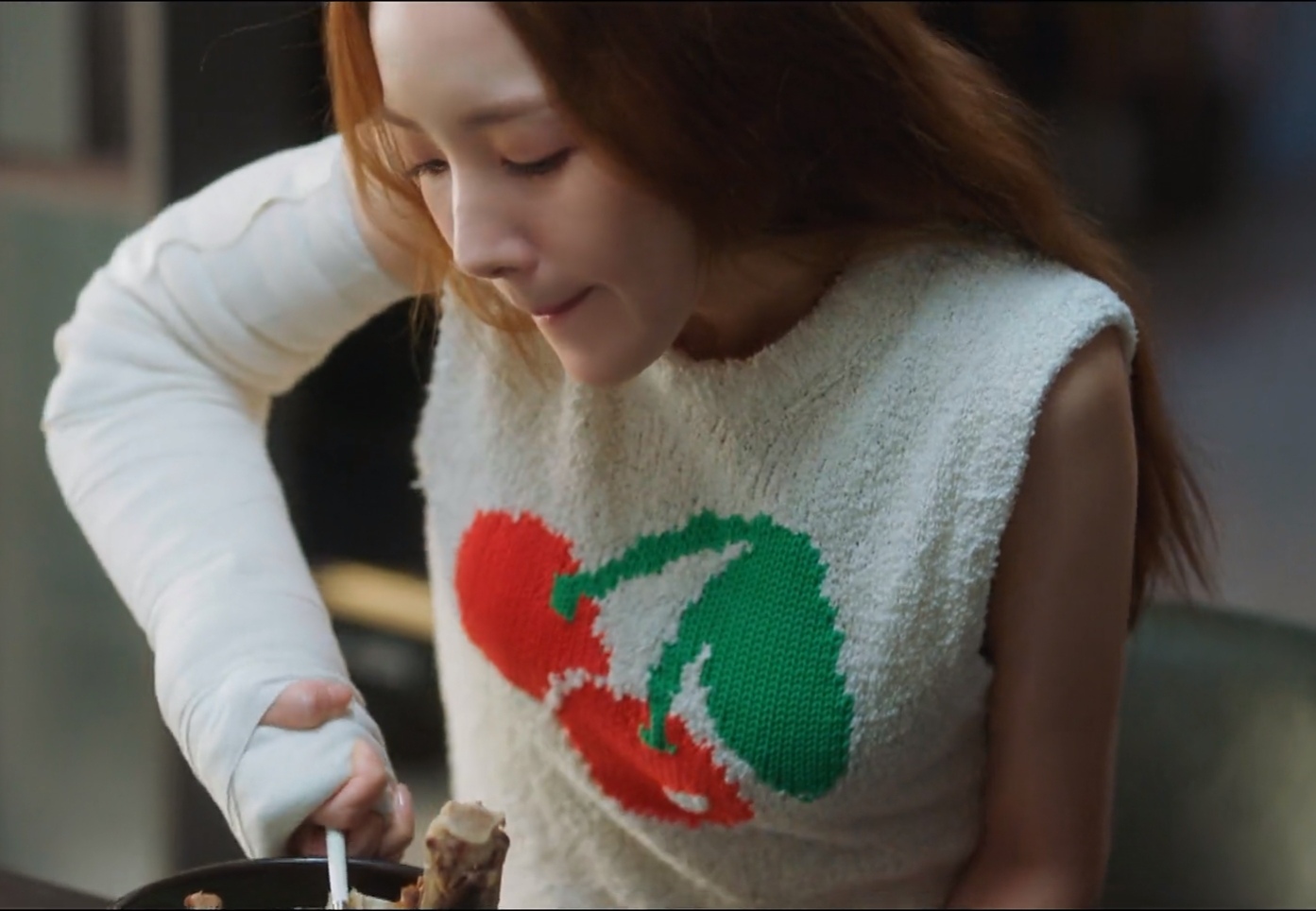 3. The Balmain striped piqued dress
Another perfect for office wear is this striped piqued dress that purely fitted Min Young's build. In the drama, she shopped for J.ESTINA's black Della shoulder bag and other bags from the same brand. The Della black shoulder bag is definitely a must-have for you can use it with whatever look you're in the mood for, be it a formal day or just a casual meetup with friends and it will surely fit all of your needed belongings when going out! She also added HEI's Lilies earrings to her style which fit both casual and formal outfits. This whole ensemble is just what you need when you're aiming for that elegant feminine mood.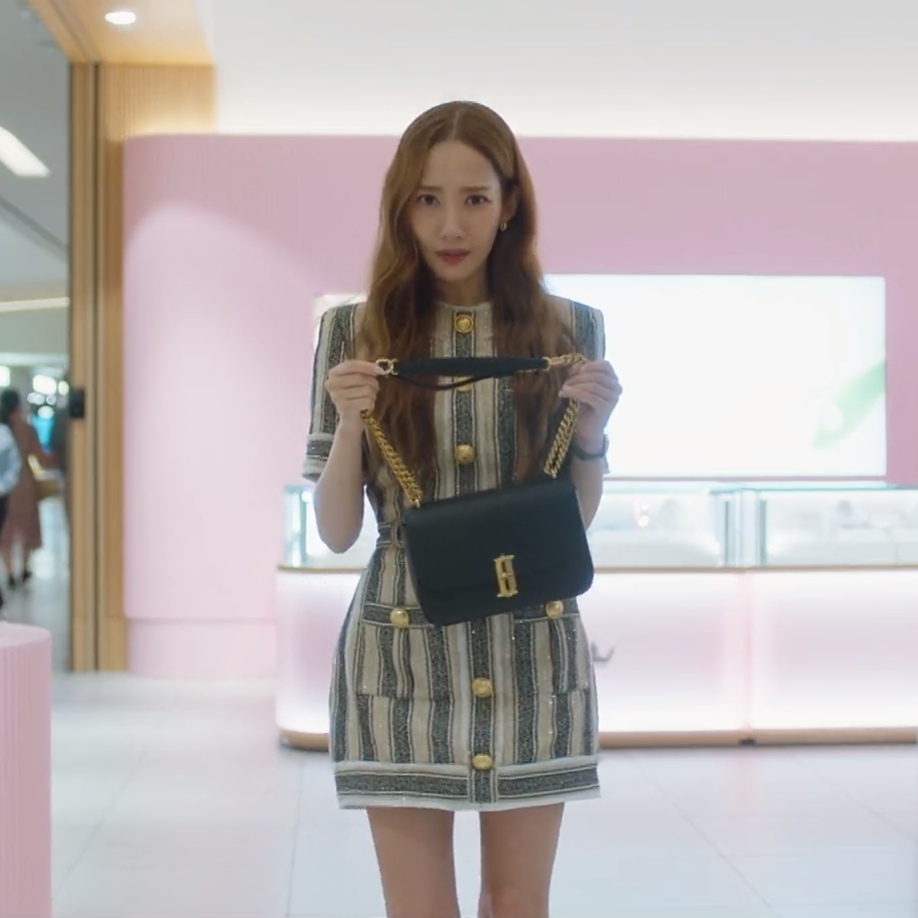 4. The ALAIA set
Going for an adorable and comfy statement? This summer-perfect attire is just what you need on a weekend hang out with your friends! Min Young served such youthful energy when she showed up in this outfit. This knitted cap sleeve check crop top and check flared skirt will definitely give you a vibrant glow complementing the warm rays of the sun when you have that Instagram-worthy photoshoot with your besties (which is hindi na mawawala in every gala!).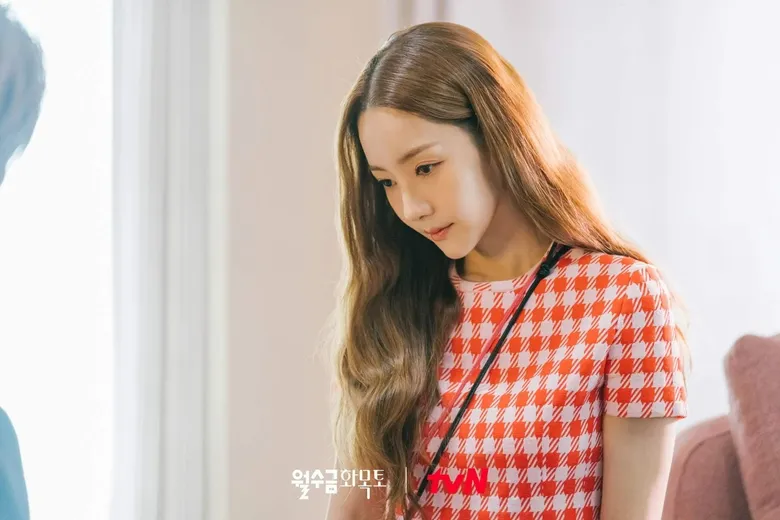 ADVERTISMENT - CONTINUE READING BELOW ↓
5. The Balmain sequin-embellished tweed dress
It is pretty obvious that Min Young can pull off any dress she wears, and it is evident in this next outfit. The chic vibe she gives with this sequin-embellished tweed mini dress is truly one of the top favorites. With its gold-tone buttons that complement the dress's texture and are covered with glistening sequins, this short-sleeved piece is truly what you can wear on a date with a famous celebrity like Kang Hae Jin (Kim Jae Young)! And of course, to hide your identity, a pair of square sunglasses would be the best finishing touch to complete your attire.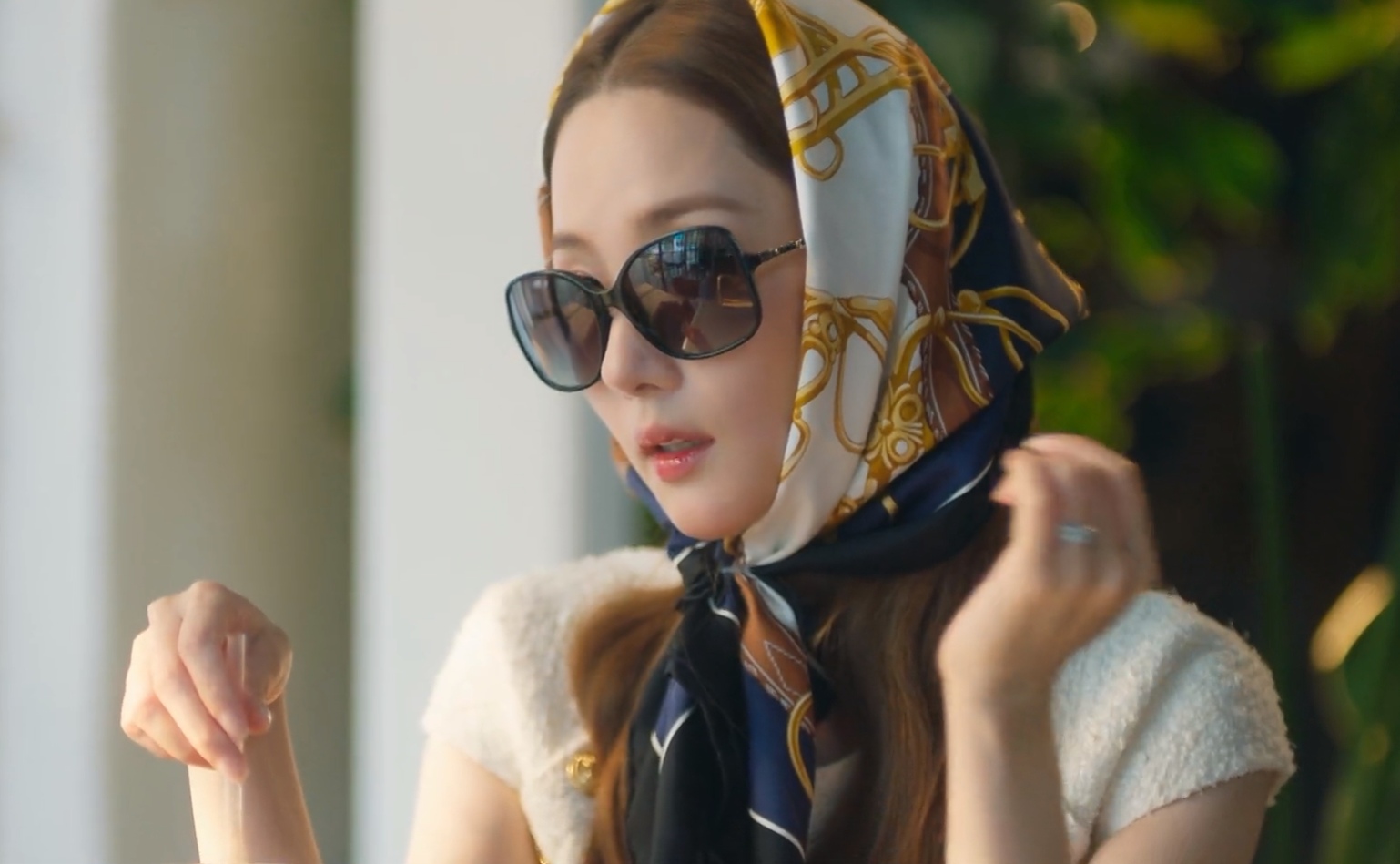 6. The cute sweater plus leather-heeled shoes
Let us take a bit of a break from all the elegant formal wear. Min Young also showed us that she can rock a cute outfit with this red comfy sweater and navy blue skirt elevated by a polished pair of Escarpins Babies leather block high-heeled shoes from Musier Paris with high socks. This style gives off a carefree energy as also shown in the drama when Min Young and Kyung Pyo went shopping for their housewarming party with Kyung Pyo's co-workers. If you're a student, this look can also serve as your inspo for your university OOTDs!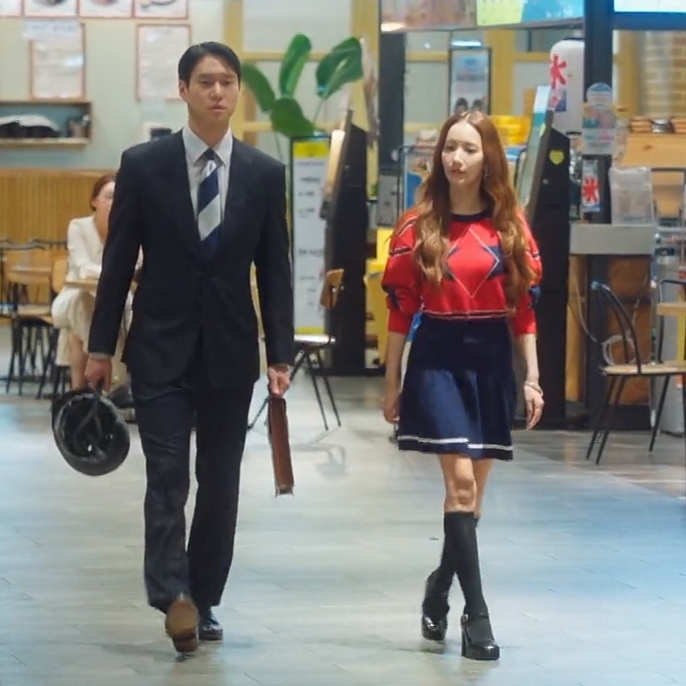 7. The forest green Self-Portrait ribbed mini dress
Min Young looked absolutely breathtaking when she showed up wearing this forest green lace-detailed ribbed mini dress from Self-Portrait. The long sleeves and lace detailing on the cuffs and bodice added elegance to the style, and the sweetheart's neck was perfect to show off her complexion. Stiletto heels would be very fitting for this concept as well. She brilliantly added her POMELLATO Iconica Rose Gold Diamond Huggie Hoop Earrings to her outfit and voilà—a classic and luxurious look is made! Maybe if Jung Ji Ho (Kyung Pyo) wasn't clouded in his thoughts during that time, his jaw would have dropped at how gorgeous Choi Sang Eun looked.
ADVERTISMENT - CONTINUE READING BELOW ↓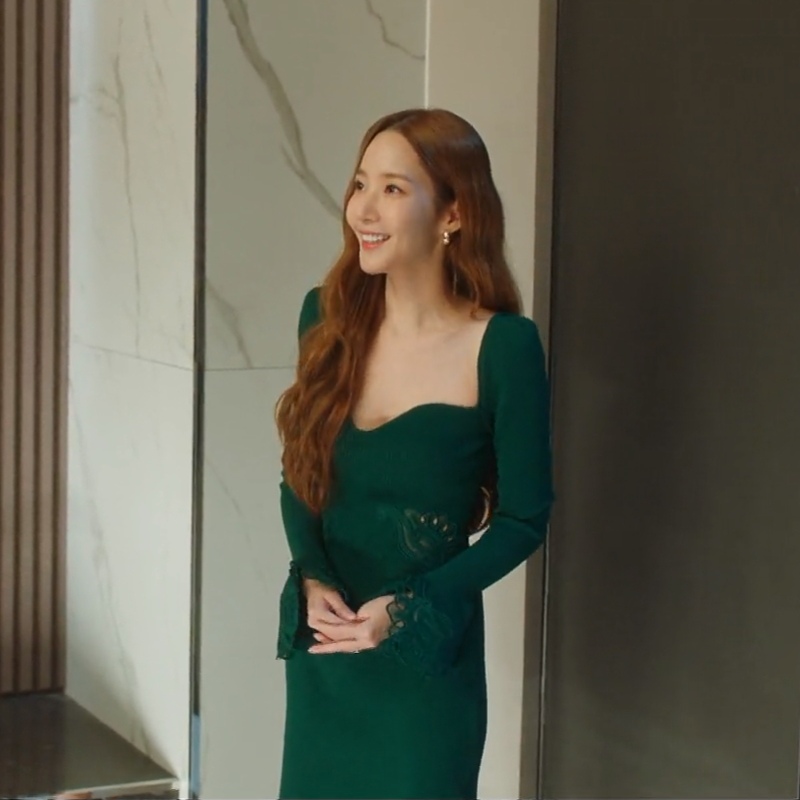 8. The matching chain-cropped jacket and chain-trim mini skirt plus crystal-embellished pumps
The first focus on one scene in episode eight started off with showing the sparkling pointed-toe French Bows crystal-embellished kitten-heel pumps from Valentino that Park Min Young was wearing as she was doing her work in a café, before the camera moved upwards revealing what she was wearing. She was making the whole place ~shimmer~ with her chain-cropped jacket and its matching chain-trim mini skirt from Alice + Olivia. This combination is truly a favorite and a perfect inspo if you're going for a glimmering style for the day.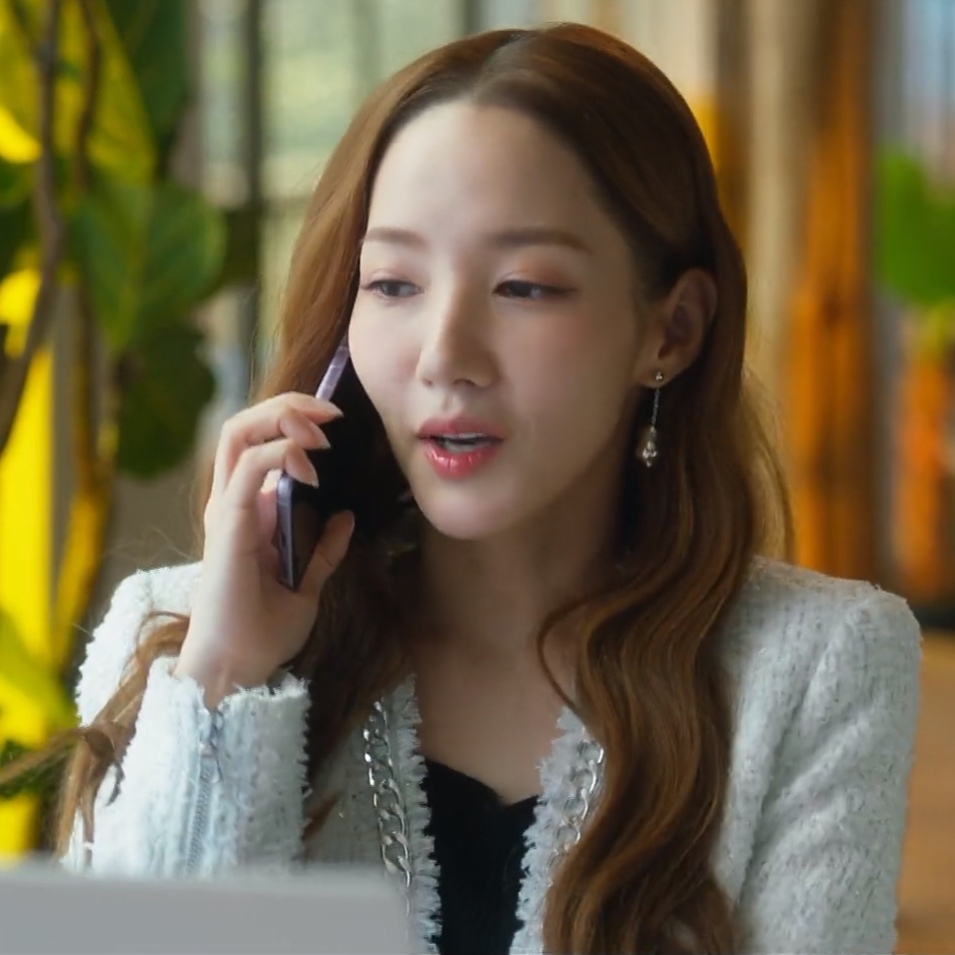 9. The pink monogram dress
Got a simple-looking dress but want to upgrade that into a glamorous one? Min Young has formulated a perfect balance between not giving so much simplicity and not so much elegance in this next stylish outfit. She paired a Givenchy pink monogram short dress with an ivory alpaca knit bolero from INSTANTFUNK and added the daisy earrings from Damiani. To make the style complete, she used this cute candy pink micro Bon Bon tote bag and wore the playful yet elegant pointed-toe pair of Saeda glitter pumps which were both from Jimmy Choo.
ADVERTISMENT - CONTINUE READING BELOW ↓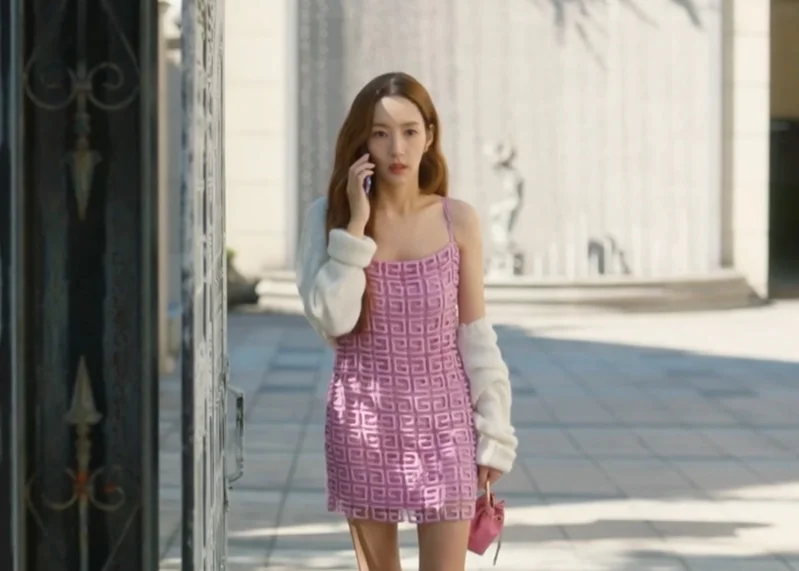 10. The Postcard shirt mini dress
Another personal favorite is this Postcard shirt mini dress from ZIMMERMAN as seen in episode 10. What is to love about this dress is definitely the artwork on the silk-linen organza, which is the masterpiece of James Northfield. The sophisticated details are also very much pleasing to the eye, with its flared hem and waist-cinching belt. Min Young effortlessly carried the look by also adding the matching New Heart necklace and earrings from Ellepeut which gave off a cute touch to the whole combination of her style. A perfect variable to finish the mood of the outfit is the white-heeled sandals from Maison Margiela.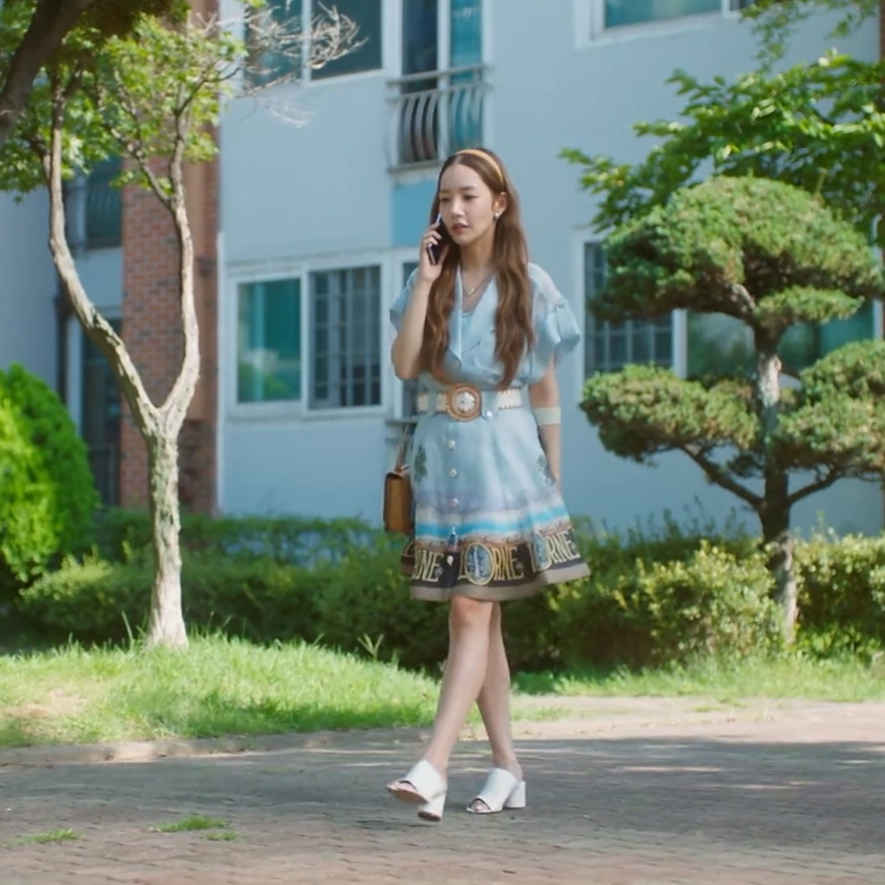 11. The blue ribbed ruffle-trimmed cardigan and emerald frayed hem knit skirt
To finish off the list, we're going with this outfit that is really in a class by itself. Just seeing the combination of colors picked for this ensemble showed the harmony of blue- and emerald-colored outfits. Min Young handled the cute and comfy vibe of this look very well, and this is the perfect wear for convenient and relaxed activities like shopping or going on a coffee date!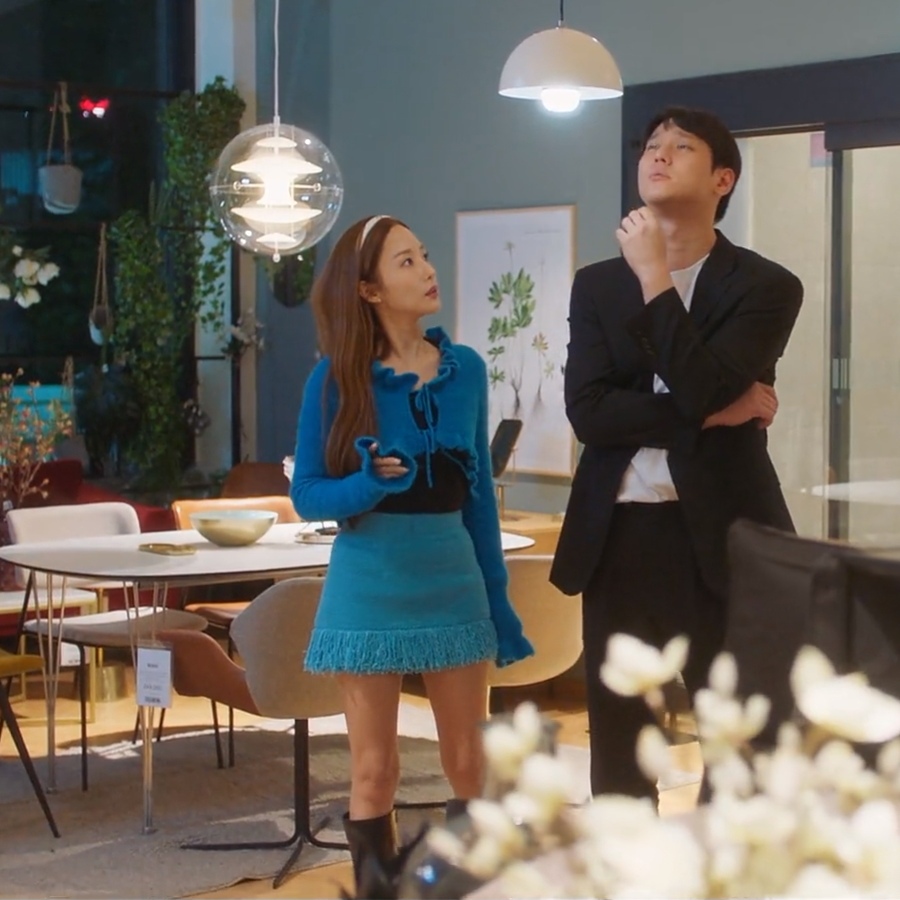 MORE K-FASHION STORIES HERE:
ADVERTISMENT - CONTINUE READING BELOW ↓
7 Korean Streetwear Brands That Your Favorite Celebrities Love
IT'Z Here! We're *Obsessed* With The ITZY x CHARLES & KEITH Capsule Collection