You never forget your firsts. These moments, deeply etched in our core memories, hold a unique place in our hearts, much like the Seo In Guk fan meeting last August 12, 2023 at the New Frontier Theatre. For many Heartriders (the name of Seo In Guk's fanclub), it was a night full of firsts, and a night I want to relive again and again.
Come with me and let's revisit the six unforgettable highlights of the Fallen For Seo In Guk fan meeting:
1. When we learned that Manila is the first stop of his first-ever Asian fan meeting
In Guk's choice to launch his fan meeting in Manila was motivated by his recognition of the fervent support of his Filipino Heartriders. "Since they really love me for who I am and for the performances that I do, I feel the need to meet them and make a memorable experience with them," In Guk said during an exclusive talk time with the media prior to the fan meeting.
ADVERTISMENT - CONTINUE READING BELOW ↓
2. When his fan meeting also became a mini-concert
The event also diverged into a full-fledged mini concert experience, with In Guk serenading the Manila crowd with a total of 10 songs. No wonder this fan meeting is considered as the longest in recent history!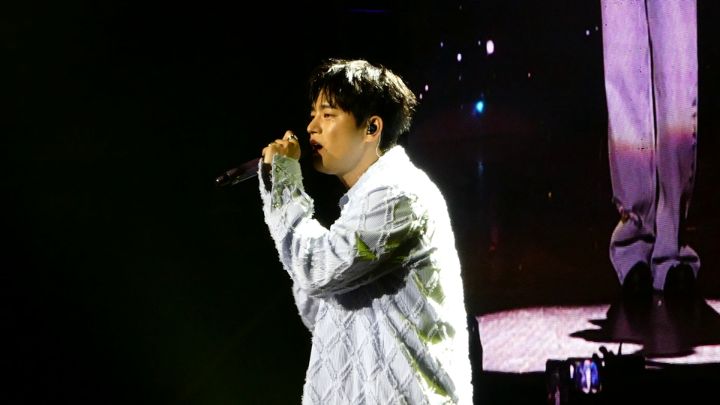 He opened his Manila show with "My Love," which is the title track from his 2022 single album, Love&Love. He also sang "I Like You," one of the OSTs from his recent dramas, Cafe Minamdang. The setlist included further Seo In Guk bops such as "Tease Me," "Shake It Up," "BeBe," "I Love You," and "My Baby U."
When the fans surprised In Guk with a video letter, they used "Seasons of the Heart" as the background music. In Guk, being the angel that he is, sang along and treated everyone with an impromptu performance of the song he composed, wrote, and released in 2016.
3. When he surprised us by singing Yeng Constantino's "Ikaw"
In Guk surprised the crowd when he serenaded the audience with the popular Filipino love song. After singing the song, In Guk confessed to being super nervous about performing the song that it reminded him of his audition for Superstar K. Just like then, In Guk definitely nailed this performance.
ADVERTISMENT - CONTINUE READING BELOW ↓
4. When he sang "All For You"
In Guk's portrayal of Yoon Yoon Jae in the iconic series Reply 1997 endeared him to countless fans, myself included. So when the fans finally got to hear In Guk singing "All For You" live, it was one of those surreal, unforgettable moments that we will forever replay in our hearts and minds. And while Jung Eun Ji (who played his partner in the series) wasn't there to sing the duet with In Guk, the fans more than made up for her part—which made In Guk go, "Wow!"
ADVERTISMENT - CONTINUE READING BELOW ↓
5. When he showed how much he cares for his fans
Like when he chose to stand rather than sit during talk time so fans could see him clearly; or when he asked, "kumusta kayo, mga bebe ko?"; or when he unabashedly opened his arms wide open to give hugs to lucky fans who got to play games with him; or when he peppered everyone with flying kisses. All these gestures endeared him even further to his devoted supporters.
6. When he promised to comeback with a new drama in December
It's been a hot minute since Cafe Minamdang, so fans were happy to know that his upcoming drama, Death's Game, is coming out soon! In Guk also shared that for now, his focus is on the drama and in releasing an album again. Being a director is also something he aspires for, but it's a role he wants to grow into, step by step without pressure.
ADVERTISMENT - CONTINUE READING BELOW ↓
There was also a time during the fan meeting that he got to look back at his career of 14 years, and what his goals are now. "I want to be a singer and an actor that is loved by his fans for a long period of time," In Guk said. "Up to the point that my teeth have fallen out," he added in jest.
Seo In Guk is indeed a man of many talents and magnetic charisma. This fan meeting may have taken a while to happen, but every Heartrider knew by heart that it had been worth the wait. And if this Manila stop is any indication, supporters from around the world will surely continue to rally behind In Guk's artistic journey, embracing his endeavors from start to finish.