Who doesn't ~love~ a webtoon-turned-drama? You finally get to see in action the panels that played like a movie you have directed, and the characters you have visualized in your mind come to life. A new adaptation we love is Weak  Hero Class 1! The show is based on the popular webtoon series Weak Hero written by Seo Pae Seu and illustrated by Kim Jin Seok. With Baeksang Arts Award-worthy acting skills, the actors have really put on so much effort to portray their characters well. They aren't new in the K-drama world which just showed how much they've learned and grown from their previous projects. With that…
Here are the Weak Hero Class 1 cast members:
1. Park Ji Hoon as Yeon Si Eun
Smart, diligent, top-of-the-class Yeon Si Eun is a high school student at Byeoksan High School who might seem physically weak but is actually a guy you should have second thoughts about messing with. Despite being the easy target of bullies, Si Eun is able to win his fights by using his brain, and applying things he has learned such as the laws of physics in calculating his every move. He is warm-hearted to his friends but shows almost no mercy to his enemies. We say it's tama behavior!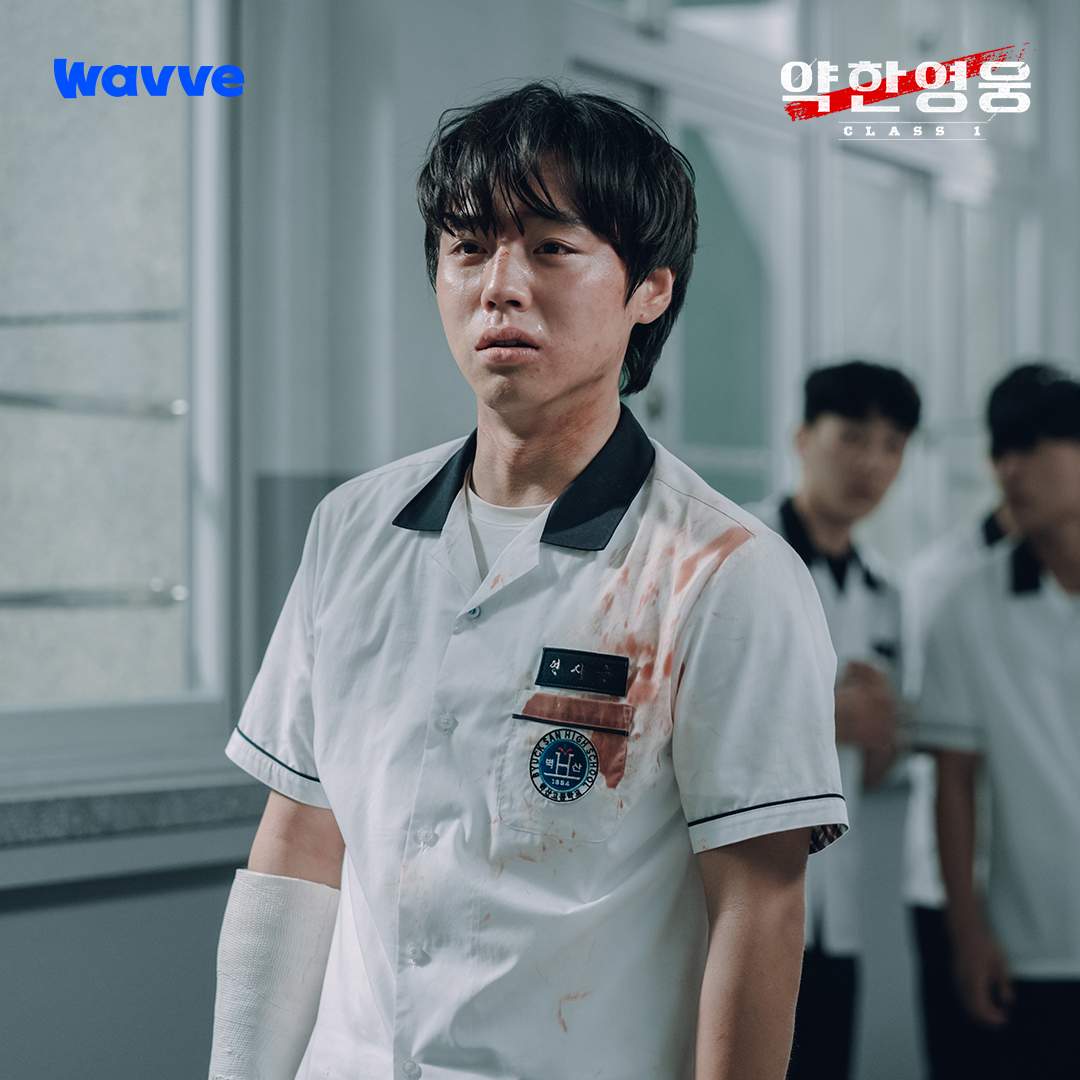 ADVERTISMENT - CONTINUE READING BELOW ↓
After finishing his group activities with the K-pop boy group Wanna One and continuing his idol career by debuting as a solo artist in 2019, Ji Hoon has also ventured into the world of K-drama land. BUT! Did you know that Park Ji Hoon is not new to the scene anymore? He was a child actor and was a part of the cast of the K-drama Jumong and other small screens, and also performed as a musical and theater actor since then. Wannables were also able to witness Ji Hoon's remarkable acting skills in Wanna One's official music video for "Beautiful" in its movie version. Actor Ji Hoon made a comeback in Flower Crew: Joseon Marriage Agency in 2019 and had his male lead role in the web series Love Revolution in 2020. He was a part of the main cast in At A Distance, Spring Is Green, and had a special appearance in Remarriage And Desires.
2. Choi Hyun Wook as Ahn Su Ho
Ahn Su Ho is a laid-back and easygoing high school student who works part-time every single day after class and on the weekends. With his only goal of graduating with perfect attendance, which was a promise he has made to his grandmother, Ahn Su Ho does not give much care about his school life. He is always asleep in class, using a cute pink bunny pillow for his comfort. He is a loyal friend to Yeon Si Eun and fights against unjust violence.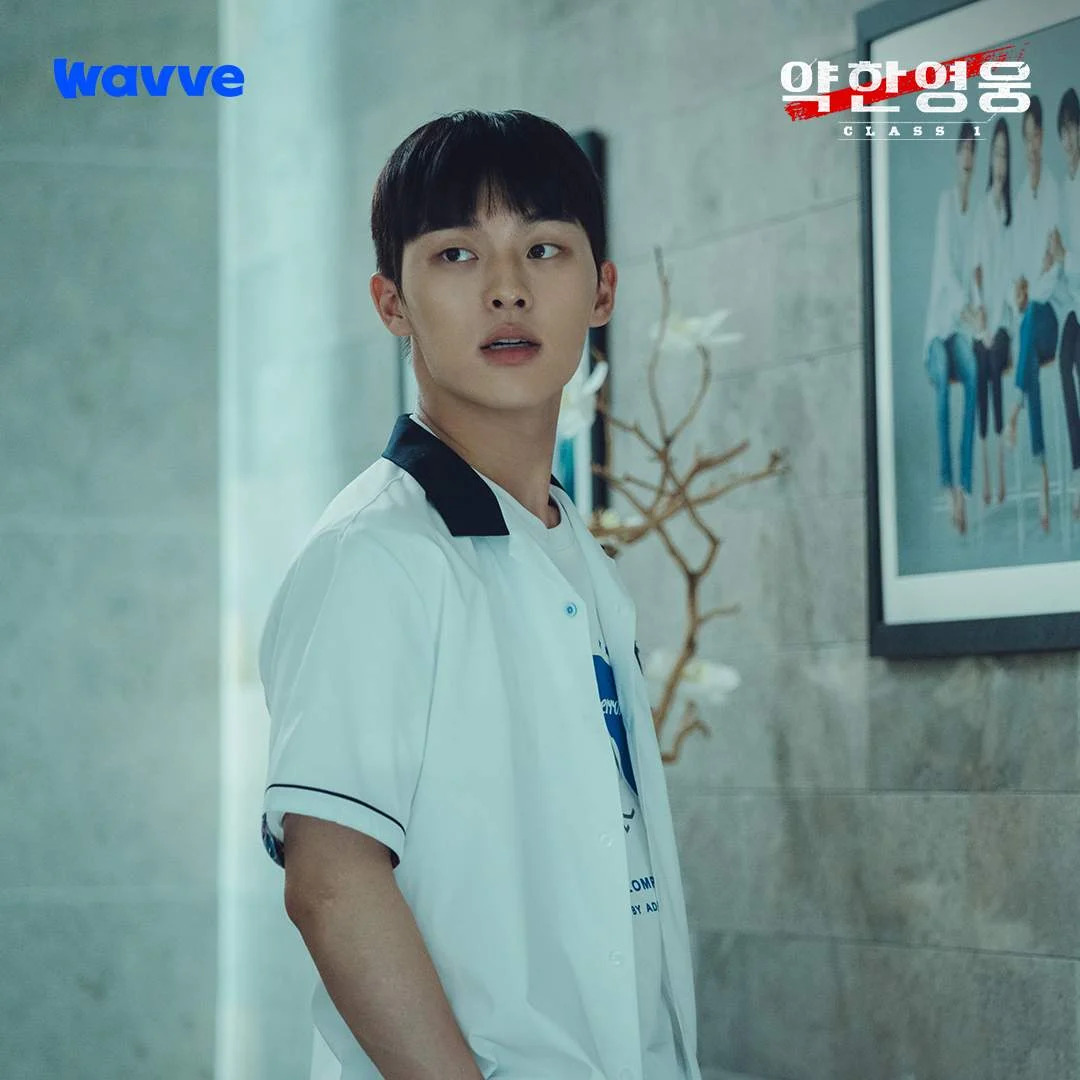 The Twenty Five, Twenty One star shared a perfect chemistry with Ji Hoon in the drama scenes and even off set. Not to mention, Choi Hyun Wook's balance of coolness and cuteness was perfect for his role! He started his acting career by having a lead role in the web series Real:Time:Love in 2019. Hyun Wook also appeared in Pop Out Boy! and Racket Boys, and had guest roles in Taxi Driver and Jirisan. We can definitely see a bright future for his acting career!
3. Hong Kyung as Oh Beom Seok
Oh Beom Seok was a transferee at Byeoksan High School and is classmates with Yeon Si Eun and Ahn Su Ho. The three's closeness began when Beom Seok asked Su Ho's help and they came to the rescue when Si Eun was being beaten up by the bullies. However, due to Beom Seok's inferiority complex, he becomes insecure of Ahn Su Ho which led him to side with the same bullies who they used to fight together.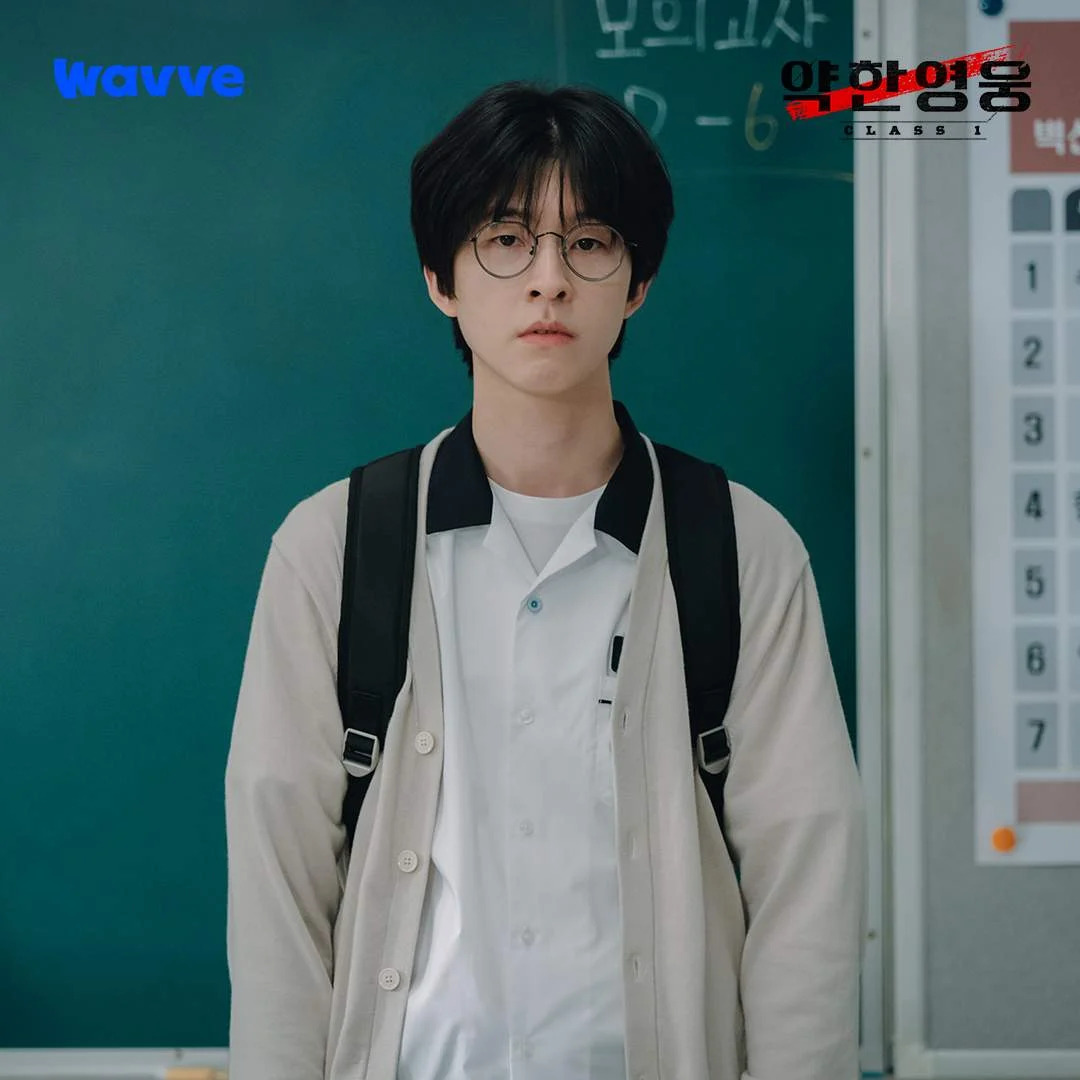 ADVERTISMENT - CONTINUE READING BELOW ↓
While his character in Weak Hero Class 1 is very much worthy of all the hate watchers felt, Hong Kyung's personality is pretty cute IRL. One of his fans' favorite videos on the internet is when he did his acceptance speech after receiving the Best New Actor Award during the 57th Baeksang Arts Awards for his role in the movie, Innocence. He was thanking a lot of people who were with him throughout his career when he mentioned his stylist whom he forgot the name of, and just said: "The same stylist as Song Joong Ki sunbaenim's." This earned a lot of laughs from the actors and actresses present, even Joong Ki himself! He had cameos in While You Were Sleeping, Live, Life On Mars, Hotel Del Luna, School 2017, D.P., and Lovers Of The Red Sky.
4. Lee Yeon as Young Yi
Being the only girl in the gang who does illegal activities to earn money, Young Yi is brave and bold and holds softness within her. She can't seem to shake the feeling of the team's activities not sitting right with her, so she helps Si Eun, Su Ho, and Beom Seok in reporting the group to the police. She eventually becomes close and hangs out often with the three, becoming one of the reasons why Beom Seok became jealous of Soo Ho.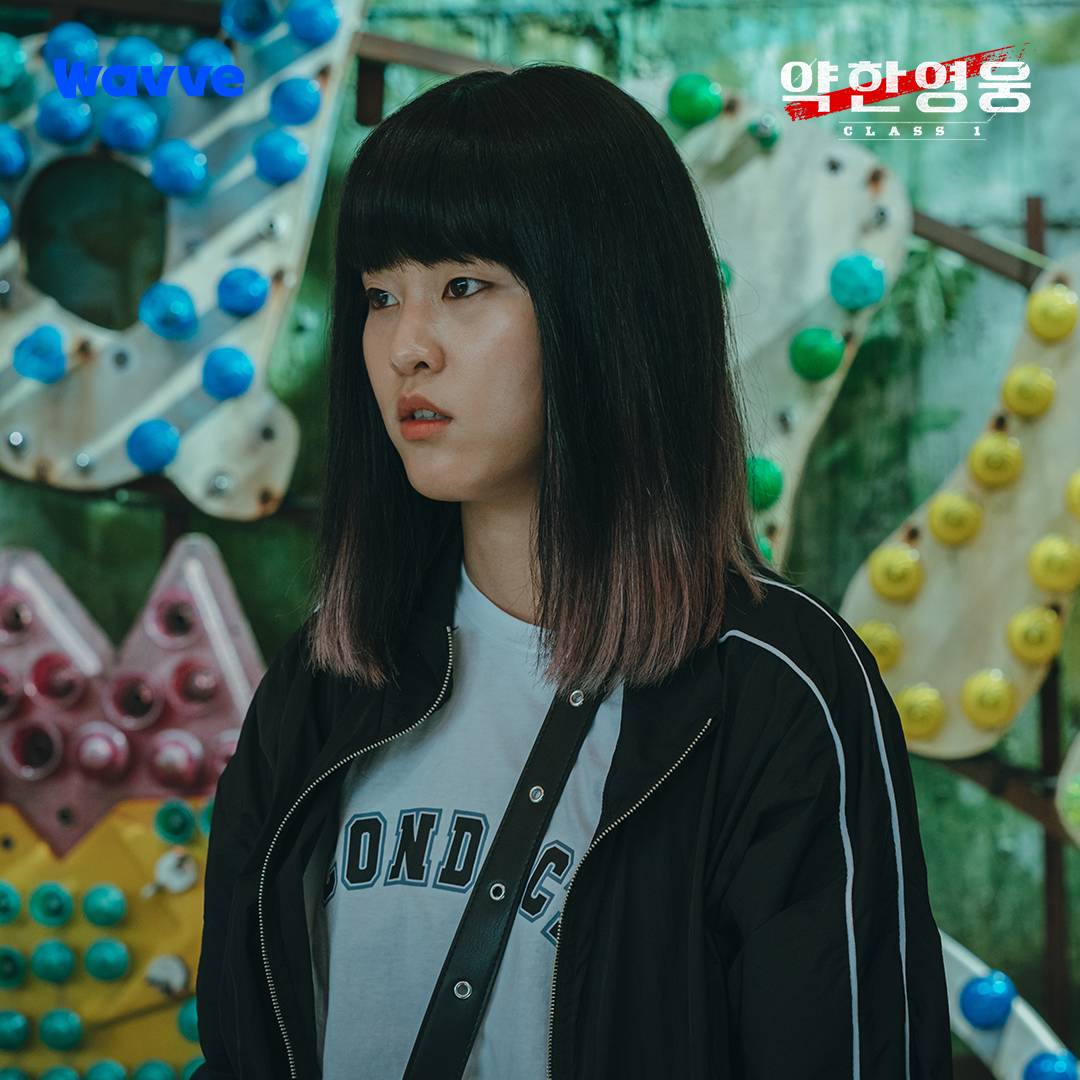 Lee Yeon showed a bit of her dark side in this character. Apart from Weak Hero Class 1, she has also starred in another hit web series this year, Juvenile Justice, where she portrayed the role of a 13-year-old killer. She also appeared in D.P. and A Lonely Island In The Distant Sea. With her outstanding performance in Juvenile Justice and Weak Hero Class 1, we are confident that Yeon will become bigger in her next projects to come!
5. Shin Seung Ho as Jeon Seok Dae
Jeon Seok Dae is a member of the same gang Young Yi belongs to and will do everything to have money. He ended up having to beat up Si Eun because Seok Dae's younger cousin, Jeon Young Bin, paid Seok Dae to get back at Si Eun despite Young Bin losing a number of times already from his fights with Si Eun. However, despite his coldness, he cares a lot about Young Yi and wanted her to live a better life than the one he lived. He seemed to pity himself for having to live his life by earning money through illegal acts. In the end, he didn't run away when the police caught him and saved Young Yi from having the same fate as his.
ADVERTISMENT - CONTINUE READING BELOW ↓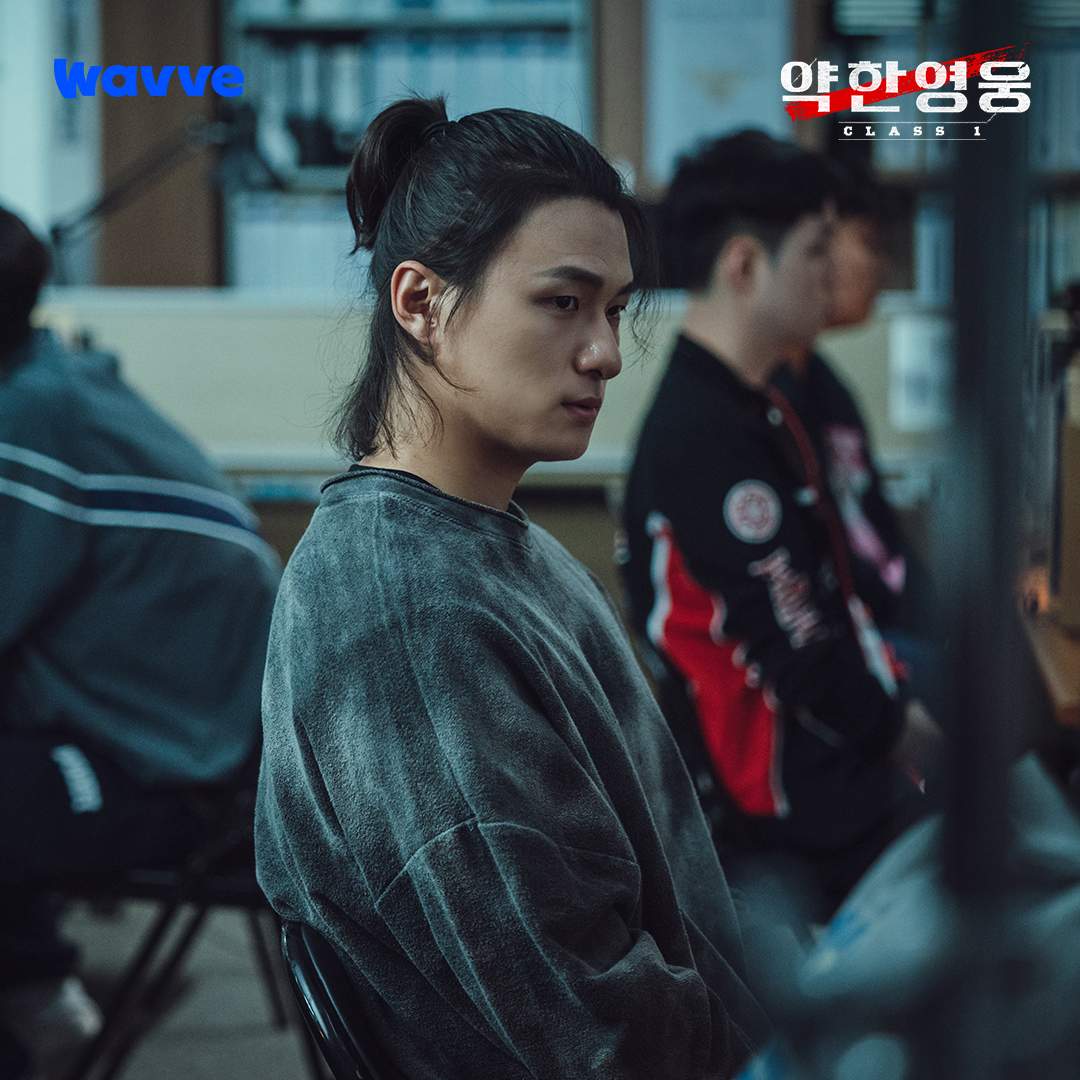 Shin Seung Ho has proven himself once again for being a remarkable actor! He has played various roles, from being a basketball player in high school to being a crown prince, and nailed every single portrayal for each character he plays. Seung Ho debuted with a main role in the web series A-Teen and had a supporting role in A-Teen 2. Some of his other notable K-drama appearances are in At Eighteen, Love Alarm, and D.P. This year, K-drama fans appreciated him for his role as the crown prince Go Won in Alchemy Of Souls and Alchemy Of Souls: Light And Shadow.
MORE FAMILIAR FACES IN K-DRAMAS HERE:
All The Familiar Faces In 'Our Beloved Summer' And Where You've Seen Them Before
All The Familiar Faces In 'Vincenzo' And Where You've Seen Them Before
All The Familiar Faces In 'Hometown Cha-Cha-Cha' And Where You've Seen Them Before