Korean dramas and reality shows have become a staple of our viewing habits. Heck, during the height of the community quarantine, a lot of us turned to Netflix and binged on K-content. Subconsciously, through our ingestion of Korean content, we slowly integrated Korean culture into our daily lives. Take, for example, our eating habits. Long before the time of streaming and binge-watching K-content, there were barely any Korean restaurants in the country, but now,  if you look around, you wouldn't be able to find a busy area without one. Heck, even deep into the other provinces, you'll be able to find at least one Korean restaurant, especially ones that sell samgyupsal.
Ah yes, samgyupsal, the dish of grilled pork belly wrapped in lettuce with ssamjang and sesame oil accompanied by a selection of side dishes. In some cases, samgyupsal restaurants also serve other cuts of meat aside from the pork belly, often in unlimited portions. It has become such an integral part of the Filipino dining scene that if you ask any Filipino to name one Korean dish, it would most probably be samgyupsal. But just like how Filipino cuisine is so much more than Adobo, there are many other dishes in the Korean cookbook that deserves as much attention as samgyupsal. So we've rounded up 10 must-try Korean dishes that are not grilled pork belly.
ADVERTISMENT - CONTINUE READING BELOW ↓
Here are 10 Korean food dishes worth trying to expand your culinary palate:
1. Bibimbap
Often regarded as a budget meal, bibimbap is made by mixing different vegetables like mushrooms, carrots, cucumber, mung bean sprouts, blanched spinach, and others on rice, with some form of protein and an egg. Bibimbap is seasoned primarily with gochujang, which means this dish can be spicy depending on the amount you use, but other seasonings that can be used to add flavor to the dish are sesame oil and salt. The sesame oil then brings nutty and earthy flavors to the dish.
Each region in South Korea has a variation of bibimbap, with some opting to use raw seasoned beef as the protein, and others use a special heated stone pot (dolsot) to get some char on the rice at the bottom of the bowl. Bibimbap literally means mixed cooked rice, so despite the elaborate presentation of the various mix-ins of the dish, you're meant to stir everything together to have a mix of flavors with every bite.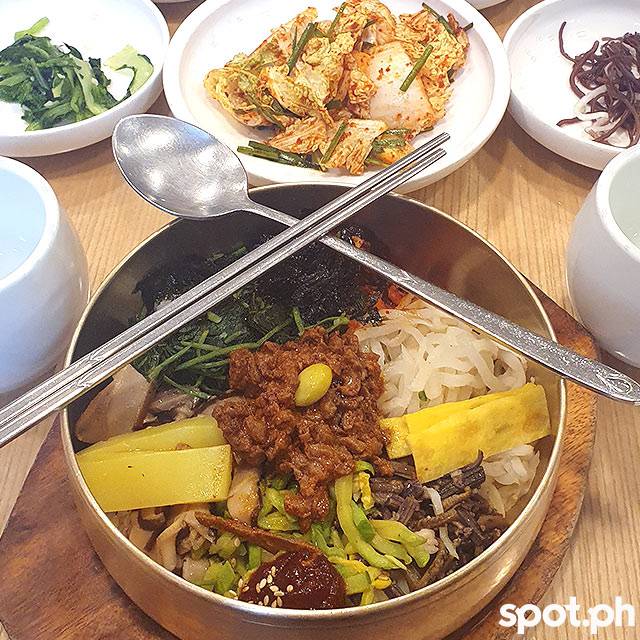 2. Tteokgalbi
Tteokgalbi, or minced beef rib patties, were once dishes reserved for the kings. It has been said that kings were so high-born that they did not deserve to gnaw on beef ribs on the bone. Hence the meat is minced for them. Nowadays, you don't need to be of noble descent to try tteokgalbi, and several changes have also been made to its recipe. 
ADVERTISMENT - CONTINUE READING BELOW ↓
Though once made purely from beef, modern-day tteokgalbi is mixed with pork to add fat and make it easier to cook. Minced pork and beef are marinated in various condiments such as rice wine, soy sauce, ginger juice, garlic, sugar, onions, and sesame oil before being shaped like a rice cake and grilled. Tteokgalbi is a bit sweet, reminiscent of longganisa patties, but is a little less saccharine, with strong hints of ginger and tart rice wine.  
Pro-tip: Tteokgalbi is best paired with bamboo steamed rice, rice mixed with beans, and mushrooms, and then cooked in a bamboo stalk. This lends an extra layer of earthy flavor which helps balance out the sweet taste of the tteokgalbi.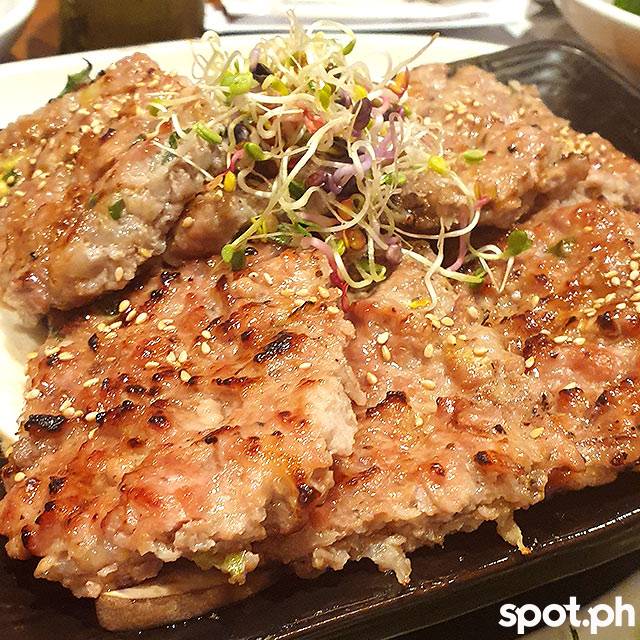 ADVERTISMENT - CONTINUE READING BELOW ↓
3. Jjajangmyeon
Many would be familiar with this noodle dish as some instant options are available in the market. Still, freshly made jjajangmyeon is far more flavorful and delicious than any instant ones on the market. Originally a Chinese dish brought to Korea by immigrants, the Koreans have made jjajangmyeon their own using thicker noodles. Jjajangmyeon is a noodle dish with a black bean sauce. This is a staple for most Koreans, and we've bet you've seen this dish featured in Korean dramas as the go-to takeout food of the stressed and struggling protagonist or the celebratory meal of the young. 
Jjajangmyeon's main ingredient is the black bean paste called chunjang. This is made from fermented wheat flour, soybeans, and caramel sauce. The chunjang is then lightly fried in oil with some vegetables like cabbage and meats, ideally pork, so that the fat will render into the sauce, adding extra layers of flavor. This sauce is then mixed with thick udon-style noodles.  Generally, jjajangmyeon should taste somewhat sweet and earthy. There are also several variations of this dish with different proteins or varying sauce consistency, but it remains one of Korea's most popular dishes.
ADVERTISMENT - CONTINUE READING BELOW ↓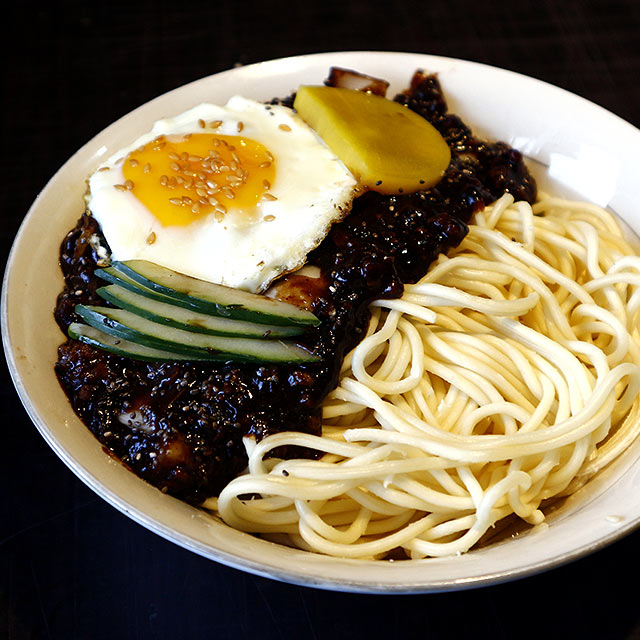 4. Yukjeon
Yukjeon is simply thinly sliced beef that's pan-fried with an egg or flour batter. The meat can be marinated in a mixture of rice wine, soy sauce, sesame oil, garlic, and other seasonings, or it can simply be salted. It's often served with the spicy fermented soy bean chili paste known as ssamjang, and wrapped in a leafy vegetable such as lettuce or perilla leaves.
ADVERTISMENT - CONTINUE READING BELOW ↓
The key to good yukjeon is the use of high-quality lean beef sliced very thinly and cooked slowly so that it'll end up very tender and moist. (We're not making tapa here, folks.) Yukjeon is often associated with celebrations such as New Year's, birthdays, and Chuseok or Korean Thanksgiving. 
Pro-tip: The best yukjeon is often made with Hanwoo, which you can call the Korean version of Wagyu beef. Slightly similar but supposedly more tender, Hanwoo beef is hard to come by, which is why it also comes with a hefty price tag.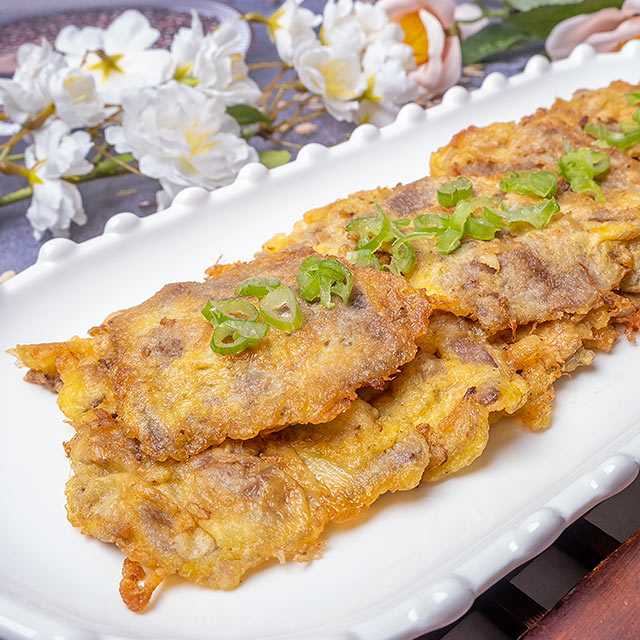 ADVERTISMENT - CONTINUE READING BELOW ↓
5. Dakgalbi
Dakgalbi is spicy stir-fried boneless chicken—emphasis on the spicy. This chicken dish is marinated in a gochujang-based sauce and then cooked on the table through hotplates mixed with rice cakes and vegetables. Easily this dish is one of the spiciest items on this list, but it's still worth a try even if you're not so good with heat (like us.) Dakgalbi is often eaten with lettuce or perilla leaves, but some restaurants also serve it with rice on the side or rice mixed in with the stir-fry. 
This dish originated in the city of Chuncheon in the province of Gangwon. There's an entire street dedicated to dakgalbi restaurants in that area, so you might want to check that out on your next Korea trip, especially if you're headed to Nami Island because, surprise, they're in the same area.
Pro-tip: If you can't handle the spice, ask to have some cheese added to your dakgalbi mix. It'll lessen the heat and make the dish creamier.
ADVERTISMENT - CONTINUE READING BELOW ↓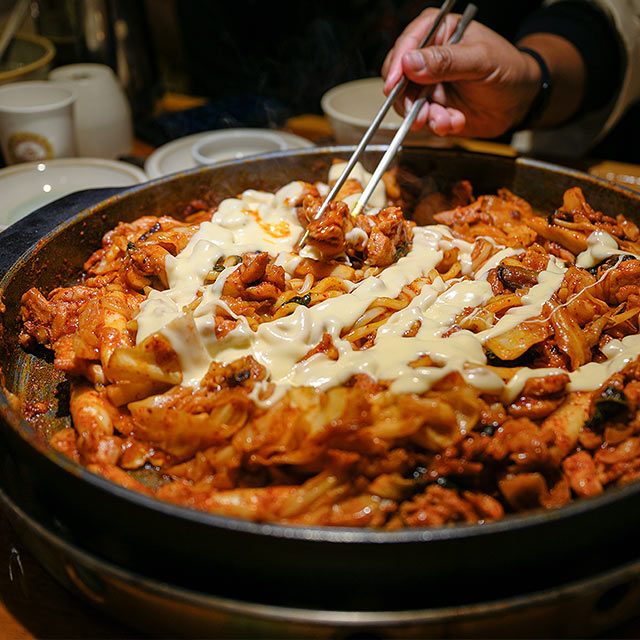 6. Kkomak muchim
Kkomak muchim are seasoned cockles typically served as part of Korean banchan or side dishes, but this dish also pairs nicely with rice. Cockles are a type of salt-water clams, kind of like the Filipino halaan. First, the cockles are cooked in a mixture of water and rice wine until they open up. Then, once they are ready, a seasoning sauce of soy sauce, sugar, red chili flakes, red and green peppers, sesame oil, green onions, and garlic is poured on top of the opened cockles. This lends the kkomak muchim a rich sweet and sour flavor that will leave you reaching for more.
ADVERTISMENT - CONTINUE READING BELOW ↓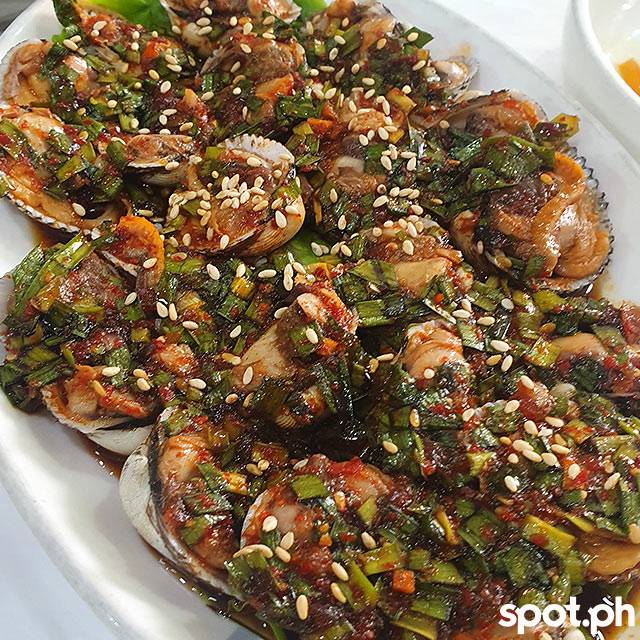 7. Haemul Pajeon
Haemul pajeon is a seafood and green onion pancake. It's a straightforward dish but it's also very flavorful, especially with the right dipping sauce. Think torta, only this time it's with green onions and seafood.
The dish is composed of a loose Korean pancake batter made from eggs, flour, and water. Green onions are lightly charred to release their oils, and the seafood is also lightly cooked to maintain its fresh and briny flavor. You can use any seafood you prefer, but commonly used ones are shrimps, squids, and pre-cooked mussels. For dipping sauces, you can use a sweet and spicy chili sauce, ssamjang, or a mixture of soy sauce, rice wine, and ginger.
ADVERTISMENT - CONTINUE READING BELOW ↓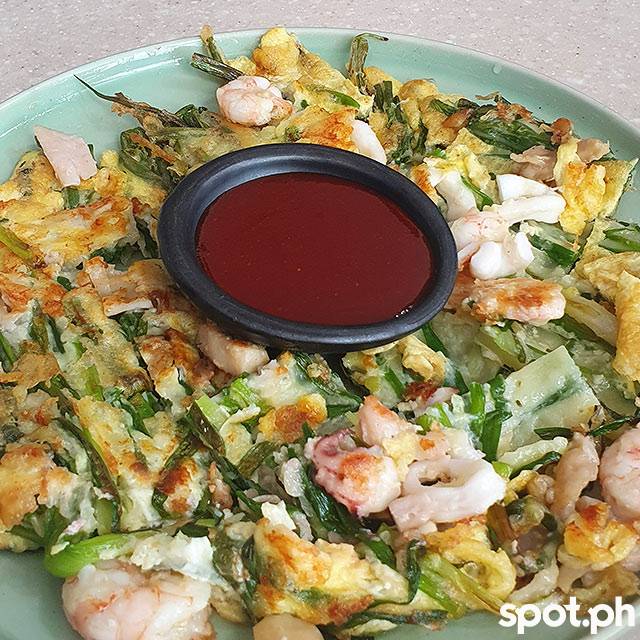 8. Jjamppong
You may be familiar with jjampong because there are Filipino brands that make instant jjampong noodles but let us tell you that nothing beats a scratch-made version of the dish, especially on cold nights. Jjampong is a spicy mixed seafood soup typically made with pork broth or seaweed and kelp stock. This rich, briny, and, yes, extremely spicy noodle soup is another dish of Chinese origins typically ordered in by Koreans looking for comfort. 
ADVERTISMENT - CONTINUE READING BELOW ↓
The secret to making really good jjampong is to stir-fry the seafood in gochugaru-infused oil before adding the stock or broth. This way, the seafood flavors are extracted and infused into the spicy oil base, so it mixes well with the broth.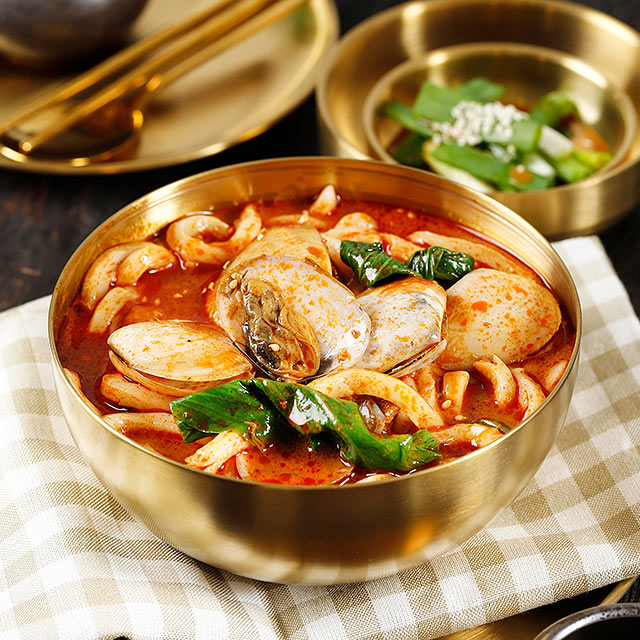 9. Hotteok
Hotteok is popular street food in South Korea. It's a yeasted pancake filled with sweet sugar or syrup, chopped nuts, and cinnamon. Hotteok takes some time to make as the dough needs to rest and rise before it can be filled. Afterward, it is cooked on a greased griddle and pressed flat into a circle with a stainless steel utensil with a wooden handle. Hotteok vendors can be found in almost any market in South Korea. They are a popular snack you can eat while you're out and about as it is often served folded in a paper cup.
ADVERTISMENT - CONTINUE READING BELOW ↓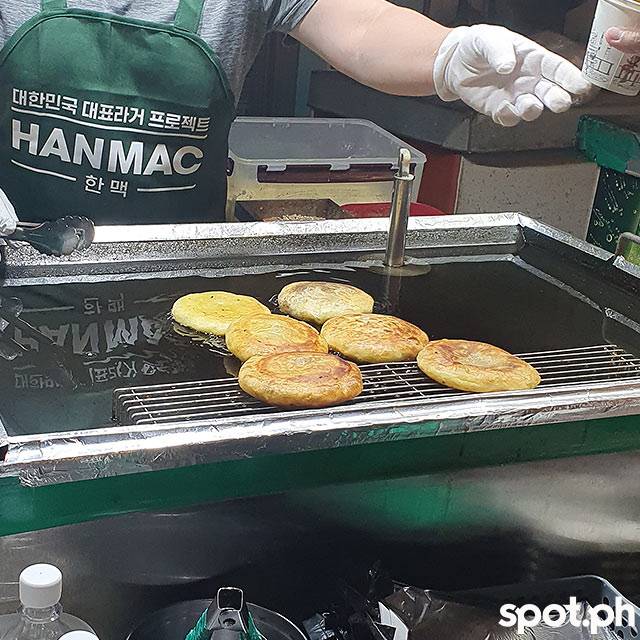 10. Yakgwa
Yakgwa is a traditional Korean dessert cookie dipped in honey and ginger syrup.  This sweet treat is traditionally served in tea houses as a companion to tea because of its sweet and chewy texture. Nowadays, this sweet treat can be bought at traditional Korean marts or groceries. Yakgwa comes in various shapes and sizes. However, it is most commonly shaped like a flower and is often served during important ceremonies such as birthdays and weddings.
ADVERTISMENT - CONTINUE READING BELOW ↓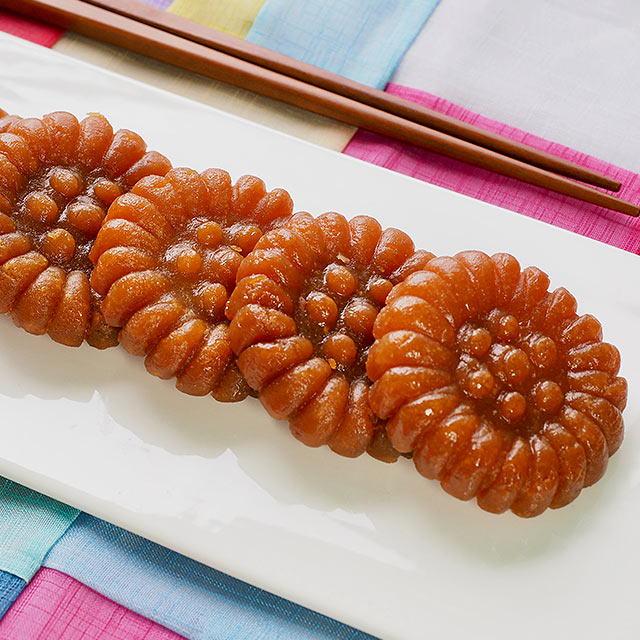 ***
This article originally appeared on Spot.ph. Minor edits have been made by Cosmo.ph editors.