ICYDK, it's been 10 years since Eric Nam made his debut as a singer with "Heaven's Door" from his 2013 album Cloud 9. I first discovered Eric in 2017 when he hosted an episode of the New Yang Nam Show starring BTOB, and got them to sing "I'll Be Your Man" using funny mics (it's *hilarious* that the vocalists got pranked: Changsub got the tone deaf mic, Eunkwang got the minion, and Sungjae got the baritone). 
Since then, the multihyphenate has gone on to release several more albums, hosted notable variety shows like After School Club, and will eventually be making his big screen debut in Transplant. After establishing himself as a successful artist, Eric has also gone on several concert tours. In fact, the Philippines was one of many lucky tour stops during his There And Back Again World Tour in 2022!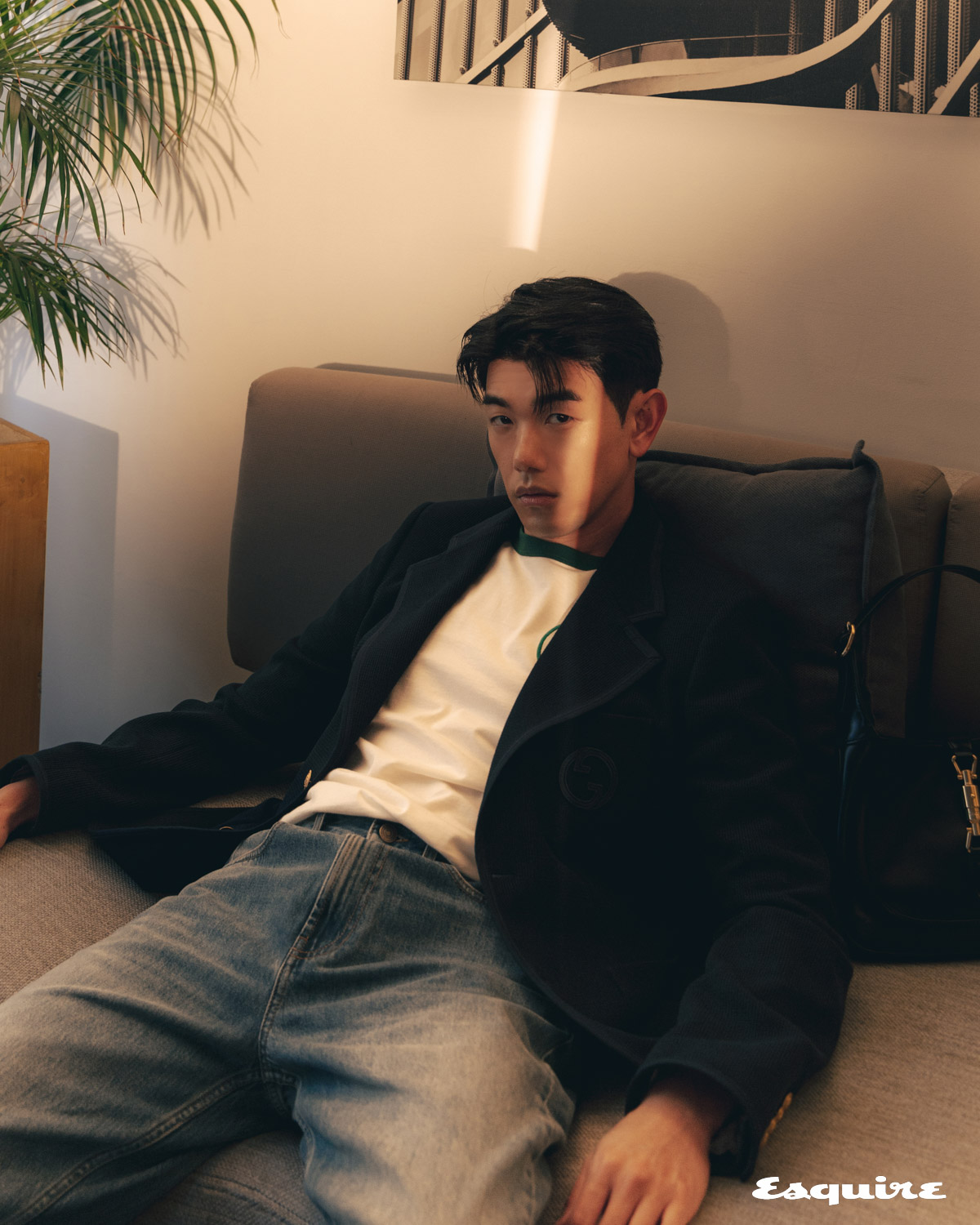 ADVERTISMENT - CONTINUE READING BELOW ↓
His newest album House on a Hill brings it all back to the beginning—the constant questioning of his life choices, the indecisiveness, etc. So what's the story behind the name of the album and its namesake single? It all started when Eric went to see a literal house on a hill. "I was like 'I wanna get this house.' I didn't get it, but that was kind of the starting point for the album, all these questions of 'Why do I want a house? What makes me happy? What makes this tick?' This existential crisis album."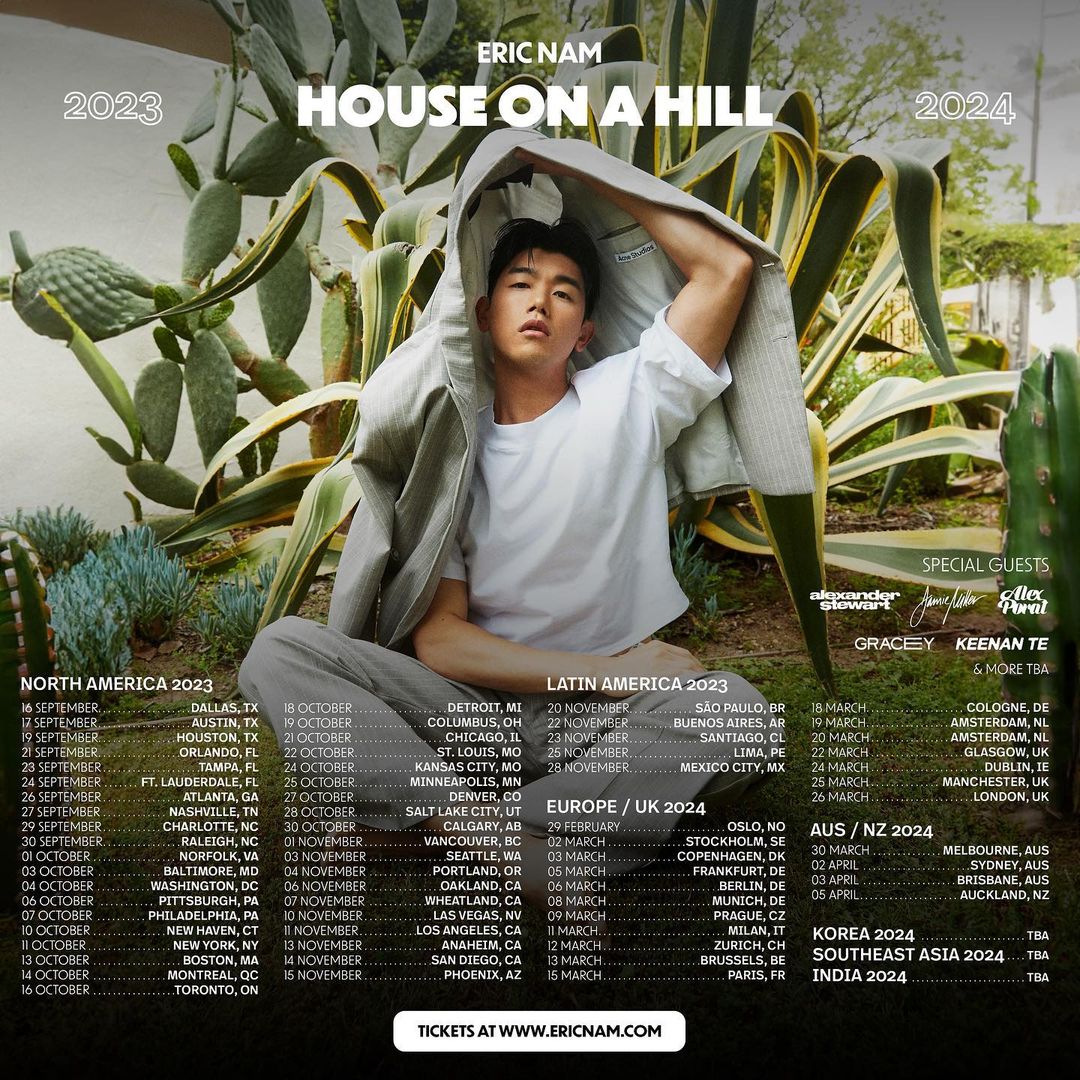 Describing his 2023 release as "very much existential crisis mode," for Eric the concept is mainly focused on the moments when we have serious conversations with ourselves. "What makes us happy? What makes us sad? When do I not like myself? When do I love myself? What are decisions I wish I would have made or could have made? What would my life be like if I had?" The singer-songwriter believes those moments (through different perspectives) were what inspired him to write HoaH.
"And once we had that [idea], I was like 'Oh, it would be really fun for marketing! Why don't we just set me up as a real estate agent and make it look like I'm actually selling houses?' and do everything around that. Because it's something that's very familiar to people, that everyone can understand or relate to. And then the website, that's why we did a fake house listing and put all these interactive features into it. And the music video will also play into this massive house/mansion on a hill."
ADVERTISMENT - CONTINUE READING BELOW ↓
Several artists have spoken about how important the track listing is, and why you should listen to songs in order. Eric didn't actually have a specific plan in mind: "It just kind of felt like that's how it would flow actually. There isn't a story in the way that the songs were placed. I guess, no I take it back. The first four songs ("House on a Hill," "Don't Leave Yet," "Only for a Moment," "I Wish I wasn't Me") are tied together through the music video, and then the seventh song, which is "Exist," I just felt was the best way to wrap up an album that is about an existential crisis."
Asking a singer to pick their favorite B-side track is apparently similar to choosing your favorite child. "Man, this is like, really hard?" he laughingly said. "But I'll say the one track that we thought was very special, so we actually shot an extra music video for it was "I Wish I Wasn't Me." It's very emotional, very sad and somber, very introspective, and...deep. Though it's not all doom and gloom, it's not all sad, there's a lot of fun and happiness in there, as well."
ADVERTISMENT - CONTINUE READING BELOW ↓
Of course, we couldn't talk to Eric Nam without bringing up one of his best-known creations: The Daebak Show podcast. It premiered on April 18, 2019 and since then he's recorded over 170 episodes, so he's definitely had his fair share of memorable convos with special guests. As an avid listener, I eagerly asked him who he'd like to invite back for a part two (Eric's "Oooh, great question!" made my day #journalisticpride), and if there was a guest he's dying to interview.
"Who would I like to come back again? I would like for...wow, we've had so many guests! I would love for Jessi to come back, because I'm always generally curious about people, and I have so much that I want to ask her. I think I would love to have...this is not K-pop related, but I'd love to have Ryan Reynolds on my podcast. Because I think he is a brilliant person, and I respect him not only as an actor and a creator, but as an entrepreneur. I think he's brilliant."
ADVERTISMENT - CONTINUE READING BELOW ↓
In his Vogue Singapore interview he formed an Avengers of K-pop group. I put Eric under the hot seat once again by challenging him to create an "Ultimate K-pop playlist." There are numerous iconic hits from all four generations, so I was interested to discover his musical taste.
"Oh dear Lord! I think we have to include BIGBANG's "Fantastic Baby."
We have to include 2NE1's "I Am The Best."
We have to include BTS...gosh, what do we do? Okay, I really like their song "Save Me," love that song.
We have to put in New Jeans, we're gonna put in "Hype Boy."
We're also gonna put in Eric Nam's...which one should we put in? I think I'll put in "Honestly."
And...who else should we put in? Such a hard question...I'm gonna say Shinhwa's "Perfect Man," we took it way back. I'm gonna hold there, for now."
A song representing each generation—what a deep dive into K-pop history! But how would Eric explain *his* K-pop story? If a musician were to define themself through their music, starting from the beginning would be a good choice. "I think Cloud 9 Eric was very new, I didn't know what I was doing," he shared. "I had pretty much like a label telling me what I would be doing, which at the time I think was the right thing to do? So naive, but very optimistic."
ADVERTISMENT - CONTINUE READING BELOW ↓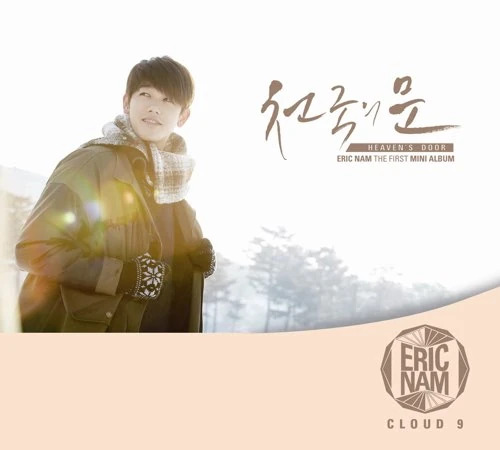 However, after ten years in the industry, he and his Nam Nation have grown together on a journey full of ups and downs. "Right now I think it's a lot more mature, obviously—but also very intentional. I think [I'm] very focused on figuring out what I want to say and what I want to do. I'm more independent...generally more mature, but still with a sense of optimism and blind naivete sometimes, because we all need a little bit of it."
ADVERTISMENT - CONTINUE READING BELOW ↓
"At the end of the day, I hope that this album can inspire people, but also I hope that it's an album that people can just really listen to and feel heard and seen and related to," Eric revealed. He's done several listening parties with his Nam Nation, and that was some of their feedback. "The stories are so personal for some people that it feels overwhelming, but I think that is my job as a musician or as an artist—to put stories out there, but also let fans and listeners think about what it means to them in their context. I hope people do that."