Excitement is reaching a fever pitch among K-Pop enthusiasts in the PH as the highly anticipated concert The Super Stage by K-Pop nears. Set to take place in Manila in August, this musical extravaganza promises an unforgettable experience for fans of all ages. The event boasts an impressive lineup, headlined by both rising and veteran K-Pop stars. So exciting!
When and where will The Super Stage by K-Pop be held?
According to the event's organizer, OctoArts Entertainment, The Super Stage by K-Pop will take place at the Mall of Asia Arena on August 11, 2023.
Who will be performing at The Super Stage by K-Pop?
Sandara Park
Leading the star-studded lineup is none other than Sandara Park, an icon in both the Philippines and South Korea. Starting her journey as a member of the legendary girl group 2NE1, Dara has since ventured into solo music, acting, and hosting.
Her performance is sure to be a highlight of the evening!
ADVERTISMENT - CONTINUE READING BELOW ↓
Kep1er
Next up is Kep1er, a rising K-Pop girl group that has been capturing hearts across the globe. Comprised of nine talented members stemming from various countries, Kep1er brings a unique fusion of cultures and styles to their performances.
With their infectious energy and catchy melodies, Kep1er is set to deliver an unforgettable show, showcasing why they have rapidly become one of K-Pop's most promising acts.
Lapillus
Lapillus, a talented K-Pop girl group, will grace the stage with their powerful vocals and impressive dance moves. Known for their high-energy performances and synchronized choreography, Lapillus has been steadily gaining recognition for their music and captivating stage presence.
This group is sure to leave a lasting impression on Manila's audience, solidifying their status as a force to be reckoned with in the K-Pop industry.
MAMAMOO+
Arguably one of the most anticipated acts of the night, MAMAMOO+ needs no introduction. Known as the first-ever sub-unit of the girl group MAMAMOO, Solar and Moonbyul have been dominating the charts with their powerful vocals and performances, and they are sure to bring an unforgettable experience to "The Super Stage by K-Pop" in Manila.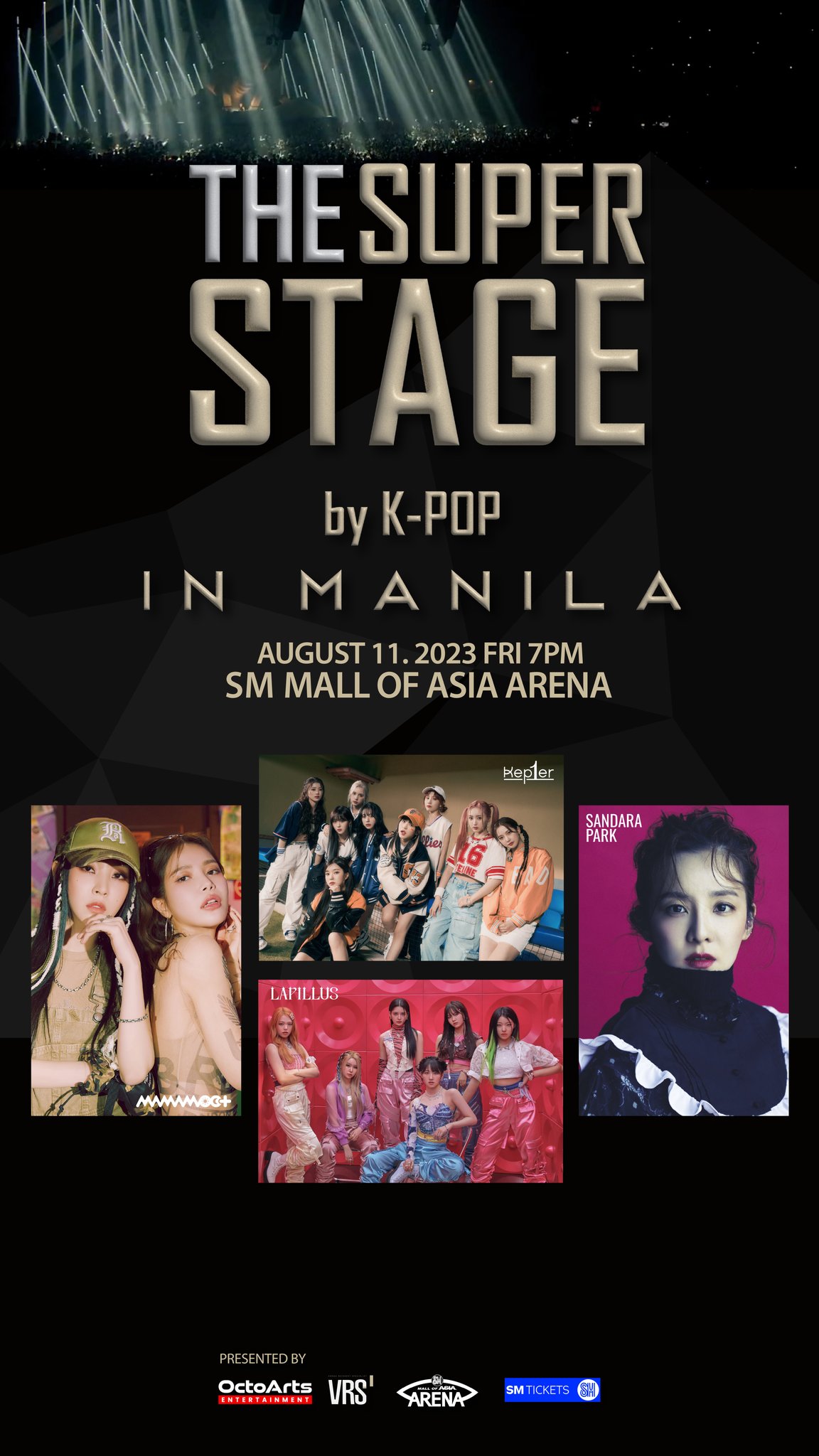 How can I buy tickets for The Super Stage by K-Pop?
For those eagerly anticipating the concert, securing your spot at is just a few clicks away. Tickets for the show can be conveniently purchased through SM Tickets' website or at SM Tickets outlets nationwide. Prices are as follows:
ADVERTISMENT - CONTINUE READING BELOW ↓
VIP Standing: P12,655
VIP Seated: P11,260
Lower Box: P9,650
Upper Box A: P7,510
Upper Box B: P5,900
Gen Ad A: P3,490
Gen Ad B: P2,950