As a ~*K-pop tita*~, I witnessed groups enlist one after another. Some try solo activities, others go on their own ways, and there are those that are inactive for a long period of time but will be back eventually. I've lived through hearing disbandment rumors, lack of group events, and worries about these groups' future. Since then, I've dreaded the day my ults will be called to serve.
2019 came with one of my greatest fears realized: The start of EXO's enlistment era. It still feels like yesterday when I've seen their debut showcase last 2012, now I can't believe I'm sending the first member off to the military.
EXO_SHOWCASE HD Full version Part 1_ENG
Xiumin was the first to enlist and I clearly remember the day he announced his enlistment. I just came home from work and like any other normal fan, I logged into Twitter before going to sleep. And *ding!* Here comes the notification that started it all. A letter from Xiumin. Frozen (yes, pun intended), I just stared at my phone screen for too long. Words "Flowers are blooming," "weather's getting warmer," and "I am going to the military" suddenly start to make sense. Not believing my eyes, I checked the trends, tweets from other Eris (EXs fans), group chats, and seeing everyone was in shambles confirmed it. It's really happening! After seven years of being a fan, I'm going to send off the first member of my ult group to the military.
Still in shock, I didn't notice weeks passed and Xiuweet Time fan meeting happened. Of course, there were tears as we said our farewell but we couldn't help but bawl our eyes out when the members threw a surprise visit. All eight—with Lay on the phone. It made the night more emotional! Especially when Kai, who just came back from UK only for his hyung, wanted to tease Xiumin but ended up crying with him, giving more room for tears in everyone's eyes. Days went by and it was d-day for him to serve the country. And there it is, the legendary tradition of bald head holding was born.
ADVERTISMENT - CONTINUE READING BELOW ↓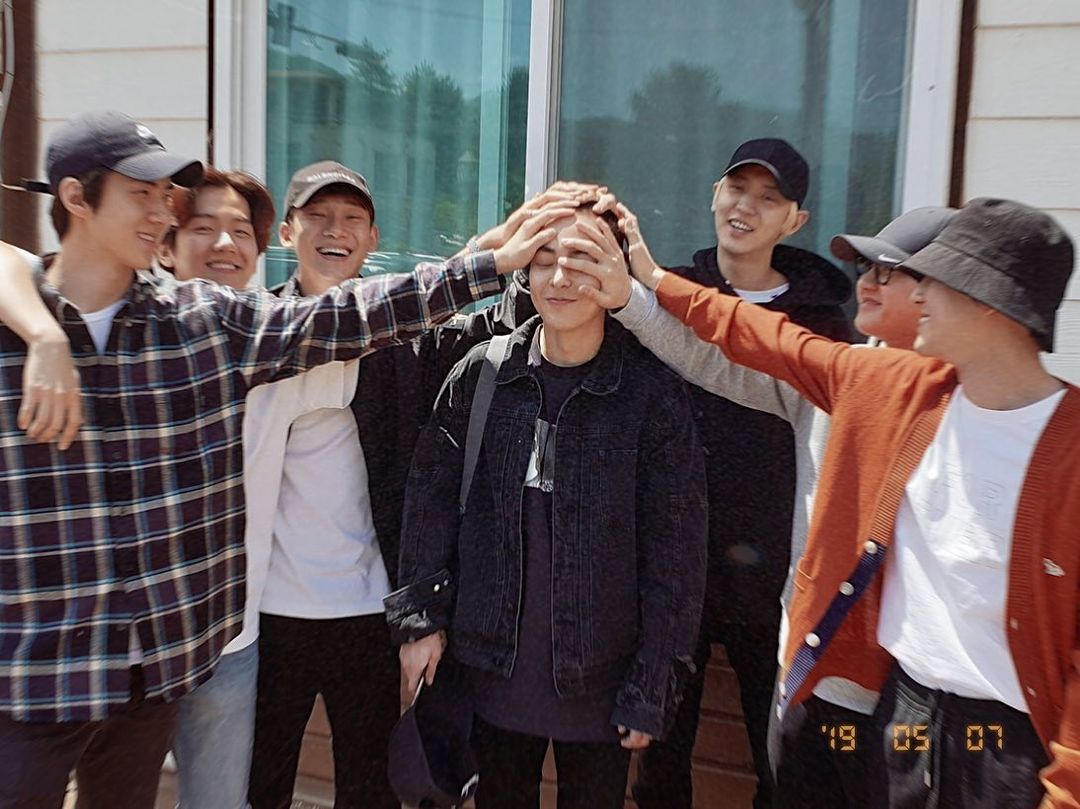 Little did I know, it was too soon to move on. It's only weeks since he jokingly said, "Aigoo! It's not like he's [Xiumin] migrating to another country." Then here's Kyungsoo, saying he'll be enlisting, too. It feels random at first, but as a man full of charms and surprises—it's so like him. It's his decision to fulfill his duty early and we respect it. I'm very proud of him.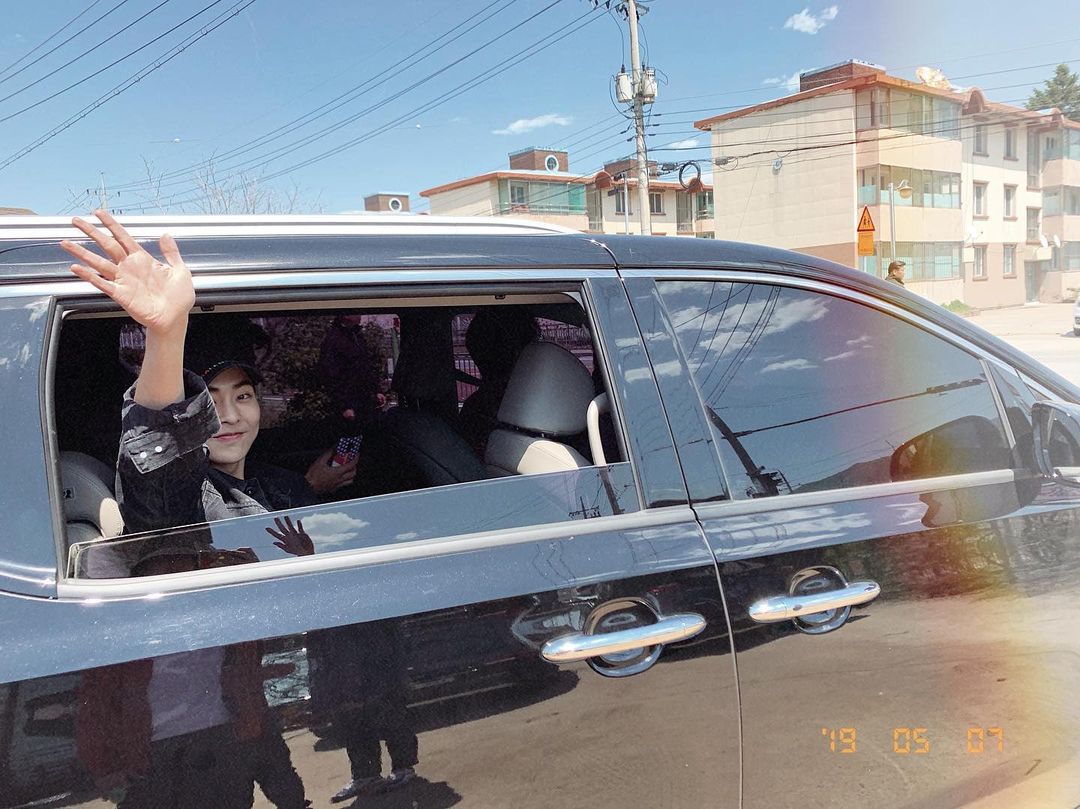 With two members inside, there are nights I dearly missed them. Either because an old video of them resurfaces in my timeline, or I've seen something (like a jacket with a penguin on it) that reminds me of them. If anyone's wondering, yes I bought the jacket. So most of the time, I try to be an adult who can always put up a tough front like our pillar, Suho. That's why when it was his turn to go off to the army a year after, it totally hits differently. He's EXO's and EXO-Ls compass, what are we going to do now? Hearts were shattered again in the same year as Chen followed our leader. Then Chanyeol the next year. Enlistment is inevitable but knowing the circumstances that led to ChanChen's enlistment is more heart-shattering. Virtual warm hugs, ChanChen. Baekhyun joins a month after Chanyeol. Of all the days he can enlist, it has to be on his birthday.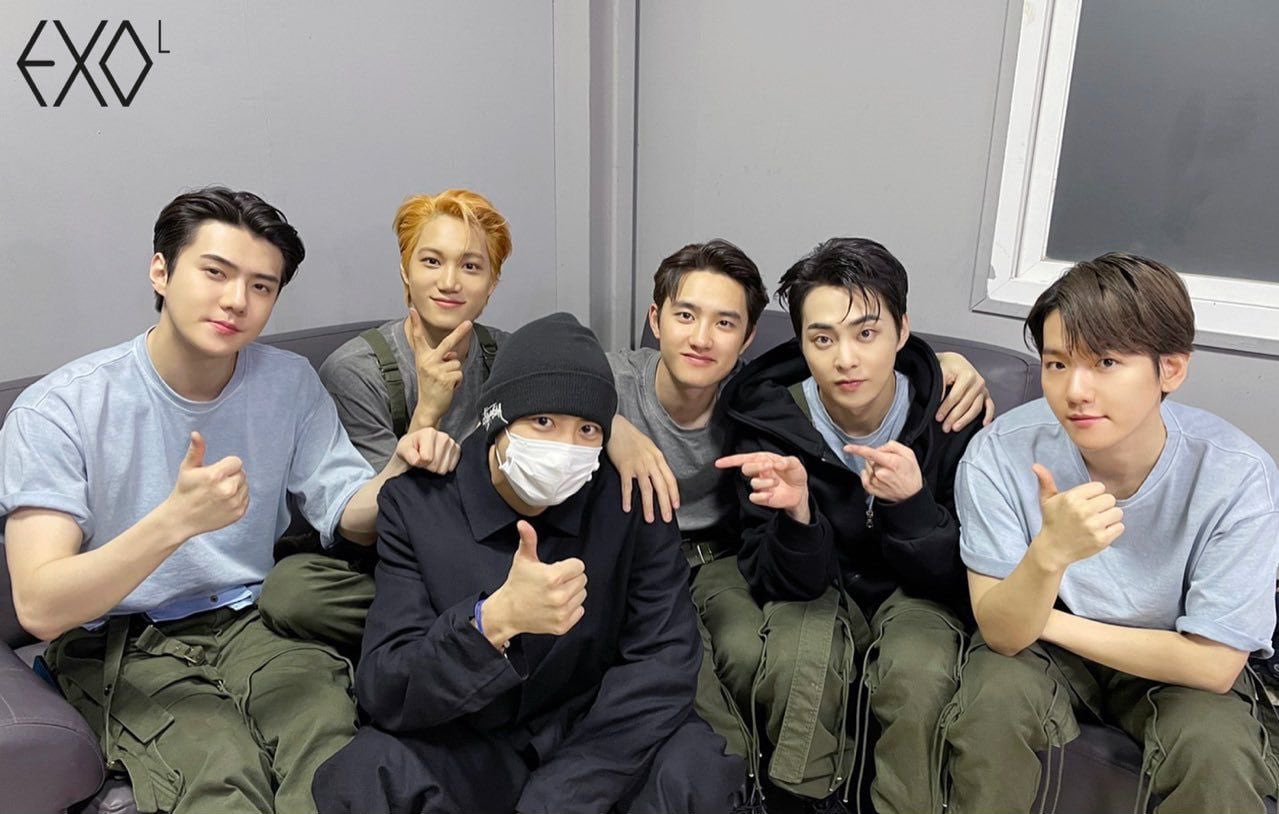 ADVERTISMENT - CONTINUE READING BELOW ↓
Their enlistment journeys are chaotic. But while waiting, I realized enlisting itself isn't that bad. It's only weird we can't see them as often as before but we're still blessed we're in the 21st century. Our military husbands have access to cell phones and breaks, too. Kyungsoo and Xiumin even went to an EXO concert. Looking at the previews, it still gives me a fuzzy feeling. Someone pass me the tissue, please!
Kidding aside, time flies faster than we think. Personally, I'm seeing the enlistment era as necessary but temporary. I just made peace with the fact that they will have the chance to rest and take a break from the *messy world* of being an idol. It might feel like it is the end of the world at first, but it isn't.
I'm grateful for the updates the remaining members are feeding us. Kai and Sehun gave us new songs, dramas, and gigs to look forward to. And after I accepted that they need to enlist, I start to genuinely appreciate the updates and content brought by the enlistment. From Lay flying to Seoul just to see Kyungsoo off (he was even seen running at the airport to catch his flight back to China—a cutie) to the members' Heart For You episodes on VLive. Enlistment also gifted us with some of the most comforting songs ever released. Suho's whole Self-Portrait album, Chen's "Hello," Chanyeol's "Tomorrow," and the song that is loved by both fans and idols— Kyungsoo's "That's Okay." Baekhyun and Chanyeol, being extra like usual, went above and beyond just to make sure we won't feel lonely while they were away.
[STATION 3] D.O. (That's okay)' MV
Expecting a new upload on EXO's and NNG's channels every month for the vlogs they filmed and prepared is already a cup of hot choco on cold nights. I'm also lucky enough to watch Xiumin and Kyungsoo as two of the leads for the military musical Return: The Promise Of The Day on VLive. Thankfully, I was able to see Chanyeol perform as well as the lead star for Meissa's Song. Since it's a hit military musical, getting a ticket for the show was tough too. I pushed my luck and I'm enthralled that I had the chance to celebrate his successful performance on the same day as his birthday, despite having one screen apart.
Journaling also helps me to cope. I keep one and write down my feelings, wishing for their safe return. There's also a military tracking app called Goondori, a countdown app I am currently using to know how long till Baekhyun comes back. Sending a letter is an option as well through South Korea's Military Manpower Administration, which I'm saving to do when Sehun, my ult of ults, goes in.
ADVERTISMENT - CONTINUE READING BELOW ↓
This era also gave me time to reflect and focus on my own life. NGL, I'm not getting any younger so I thought it's a nice opportunity to refocus my energy on something else—like looking for more ways how to earn to attend more events when they come back individually and as a group (hehe). So I've made up my mind: When the time comes and it's Sehun's turn, I promised myself to have a goal. It was inspired by this genius fan who thought of this idea when Chen went in. For each month he's away, I'll set a personal goal to achieve. At the end of his enlistment, I would be the better version of myself. Instead of looking at it as 18 dreadful months, it would be 18 achievements instead. Sounds amazing, isn't it?
The military era isn't as bad as I originally thought it would be. Especially when each member came out looking well-rested, and much more handsome than when they start their enlistment. Absence definitely makes the heart grow fonder. I can attest to that as I did everything I could to secure tickets when it was announced Xiumin and Chen will be coming back to Manila. Finally! A chance to see them perform live after being discharged from the barracks. And thank heavens that dream came true! All the waiting (and spending) is sooooo worth it. The joy of seeing them back is truly far greater than seeing them leave.
I'd like to give myself and all military wives out there who are waiting for their own military K-pop boys, a tap on the back. Most especially to EXO-Ls. Waiting for the military era to end is a piece of cake compared to every challenge we took down as a fandom. We already survived six send-offs. We may not be 1485% prepared for the maknae line's enlistment, but at least we know how to handle it better. They will make it out no worse for wear.  Besides, 2025 is getting nearer. May this serve as a time we prepare our hearts, bodies, minds, and wallets for the next group concert. Salute!
MORE TRAVEL STORIES HERE:
17 *Super Fun* Things To Do In Gangnam, Seoul, South Korea
6 *Iconic* K-Drama Filming Locations That You Need To Visit On Your South Korea Trip
Your Guide To Post-Pandemic Korean Visa Application And Renewal Process