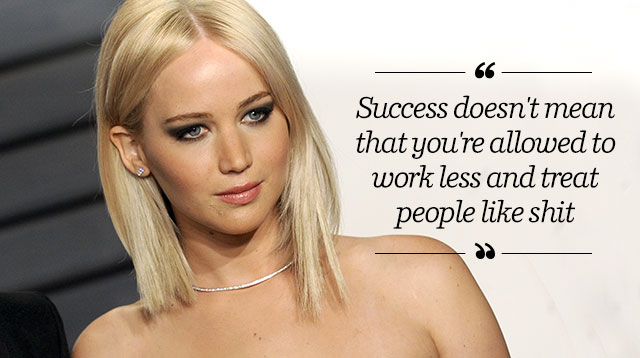 1. [On her nude photo leak in 2014] "Just because I'm a public figure, just because I'm an actress, does not mean that I asked for this. It does not mean that it comes with the territory. It's my body, and it should be my choice, and the fact that it is not my choice is absolutely disgusting. I can't believe that we even live in that kind of world… I started to write an apology, but I don't have anything to say I'm sorry for. 
"I was in a loving, healthy, great relationship for four years. It was long distance, and either your boyfriend is going to look at porn or he's going to look at you. It is not a scandal. It is a sex crime. It is a sexual violation. It's disgusting. The law needs to be changed, and we need to change." (Vanity Fair)
2. "Not to sound rude, but [acting] is stupid. Everybody's like, 'How can you keep a level head?' And I'm like, 'Why would I ever get cocky? I'm not saving anybody's life. There are doctors who save lives and firemen who run into burning buildings. I'm making movies. It's stupid.'"  (Vanity Fair)
3. "I can name a lot of things that taste better than skinny feels. Potatoes. Bread. A Philly cheesesteak and fries." (ET Online)
4. "I like the way I look. I'm really sick of these actresses looking like birds. I'd rather look a little chubby on camera and like a person in real life, than look great on screen and like a scarecrow in real life." (ET Online)
5. "I was raised a Republican, but I just can't imagine supporting a party that doesn't support women's basic rights. It's 2015 and gay people can get married and we think that we've come so far, so, yay! But have we? I don't want to stay quiet about that stuff." (Vogue)
6. "I've never understood why people have to become brats when they become successful. I think you should work harder when you become successful because people are expecting more from you. Success doesn't mean that you're allowed to work less and treat people like shit." (The Telegraph)
7. "I'm never going to starve myself for a part. I don't want little girls to be like 'Oh I want to look like Katniss, so I'm going to skip dinner.'" (Elle)
8. "A few weeks ago at work, I spoke my mind and gave my opinion in a clear and no-bullshit way; no aggression, just blunt. The man I was working with (actually, he was working for me) said, "Whoa! We're all on the same team here!" As if I was yelling at him. 
"I was so shocked because nothing that I said was personal, offensive, or, to be honest, wrong. All I hear and see all day are men speaking their opinions, and I give mine in the same exact manner, and you would have thought I had said something offensive. I'm over trying to find the "adorable" way to state my opinion and still be likable! F**k that." (Lenny Letter)
9. "You look how you look. Be comfortable. What are you going to do? Be hungry every single day to make people happy? That's just dumb." (Marie Claire)
10."Be strong. Don't be a follower, and always do the right thing. If you have a choice between the right thing and the wrong thing, the right way is always the less stressful." (

Recommended Videos