1. Whether or not it will rain on your wedding day. 
Every bride knows that 10-day forecasts are meaningless—meaningless, I tell you! It can go from zero percent chance of rain to 60 percent in the span of, like, an hour just two days before the wedding. You and your family will download more weather apps and frequent more weather websites than you ever imagined existed. Because in a country like ours, YOU NEVER KNOW. 
2. Booking a venue for a "good" date.
You love that one place, but even though your wedding is a full year away, they're only available on Sundays. Is it wrong to have a wedding on a Sunday? Is that inconsiderate to guests who have to travel? What about all those people you know who had weddings on holiday weekends when it was inconvenient all around?
3. How many people to invite. 
There's always the chance Tita Girlie will actually come from Batangas along with her four kids. Everyone says unexpected RSVPs are Real, but are they really real?
4. Who should get plus ones.
What do you say to the people who you don't award plus ones to but who ask to bring a date after invitations get sent out?
5. Budget. 
Excuse me but HOW MUCH DOES A SAME DAY EDIT FROM JASON MAGBANUA COST?
6. Your dress fitting properly on the day.
If you eat a few extra cookies Wednesday and your wedding is Saturday, will the dress be too tight? If you don't eat enough, will it be too loose? It fit you perfectly last time you saw the tailor but what if you get salt bloat and it gets so tight you can't breathe?
Continue reading below ↓
Recommended Videos
7. Your dress getting finished on time.
The designer said they've never had a problem with deadlines, but what if there's suddenly a bagyo and then there's baha and everything else just fucks up? As every bride knows, the weather is totally unpredictable!
8. Your feet hurting in your bride shoes, which you can't break in.
Sometimes even two gel insoles don't work. Will you have to be the bride who takes off her shoes when everyone's at their drunkest? You hope not.
9. Tripping on the way down the aisle. 
You don't exactly get dressed up like this every day. What if it doesn't agree with you when you're super nervous? And then you fall and your flower petal aisle runner stains your dress red?
10. Whether guests will keep on dancing till the world ends.
This is every bride and groom's fantasy, but what if your playlist doesn't work? What if people actually really enjoy dancing to the number one song on your banned song list?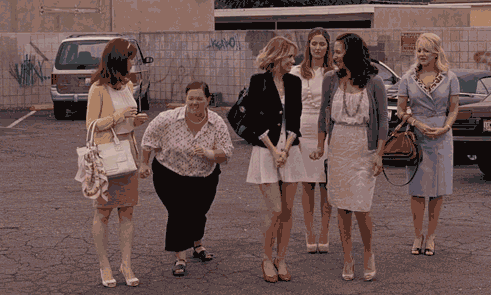 11. How much your bridesmaids will have to spend on dresses, the bachelorette party, travel, etc.
You don't want to be the bride whose wedding everyone hated being involved in. Though chances are if you're worried about it at all, you won't be.
12. Your friends embarrassing you during toasts.
What dark thing have they remembered about you that you've forgotten? Hopefully you won't find out at your wedding!
13. When you cut the cake, your husband rubbing it all over your face even though you asked him not to. 
Chocolate cake + super expensive white gown = DON'T RUB IT ON MY FACE. This is cute only in rom-coms where everything's fake anyway.
14. Consuming colored beverages.
Everyone with red wine must keep a 10-foot distance.
15. Ditto colored foods.
Butter-poached lobster is clear, right?
16. Whether or not the food will be bad.
If the caterer or venue prides itself on "seasonal" cuisine, you have to wait until, like, three weeks before the wedding to taste it. Also, what if you taste it and it's great and then at the wedding they mistake the salt for sugar? What if catering quality is secretly as unpredictable as the weather?
17. If you'll be sad when it's all over.
Wedding planning keeps you busy in a way that can be unpleasant, but you spend a year on it and become so used to it that what if you actually miss it? #ProTip: This is what honeymoons are for. To make you forget that you're not wedding planning anymore and make it feel like you just took a long-ass vacation when you get back to normal life.
18. How long you can politely put off writing thank-you notes. 
You know none of your friends give a damn whether or not you send a handwritten card in the mail or not but Tita Girlie might say something to your mom.
19. Whether or not it will rain.
Because, once again, that shit gets real.

***
This article originally appeared on Cosmopolitan.com. Minor edits have been made by the Cosmo.ph editors.