If there's one quote I've learned to appreciate and live by, it's this:

"There's a reason for every setback."
I cannot begin to enumerate the number of times I've had "Aha!" moments just by realizing this.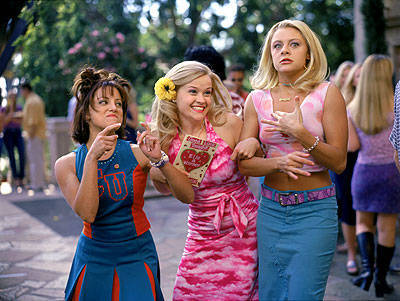 Elle's heartbreak resulted in Harvard success.
[readmore]
My earliest memory of how this meaningfully--or even magically--worked in my life was 10 years ago. I was 19 and an avid climber at a gym near school. While I didn't exactly train everyday, I was a mainstay and felt quite at-home in there. At the time I'd already joined a handful of competitions, and was at a comfortable place.
Every year, the owner of the gym and staff picked a handful members for the national team training pool. The main perk of being part of this team was that one got to climb for free (monthly fees waived) and of course, get the prestige of being part of the group.
I thought I was a shoo-in for a slot until a friend told me I was overlooked, because I didn't exactly workout there everyday. (In retrospect, there was some truth to that; I spent more time having coffee and eating banana bread by the counter than actually scaling walls.)
Another friend got in. Suffice it to say, I was heartbroken. Being told I didn't make the cut for basically not seeming to want to train was insulting, plus, I could really use the free monthly training. I was on a very meager student budget at the time.
Feeling betrayed, I started avoiding that climbing gym altogether. Instead, I went to the other branch, owned by the same people, but the likelihood of seeing them, and other friends who casted their vote, weren't as likely because this other gym was FAR from the one by my school. I probably had to take two kinds of public transportation to get to that place but it was worth it: I could concentrate on climbing, training, and getting stronger.
And train, climb, and get strong I did. I focused on finishing difficult routes, and just kept climbing and climbing and climbing until my body smarted and my hands were as callused as a carpenter's.
During this time at the other gym, I got to partner and train with my friend and mentor,
Marie Calica
(former beauty editor of
Marie Claire
; visit her blog
here
).
I climbed my heart out. With Marie, I finished one of the toughest and highest walls there after weeks of training. Eventually, the same owner who gave me the thumbs down noticed, and finally included me in that branch's roster for the nationals. For some reason the mechanics were different in that gym (there was no free training), but finally, I was part of Team Xxxxx-xx.
Moral of the story:
Diligence, hard work, and persistence always pay off.
It's just ironic that I had to travel miles to get to a place and earn my climbing merits, far away from the homebase. Strange, but worth it.
But here's why this incident is special and major to me. Fast-forward to succeeding events, months, and years down the line:
1.
Marie opened up the world of fashion and beauty for me
. As in the kind that one can make a living out of. That's why I call her my mentor.
2. Marie's sister,
Maya, became my first boss at Seventeen
, where I interned for four months and got hired as an editorial assistant.
3.
I stayed in the magazine for years and eventually became beauty editor
. And a freelance makeup artist.
(Take note, Marie is also a full-fledged makeup artist. In the beginning, I got weirded out for wanting to pursue the same thing, but what she said truly touched and encouraged me and warmed my heart:
"There's lots of room for everybody."
To this day I still maintain that same outlook when people approach me for advice.)
4. Four years after that summer,
I became beauty editor of Cosmo
! I got to travel the world and fully enjoy life as a magazine editor. At 24.
So you see, if that whole Team Rejection didn't happen, if I never got so heartbroken as to avoid my friends and flee to a faraway place, I would never have had the opportunity to train with a new climbing partner--whose influence extended beyond scaling walls. If it weren't for Marie, I would never have heard about freelance styling, beauty editing, or fashion sitting.
I have other stories to share in relation to finding reason and light in every setback. It would fill too many pages, but if any of you are going through a tough time, or if any recent development--losing a job, breaking up with a boyfriend, or discovering a betrayal--doesn't make sense at all, don't fret:
It all leads to something wonderful and amazing that will knock your socks off.
Just wait and see.
Mariel Chua is the former beauty editor of Cosmopolitan Magazine Philippines. Visit her personal blog at http://nyminutenow.com.

ADVERTISMENT - CONTINUE READING BELOW ↓
ADVERTISMENT - CONTINUE READING BELOW ↓
Recommended Videos
EXPLORE COSMO